Top 9 Baby Milk Powders In India – 2021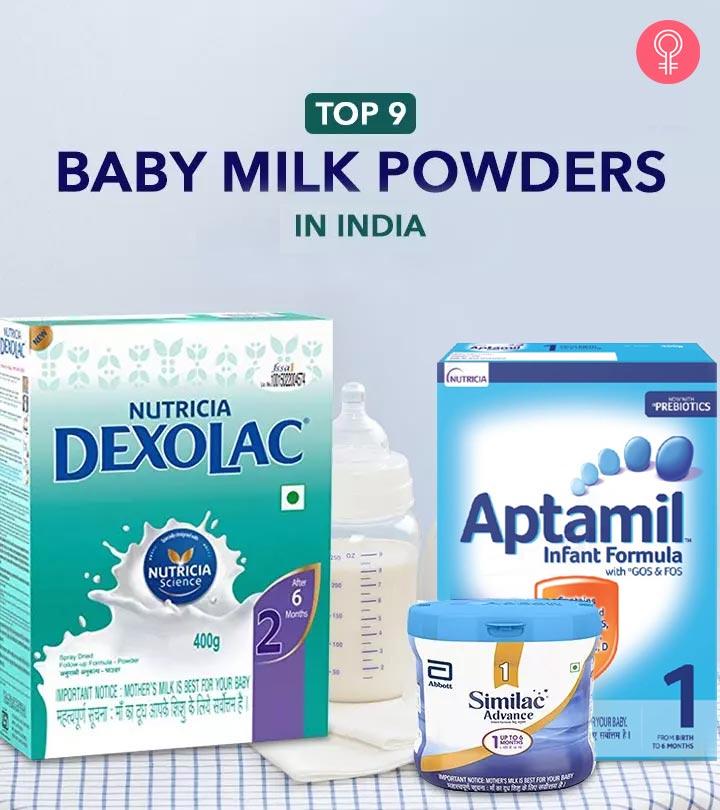 In today's fast-paced world, baby milk powders are a convenient and effective way to ensure your baby gets the right nutrition.
They are definitely not a replacement to mother's milk but could be a healthy addition. Given that babies have a lot of growing to do, proper nourishment is non-negotiable. Studies show malnutrition in the first two years of life can stunt physical and mental growth in the later years (1).
This is not something you would want for your child. Hence, adequate nutrition is important.
But there are too many milk powders flooding the market. How do you pick the right one? In this post, we have listed out the top 10 baby milk powders available in India.
What Are The Top 9 Baby Milk Powders Available In India?
Danone Nutricia's Aptamil Infant Formula comes with a unique blend of prebiotic GOS and FOS in a 9:1 ratio. The fructo-oligosaccharides (FOS) and galactooligosaccharides (GOS), along with DHA, ARA, vitamins A, C, and D, zinc, iron, and folic acid, promote stronger immunity in your baby. The formula's 60:40 whey casein ratio and 100% lactose are good for digestive health.
It also supports physical growth and brain and visual functions in your growing infant. The Aptamil Infant Formula with Prebiotic GOS & FOS contains essential and age-appropriate nutrients to assist in the overall growth and development of your baby.
Pros
Easily digestible
Sweeter in taste, making it more palatable
Prebiotic-plus formula
Cons
You can purchase the product here.
Nestle Lactogen is a spray dried infant formula that contains essential probiotics. It is primarily made of whey protein, which are milk proteins that are easier to digest.
Nestle boasts over 150 years of experience in infant nutrition. The milk formula also contains the essential B vitamins, calcium, magnesium, manganese, and iron.
Pros
Easy to digest
Ideally priced
Cons
You can purchase the product here.
Enfamil is intended for babies from 6 months to 12 months of age. The brand is promoted by Mead Johnson Nutrition, representing over 100 years of global expertise in child nutrition.
It is replete with DHA, the essential fatty acid ideal for brain development. It also is rich in choline and iron.
Pros
Keeps the baby full for long
Provides energy
Cons
Can cause gas in a few babies
Possible issues with packaging
You can purchase the product here.
The Farex 1 Infant Formula is predominantly made of whey protein, making it easier for your baby to digest. It also contains nucleotides and zinc that boost immune function. The omega-3 and omega-6 fatty acids in the formula promote brain development.
The infant formula is made of 100% lactose, and this helps feed the beneficial bacteria thriving in the baby's gut.
Pros
Causes less gas, compared to other brands
Helps in the baby's weight gain
Fewer instances of the baby throwing up
Cons
Forms lumps after mixing
Babies may spit it out due to the taste.
You can purchase the product here.
Dexolac infant formula milk powder is replete with iron that helps combat anemia (which can be common during the time). It also contains omega-3 and omega-6 fatty acids, choline, and iodine that promote the infants' brain development.
The calcium, magnesium, and vitamin D support the baby's bone strength and development. The infant formula also contains nucleotides and folic acid.
Pros
Helps regularize motion (stool) in babies
Helps improve immunity in kids
Cons
Sticky
Does not dissolve fast
You can purchase the product here.
Neocate LCP Infant Formula Powder is specially designed for infants who are allergic to cow's milk. The product is suitable for infants below 12 years of age. It is an amino-acid based milk formula.
This milk powder contains LCPs (long-chain polyunsaturated fatty acids) and nucleotides. The product is also suitable for babies with multiple food protein allergies or gastro-oesophageal reflux disease.
Pros
Lactose-free
Aids weight gain
Good for babies with food protein allergies
Cons
You can purchase the product here.
Similac Advance Infant Formula contains omega-3 and omega-6 fatty acids, iron, iodine, choline, taurine, folic acid, and zinc – all of which help promote brain health. The calcium and vitamin D in the formula promote bone health of the infant.
The brand has been involved with science-based child nutrition for over 85 years. This infant formula is ideal for babies up to 6 months of age.
Pros
Has almost all nutrients similar to breast milk
Fast digesting
Reduces spit-ups
Cons
You can purchase the product here.
Nusobee Soya Infant Formula contains medium-chain triglycerides and maltodextrins that support easy digestion. This formula works especially well for infants with lactose intolerance and diarrhea.
It also contains sodium, potassium, and chloride – all of which help replenish electrolytes. The calcium, magnesium, and vitamin D in the formula promote bone health.
Pros
Works well for infants who are lactose intolerant
Cons
You can purchase the product here.
This is yet another infant formula from Nestle. It is made of whey proteins. It also contains DHA and ARA and other nutrients like vitamins A, C, D, iron, and zinc.
The product is ideal for babies up to 6 months. Since it contains whey protein, it can also help treat digestive issues, which are most common in preterm babies.
Pros
Contains probiotics and nutrients
No constipation issues
Cons
You can purchase the product here.
Milk powders are an effective way to ensure your baby gets the right nutrients. Of course, they can never match the goodness of mother's milk. Hence, if you have to use them, do so only on top of regular breast milk. Also, go for infant milk formula only after consulting your doctor.
These are the best baby formula powders available on the Indian market. But before you go ahead and buy one for your little one, consider the points listed in the next section.
Things To Consider Before Buying Baby Milk In India
Formula milk for babies comes in different age brackets. Pick the one that is right for your baby's age.
Allergies And Other Medical Conditions
Baby formula milk powder generally includes cow milk lactose as a base. If your child is lactose intolerant or has any stomach infection, your pediatrician might suggest one with a soy milk base. Consult a doctor before picking formula milk for your baby and always check the milk base used.
Check the ingredient list carefully. Avoid any product that contains talc or any other preservative. Also ensure that the formula is enriched with DHA or iron-fortified. Such formulas imitate the nutrition value of mother's milk.
Which of the formulas from the list would you pick? Why? Do share your thoughts with us by leaving a comment in the box below.
References
"The importance of infant and young child feeding and recommended practices" Infant and Young Child Feeding, US National Library of Medicine, National Institutes of Health.
Recommended Articles:
The following two tabs change content below.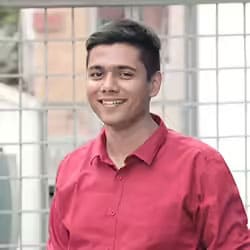 Ravi Teja Tadimalla is an editor and a published author. He graduated from SRM University, Chennai, and has been in the digital media field for over six years. He has a Professional Certificate in Food, Nutrition & Research from Wageningen University. He considers himself a sculptor born to chip away at content and reveal its dormant splendor. He started his career as a research writer, primarily focusing on health and wellness, and has over 250 articles to his credit. Ravi believes in the great possibilities of abundant health with natural foods and organic supplements. Reading and theater are his other interests.