14 Best Lipstick Organizers For Your Lipstick Collection – 2022
Carry these trays and cases, so your beauty products don't get messed up.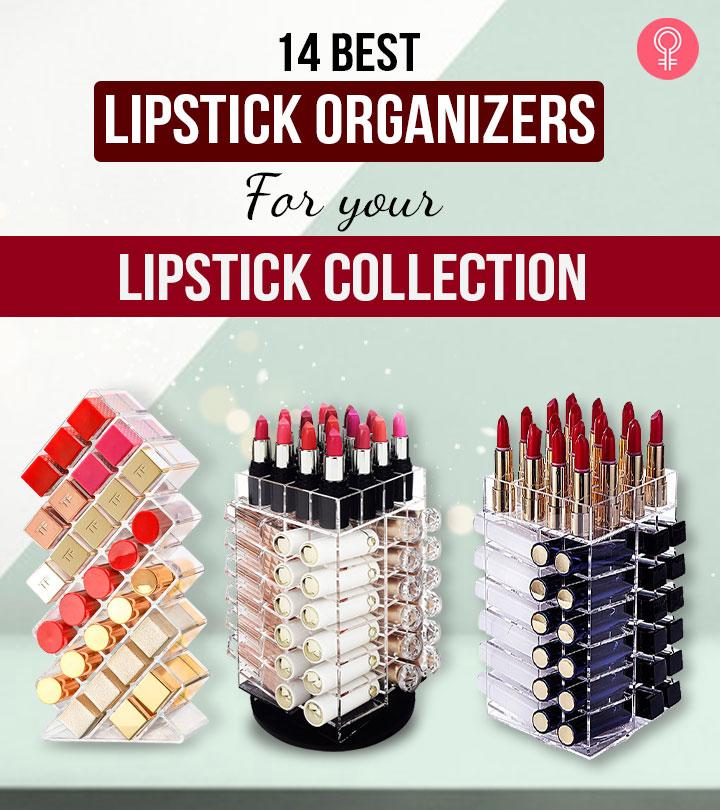 Owning the best lipstick organizers will make sure you don't have to rearrange your makeup bag now and then, and also, you don't have to ransack the whole drawer to find the shade you need. Lipsticks are one of those makeup products you can never have too many. Having a lovely and long-lasting pigment can make a style statement in itself. Making sure you have the color that matches all your looks calls for experimentations—having a lipstick organizer does more than just store them in place. They display the product and make it look gorgeously pretty and ready for use. While you spend a good amount on lipsticks, keeping them in perfect shape is necessary. Here are the 14 highest-rated organizers for lipsticks to help you sort and display your lipstick collection the right way.
How Can I Organize My Lipstick?
 The best way to organize lipstick is to group them. Lipsticks, lip balms, lip creams, etc., should be kept together based on their type. This makes finding a lipstick or a lip balm easier and faster. Also, you can organize all the shades of similar colors together. It saves time and avoids unnecessary mess.
 Another benefit of putting all similar shades together is that you will avoid repurchasing identical products. Also, keep an eye on the expiry date. On average, a lipstick can last for a maximum of 2 years. Therefore, you can also organize your lipstick based on the expiry date.
 It's important to keep your lip products in a cool place. Avoid keeping it at places that are dust prone and under direct exposure to heat. Too much heat and moisture can spoil your lipsticks.
Another way to organize your lipstick collection is to stack them in a lipstick organizer. Here are the top lipstick organizers that you can buy online.
14 Best Lipstick Organizers
The Gospire Lipstick Holder is a 3D laser cut, transparent storage, making it easy to spot lipstick shades. It is made of dual acrylic composition, a clear liquid that gives it a translucent look. It is easy to clean and consists of ABS eco-friendly material, making the product durable with less chance of breaking. This lipstick holder has 40 slots to organize all the lipstick in one place. Each square holder measures 0.9″X 0.9″ as per the standard lipstick size.
 Size: 3.5 x 5 x 8 inches
 Slots: 40
 Color: Transparent
Pros
 Spacious
 3D-cut
 Durable
 Easy to clean
Cons
By Alegory Lipstick Organizer is made of thick acrylic, has 24 slots, and is designed to fit lipsticks of standard size. It is made of a single mold with rounded edges, looks smart, and does not harm you. This premium quality organizer has a pure crystalline structure and a flat base that provides stability and prevents it from breaking. The lipstick organizer can fit in any small space.
 Size: 8.66 x 3.54 x 1.18 inches
 Slots: 24
 Color: Clear
Pros
 Crystalline look
 Rounded edges
 Lightweight
 Durable
Cons
 Fits standard size lipsticks only
This V-Hanver Lipstick Organizer has a beautiful fish-shaped design. It comes in a pack of 2 with a stable base design, thick acrylic, and rounded corners. Each box has 16 slots and can fit small to large base lipsticks with other beauty products. It is stimulated with clear acrylic for an excellent look. The organizer has the features to make it stand, lay flat, or be stacked on top of another. In addition, it is waterproof and dust-proof.
 Size: 3.03 x 2.44 x 9.05 inches
 Slots: 16
 Color: Clear
Pros
 Waterproof
 Dustproof
 Rounded corners
 Easily accessible
 Good stability
 Ideal size
Cons
 Unstable when stand up tall
The Weiai Lipstick Organizer is made up of crystal transparent material and has 18 spaces. Its holder compartments are progressively deeper from front to back, giving more space to hold long lipsticks or lip-gloss. This lipstick organizer suits any home decor making it for a beautiful display. It is easy to clean – you can wipe it with a damp cloth or rinse it in the water directly. Besides lipsticks, it is an ideal product to store lip moisturizers, mascara, or other accessories.
 Size: 6.7 x 3.5 x 2 inches
 Slots: 18
 Color: Clear
Pros
 Lightweight
 Spacious
 Portable
Cons
The premium and innovatively designed Ikee Design Lipsticks Tower Organizer comes with 4 side slots and a top compartment. It holds up to 64 lipsticks and turns at 360 degrees. This organizer is made of high-quality acrylic, has a removable divider, and features an adjustable top compartment where you can store other accessories. It is easy to clean and helps pick your desired lip color due to its rotating base. In addition, its rounded edges prevent lipsticks from falling out.
 Size: 4.5 x 4.5 x 9.2 inches
 Slots: 64
 Color: Transparent with black base
Pros
 Rotating stand
 Adjustable divider
 Rounded edges
 East to clean
 Durable
Cons
The Rownyeon Lipstick Organizer Case has 67 slots with six compartments to store all your lipsticks. Its compartments are created to organize them according to their colors for easy finding. The lipsticks are secured with a firm elastic strap to avoid mess. The case comes with a black cover, handle strap, and metal zipper. It is durable, dust and water-resistant, and its handle strap can withstand enough weight. In addition, its elegant design makes it a travel-friendly item.
 Size: 10.75 x 7.12 x 4.75 inches
 Slots: 67
 Color: Black
Pros
 Elastic strap
 Zipper cover
 Water-resistant
 Durable
 Travel-friendly
Cons
The Bbdou Lipstick Organizer is a scratch-resistant product made of high-quality transparent acrylic material. In addition, it has longer storage slots to prevent the lipsticks from falling off. This holder consists of 24 slots for organizing makeup brushes, lip gloss, lipstick, eyeliners, lip liners, etc. Its smooth surface and transparent storage give it a stylish look.
 Size: 8.58 x 3.54 x 2.99 inches
 Slots: 24
 Color: Transparent
Pros
 Scratch-resistant
 Longer slots
Cons
The HBlife Lipstick Holder is made of acrylic and can hold up to 64 lipsticks. Its top compartment comes with 16 slots where you can store your most favorite shades. Its top section has removable dividers for maximum storage, and its bottom section can hold 12 lipsticks on each of the 4 sides of the tower. The organizer is easy to use because of its 360° rotating spinning base.
 Size: 6.7 x 6.5 x 11.3 inches
 Slots: 64
 Color: Transparent
Pros
 Acrylic material
 Transparent
 Removable dividers
 Spinning base
 Spacious
Cons
 Strong plastic smell
 Expensive
The Tasybox Lipstick Organizer is transparent, making it easy to store and pick lipstick shades. It is made of clear plexiglass, a clear and strong acrylic composition, giving it a transparent look. The acrylic material makes the product durable with less chance of breaking. The organizer is easy to clean and has 28 deep slots to hold all your lipstick in one place. Each holder measures 4.53 x 2.56 x 10.04 inches, while each inner cube measures 0.98 x 0.98 inches.
 Size: 4.53 x 2.56 x 10.04 inch
 Slots: 28
 Color: Transparent
Pros
 Durable
 Deeper slots
 Easy to clean
Cons
None
The Sooyee Lipstick holder is made of a strong acrylic material, which guarantees its durability. It is flawlessly made to keep all of your accessories from falling out. The transparent look makes it easier to spot the one you need. The slots are progressively deeper from front to back. This lipstick holder has three rows of sizes 3.5 x 3.5 x 2.5 inches, respectively. You can use this holder for storing lip gloss, makeup brushes, and nail polish.
 Size: 1.38 x 3.5 x 2.52 inches
 Slots: 9
 Color: Clear
Pros
 Durable
 Transparent
 Deeper slots
Cons
This Yiezi Lipstick Organizer Tower is made of thick acrylic and has rounded corners. It is a waterproof, dust-proof and has a smooth and stylish texture. The organizer has 16 slots of 1 x 1 inch each. In addition, this lipstick tower is fish-shaped, making it a space-friendly item.
 Size: 3.03 x 2.44 x 9.05 inches
 Slots: 16
 Color: Clear
Pros
 Rounded corners
 Stable design
 Dustproof
 Waterproof
Cons
The Dealight Lipstick Organizer is made of durable, high-quality PS material, and has a crystal-clear design giving it easy accessibility. It has 24 slots to store lipsticks, lip balms, makeup brushes, and other cosmetics. Its edges are smoother, which does not hurt your hand. This stylish lipstick holder can be placed in the bathroom, bedroom, drawing room for a cool display.
 Size: 8.66 x 3.15 x 1.96 inches
 Slots: 24
 Color: Clear
Pros
 Polished surface
 Good storage
 Durable
 Transparent
Cons
 Not suitable for tall lipsticks
The handmade PuTwo Lipstick Organizer features a unique brass and glass design, perfect for keeping all your lipsticks, lip gloss, and lip balms beautifully and easily. Its lid is made of durable, thick metal and copper bar. The organizer is dust-proof and moisture-proof, and easy to clean. This fashionable and functional organizer will reduce the mess and allow you to keep all the lipstick in one place.
 Size: 21.06 x 12.6 x 18.11 inches
 Slots: 24
 Color: Transparent with brass corner
Pros
 Dust-proof
 Moisture-proof
 Easy to access
 Durable
Cons
None
The Amazing Abby Charm Lipstick Organizer has a 12-slot design and offers a beautiful space for all lip colors. It is made of high-quality acrylic plastic, crystal-clear, and shiny material. The stylish and modern design of the organizer adds to the beauty of your dressing table. It will not crumble like glass or ceramic, making the holder safe and long-lasting.
 Size: 6.9 x 2.5 x 1.2 inches
 Slots: 12
 Color: Transparent
Pros
 Durable
 Value for money
 Easy to store
Cons
 Not suitable for big lip shades
The choice of your lipstick holder depends upon your usage. However, the given essential features make a lipstick organizer a good deal for any woman. Let us explore.
How To Choose The Best Lipstick Organizer
 Portable: A portable lipstick organizer is a must for a woman who spends most of her time traveling. Portable holders are usually made of high-quality material, which makes carrying safe. It should also be lightweight and come with smoothed edges.
 Multifunctional: An ideal lipstick organizer should be a multitasker. It can carry other items like nail polish, mascara, eyeliner, etc. having a multipurpose organizer will save your space and money.
 Budget-Friendly: Price is another important aspect of making a purchase. Therefore, prepare a budget and then look for products that align with it.
Why Trust StyleCraze?
Baishali Bhattacharya, the author of this article, is certified in makeup artistry. According to her, it is best to have a lipstick organizer to prevent any last-minute search operation while getting ready! She has conducted thorough research and prepared this list of the best lipstick organizers available on the market. They are high-quality, durable, lightweight, portable, spacious, and have deeper slots.
Frequently Asked Questions
How do you organize your lipstick?
• Invest in transparent lipstick organizers or baskets.
• Separate your lipsticks according to their formula or arrange them based on their colors.
• Stock them one after the other in different compartments of the organizers.
• Store the box in a cool and dry place
How do you store makeup or cosmetics tools and materials?
Clean your makeup tools and material, then store them in separate containers. Place the containers in a dry place away from sunlight, like in your vanity drawer.
Can I store lipstick in the refrigerator?
Yes. Store lipsticks in your refrigerator to prevent them from melting in hot weather.
Can you store lipstick upside down?
No. Do not store lipsticks upside down to avoid breaking the product.
How long does lipstick last in the fridge?
Lipsticks last a few more years than they usually do if kept in the fridge. The cool temperature of the refrigerator also smoothens the texture of the formula.
Recommended Articles