The 11 Best Skin Firming Lotions For Your Stomach In 2023
Say 'goodbye' to the loose, saggy skin around your belly and get in shape!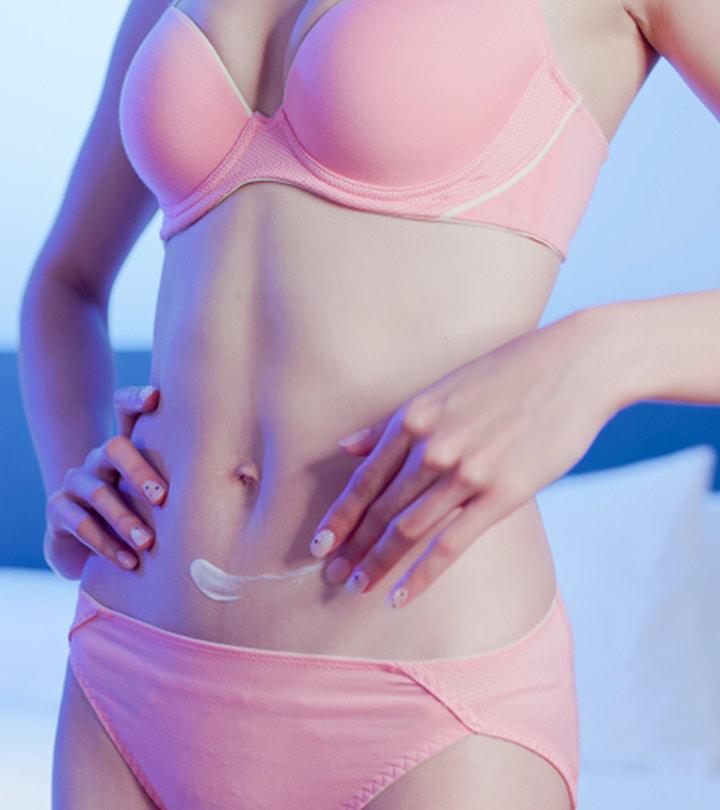 Saggy skin, cellulite, discolored skin, and uneven skin texture on your stomach are a normal part of being human. While they are beautiful, it is also human and okay to look for solutions to these skin conditions. That is why you can invest some dollars in the best skin firming lotions for your stomach. Going through a transformative weight loss journey, genetics, age, or pregnancy can make your skin lose its elasticity and make it a little saggy. Skin firming lotions contain ingredients such as shea butter and coconut oil that help improve the elasticity of your stomach's skin. While they cannot get rid of those bumps completely, they can slightly tone it and make it smooth. Even though cellulite is a celebration of the lifetime of changes our bodies have gone through, there is no harm in using some skin firming lotions to give you that slight boost of confidence during party season.
To help you look your fabulous best, we have curated a list of the top skin firming lotions available on the market. Check them out below!
Top 11 Of The Best Skin Firming Lotions For Your Stomach This Year
This is a fast-absorbing and lightweight formula that claims to firm up and tone loose skin in just 2 weeks when applied twice a day! Its refreshing formula is gel-based and applies smoothly all over your skin. All this without leaving your skin feeling greasy. If all this was not enough, it all comes enriched with lotus extract, L-Carnitine, and Q-10. So, what are you waiting for? Grab your bottle from the nearest store today!
Pros
Can be applied on stomach, buttocks, and thighs
Absorbs well into the skin and makes it more supple
Cost-effective
Suitable for all skin types
Cons
Some users have reported an unpleasant fragrance
May not help with stretch marks
Price at the time of publication: $10.29
We all know someone or are ourselves struggling with postpartum loose skin. Featuring a pleasant cocoa scent, this moisturizing treatment helps firm up loose and flabby skin. Enriched with vitamin E, elastin, collagen, and shea butter, this lotion can help reduce the appearance of stretch marks, scars, and any other skin imperfections. The stomach tightener cream also contains Coenzyme Q-10 (Co Q-10) that helps revitalize skin and leaves it feeling smoother. What makes this brand all the better is that the ingredients used are sustainably sourced and produced. So, by choosing this collagen cream for loose skin on your stomach, you will also be making a conscious choice to save our beloved planet!
Pros
Vitamin E and shea butter help nourish skin while making your skin firmer
Infused with natural, plant-based ingredients
Sustainably-produced
Contains panax ginseng root extract
Cons
Price at the time of publication: $5.99
Tone your crepey skin from head to toe with the Victoria's Skin Tight Naturals Tighten' Up Crepey Skin Cream. It is enriched with potent botanicals like vitamins, fruit acids, essential oils, organic shea butter, and niacinamide. This skin-reparative blend of ingredients helps tighten and smoothen your skin while revealing a youthful glow.
Pros
Reduces wrinkles and fine lines
Diminishes crepey skin
Dermatologist tested
Suitable for daily use
Long-lasting
Cons
Unpleasant smell
Expensive
Price at the time of publication: $39.97
It is not everyday that you find a massaging lotion for firming up loose skin infused with the goodness of green coffee bean oil. This formulation absorbs well into your skin and helps impart a toned look to areas that have cellulite. While it works on firming your skin, it also moisturizes it and leaves it feeling revitalized. One of the best skin firming lotions for the stomach, you can apply it on all other problem areas including thighs, arms, and hips and massage well for the best results. This product is not tested on animals and is paraben-free.
Pros
A massage cream formula that moisturizes skin
It helps activate lipolysis for firmer skin
Paraben-free
Cruelty-free
Cons
May not be suitable for those with fragrance allergies
Price at the time of publication: $14.99
The Elastalift Firm+Lift Collagen Concentrated Skin Rescue is a non-greasy lotion that tones and softens the skin on your face, legs, arms, and neck. It is enriched with green tea extracts to reduce inflammation and irritation. Aloe vera soothes the skin, chamomile provides free radical protection, and glycerin strengthens the skin barrier. This product helps prevent saggy skin, cellulite, crepey skin, and dimpling.
Pros
Non-greasy
Paraben-free
PEG-free
Formaldehyde-free
Sulfate-free
Dye-free
Triclosan-free
Propylene glycol-free
Talc-free
Gentle formula
Non-irritating
Fragrance-free
Suitable for all skin types
Cons
None
Price at the time of publication: $14.99
The Shrink Toning Solution is a one-stop solution to sculpt your body and look your leanest self. This heat-activated gel is suitable for use during workouts and is designed for professional athletes and gym enthusiasts. It contains caffeine, coenzyme A, L-carnitine, aloe vera gel, soybean oil, and vitamin E that accelerate fat burn. The exclusive Liposome
technology helps the gel penetrate deep into the dermis. This lightweight
lotion uses the proprietary CoAxel blend for skin tightening.
Pros
Reduces stretch marks
Decreases cellulite
Pleasant aroma
Lightweight
Long-lasting
Value for money
Cons
Not suitable for sensitive skin
Price at the time of publication: $39.99
The Lure Essentials CelluShape Firming Gel is a natural formula that leaves your skin feeling toned and smooth. It is enriched with potent botanical ingredients like apple cider, grape seed, gotu kola, algae, and caffeine that reduce stretch marks and cellulite. This skin firming gel diminishes the appearance of dimples and crepey skin from the waist, legs, arms, thighs and bum.
Pros
Non-sticky
Targets cellulite
Pleasant fragrance
Includes a massage applicator
No residue
Cons
None
Price at the time of publication: $39.99
Say no to an unflattering belly pooch with the B-FLAT Firming Belly Cream by Maelys. This skin-firming cream is specifically designed to target concerns on your belly area. It contains avocado extract that diminishes the appearance of stretch marks and pink pepperslim to tighten loose skin. Shea butter keeps the skin looking plump, removing scar and dark patches. This lotion also contains hyaluronic acid that improves skin texture and reduces wrinkles.
Pros
Paraben-free
SLS-free
Phthalate-free
Long-lasting
Cons
May cause a tingling sensation
Price at the time of publication: $49
Whether you are worried about dimples on your buttocks or fatty arm skin, the brazilianbelle Anti-Cellulite Body Firming Cream will help you target them all. The non-greasy formula is infused with antioxidant-rich extracts of pure caffeine and green tea. Caffeine extract breaks down fat deposits to tone, lift, and firm the skin while reducing the appearance of cellulite. This cream contains emollients like acai berry oil that relieve dry and inflamed skin. Cacao butter nourishes the skin, improves moisture retention, and increases elasticity. This product also contains retinol and vitamin E that target stubborn cellulite caused by weight gain and aging.
Pros
Reduces stretch marks
Diminishes cellulite
Suitable for all skin types
Non-greasy
Pleasant fragrance
No oily residue
Cons
None
Price at the time of publication: $29.99
What is better than getting your hands on one of the best skin firming lotions for the stomach? Getting one that is vegan and paraben-free, of course! Hot Vita brings to you an anti-cellulite and firming lotion formulated with a bunch of natural ingredients. Some of these active ingredients include caffeine, sunflower oil, and guarana seed that help increase lipolysis or burning of fat under the skin. This in turn, reduces cellulite, eliminates bulges, bumps, and even stretch marks. You can apply this to all the problem areas and massage it into the skin for the best results.
Pros
Can be used to reduce cellulite and stretch marks post-pregnancy
Hydrating formula
Leaves skin feeling revitalized
Delivers antioxidant benefits and also firms skin
Cons
Some users may not like the thin consistency of the lotion
Price at the time of publication: $19
The thermogenic Shrink Toning Lotion is the best fat-burning, anti-cellulite, and anti-stretch mark treatment. It consists of active ingredients like lactic acid, vitamin E and glycolic acid, aloe vera gel, caffeine, etc. with the fragrance of aloe vera. The transdermal anti-cellulite cream concentrates on the adipose tissues of the applied region and tightens the area by fat oxidation. The heat-activated gel uses exclusive liposome technology to get into the deeper of the dermis layer of the skin and promotes the filling of the uneven tissues and gives your body a smooth, tight, and fit look.
Pros
Natural ingredients
Sulfate-free
Paraben-free
Safe to apply over tattoos
Cons
May cause temporary redness
Price at the time of publication: $39.99
If you have a slightly saggy stomach, you can simply use a firming lotion to tighten your stomach up. However, it might be challenging to choose the best skin tightening lotion for your stomach from the various options available in the market. But don't you worry, we have got your back! Here are a few pointers to keep in mind.
Things To Know Before Buying A Stomach Firming Lotion
If you have sensitive, greasy, or excessively dry skin on your stomach, it's important to choose a tightening lotion that will help with your specific issue while also helping to firm up the saggy skin. Try to select one that makes use of all-natural formulas. Do not purchase creams with oily formulations if you have oily skin. If you have dry skin, avoid alcohol, benzoyl peroxide, and other drying ingredients.
Clearly, natural creams with gentle formulas are the best option over high-performance chemical creams in the long term. Hydrating formula with vitamin E, toning creams with hyaluronic acid, and soothing balms with antioxidants all aid in maintaining healthy skin.
It is important to remember the positive effects of nutrients like olive oil, coconut oil, aloe vera, lemon, retinol, CoQ10, collagen, and polypeptides. Skin tightening is a team effort, and this combination of substances is a key part of it.
There is no standard method recommended by all stomach tightening lotion manufacturers. Choose the one that is best for you based on how often you plan to use it, once a week or twice. If you want the greatest results, make sure you follow the recommendations uncarefully.
Some formulations may have an unpleasant odor. If this is a turn off for you, opt for one with an added fragrance. However, added scent means extra chemicals, so if you have sensitive or damaged skin, it is better to go for a fragrance-free product.
The pricing of the product does not determine its effectiveness! You can opt for mid-priced products if you think it will suit your needs more.
Now that we have seen the 11 best skin firming lotions for the stomach, let us take a look at a few helpful points to remember when buying them. Read on to know more.
How Do You Choose The Best Skin Firming Lotion For Stomach?
With so many skin tightening creams for stomach available in the market today, choosing one that's right for you can be a bit difficult. Here's a how you can do it:
Choose a cream that suits your skin type
The most basic of checks to do before purchasing the best stomach firming cream would be to look for one that suits your skin type. Sensitive, oily, or extremely dry skin requires one to choose the right tightening cream for stomach, so as to address the concern while also firming up loose skin. Look for one with as many natural ingredients as you can find.
It is a good idea to choose a natural formulation over a chemical one
Needless to say, in the long run it is beneficial to choose creams that contain natural ingredients over those that have active chemical contents. Such creams that tighten skin on the stomach are more gentle on skin, while not compromising on the desired effect. Vitamin E-infused formulas help moisturize skin, hyaluronic acid tones skin, and antioxidant-rich creams help heal skin.
Every stomach toning cream comes with different directions for use. Depending on whether you want to use it twice a week or just once, get the one that's right for you. It is important to ensure that you have got the directions right to get the best results.
At every point in your weight loss journey, remember that you are in this for the long haul and expecting results within a few days is not realistic. So, you must give all of these products at least a few weeks to weave their magic, backed with a diligent workout regime and healthy eating habits.
Some SPF is better than no SPF
If you plan on stepping out to get a session of workout, get one with a good sun protection factor to protect your skin from the harmful sun rays.
Why Trust StyleCraze?
The author, Vaishnavi Kothuri, is a beauty and fashion enthusiast who loves reviewing beauty products as they hit the shelves. She has done multiple site comparisons and carefully reviewed several customer testimonials before bringing you this list of the best skin firming lotions for your stomach. These skin firming lotions absorb well and help get your stomach skin back in its original shape and texture.
Frequently Asked Questions
Are skin firming lotions really effective?
Skin firming lotions that contain vitamin E help moisturize skin, hyaluronic acid tones skin, and antioxidant-rich creams help heal skin. All these active ingredients help firm up and improve skin elasticity.
Can you firm up loose skin on your stomach?
Yes, toning creams for stomach can help tone saggy skin and improve skin elasticity in the abdominal region. Some formulations such as WeightLoss-Solutions Lipo-Boost Anti-Cellulite Firming Lotion contain natural active ingredients that also nourish skin.
Which are the best skin firming lotions for stomach?
Some of the lotions mentioned in this list such as WeightLoss-Solutions Lipo-Boost Anti-Cellulite, NIVEA Gel Cream Skin Firming & Toning with Q10 + L-Carnitine, Palmer's Cocoa Butter Formula with Vitamin E + Q10 Firming Body Lotion, etc. are some of the best stomach toning creams available today.
Are skin firming lotions safe?
Yes, most skin-firming lotions are safe to use. However, while purchasing the right product for yourself, do not miss out on checking the ingredients list. If the skin firming lotion contains harmful chemicals and carcinogens, it is better to avoid it.
How long does it take for a firming lotion to work?
A firming lotion can take up to two weeks to show visible results. After that, the skin begins looking firmer as the collagen tightens your skin and reduces cellulite.
Recommended Articles