10 Best Amber Perfumes You Can Wear As Your Signature Scent
Indulge in the warm, spicy, and addictive smell of amber with just a couple of sprays.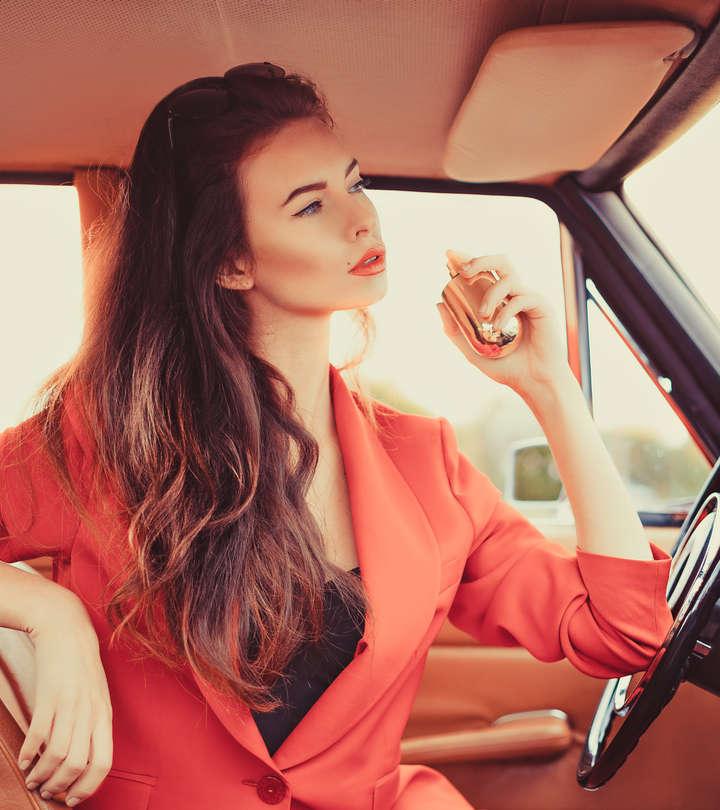 Amber fragrance is the most liked perfume that offers an influenceable scent. You must try the best amber perfume to make yourself feel fresh and if you want to receive a stream of compliments. Amber is a blend of natural and synthetic ingredients. It imparts a sense of powder, warm, and sweet scents. This fragrance is charming, magnificent, and seductive. In many perfumes, amber is used as a base note in addition to other fragrances. The fragrance is extracted from stiff resins. Perfumes formulated with this note have an earthy, rich, and woody aroma.
It is generally included in oriental scents. Amber fragrance blends well with any citrus notes and provides a complex and peppery scent. Perfumes infused with amber fragrances are ideal to use for day and night occasions. If you love to wear a perfume that comes with amber base notes, you have come to the right place. This article has mentioned a list of the 10 best amber perfumes you would absolutely adore, along with a buying guide. Check them out below!
10 Best Amber Perfumes That Will Leave You Smelling Amazing
This elegant unisex perfume is quite popular because of the rich mix of amber resin and patchouli. The fragrance also contains a luxurious blend of oak bark, blood orange, and rich woods, which provides a sultry touch. The perfume comes packaged in an elegant black bottle, which reveals a unique pop of color when it is opened. If you are looking for a beautiful amber patchouli perfume, this would be a perfect choice.
Pros
 Unisex
 Suitable for formal occasions
 Long-lasting
 Light fragrance
Cons
 Not recommended if you are allergic to patchouli
If you are looking for the best sweet amber perfume, the Al Haram in Amber Oud perfume is a great choice. Launched in 2018, the fragrance is just as luxurious as the gold falcon bottle it comes in. The unisex scent contains notes of oriental vanilla, melon blends, pineapple, vanilla, musk, and woody notes, making it the ideal scent for a date night or romantic evening. The fresh and enticing notes and sweet and inviting base notes are sure to tug at your heartstrings! Perfect for any casual or fun occasion, this one is a must-have.
Pros
 Light and fruity fragrance
 Fresh, top notes
 Suitable for sensitive skin
 Unisex
Cons
 May not last the whole day
This amber essence perfume is known for being fruity and warm, and you cannot overlook its effect once you wear it. This beautiful perfume has floral and fruity notes that leaves you feeling fresh and awake with just a few spritzes. The key fragrance notes are jasmine accord, raspberry, blueberry, black currant, violet accord, musk, and of course, dry amber. Like many Burberry perfumes,  this one is perfect for any occasion because it leaves a subtle fragrance that is not overpowering or heady.
Pros
 Fresh, fruity fragrance
 Suitable for any occasion
 It contains calming and sensual keynotes
 Long-lasting
Cons
 Some may not like the mild aroma
This Prada amber perfume has a way of creating an impression and capturing everyone's attention, with just a single spritz. This perfume has a warm and earthy scent that is great for women of all ages. It contains keynotes of mandarin, vanilla, rose, bergamot, tonka bean, bitter orange, and sandalwood, which can easily be worn as a signature scent. This perfume is perfect for casual use, and since it has a warm aroma, it can be used during the colder months of fall and winter. This amber perfume has even won a FiFi Award for Fragrance of the Year! Here's a video featuring a detailed review of the product.
Pros
 Long-lasting
 Suitable for casual use
 FiFi award for being the fragrance of the year
 The warm aroma makes it perfect for use during winter
Cons
 It may not be suitable for formal occasions
If you are looking for an intoxicating amber perfume that is a wonderful mix of intimate and sensual notes, this is the scent for you. The unique yet familiar scent leaves you feeling fresh and invigorated with every spritz. It contains keynotes of Indian jasmine, white amber, woods, and musk, and has been a favorite of many perfume enthusiasts. So, if you are looking for a white amber perfume that is refreshing and smells heavenly, we suggest that you go for this one.
Pros
 Long-lasting
 The gentle and powdery scent
 Suitable for any occasion
 Sprays well
Cons
 May cause an allergic reaction in rare circumstances
If there is one thing you can count on from Michael Kors is that they go all out on their fragrance collections. Following the same rule, this sexy amber perfume is, without a doubt, a masterpiece! This is an oriental floral scent that is quite alluring and suits the modern woman's lifestyle. The keynotes are amber, sandalwood, and white flowers, resulting in a rich, inviting aroma. The perfume makes a statement without being heady or garish.
Pros
 Oriental floral fragrance
 Suitable for formal occasions
 Warm keynotes
 Long-lasting
Cons
 May not last for more than an hour
This is one of the best amber perfumes, especially if you are looking for a fresh and modern choice. The chic and sophisticated scent contains keynotes of linden blossom, dewy magnolia, bergamot, rose, ylang-ylang, jasmine, Tibetan musk, vanilla, and sandalwood. If you want to feel the energy and excitement of New York City with just a spritz, this fragrance will get the job done! The perfume does a fantastic job at mixing femininity and luxury while creating a lasting impression.
Pros
 Fresh, floral fragrance
 Suitable for casual use
 Long-lasting
 It settles well on the skin
Cons
 The scent may be strong for some
This unisex perfume contains an intense mix of floral and amber scents that make it perfect for men and women. The perfume contains keynotes of Artemisia, apricot, lemon, and chamomile, which sets the tone for an amazing fragrant journey. The warm vanilla and spicy musk scents leave a long-lasting impression with a single whiff. The oud fragrance will dry to a spicy rose-infused scent that is seductive and warm. For best results, we recommend applying this perfume behind your ears and on your wrists.
Pros
 Warm and spicy fragrance
 Long-lasting
 Unisex
 It can be used as a standalone perfume oil or layered with a cologne
Cons
 May leave an oily residue
This is an amber woody fragrance table for men and women. It contains keynotes of cardamom, apple, lavender, white pepper, cedar, and orris. The scent dries down to reveal a beautiful blend of amber, woody notes, and patchouli. This perfume is nothing short of a masterpiece by the designer as it showcases the various dimensions that come with amber and how it builds around other ingredients. This perfume ensures that all the fragrances blend together beautifully and stay on your skin every day.
Pros
 Unisex
 Warm and spicy fragrance
 Long-lasting
 No synthetic additives
Cons
 Consistency may be watery
Bath and Body Works is known for its incredibly smelling products, and the Sensual Amber perfume is their crowning glory. This fragrance has become quite popular among women of all ages across the globe. The oriental fragrance is suited for bold and daring people with keynotes of forest fruits, plum, bergamot, orange blossom, iris rose, and lotus. Once the perfume dries, you will smell base notes that include a blend of vanilla, amber, and praline that is both warm and inviting. The fragrance makes an impact, and it is long-lasting.
Pros
 An oriental and warm fragrance
 Long-lasting
 No artificial additives
 Suitable for women of all ages
Cons
 May not be ideal for sensitive skin
Now that you have gone through the 10 best amber perfumes available in the market, you will want to know the various factors that will help you decide on the perfect amber perfume for you.
How To Choose The Best Amber Perfume
Amber perfumes have a warm and musky scent with inviting honey undertones. These perfumes will usually use labdanum oils or vitamin E oils to prolong the fragrance and make it long-lasting. You can also look for jojoba and sunflower oils as common ingredients in amber perfumes. Floral and woody scents are usually extracted from forest flowers like lavender, making them ideal for date nights where you're in need of a strong, impactful scent. Fruity and citrus scents, on the other hand, are extracted from fruits like oranges and berries and are ideal for daytime events.
Amber perfumes contain a variety of ingredients, along with essential oils that make them enjoyable. However, ensure that the scents don't have any alcohol or added synthetic fragrances as they can irritate the skin and trigger rashes. If you experience any allergic reaction, discontinue use immediately.
Quality and brand are 2 essential components that can make perfume, and the same goes for any amber-scented product. Look for brand perfumes that use quality ingredients and essential oils, and the best perfumes will work wonderfully with your body chemistry.
When you are shopping for the perfect scent during the winter months, look for woody fragrances like cedar and pine as they are known to make the wearer feel warm and comfortable. However, if you are looking for an amber perfume during the warmer months of spring and summer, then fruity-floral scents that have citrus, vanilla, or berry notes are a great choice because they make the wearer feel light and fresh.
Choosing the perfect amber perfume must be a careful and thought-out task since you want to invest in a quality product. The amber fragrance works well for men and women and suits every occasion. The best amber perfume will have a raw, seductive, and intense aroma associated with glamour and luxury. One of the best things about amber perfumes is the variety, and they can be paired with floral, fruity, spicy, and musky scents to provide you with a fragrance that suits your body chemistry and makes you smell amazing. Hopefully, our list of the 10 ten best amber perfumes will help you find the perfect one and make you smell amazing with every spritz. Happy shopping!
Why Trust StyleCraze?
Chaitra Krishnan is a fashion and makeup enthusiast. She has handpicked the products on this list of the best amber perfumes you can use as your signature scent from trustworthy and famous brands. Several customers also have positively reviewed these products. In addition, she has created a buying guide and mentioned the pros and cons of each product to help you make an informed choice.
Frequently Asked Questions
Where does amber scent from?
Amber scent is extracted from vanilla beans and gum resins from the Styrax Benzoin Tree.
Is amber a good scent?
Yes, amber is a good scent that is warm, seductive, and exotic.
What scent category is amber?
Amber scent falls in the 'oriental' category of perfumes.
Is amber a feminine scent?
No, amber is considered to be a unisex scent.
Is amber a top note?
No. Amber is a base note made from vanilla extracts and consists of a blend of patchouli, labdanum, styrax, and benzoin.
Recommended Articles