10 Luxe Arabian Perfumes That You Must Check Out In 2022
Smell divine with these long-lasting, fresh, and irresistible Arabian perfumes.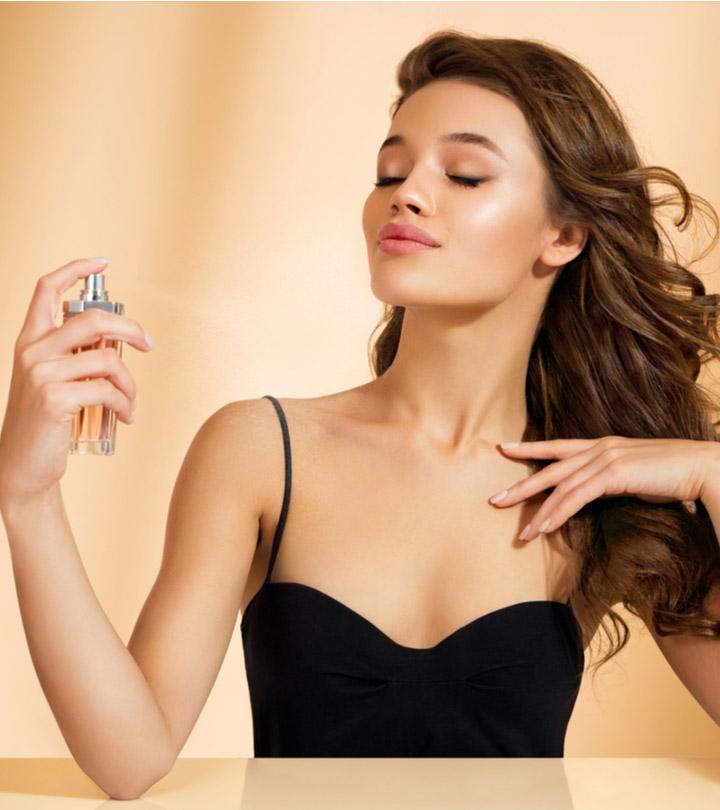 A traditional Attar perfume can make an entire hall fragrant, which is why luxe Arabian perfumes could be one of the best ever answer to your long-lasting perfume yearnings. The best Arabian perfumes are not just for the elite class, they are for all.
The royal and strong fragrance of these perfumes spread the nostalgic scent, which many people love around the world. These perfumes are in high demand in the global market, owing to their quality and purity. Made of essential oils, it can ward off any unpleasant body odor instantly. Some studies even indicate that these have the capacity to reduce a person's anxiety and calm the nerves. Also, these perfumes are long-lasting, isn't it wonderful?
Well, if you think all the Arabian perfumes are costly, then you are absolutely wrong. Check out our list, we have included the best Arabian perfumes of all price range.
Top 10 Best Arabian Perfumes Of 2022 That Are Pure Indulgence
This fruity and floral punch imparts a non-cloying sweet sillage that'll refresh your mood instantly. Long-lasting and suitable for all skin types, this oil-based Arabic perfume for women beautifully dries down to that woody infusion that'll leave an irresistibly yet enigmatic trail wherever you go. Modern, feminine, and right out of a fantasy tale, its top notes contain a fruity mix of plum, orange blossom, and blackcurrant. The heart notes are jasmine, ylang-ylang, and rose that settle to the sweet sillage of amber and agarwood (oud). Click here to check out a detailed personal review of this product.
Pros
Hypoallergenic
Moderate sillage
Alcohol-free
Suitable for evening and nightwear
Cons
Price at the time of publication: $23.36
For the romantic souls, the intoxicating scent of this Eau De Parfum will have you at its mercy. Imparting warmth with a hint of spiciness, it is pure indulgence for your senses. So, if you are looking for something irresistible for a romantic date, this oriental perfume will not disappoint. With an intense sillage to make your presence felt wherever you go, this Arabic fragrance can be a great icebreaker too. It has top notes of fresh rose (oriental), the middle notes are woody, cedar, and amber, and the base notes are oud and musk.
Pros
Long-lasting
Luxe formula
A little goes a long way
Suitable for men too
Cons
Some may find the scent overpowering
Price at the time of publication: $33.59
Like an embrace of warmth, serenity, and softness, the Amaali Perfume Oil will make you feel beautiful inside out. This modern, intimate, and feminine fragrance are reminiscent of florals and fruits blended into a woody infusion. The long-lasting fragrance embraces both men and women alike and lasts all day on all skin types. Here's a personal review video to help you get a better understanding of the product.
Pros
Long-lasting
Unisex
Intense sillage
Cons
None
Price at the time of publication: $24
If you are not a fan of intense fragrances but want to explore Arabian perfume oils, Khadlaj's Azaari may suit your liking. Its sillage is not "witness me" and overpowering but moderate and soft to give your vibe a zesty and dreamy uplift. Wear it during the day or wear it to work if you like; this fragrance will not cloy or trigger headaches. It contains top notes of rose, amber, and vanilla citrus, heart notes are woody and musk, and base notes are oakmoss and woody.
Pros
Floral sweet
Moderate sillage
Suitable to wear daily
Cons
Some may find the rose notes intense
Price at the time of publication: $25.79
The delectable scent of Shaghaf Oud Eau De Parfum is not to be underestimated. A gourmand scent, it has top notes of saffron, middle notes of oud and rose, and base notes of oud, vanilla, and praline. With oriental flavors of the Middle East dancing with the elegant waft of Europe, every spritz imparts a sweet, non-cloying, and mesmeric sillage. Just what you need to make a lasting impression without being over the top, Saghaf Oud Eau De Parfum's striking plush bottle also makes it a great gift to give away. Click here to check out a detailed personal review of this product.
Pros
Sweet fragrance
Intense sillage
Long-lasting
Suitable for winter or occasional wear
Cons
Slightly heavy to wear daily
Price at the time of publication: $33.04
With this roll-on perfume in your bag, you'll always smell good. Unlike regular perfumes, which have evolving notes, this Arabian Musk Perfume by Zoha contains perfume oils and aromas. And besides imparting a sweet and lingering scent, it will moisturize and soften your skin! Plus, its rich and intense texture is anything but overpowering. Wear it daily or for a romantic evening; this musk and woody scent will fetch you compliments only. Also, the fragrance evolves with the user's skin chemistry and is free from toxic chemicals such as sulfates, parabens, mineral oils, artificial coloring, and phthalates.
Pros
Vegan
Alcohol-free
Subtle and sweet
Oil-based
Cons
The infused musk can be overpowering if sprayed too much.
Price at the time of publication: $12.95
Middle eastern perfumes can be intense but incredibly calming too. And this scented oil attar is no different. Like walking into a room for aromatherapy, this scent is a great addition for summer and winter. Infused with the irresistible notes of saffron and oud, the heavenly blend will uplift your personality instantly. And with a little going a long way given its concentrated concoction, you can enjoy the warmth and earthy aromas of the Middle East in this scented oil attar for a long, long time.
Pros
Sweet sillage
Alcohol-free
Luxe formula
Long-lasting
Cons
Not ideal if you need a subtle fragrance
Price at the time of publication: $9.99
The Al Haramain Sultan is an oil-based perfume with an illuminating fragrance. It comes with a pleasant fruity-floral scent that keeps you refreshing. This perfume has top notes of Bergamot, Mango, Plum, Jasmine, Rose, Ylang Ylang, Orange, Lime, Lavender, middle notes of Rose, Jasmine, Ylang Ylang, Fruity notes, and base notes of Vanilla, Cedarwood, Sandalwood, Amber, Musk, Patchouli.
Pros
Unisex
Alcohol-free
Easy to use
Pleasant fragrance
Cons
None
Price at the time of publication: $19.95
The enveloping sillage of this gourmand scent is sweet, sophisticated, and incredibly indulging. A fantastic option for summers, the Arabic cologne evolves beautifully with sweet and vanilla-heavy notes without cloying. So, if you are a fan of gourmand scent, you must try Sehr Al Kalemat for this saccharine, woody, and earthy blend won't disappoint. It has top notes of basil and olibanum, middle notes of vanilla, and base notes of agarwood (oud) and amber.
Pros
Long-lasting
Intense sillage
Ideal for men too
Suitable for day and night
Cons
Price at the time of publication: $172.94
Escape to markets of the Middle East with the spicy and woody notes of this perfume oil mist. The scent is infused with oriental and warm flavors to uplift your mood and taste buds instantly. And the best part is, the fragrance is neither overpowering nor will it dry down quickly! A blend of pure perfume oils and aromas, its irresistible sillage captures the heat of the Middle East that evolves on every user differently depending on their skin chemistry. To put it simply, every user gets their very own personal scent! Besides this, it contains no toxic chemicals such as parabens, sulfates, artificial coloring, phthalates, mineral oils, and more. Need we say more?
Pros
Fresh
Subtle sillage
Alcohol-free
Oil-based
Non-sticky
Hypoallergenic
Cons
Spice notes may be sharp for daywear
Price at the time of publication: $34.95
Get the taste (or rather whiff) of the Middle East with the best Arabic perfume brands on our list. However, if you are still wondering how to pick the right one or wear Arabic perfume, we have some exclusive tips for you in our buying guide below.
How To Choose The Best Arabian Perfume For Women?
Look out for the following features in these luxury perfumes before buying:
Identify the notes
The uniqueness of your perfume lies in the notes. However, most Arabian fragrance blends contain perfume oils and aromas and may not have note segregation. Still, you must check the infused oils to understand the sillage. Gourmand scents are sweet with an infusion of vanilla and amber. Fragrances with musk or oud will have intense woody, sweet, and earthy notes that are hard to miss. So, pick accordingly!
Sillage
Not all Arabic style perfumes are intense and overpowering. There are fragrances with moderate and subtle sillage too. For example, Zoha Arabian Musk Perfume Roll-On has a mild and lingering trail making it ideal for those with a sensitive nose.
Stay power
Check the oil-to-alcohol concentration of the perfume to determine the staying power. If the scent is 100% oil-based and alcohol-free, it will last for a long, long time.
How To Wear Arabian Perfume?
To make the best out of the middle eastern fragrances, apply them to your pulse points. Since a little can go a long way, anoint a pearl-size amount on your wrist, behind your ears, on your nape, and the decollate areas for an optimum elevating experience.
Why Trust Stylecraze?
Chaitra Krishnan, the author of this post, has a passion for beauty and fashion, specifically for experimenting with new launches. This article on the best Arabian perfumes consists of a detailed description of each fragrance to help the readers pick their best. The pros and cons are given after each product, along with tips on choosing the best perfume, can make your buying decision a lot easier.
Frequently Asked Questions
What does Arab perfume smell like?
Arabian perfumes impart the warmth, spicy, and sophisticated culture of the Middle East. Their heavenly concocts mostly have the infusion of sweet oud, musk, roses, and gourmand notes.
Why are Arabic perfumes so strong?
Arabian perfumes have a heavy infusion of oils and aromas in concentrated forms compared to the regular oil-to-alcohol compositions. They are pure, unadulterated, and rich, which is why they may impart an intense or heavy sillage. If you are looking for moderate sillages, Zoha Arabian Musk Perfume Roll-On and Swiss Arabian Layali Eau De Parfum would be great options.
Why do Arabs use so much perfume?
Perfumes are part of Arabs' lifestyle. They consider it holistic to anoint themselves before prayers.