The 12 Best Hermès Perfumes For Women (2023) – Stylecraze
Pamper yourself with long-lasting, intense scents that will linger on all day.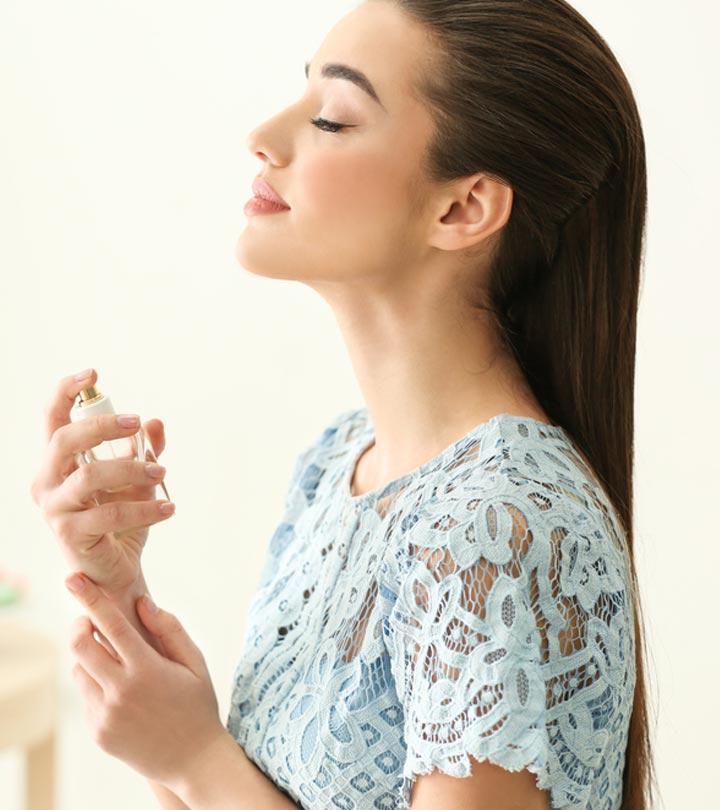 When you hear the name Hermes, you think of luxurious shoes and bags. What you probably did not know is that they sell some sophisticated fragrances. So, if you want to look and smell your best, you need to add the best Hermes perfume for women to your collection. Dating back several decades, Hermes offers a wide range of aromatic blends – from floral ascents to perfumes inspired by leather.
In fact, one of their first perfumes was inspired by the inside of their iconic bags. Hermes is one of the best brands that perfectly balances high-end luxury and charm. What has made Hermes stand the test of time is that they adapt their scents to the changing demands of their customers. Here is our list of the top Hermes perfumes for women available online! Scroll down to know more!

Top Picks
History Of Hermès Perfumes
Founded by Thierry Hermès in 1837, the brand has been a family enterprise for five generations and counting. With a vast history and heritage, this luxury fashion house is still privately owned and manufactures high-quality products like clothing, perfumes, bags, footwear, scarves, jewelry, and decorative arts.
The brand began their journey as traders of carriage supplies and horse saddlery. In 1929, Hermès gained instant popularity for its couture apparel designs as they entered the retail market. Scarves and timepieces were the next attraction from the 1930s, and in 1961, with their first perfume, 'Caléche,' the company finally launched their scent collection. However, in the 1970s, Hermès' insistence on using all-natural ingredients and materials in all their products led to a period of decline. But today, the preference for natural products is exceptionally high, which has contributed to Hermès' renewed success.
Top 12 Hermès Perfumes Of 2023
Pros
Good staying power
Everyday wear
Exquisite smell
Suitable for summer and spring seasons
Cons
May not be suitable for sensitive skin
Price at the time of publication: $90.38
Pros
Long-lasting
High-quality
Strong sillage
Sensation of comfort
Cons
Some may find the scent strong.
Price at the time of publication: $89.99
Pros
Portable
Everyday wear
Long-lasting
Delicate wear
Best suited for day time
Cons
Some may not like the initial woody smell.
Price at the time of publication: $94.26
Pros
Portable
Durable
Everyday wear
Fresh and sophisticated fragrance
Cons
Price at the time of publication: $68.0
Pros
Sensual scent
Long-wearing
Pocket-friendly
Soothing sensation
Best suited for cold days
Cons
Expensive
May not be suitable for sensitive skin
Price at the time of publication: $188.33
Pros
Floral
Tantalizing
Musky yet feminine
High-quality
Cons
None
Price at the time of publication: $103.3
Pros
Portable
Moderate sillage
Unisex perfume
Fresh and delicate wear
Suitable for summer and spring seasons
Cons
Price at the time of publication: $81.86
Best For Romantic Outings: Un Jardin sur le Toit Eau de Toilette Spray
Hermès
Pros
Long-lasting
Travel-friendly
Romantic wear
Unisex perfume
Not overpowering
Cons
Some may not like the citrus smell.
Price at the time of publication: $81.73
Pros
Long-lasting
Sensual scent
Unisex perfume
Attractive design
Best suited for summer and spring
Cons
Some may find the scent of cardamom too strong.
Price at the time of publication: $160.75
Pros
Durable
Portable
Great sillage
Sleek and well-polished bottle design
Cons
Some may not like the woody smell.
Price at the time of publication: $101.49
Pros
Portable
Good sillage
Unisex perfume
Not overpowering
Excellent summer fragrance
Cons
Price at the time of publication: $139.99
Pros
Long-lasting
Fresh scent
Travel-friendly
Everyday wearing
Cons
Some may not like the strong floral fragrance.
Price at the time of publication: $124.14
Hermes is a proud creator of some of the best perfumes for women. The brand features aromatic blends from floral masterpieces to deep sensual leather fragrances that are to die for. However, with a wide array of scents to choose from, it can be challenging to find the perfect perfume. Here's a handy guide to help you find the best perfume that complements your personality.
How To Choose The Best Hermès Perfumes For Women
Perfume shopping becomes easier when you know the notes you want in your perfume. All perfumes have three basic notes: top, middle, and base. The blend of these notes makes up the whole perfume. They are curated to match one another perfectly to create a sensual experience.
The top note is the whiff of scent you get right when you spray the perfume. This note may contain fresh citrus, floral and crisp notes. On the other hand, the middle note lasts for a few hours and gives the main character to your perfume. It may include scents like lavender, rose, and spicy fragrances. Finally, the base note provides depth to your overall aroma and lingers the most on your skin.
Make sure to select perfumes that fit your personality and the season. For example, citrus fragrances are the most alluring in the summer and spring. While for evenings, choose notes that are rich and flowery. While woody elements like sandalwood and patchouli exude a sophisticated aura, cinnamon, clove, vanilla, and leather give off a sensual and warm personality.
The longevity of any perfume is dependent on the concentration of perfume oil. Based on this, all fragrances can be categorized into the following segregations:
Parfum has the highest concentration of 20% – 30% and can stay put for 8 hours. Therefore, it is perfect for special occasions like weddings.
Eau De Parfum has a concentration of 15% – 20% and gives you a 5-hour stay. Therefore, it is ideal for long evenings and events.
Eau de toilette is the most common concentration found in many perfumes. It lasts 2 – 3 hours and has a concentration of 5% – 15 %.
Eau de cologne has a concentration of 2% – 4% and lasts for 2 hours. So it is ideal for when you're going to grab a quick bite.
Finding the right perfume is not an easy task. To help you make the right decision, we have listed some guidelines below.
How To Buy The Best Hermès Perfume
Purpose: Whether it's summer, spring, or you want to go out on a romantic date, Hermès has a fragrance for every purpose. They have floral scents for a hot day, spice fragrances for evenings or a cold day, and citrus blends for the spring season. Along with everyday wear collection, the brand also has beautiful romantic scents perfect for a date night.
Category: You need to know which category of Hermès perfume you would want to choose. They come in three categories — novels, novellas, and haikus. Novels are the classic fragrances, novellas are light-wearing colognes, and haikus are the unique mixture of two scents, mostly sold at Hermès stores.
Long-lasting: Most Hermès perfumes last long enough. However, they have a collection named orientals that tend to last long with great intensity. The bottom notes of these perfumes take a longer time to evaporate.
Well, now you know how to pick your favorite Hermès perfume and cologne. They have varieties of fragrances that can suit any season or purpose.
Over the past 70 years, Hermès has launched a wide range of perfumes, including 12 feminine perfumes, six masculine perfumes, and quite a few unisex fragrances. They have also added a special edition named Hermèssence to their collection, which can be purchased only in Hermès stores. Though they look high-end, this legendary and trusted brand's perfumes are easily available online. Take a look at our list of the top 12 best Hermès perfumes for women in 2023, and select the right scent to suit your personality.
Why Trust StyleCraze?
The author, Chaitra Krishnan, is a perfume aficionado and loves wearing fragrances of all kinds. She vouches for the best Hermes perfumes as they are luxurious and sophisticated and help you smell heavenly all day. She has done in-depth research into their formulation and reviewed them to help her readers pick the best ones. Not only are these perfumes a boon to get rid of the damp body odor, but they also keep you smelling fresh at all times.
Frequently Asked Questions
What is the best-smelling Hermès perfume?
The best smelling Hermès perfume is 24 Faubourg Eau de Parfum. Launched in 1996, this fragrance has a floral feminine scent that is a mix of vanilla, amber, orange blossom, and white flowers.
What is the newest Hermès perfume?
The newest Hermès perfume is Twilly d'Hermès Eau Poivrée, which is composed of pink peppercorn, rose, and patchouli.
How long does Hermès perfume last?
Most Hermès perfumes last for up to 6 to 8 hours, which is quite a long duration for perfumes to stay on your body.
Is Hermès fragrance good?
Yes. Hermès creates high-quality perfumes that are skin-friendly and non-toxic. They offer a wide range of aromatic blends.
Is Hermès Twilly perfume worth it?
Yes, the Hermès Twilly perfume is long-lasting and skin-friendly. While it is a bit expensive, the perfume offers a perfect blend of floral and spicy scents.
Is Hermès perfume cruelty-free?
No. Hermès is not cruelty-free and vegan.
Which perfume is best for daily use?
For daily use, the Hermès Jour d'Hermès Absolu Eau de Parfum and Hermès 24 Faubourg Eau de Parfum are the best.
What is the best Hermès perfume for summer?
The best perfume for summer is the Hermès Concentre d'Orange Verte. It offers a mild blend of mandarin, lemon, blackcurrant bud, and mint.
Recommended Articles: