5 Best Pressed Serums Of 2021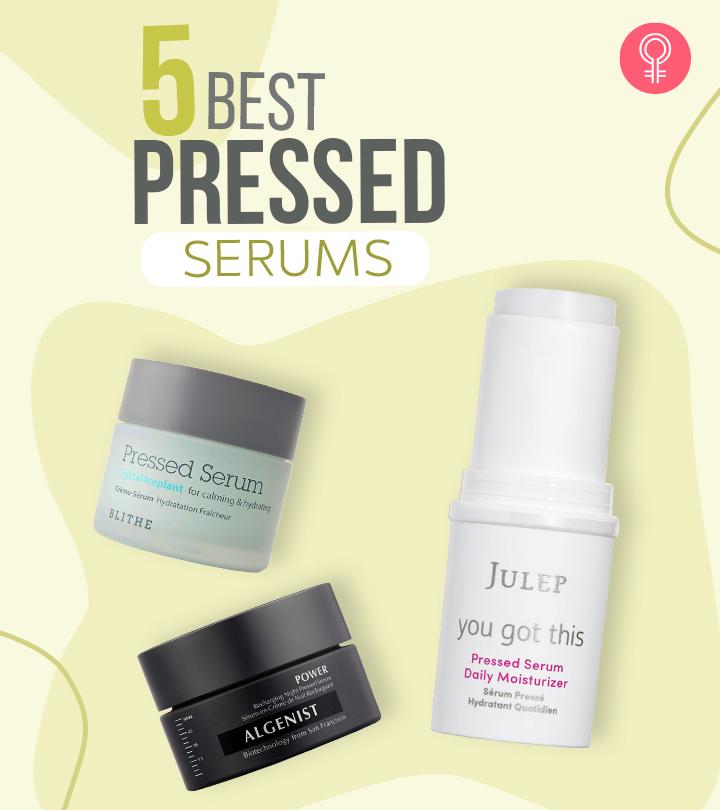 A pressed serum provides the benefits of both a serum and a moisturizer in a single product. Its concentrated formula hydrates and rejuvenates the skin with potent ingredients, eliminating the need to use multiple products. It is time-saving and effective to incorporate a pressed serum into your skin care regimen. Pressed serums have a unique texture that helps the ingredients get absorbed quickly to provide nutrients and hydration to your skin without making it oily or greasy. Many of the ingredients in these products have antioxidant and anti-aging properties. These intense treatments work quickly and leave your skin soft, supple, and radiant.
So, go ahead and indulge your skin with the best pressed serums currently available! We have listed some of our favorites here. Check them out!
5 Best Pressed Serums
Andalou Naturals CannaCell Pressed Serum contains nourishing botanical extracts, bio active stem cells, and powerful antioxidants. These natural antioxidants are derived from proprietary CannaCell stem lines. The hemp stem cells in this serum have anti-aging properties that defend the skin from premature aging, UV exposure, and pollution. This pressed serum is rich in ingredients like heirloom apple, Swiss Alpine rose, grape, and argan extracts. Its nutrient-rich formula protects, repairs, and restores the skin barrier. Aloe vera replenishes the moisture into the skin layers. Thus, this blend of potent bioactive nutrients and antioxidant stem cells adds radiance to the skin. The ingredients of this pressed serum are 98% nature-derived. They are vegan, gluten-free, cruelty-free, and non-GMO project-verified.
Pros
UV protection
Imparts radiance
Anti-agingformula
98% nature-derived
Protects the skin
Non-GMO
Vegan
Gluten-free
Cruelty-free
Cons
May cause breakouts and pimples
This luxurious and velvety serum is infused with probiotic kefir and natural botanical oils that provide deep hydration to the skin. Its powerful combination of probiotics helps in getting healthy, balanced, and glowing skin. The ingredients in this pressed serum are activated by the natural temperature of the body, which helps them get absorbed well into the skin. The unique texture of this serum helps in quenching dry, parched skin and reducing the signs of aging such as fine lines and wrinkles. It helps in soothing and repairing distressed skin. This serum-moisturizer hybrid also helps in tightening the skin.
Pros
Anti-aging formula
Hydrates the skin
Paraben-free
Phthalate-free
No mineral oil
Cruelty-free
Free from petroleum products
Gluten-free
Cons
Algenist POWER Recharging Night Pressed Serum restores dull, uneven, and fatigued skin overnight. It contains patented alguronic acid, collagen, and coconut water. This nutrient-rich serum is also fortified with AlgaProtein that melts into the skin to recharge and rejuvenate fatigued skin. This vegan serum also helps in visibly minimizing the appearance of fine lines to reveal beautiful, glowing, and healthy skin that is supple and plump.
Pros
Refines dull, uneven skin texture
Non-comedogenic
Hypoallergenic
Rejuvenates the skin
Anti-aging formula
Makes the skin glow
Lightweight
Cons
Julep Hydrating Pressed Serum has the benefits of both serum and moisturizer in one concentrated stick that deeply hydrates and restores moisture to the skin. The hyaluronic acid, Jeju blossom extract, and camellia seed oil in it moisturize, soothe, and repair the skin. This serum helps in strengthening and replenishing the skin with ceramides that protect the skin barrier. It also helps in getting firmer and younger-looking skin.
Pros
Hydrates the skin
Protects the skin
Repairs the skin barrier
Promotes skin firmness
Soothes the skin
Lightweight
Cons
Does not get absorbed quickly
Blithe Crystal Ice plant Pressed Serum is moisturizing and soothing for the skin. It is a water-soluble moisturizer with a non-sticky finish. This nutrient-rich and hydrating serum adds a natural radiance to the skin. It contains ice plant extracts that are rich in vitamins and minerals. They moisturize the skin, relieve stress, and balance the sebum. It also helps in refining pores and is suitable for all skin types.
Pros
Soothes the skin
Water-soluble
Hydrates the skin
Non-sticky
Suitable for all skin types
Cons
None
Pressed serums help replenish the lost moisture and nutrients of your skin. These innovative products help save time and effort. They are easy to use and affordable. The concentrated nutrients in pressed serums help in rejuvenating the skin and reducing fine lines and wrinkles. Try one out from this list to get moisturized and nourished skin today!
Recommended Articles