7 Best Argan Oils For The Face – 2021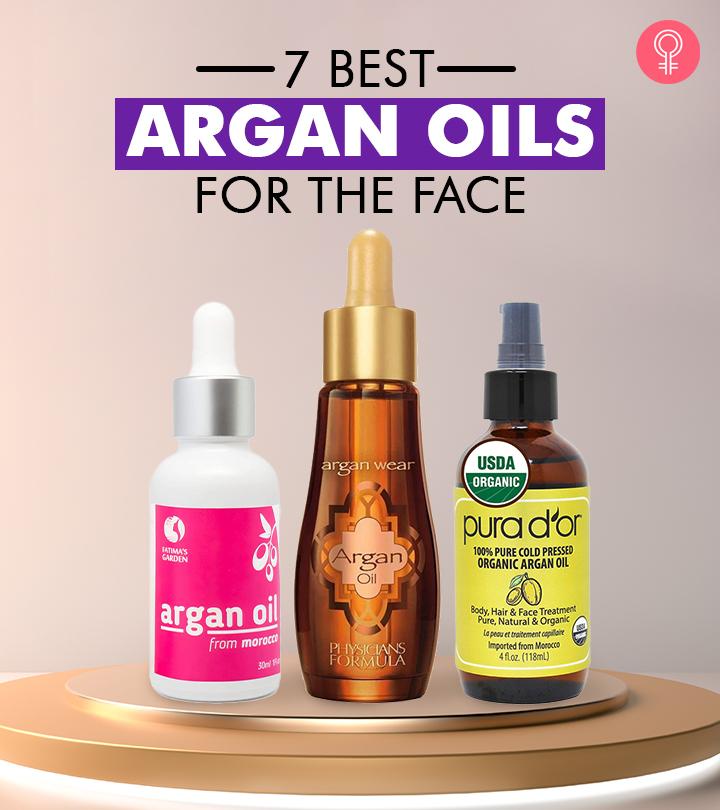 Argan oil, a skincare staple of Mediterranean women for centuries, has gained immense popularity in the beauty world. It is packed with omega fatty acids, vitamin E, and linoleic acids, all of which work to moisturize your skin, soften dry patches, and reduce acne. Argan oil can act as the perfect superfood for your skin. If you are looking for a suitable product, take your pick from our list of the 7 bestselling argan oils for the face. Scroll down!
7 Best Recommended Argan Oils For The Face
The PURA D'OR 100% Pure Cold Pressed Organic Argan Oil contains pure and unrefined oil collected from the  kernels of the argan tree. This chemical-free product is perfect for restoring the skin's elasticity and smoothening wrinkles and fine lines. This cold-pressed oil is suitable for people with dehydrated skin due to its intensely hydrating properties. It is one of the best argan oils that softens, rejuvenates, and nourishes the facial skin and is suitable for everyday use.
Pros
Lightweight
Hypoallergenic
Quick absorbing
Value for money
SLS-free
Pesticide-free
Paraben-free
Artificial colorant-free
Synthetic fragrance-free
No harmful chemicals
Gluten-free
Cons
May cause itching and breakouts.
This cold-pressed and 100% natural argan oil from Cliganic is sourced directly from Morocco. It is the ultimate oil for beautiful hair, skin, and nails as it deeply hydrates the skin and promotes health and radiance. This product is lightweight, quick-absorbing, and gentle enough to be used on the most sensitive skin types.
Pros
Non-greasy
Lightweight
Fast-absorbing
Nutty fragrance
Chemical-free
Additive-free
Alcohol-free
Cruelty-free
Cons
The VoilaVe Organics Argan Oil is an additive-free, unrefined, cold-pressed oil enriched with vitamin E and carotenes. Vitamin E is a powerful antioxidant with antiaging properties that reduces fine lines and wrinkles, while Carotenes rejuvenate the skin cells and protect them from sun damage. This argan oil can works as a moisturizer or serum in your skincare routine. Just add a few drops of the oil after cleansing your face and follow up with sunscreen or night cream for a youthful glow.
Pros
Lightweight
Non-greasy
Nutty scent
Value for money
Cons
Very runny consistency
May cause breakouts.
This argan oil from Mother Nature Organics is unrefined, USDA certified, and unadulterated. This product is enriched with omega-3 fatty acids, which play an essential role in regulating sebum production, improving hydration, and minimizing breakouts and early signs of aging. The linoleic acid helps strengthen the skin's barrier to keep the skin hydrated while blocking the pollutants out. The antioxidants also help in skin repair. It is an excellent product meant for matured skin.
Pros
Absorbed easily
Can be used as a serum
Nutty scent
Cons
The Pure Body Naturals Argan Oil is loaded with vitamin E and fatty acids that help protect the skin and keep it soft and supple. This oil is free of additives, pesticides, and other harmful derivatives. It acts as an excellent moisturizer for the skin, tones down the signs of aging, and minimizes puffiness. It is one of the best multipurpose oils suitable for the face, hair, and nails.
Pros
100% pure
Cruelty-free
Paraben-free
Chemical-free
Non-greasy
Value for money
Cons
Overpowering fragrance
May trigger allergies.
The Physicians Formula Argan Wear Argan Oil can improve the skin's brightness, tone, texture, and elasticity. It transforms your skin by smoothening the fine lines, brightening dull skin, and renewing its suppleness. This facial oil enhances the skin's youthful glow while nourishing it with antioxidants. The multitasking product works as a moisturizer, primer, serum, and treatment rolled into one!
Pros
Hypoallergenic
Non-comedogenic
Non-greasy
Quick absorbing
Paraben-free
Gluten-free
Cons
The Fatima's Garden Argan Oil is a natural, first cold-pressed, virgin, unprocessed, unrefined oil that is hypoallergenic and non-comedogenic. It regulates sebum production and soothes rashes. Argan oil is rich in omega 3 and 9 that tone down wrinkles, acne, and any skin damage.
Pros
Non-greasy
Absorbed easily
Cons
Strong scent
May irritate the skin
Argan oil has become one of the most sought-after skincare ingredients in the beauty industry, owing to its unique benefits. If you want to reap its benefits, choose any product from the above list. Your skin will thank you!
Frequently Asked Questions
Does argan oil brighten your face?
Yes. Argan oil contains antioxidants, like polyphenols and vitamin E, that can help brighten your skin tone and protect the skin cells from free radical damage.
Is argan oil good for the lips?
Yes, it hydrates the lips and acts as an excellent nourishing moisturizer.
Does argan oil really work for wrinkles?
The omega fatty acids in argan oil help strengthen the skin's tissues and aid in wrinkle prevention.
Recommended Articles