7 Best Argan Oils For The Face – 2023
Reap all the amazing benefits of this ingredient and prepare yourself for compliments.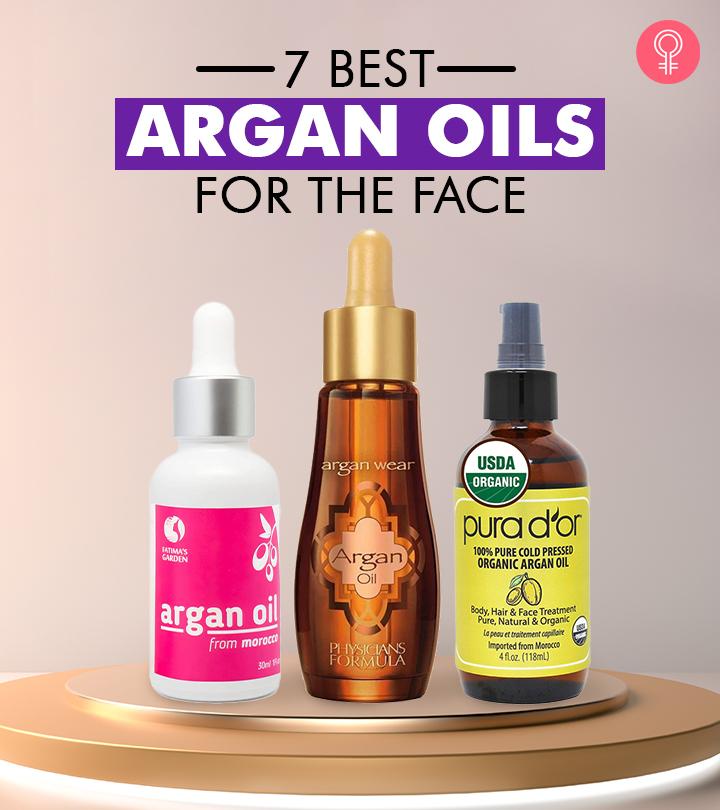 If you are looking for the best argan oil for your face, you have reached the right place. Argan oil, a centuries-old skincare favorite of Mediterranean women, has experienced tremendous growth in the beauty world. It contains vitamin E, omega fatty acids, and linoleic acids and helps hydrate your skin, soothe dry spots, and minimize acne. As a result, argan oil has the potential to be the ideal skin superfood. If you seek a suitable option, check out our list of the top 7 best-selling argan oils for the face. Continue reading.
7 Best Recommended Argan Oils For The Face
Pros
Lightweight
Hypoallergenic
Quick absorbing
Value for money
SLS-free
Pesticide-free
Paraben-free
Artificial colorant-free
Synthetic fragrance-free
No harmful chemicals
Gluten-free
Cons
May cause itching and breakouts.
Price at the time of publication: $12.99
Pros
Non-greasy
Lightweight
Fast-absorbing
Nutty fragrance
Chemical-free
Additive-free
Alcohol-free
Cruelty-free
Cons
Price at the time of publication: $13.99
Pros
Lightweight
Non-greasy
Nutty scent
Value for money
Cons
Very runny consistency
May cause breakouts.
Price at the time of publication: $15.99
Pros
Absorbed easily
Can be used as a serum
Nutty scent
Cons
Price at the time of publication: $69.95
Pros
100% pure
Cruelty-free
Paraben-free
Chemical-free
Non-greasy
Value for money
Cons
Overpowering fragrance
May trigger allergies.
Price at the time of publication: $11.99
Pros
Hypoallergenic
Non-comedogenic
Non-greasy
Quick absorbing
Paraben-free
Gluten-free
Cons
Price at the time of publication: $17.26
Pros
Non-greasy
Absorbed easily
Cons
Strong scent
May irritate the skin
Price at the time of publication: $6.99
If used well, argan oil can work wonders on your skin. However, it may not be easy to find the best argan oil product which is ideal for your skin type. We have compiled a buying guide to help you learn more about the points that you need to keep in mind before purchasing argan oils from the market.
Things To Keep In Mind While Purchasing Argan Oils For Your Face
Oil Types
There are a few types of argan oil that you can choose from, namely cold-pressed, unrefined, and refined. Depending on your preference, you may want to choose one of these types. Cold-pressed oils are the most pure and have a more intense flavor than the others. Unrefined oils are less pure but have a milder flavor and are good for treating sensitive skin. Refined oils have a mellower flavor and are good for use on all skin types.
Purity Levels
Argan oil comes in different purity levels. The most pure versions have a purity level of 100%. Other purity levels include 97% and 98%. The higher the purity level, the fewer impurities there are in the oil. However, the higher the purity level also means that the oil has more kickback and may have an unpleasant smell. If this doesn't bother you or if you prefer a stronger scent, go for an oil with a higher purity level.
Ingredients
Argan oil works best with other oils such as coconut, lavender, hemp seed, peppermint, rosemary, or natural ingredients like honey and aloe vera. Argan oil itself contains vitamin E, phytosterols, ferulic acid, squalene, and fatty acids that work wonders on the skin. Avoid formulas with synthetic ingredients as they can be harsh on your skin and may not work as well as natural oils when it comes to fighting signs of aging or sun damage.
Usage
There are many types of argan oil available on the market, so it's important to select the one that best suits your needs. Some oils are formulated specifically for use on the face, while others can be used in other areas of the body as well. It's important to read product labels carefully before making a purchase to ensure that you're getting the right product for your skin type and needs.
Argan oil has become one of the most sought-after skincare ingredients in the beauty industry, owing to its unique benefits. If you want to reap its benefits, choose any product from the above list. Your skin will thank you!
Why Trust StyleCraze?
The author of this article, Shiboli Chakraborti, is a certified skin care coach and loves reviewing various products for her readers. She conducted hours of thorough research and went through multiple user reviews on trusted online forums to compile this list of the best argan oils for the face. These products can hydrate your skin, minimize acne, and soothe dry spots.
Frequently Asked Questions
Does argan oil brighten your face?
Yes. Argan oil contains antioxidants, like polyphenols and vitamin E, that can help brighten your skin tone and protect the skin cells from free radical damage.
Is argan oil good for the lips?
Yes, it hydrates the lips and acts as an excellent nourishing moisturizer.
Does argan oil really work for wrinkles?
The omega fatty acids in argan oil help strengthen the skin's tissues and aid in wrinkle prevention.
Is argan oil a good moisturizer for the face?
Yes, argan oil is neither too heavy nor too light, which makes it the perfect moisturizer for your face. Also, It helps nourish your skin and get rid of dry patches.
How often should I use argan oil on my face?
You can apply argan oil directly to your face twice a day. If done the right way, you can start witnessing visible results in four weeks.
Can argan oil prevent aging?
Yes, argan oil can prevent aging and wrinkles. It helps improve your skin's ability to retain water and reduces premature signs of aging.
Will argan oil clog my pores?
No. Argan oil is non-comedogenic and does not clog pores. Instead, it eventually dissolves the sebum inside the pores.
How can you apply argan oil on your face?
Take a few drops of argan oil and apply it all over your face with a cotton pad. This will help nourish your skin and close enlarged pores.