15 Best Charcoal Face Washes – Top Picks For 2023
Rinse out all the toxins off your face and feel fresh and rejuvenated once again.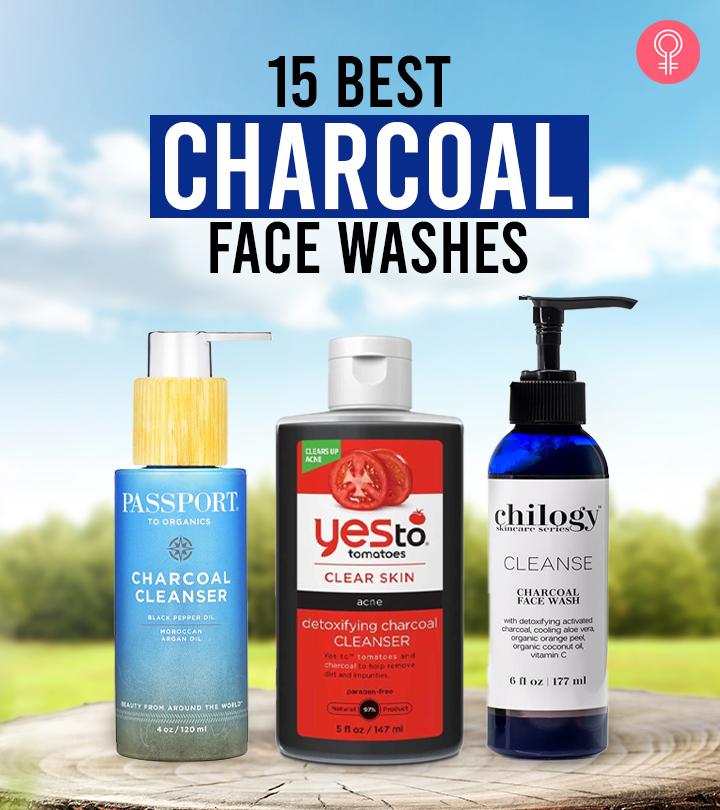 A charcoal face wash helps eliminate excessive oil, unclog the clogged pores, and remove whiteheads and blackheads to give you clearer skin. The best charcoal face wash is perfect for eliminating stubborn blackheads, smoothing the skin, and removing dirt or oil build-up. Charcoal face washes are infused with activated charcoal that helps to wipe out toxins, bacteria, and impurities. Furthermore, the face wash makes you feel fresh, rejuvenated, and dirt-free. Check out the ideal charcoal face washes tackling various skin care concerns that are available right now. Read on.
How Does Charcoal Work?
Activated charcoal, also popularly known as activated carbon, is a fine black powder produced when ordinary charcoal is exposed to heat. It helps detoxify your skin, treat acne and pimples, and prevent future breakouts. This ingredient acts like a magnet and draws out all toxins, impurities, oil, bacteria, and dead skin cells from deep within the pores and makes your skin smooth and supple.
Let's now check out the best charcoal face washes available online.
Best Charcoal Face Washes To Watch Out For
The mamaearth Charcoal Face Wash contains charcoal and clay that draw toxins and impurities like excess oil, dirt, and pollution. Clay helps exfoliate your skin and also has high absorptive quality to absorb excess oil from the pores.
This face wash also contains tea tree oil that penetrates the skin and absorbs the extra oil, while coffee eliminates dead skin cells and evens out the natural skin tone. This hypoallergenic face wash does not cause skin irritation. It is vegan, cruelty-free, and suitable for oily skin types. This all-in-one charcoal face wash is free of sulfates, SLS, mineral oil, petroleum, parabens, artificial preservatives, synthetic perfumes, and colors.
Pros
Dermatologist-tested
Paraben-free
Sulfate-free
SLS-free
Mineral oil-free
Petroleum-free
Paraben-free
Preservative-free
No synthetic perfumes and colors
Vegan
Cruelty-free
Suitable for oily skin
Cons
The WOW Activated Charcoal Face Wash penetrates the skin and removes impurities to clear clogged pores. It is packed with active charcoal beads and tea tree oil that have antioxidant and antibacterial properties. These ingredients help wash away the dead skin cells.
Aloe vera prevents dryness and boosts skin elasticity by stimulating collagen production. This face wash helps detoxify your skin and dissolve oil and dirt without stripping off your skin's natural moisture. It helps reduce blemishes and fine lines and treats damaged skin caused by environmental stressors. This product is free of parabens and sulfates and has been dermatologically tested.
Pros
Paraben-free
Sulfate-free
Long-lasting
Cons
The skin might feel stretchy.
The TruSkin Skin Clearing Charcoal Face Wash is packed with skin-soothing and organic ingredients. It contains nutrient-rich propolis, organic reishi, and astragalus root extracts that soothe the skin. The activated charcoal detoxifies and balances the skin, improving its overall health. The gentle formula also contains organic aloe vera and extracts of ylang-ylang, lavender, and cucumber. This skin-clarifying product is clinically tested and cruelty-free.
Pros
Cruelty-free (Leaping Bunny certified)
Clinically tested
Gentle formula
Lightweight
Clinically tested
Dermatologist-tested
Cons
None
The Passport To Organics Charcoal Cleanser is filled with potent, organic ingredients that cleanse, detoxify, and revitalize your skin. This face wash is formulated with Moroccan argan oil that is rich in vitamin E and 80% fatty acids. It also contains black pepper, turmeric, neem, tea tree oil, and avocado that are rich in essential vitamins and nutrients. This cleanser helps improve the appearance of fine lines and wrinkles. It is vegan, cruelty-free, and does not contain parabens, sulfates, and phthalates.
Pros
Paraben-free
Sulfate-free
Eco-friendly
Phthalate-free
Fragrance-free
Cons
Oily skin and acne are a match made in heaven. Not anymore! This charcoal face wash by Bioré is made especially for oily skin care. It gets rid of acne and blemishes on your face. It contains salicylic acid and is developed with an effective skin-purifying formula. It claims to eliminate acne in just two days and rid the skin of impurities of all kinds! If you want to know more about the benefits of this product, check out this quick review on YouTube.
Pros
Dermatologist-tested
Oil-free
Cons
None
It doesn't matter if you have sensitive, dry, or oily skin – this charcoal cleanser by Boscia is an excellent product for all skin types. It not only clears all the dirt and oil from your face but also has a brightening effect on your skin. It claims to even out skin tone, tighten pores, and exfoliate dead skin cells. It contains Alpha Glucosyl Hesperidin (a compound found in the citrus peel), licorice root, artichoke leaf extracts, and glycolic acid for enhancing radiance. Here's an honest review of people's experience of the product.
Pros
Contains vitamin C
Free of parabens and phthalates
Pore minimization
Cons
None
If you want an all-natural cleanser, you need to try out this one by Safe House Naturals. It is a completely organic face and body wash containing activated charcoal. It is formulated with a powerful blend of essential oils, bentonite clay, aloe vera, and coconut oil that exfoliates your skin and cleanses it thoroughly. It also has antifungal properties that help in calming down rashes and other skin issues.
Pros
Cruelty-free
100% vegan
No parabens
No artificial dyes and PABA
No artificial fragrance
Cons
None
Besides activated charcoal, this Detox face wash contains triple-tea extracts. Both of these components work as natural exfoliators and antioxidants to protect your skin. It also has moisturizing properties that keep your skin hydrated. Moreover, it is a 100% natural product.
Pros
Paraben-free
Hypoallergenic
Cruelty-free
Suitable for all skin types
Cons
None
This face wash has a potent formula charged with vitamins B3, B5, C, and E. It keeps your skin protected against environmental aggressors and free radical damage. The facial cleanser effectively prevents blackheads and pimples by purifying your skin of excess oil that may clog your pores. The natural extracts in this face wash include licorice, green tea, mulberry, and orange flower which help give an optimum skin detox.
Pros
Suitable for all skin types
Paraben-free
Sulfate-free
Mineral oil-free
Silicon-free
Cons
None

Product Claims
This face wash claims to clear acne breakouts without harming your skin or drying it out. The two main active ingredients of this skin care product are charcoal and tomatoes. These two ingredients not only clear your skin but also calm it down. Nichelle Temple, an expert esthetician says, "Tomatoes contain vitamin C and lycopene, which can help protect and nourish skin. Tomatoes also contain astringent properties which can assist to control excess oil production." Here's a video that talks about the reviewer's experience and provides a detailed look at the product.
Pros
Contains salicylic acid
Cruelty-free
97% natural products
Contains jojoba extracts
Acne-fighting and blackhead removal formula
Dermatologist-tested
Cons
None
This face cleanser by Hanalei is a water-activated product. You need to pour it into your hand, add water, and rub both palms to create lather. It contains activated charcoal that eliminates dirt and impurities. It brightens your complexion without harming your skin. It contains essential amino acids and vitamins A, C, and E that protect your skin from free radical damage.
Pros
pH-balanced
No artificial dyes
Paraben-free
Cruelty-free
SLS-free
Suitable for all skin types
Cons
None
Chilogy Cleanse Charcoal Face Wash is made of antioxidant-rich ingredients. It contains organic orange peel, sunflower oil, olive oil, aloe vera, coconut oil, and white and green tea extracts. These ingredients clear your skin, hydrate it, and rejuvenate skin cells. All of this keeps your skin looking plump and firm. A patch test is recommended.
Pros
Cruelty-free
Paraben- and phthalates-free
Sulfate-free
Cons
None
This 2-in-1 face cleanser contains charcoal and Moroccan lava clay. It deeply exfoliates your skin, removes dead skin cells, reduces fine lines, and improves your skin texture. It can also be used as a face mask. Just leave it on your skin for 5 minutes and wash it off for deeper exfoliation.
Pros
Soap-free
Sulfate-free
Paraben-free
Cons
None
This facial cleanser by Clinique is excellent for daily use. It has a pore-cleansing and detoxifying formula that removes all traces of dirt and pollution from your skin. The charcoal present in the cleanser draws out all the impurities and excess sebum, leaving your skin refreshingly smooth.
Pros
Paraben-free
Phthalate-free
No artificial fragrance
Suitable for all skin types
Cons
None
This facial cleanser is perfect for daily use and gentle enough for sensitive skin. It unclogs pores and detoxifies your skin. Besides activated charcoal, it contains Japanese marine algae extracts. This ingredient is clinically proven to protect your skin from environmental damage.
Pros
100% vegan
Cruelty-free
Paraben-free
No phthalates, sulfates, and mineral oils
Gluten-free
GMO-free
Dermatologist-recommended
Cons
Leaves a slimy feeling on the face after washing
*The prices provided in this article are based on the latest available information. However, they may vary due to changes in pricing by the seller and/or promotional offers.
Charcoal face wash is a one-stop solution that treats several oily skin issues along with other skin benefits. It eliminates impurities, toxins, and bacteria from your pores while restoring balance to your skin. The market is overflowing with charcoal face washes, so zeroing in on one is tricky. Therefore, remember our list of tips while choosing the best charcoal face wash to include in your skin care routine.
How To Choose the Best Charcoal Face Wash for You?
Ingredients To Look For: Look for a charcoal face wash powered with nourishing ingredients like aloe vera, sunflower oil, olive oil, aloe vera, and coconut oil to keep dry skin hydrated and moisturized. Pick formulas infused with essential oils and bentonite clay that have proven efficacy in exfoliating your skin thoroughly while calming down rashes. For oily skin, pick face washes containing green tea, peppermint oil, and orange peel to detoxify your skin.
Ingredients To Avoid: Avoid face washes free of harsh ingredients that can dry out and irritate your skin and cause long-term damage. Chemicals like sulfates, parabens, phthalates, silicones, and artificial fragrances turn your skin brittle and dull. Additionally, stay away from face washes enriched with sulfates. They strip away the essential moisture from your skin while cleansing the dirt. Read the label to ensure it is hypoallergenic and toxin-free.
Formula: Foam cleansers effectively remove excess oils from your pores, but they can be overly drying if overused. If you have sensitive skin, stick to gel cleansers that are hydrating and gentler on the skin. You can also choose foaming gels to gain both benefits in one formula.
Additional Benefits: Choose a charcoal face wash that offers additional benefits like protection from free radical damage. The presence of essential amino acids and vitamins A, C, and E offer antioxidant properties to the face washes. You can also pick a formula that doubles up as a body wash.
Price: Price is an essential factor when selecting a face wash. Since you will be using it daily, go for affordable brands with quality ingredients. Avoid buying cheap products as they contain harsh chemicals that damage your skin in the long run.
Not many of us are aware of the innumerable benefits of charcoal in skin care. Check out the advantages of using charcoal for your face in the following section.
Benefits Of Using Charcoal For Your Skin
Removes Dirt And Impurities From Your Skin: Activated charcoal helps pull out bacteria and toxins from the skin. A charcoal face wash eliminates all the impurities and makes your skin clear and even-toned. Deep cleansing facials with charcoal also help get rid of dead skin cells and other impurities.
Minimizes Acne And Pimples: External pollutants cause a buildup of dead skin cells, oil, and bacteria that clog your pores. This, in turn, leads to acne and pimples. It might also cause skin inflammation, redness, and irritation. Activated charcoal has antibacterial properties that lift the dirt and acne-causing bacteria from your pores and is commonly used for acne treatment purposes.
Soothes Insect Bites: Charcoal also helps treat insect bites. Insect bites and stings cause swelling and itching. Charcoal neutralizes the toxins of the insect's venom by taking the sting out of a bite.
Brightens Your Skin: Charcoal helps lighten blemishes and reduces oiliness, pigmentation, and tanning, keeping your skin even-toned.
To use a charcoal face mask the right way, follow the easy and simple steps mentioned below.
How To Use A Charcoal Face Wash
Dampen Your Face With Water: Splash lukewarm water onto your face, giving your charcoal face wash a slightly damp surface to work on.
Apply The Cleanser: Squeeze the required amount of your favorite charcoal cleanser onto your fingertips to prep for application. Apply the cleanser in gentle, circular motions all over your face.
Rinse And Pat Dry: Rinse your face with lukewarm water and pat it dry with a towel.
Apply A Serum: Apply a vitamin C serum for that extra glow. This helps in reducing the appearance of fine lines and wrinkles and brings out the inner radiance.
Apply A Moisturizer: To revive the moisture of your skin after the cleansing process, apply a moisturizer.
Though charcoal face washes are beneficial for your skin, they might have some side effects. Let's look at the following section to know what the adverse effects of a charcoal face wash can be.
Are Charcoal Face Washes Safe To Use?
Most charcoal-based products are not suitable for sensitive skin types. Charcoal can become abrasive when combined with other ingredients. Hence, choose a charcoal product that is best suited for your skin type to reduce the risk of any side effects. Check the ingredients list and ensure that your skin is not allergic to any of them.
Why Trust StyleCraze?
Shiboli Chakraborti is a certified skin care coach who loves writing comprehensive articles on all things beauty. She advocates the importance of using charcoal face washes because they offer an effective way to eliminate excessive oil, unclog the pores, remove whiteheads and blackheads. Her list includes some of the best charcoal face washes that she picked after going through thousands of trustworthy user reviews online. She recommends these products because they are infused with activated charcoal that helps to wipe out toxins, bacteria, and impurities from the facial skin.
Frequently Asked Questions
Does charcoal lighten the skin?
Yes, charcoal has skin lightening properties. It exfoliates the skin and helps treat hyperpigmentation, dark spots, acne scars, and blemishes.
Does a charcoal face wash help fight acne?
Yes, a charcoal face wash helps fight acne. Charcoal absorbs toxins and eliminates excess oil and stubborn dirt from your skin, which helps clear acne.
How often should I use a charcoal face wash?
For visible results, you can apply a charcoal face wash once or twice a week if you have sensitive skin. Otherwise, you can use it every alternate day for the best results.
Is a charcoal face wash suitable for oily or dry skin?
A charcoal face wash is suitable for oily skin. It draws out impurities like oil, dirt, sweat, and makeup from your face. This face wash also deep cleanses your pores and prevents excess sebum buildup, dead skin cells, and oil.
Can face wash remove pimples?
Yes. Face washes with anti-inflammatory and anti-bacterial properties gently exfoliate the skin and draw out the dirt or grime that develops bumps on the face. Therefore, a face wash is effective in treating and eliminating pimples.
Recommended Articles