13 Best Eyelid Cleansers For Clean, Clear Lids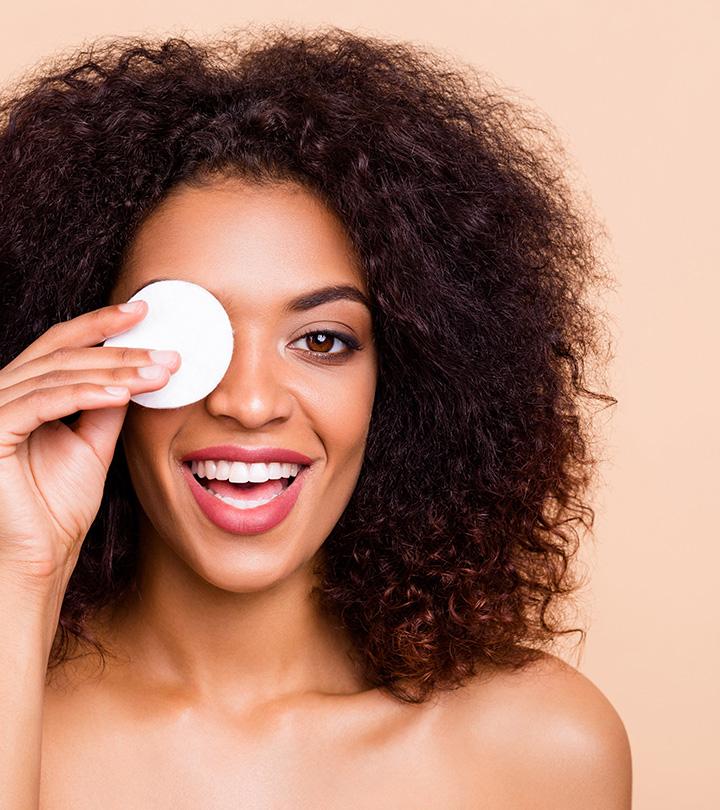 Ever so often, our beautiful eyes get marred by the appearance of dry, itchy spots that ruin the look of our eyelids and cause irritation and redness. If you're one of the many people who suffer from these pesky skin conditions, don't despair. With the right kind of care and a few easy steps, you can kiss dry eyes goodbye and say hello to clean, soft, and healthy eyelids.
The best eyelid cleansers work gently and effectively to unclog pores and clean the bacteria that cause crusty eyelashes, redness, and symptoms of blepharitis. Available in the form of liquid sprays, creamy lotions, and eyelid wipes, these formulas thoroughly cleanse the thin and sensitive skin around the eyes without drying out the skin so that you can sport radiant, youthful-looking eyes without worrying about flaky, crusty eyelids. Eyelid cleansers should be an essential step in any young woman's eye care regime, whether or not you have any skin conditions, as they help maintain eye hygiene and keep dryness at bay. Not sure where to start? Check our pick of the 13 best eyelid cleansers in 2021 and flaunt your gorgeous eyes confidently.
What Does An Eyelid Cleanser Do?
Eyelid cleansers are little bottles of magic that help clean away dirt, dust, debris, and other contaminants that may cause dryness and inflamed eyelids. They are designed to gently cleanse and exfoliate the delicate eye area and help treat common skin conditions that cause itching and redness. The best eyelid cleansers clear bacteria load on eyelids and offer relief to dry and irritated eyes. They must also be gentle on your senstive skin. Suitable for all skin types, they are a must-have for those looking to maintain good eye hygiene for clean, fresh-looking eyes.
13 Best Eyelid Cleansers For Healthy Eyes In 2021
Say goodbye to sore eyes with this gentle and effective eyelid cleanser that kills a broad spectrum of bacteria, thereby providing instant relief against chronic eye conditions. Formulated with a 0.01% concentration of pure hypochlorous acid, this lid, and lash solution should be used twice daily to help treat blepharitis symptoms, dry eyes symptoms, contact lens irritation, and inflammation. Safe for all ages and made with clean, skin-loving ingredients, this product is available without a prescription and is your best friend when dealing with dry and itchy eyes.
PROS
Contains 100% pure hypochlorous acid
Contains no bleach or impurities
Lab-tested patented formula
FDA-cleared
CONS
This product may contain preservatives.
Here's a foaming eyelid cleanser that effectively removes oil, debris, pollen, and other contaminants from the eyelids to provide gentle relief against common eyelid conditions and skin irritations around the delicate eye area. Easy to use, this pre-lathered foam can also be used as a daily face wash to remove makeup and other impurities from the skin. This formulation is non-irritating and calming and can also provide comfort against dryness caused by the frequent use of contact lenses. Give this formula a try, and both you and your eyes will thank us later!
PROS
Mild, non-irritating formula
Ideal for use in the shower
Clinically-trusted
Safe for daily use
CONS
Some might find the fragrance of this product a bit strong.
Get your hands on this popular eyelid wash and reap the benefits of the wonder ingredients to calm dryness and irritation around your eyes. Made with 100% hypochlorous acid, this moisturizing formula is effective against crusty eyelashes, eyelids bumps, and blocked meibomian glands. What's more, this alcohol-free Heyedrate eyelid cleanser is developed by ophthalmologists and recommended by eye care professionals to cleanse, restore, and nourish your beautiful eyes.
PROS
Made with 100% organic and natural ingredients
Contains 100% hypochlorous acid
Free of parabens, sulfates, and preservatives
100% vegan
CONS
Some might find the texture of this eyelid cleanser a bit thin.
Here's a tea tree foaming eyelid cleanser that has been thoughtfully formulated to cleanse, soothe, and protect your precious eyes. Developed by a veteran optometrist, this little bottle of magic is free of nasty ingredients and gently and effectively washes away sources of inflammation such as bacteria, pollen, dust, makeup residue, and other debris. This calming, natural formula is infused with jojoba oil that helps balance oil production while moisturizing the delicate skin around the eyes, and grapeseed oil, which acts as a lubricant and provides wound healing support.
PROS
Made with sustainable and plant-based ingredients
100% natural and non-toxic formula
Free of parabens, sulfates, and gluten
Vegan and cruelty-free
CONS
Some might find the texture of this eyelid cleanser a bit sticky.
If you're looking for convenient eyelid cleanser wipes to get instant relief from dry eyes, redness, and irritation, your search ends here. These rinse-free, pre-moistened wipes are infused with vitamin B and are perfect for those who live in dry, low humidity climates or work in an environment where they're regularly exposed to dust and air pollutants. A great alternative to more potent formulas, you can use these premium wipes for immediate relief from bacterial infections, conjunctivitis, and blepharitis. What's more, you can throw some of these individually wrapped eyelid cleansing wipes into your handbag and use them on the go to calm and soothe your eyes.
PROS
Gentle rinse-free formula
Clinically tested for all skin types
Infused with vitamin B
Hypoallergenic and fragrance-free
CONS
Some might find the texture of these wipes a bit rough.
Lift and firm your upper eyelids and reduce the appearance of eyelid wrinkles with these eyelid wipes that provide gentle cleansing and exfoliation. These hypoallergenic wipes are infused with tea tree oil, eliminating mites and bacterial contaminants from the skin to soothe irritation, dryness, and crusty eyelashes. Suitable for all skin types, this eyelid scrub promotes collagen production and moisture retention so that you can go about your day looking and feeling your best.
PROS
Exfoliates and purifies eyelids
Hypoallergenic
Recommended by ophthalmologists and optometrists
Safe for all skin types
CONS
Some might find the size of these eyelid wipes a bit small.
Take your daily eyelid hygiene to the next level with this antimicrobial eyelid cleanser that is gentle, effective, and convenient. This soap-free formula is hypoallergenic and pH-balanced and cleanses and conditions the delicate skin around your eyes. Infused with hypochlorous acid, this rinse-free cleanser is recommended by ophthalmologists for treatment of dry eyes, redness, bacterial infections, and other skin conditions.
PROS
Soap-free, pH-balanced formula
Ophthalmologist-recommended
Safe for sensitive skin
Suitable for use twice daily
CONS
Some might find the scent of this eyelid spray a bit overpowering.
Get your hands on this foaming eyelid cleanser and experience the calm, therapeutic sensation of sustainably sourced tea tree oil and skin-loving natural ingredients. This gentle solution penetrates deep within the skin and cleanses it, killing bacteria and mites associated with rosacea, dry eyes, blepharitis, and other eye irritations. Skin feels smoother and calmer just after a few uses, as this product exfoliates skin without causing damage or dryness. Safe for sensitive skin, this product is an essential must-have step in your eye care routine.
PROS
Natural and preservative-free
Free of parabens, sulfates, and alcohol
Contains no artificial colors or fragrances
Vegan and cruelty-free
CONS
This product might cause a slight tingling sensation when used.
Embrace clean skin and the refreshing aroma of peppermint and lavender essential oils with this all-natural eyelid cleanser that deep cleans to remove redness and blemishes without drying out your skin. Gentle and effective for all skin types, this eyelid cleanser is infused with aloe vera, olive oil, coconut oil, and 19 other plant extracts and botanicals that naturally kill bacteria and eyelash mites for healthier, softer skin. This product can be used daily on both the eyelids and the face to remove oil, dirt, and makeup for an enviable, youthful glow.
PROS
Made with 100% natural and organic ingredients
Free of parabens, phthalates, and dyes
Contains no artificial fragrances
Vegan and cruelty-free
CONS
Some might find the consistency of this eyelid cleanser a bit thin.
Here's a 1-stop product that is ideal for providing some tender loving care to your delicate eyelashes. Use this oil-free natural formula as a lash cleanser, an eye makeup remover, and as an essential part of your lash extension aftercare to nourish your lashes, making them healthier and stronger gently. This soft and silky foam is gentle on the eyes and is hypoallergenic, making it a popular choice amongst those with sensitive skin and common eye conditions.
PROS
Oil-free natural formula
Free of parabens, ethylene oxide, and sulfates
Fragrance-free
Comes with a convenient cleansing brush
100% vegan and cruelty-free
CONS
Some might find the cleansing brush a bit thick.
Here's the perfect duo of an effective lid cleanser with absorbable wipes to provide complete care for your eyelids and eyelashes. Soft and hypoallergenic, these wipes are professionally woven and don't pull apart with use, making them ideal for use around the delicate eye area. Relieve symptoms of common eye conditions like dry eyes, blepharitis, and inflammation, by soaking these wipes with the hypochlorous acid-infused cleanser and wiping gently around the eyes twice daily.
PROS
Made with 100% hypochlorous acid
Contains no bleach or impurities
Soft and hypoallergenic wipes
Non-irritating, lab-tested formula
CONS
Some might find the size of these wipes a bit large.
Are you looking to keep up your daily eye hygiene regimen even while traveling? These pre-moistened eyelid cleansing pads are a great option for those who are always on the go and want to keep dry eyes, blepharitis, and crusty eyelashes at bay. Individually wrapped for convenience, these wipes can remove stubborn eye makeup and cleanse and exfoliate eyelids for clean, fresh-looking skin. Suitable for all skin types, these wipes can be used twice daily for healthy, moisturized eyelids.
PROS
Hypoallergenic and soothing wipes
Easy to use and moisturizing
Ideal for travel
Suitable for all skin types
CONS
Some might find the texture of these wipes a bit greasy.
Here's a luxuriously soft all-in-1 eyelid cleanser designed by ophthalmologists to provide appropriate care to the delicate skin around the eyes. Infused with tea tree and citrus extracts, this cleanser has a refreshing scent and can be used to prevent and protect against eye irritation caused by allergies and environmental pollution. Suitable for use with eyelash extensions, this product is hypoallergenic and ideal for all skin types, providing nourishing care without leaving behind an oily residue.
PROS
Infused with tea tree and citrus extracts
No oily residue
Safe for sensitive skin
Designed by ophthalmologists
CONS
Some might find this product a bit hard to rinse out.
Now that we've had a look at our list of the 13 best eyelid cleansers in 2021, let us look at some things to consider when picking the right product for your eyes.
How To Choose An Eyelid Cleanser
A quick self analysis of your unique skin condition can help you pick the ideal eyelid cleanser for the delicate skin around your eyes. If you're suffering from skin conditions like blepharitis, dry eyes, and crusty lashes, pick a cleanser designed specifically to tackle these problems. If the skin on your eyelids tends to be oily, pick a non-comedogenic cleanser which provides gentle exfoliation without clogging up your pores. Those with lash extensions would benefit from a product designed to cleanse lashes thoroughly without damaging the extensions.
Eyelid cleansers come in a variety of textures – foaming, creamy, oily, and in the form of pre-moistened wipes. Depending on your preference and skin type, pick one which suits your requirements and unique skin type. Foaming cleansers are great when doubling up an eyelid cleanser as a makeup recover, whereas eyelid wipes are perfect to carry along while travelling.
A quick look at the ingredient list is an essential step when picking any self-care product. Pick an eyelid cleanser made with natural and organic ingredients that provide gentle cleansing while moisturizing and nourishing the delicate eye area. Steer clear of products which contain parabens, artificial fragrances, and sulfates, particularly if you have sensitive skin. Those prone to frequent skin allergies should pick a product which is clinically tested and labelled as hypoallergenic.
How To Use An Eyelid Cleanser
Step 1 – Wash your hands thoroughly before touching the skin around your eyes.
Step 2 – Moisten a washcloth with warm water and place it on your eyelids to help loosen oil and debris along your lash line.
Step 3 – Spray some cleanser either on to a pad or directly onto your eyelids and wipe gently back and forth along your eyelids and lashes.
Step 4 – Rinse with clear water and pat dry with a clean towel.
Now you no longer have to hide away your gorgeous eyes behind oversized sunglasses and spectacles. While skin conditions like blepharitis and dry eyes can be distressing to deal with, the good news is that you can take matters into your own hands with the right eyelid cleanser. Recommended by optometrists and ophthalmologists alike, they're the easiest and most convenient solution to the problem of dryness, redness, and crusty eyelashes. Just a few drops of this magical solution can provide you with instant relief from itching and irritation to reveal soft and rejuvenated skin. The delicate skin on your eyelids requires all the tender loving care it can get and our guide of the 13 best eyelid cleansers in 2021 is designed to help you achieve just that.
Frequently Asked Questions
Can you use cleanser on your eyelids?
Absolutely! But make sure to use a cleanser which is designed specially for the thin and delicate skin on your eyelids. It is best not to use a general face cleanser on your eyelids, as this might excessively dry out the sensitive skin on your eyelids.
How often should you use eyelid wipes?
Unless otherwise directed by your doctor, most eyelid wipes can be safely used upto twice daily, once in the morning, and once as part of your bedtime routine. It is best to always check the labelling on the package to make sure you are using the wipes for the correct purpose.
How do I unclog my eyelid pores?
Practicing regular eye hygiene by using appropriate eyelid cleansers and wipes can prevent excess oil production and clogging of the eyelid pores. In order to unclog pores, you can apply a warm compress on your eyes 2-3 times a day before using a gentle eyelid cleanser.