10 Best Laser Combs To Check Out In 2023
For healthy, luscious, and beautiful locks that look commercial-ready at all times.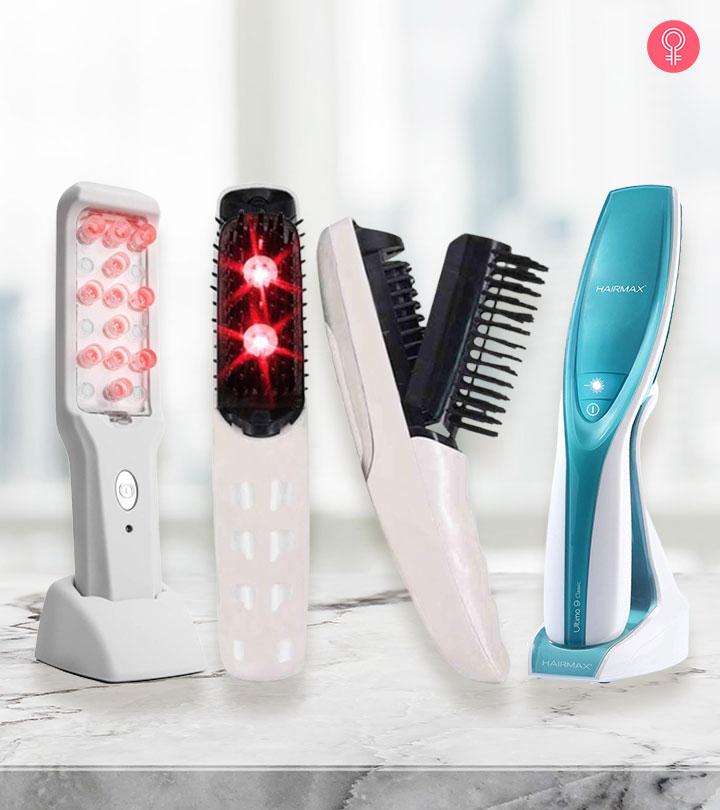 To help deal with hair loss and hair fall, people are turning to laser technology in the form of laser combs. You may have heard of laser hair removal and people looking for the best laser comb to restore their tresses. This is because some men and women begin to lose hair a lot sooner than others and to resolve this problem by promoting hair rejuvenation, they resort to a lot of hair products and treatments. Laser combs help accelerate hair growth by activating your hair follicles. To know more about the best laser combs and how they work, keep reading our article and check out our list as well.

10 Advanced Laser Combs For Hair Regrowth
The Glemme Laser Hair Growth Brush is ergonomically designed to be used with its biotin serum. This combination reduces hair thinning. The low-level lasers encourage and renew the hair cells by increasing blood circulation which brings all the vital nutrients to the roots and ultimately restore hair volume. Its low intensity is safe to use as it does not damage or burn your hair tissues. Reviewers on Amazon love that this product comes with a USB charging cable and no-questions-asked money-back guarantee.
Pros
Enhances blood circulation
Easy to use
Rechargeable
Comes with a biotin serum
Increases hair thickness
Low-level lasers
Cons
Yaemon Laser Hair Massage Comb uses vibrating massage and infrared laser to enhance the blood circulation in your scalp. This in turn, delivers adequate oxygen and nutrients to the hair follicles to prevent hair loss, stimulate hair growth, strengthen hair cells, and improve the condition of existing hair. Many reviewers on several e-commerce websites have mentioned that the vibrating action of the brush also helps you relax and prevents headaches.
Pros
Travel-friendly and portable
Affordable
Improves quality of existing hair
Easy to use and clean
Can be used as a neck and shoulder massager by detaching the comb head
Cons
Not durable
The vibrating action may be a bit strong for some people
The upgraded Hairmax Lasercomb Professional delivers therapeutic light that revitalizes hair follicles on your scalp, resulting in improved hair growth. It uses vibrating massage and infrared light to stimulate the blood circulation to your hair follicles to promote hair growth and make your hair grow thicker, stronger, and healthier. Reviewers noted that the best thing about this product is that it comes with a USB cable and is rechargeable.
Pros
Soft massage head
Rechargeable
Affordable
Vibrating action promotes relaxation
Cons
The Body Essentials Light And Message Therapy Hairbrush is reasonably priced and comes with 20 660-nanometer LED lights that effectively stimulate hair follicles and boost hair growth. This comb is studded with 184 flexible and gentle steel bristles with ball tips to offer a smooth massage and better stimulation. It comes with 3 operation modes – LED only, massage only, and both. Massaging your scalp with this brush improves blood flow, reduces breakage, and promotes hair growth quickly. Many positive reviews on Amazon state that the product also detangles hair with ease.
Pros
Comes with stimulating bristles and LED lights
Makes hair healthy and thick
Thickens hair
Improves blood flow
Cons
Does not come with batteries
Not durable
The Yaemon 3-in-1 Phototherapy Scalp Massager Comb comes with a USB cable and is rechargeable. The vibrating function of this comb stimulates the hair follicles to improve blood flow. The comb does not make any noise despite offering high-frequency vibrations. The red light mode helps improve the hair texture and promotes hair growth through stimulation, while the blue light mode helps relax the scalp muscles and adjusts the oil content in the scalp.
Pros
Replenishes hair through stimulation and massaging
Stimulates hair growth
Helps relax scalp muscles
Rechargeable
Cons
Not highly durable
Small size, thus takes more time to cover the entire head
The NutraStim Professional Hair Growth Laser Comb is a 12-laser powered stimulation device that improves blood flow and combats hair loss efficiently. It is an FDA-cleared device. The comb comes with 12 lasers to cover the entire scalp and prevent scanty hair. It strengthens the existing hair follicles and accelerates hair growth. It asserts fast hair regeneration and is easy to use. The medical-grade lasers are proven to stimulate the live hair follicles quickly. Amazon reviews praise the laser treatment for improving hair growth and promoting healthier hair while enhancing existing hair strength.
Pros
Comes with 12 effective lasers for hair growth
FDA-cleared
Covers the entire head quickly
Cons
Expensive
Takes around 10 minutes of combing to cover the entire scalp
The Manli Hair Scalp Massager Comb has 28 soft massage tips that offer 7500 vibrations per minute to massage your scalp or skin. The blue light has anti-inflammatory benefits; it controls the oil balance of the scalp and relaxes it. The red light increases blood circulation and promotes collagen growth. It also treats hair loss, promotes hair regrowth, and gives relief from headaches and stress. The detachable brush and rechargeable feature makes it a travel-friendly and portable choice.
Pros
Rechargeable
Detachable brush
2 adjustable modes
Travel-friendly
Treats hair issues
Cons
Might give inconsistent results
Vinmax Electric Hair Regrowth Comb uses a 650nm laser light to activate the atrophic cells in your scalp. It improves blood circulation and helps the hair follicles absorb more nutrients to promote hair growth and regeneration. This laser hair regrowth device also claims to improve sebum production in your scalp, strengthen hair roots, and make your hair healthier.
Pros
Cordless
Portable
Travel-friendly
Effective targeting and coverage
Promotes relaxation
Cons
Mediocre quality
Not durable
HairMax Ultima 9 Classic LaserComb is loaded with 9 high-quality medical-grade lasers that promote hair growth. It is easy to use, portable, and works great for targeted hair loss. It is an FDA-cleared device. HairMax claims that within 12-16 weeks of usage, it will improve hair density and you will witness results and notice your hair growing thicker. The device is battery-powered and designed to be used for years without any damage. It beeps to remind you to move and stop using the comb. This video will provide you with added insights about the product.
Pros
Great for targeted and full scalp coverage
Boosts blood flow and stimulates hair follicles within 12-16 weeks of use
Long-lasting battery
Cons
Hair needs to be combed for 10-15minutes to cover the entire scalp
The Amuliss Electric Massage Brush regenerates dead hair cells to stimulate hair growth. This massaging brush or scalp stimulator needs to be used daily for a minimum of 10-15 minutes to cover the entire scalp and promote blood flow. The brush does not tangle the hair. It also helps reduce dandruff. The massaging feature not only promotes hair growth but also strengthens hair cells, promotes blood flow, relaxes the scalp muscles, prevents headaches, and improves the quality of existing hair.
Pros
Activates the dead hair follicles
Helps regenerate dead hair cells
Improves hair quality and strengthens hair
Helps reduce dandruff and dead skin cells
Cons
Requires a lot of time to cover the entire scalp
Fragile
*The prices provided in this article are based on the latest available information. However, they may vary due to changes in pricing by the seller and/or promotional offers.
The high percentage of the population suffering from hair loss has encouraged companies to explore new technologies to fight hair loss. Low-level laser therapy is one such highly effective innovation. Using a laser comb is an entirely non-invasive hair treatment as it has low-intensity lasers. Moreover, it will save you a lot of money in the longer run. Read on to learn the points to remember while choosing the best laser comb for your hair.
What to Look for When Buying The Best Laser Comb
First and foremost, ensure your device is Food and Drug Administration certified. FDA-approved devices are rigorously tested before they are approved for sale. This is an essential factor to consider with your laser comb so that there is no chance of skin burns and scalp damage. Don't get enticed into buying a lower-priced comb that is not tested and does not have FDA approval.
The higher the number of lasers, the more coverage you will achieve every time you pass it over your scalp. If your hair loss is significant, choose a comb with more lasers. A count of 9 lasers or above is considered a well. Also, pay attention to the average nanometer reading. A wavelength range of 600–700 nm is suitable for superficial tissues, while for deep tissue treatment, the wavelength of 780–950 nm is ideal,
Lightweight and Ergonomic
Since you will be holding the laser comb for at least 10 minutes for each treatment, look for one that is lightweight and comfortable. A handle with a soft grip will prevent hand fatigue and allow you to use it effortlessly. In addition, lightweight doctor-approved devices are easy to carry and portable, making them convenient for home treatment.
The laser comb requires a constant power supply, which could come from rechargeable batteries or a fixed power source. The majority of them come with rechargeable batteries and a charging cord. As a result, the laser will operate satisfactorily when fully charged. Additionally, ensure the device you purchase is durable and easy to charge.
Every laser comb has recommended treatment times ranging from 5 to 20 minutes to be followed three to four times a week. The laser treatment is only effective if you follow the instructions for several months. Consider this to ascertain if you can follow these recommendations and include them in your routine. However, make sure to test the product on some parts of your hair before committing to it for regular use.
Why Trust StyleCraze?
The author of this article, Shiboli Chakraborti, has a keen interest in hair care. She loves to research various hair care products to bring the top list for the readers, making their choices easy. After extensive research and reading consumer reviews online, she has curated a list of the best laser combs. These help accelerate hair growth by activating your hair follicles.
Frequently Asked Questions
How often should you use a laser comb?
Use a laser comb three times a week to stimulate the hair follicles and increase hair growth. Always check the manufacturer's instructions to avoid scalp damage.
How long do laser combs last?
Laser combs have high longevity. They last for 10 to 15 years from their date of manufacture.
How long does it take to see results?
Laser comb therapy reduces hair loss within the first three weeks. Also, notice hair growth after 12 to 26 weeks of use.
What shampoos can be used along with laser combs?
Use sulfate-free shampoos when using laser combs to avoid losing hair. Also, stick to non-toxic, mild formulas for scalp nourishment and better hair growth results.
How to use a laser comb?
Always follow the manufacturer's instructions. However, the right way of using a laser comb is-
• Cleanse your hair and charge the laser comb.
• Hold the comb firmly at the start of your hairline.
• Slowly comb your hair. Move half an inch every four to five seconds.
Can laser comb cause baldness?
No, a laser comb stimulates hair growth and combats premature balding. However, certain users may experience hair loss during the first few weeks of use. This is because the laser causes the follicles to shed damaged hair and regrow healthy new hair.
Can laser combs be used with minoxidil?
Yes. Use a laser comb with minoxidil to improve the efficacy of the device. Minoxidil works as a catalyst for the comb and enhances hair growth by 5%.
What are the side effects of laser combs?
Laser combs have no adverse effects, but some users may experience hair shedding after a few weeks. This is because the follicles discard the damaged hair to boost hair growth. Also, overusing laser combs diminishes their effectiveness.
Recommended Articles
Hair Sebum: What is, Causes & Tips to Control Excess Sebum