The 11 Best Bleach Kits You Can Use At Home
Save on the trips to the salon with these easy-to-apply and top-quality bleach kits.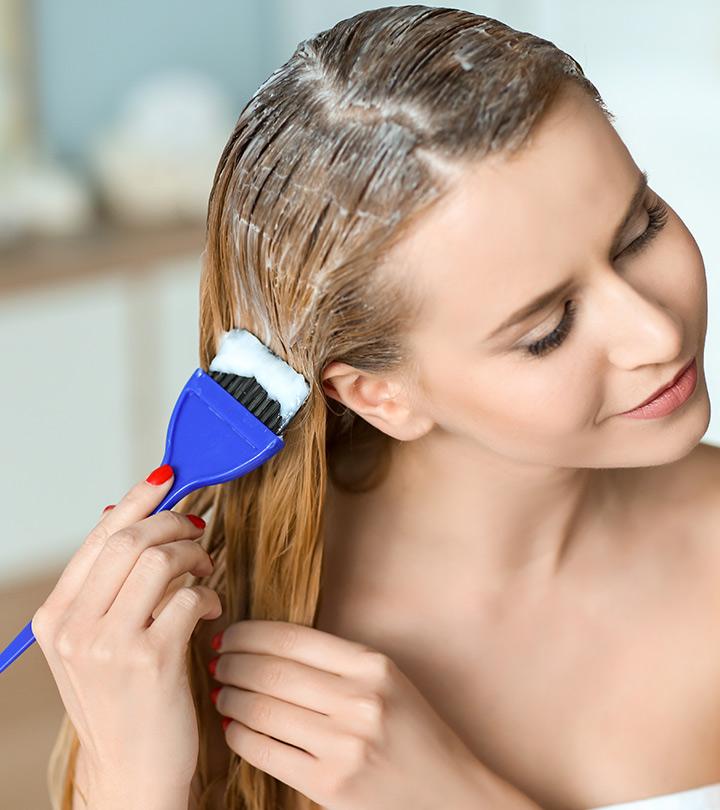 Long gone are those cumbersome days when you needed a salon appointment to refresh your hair color. With the best hair bleach kits from new and reputed brands alike storming the market, you can now bleach your hair without ever stepping out! Of course, bleaching your locks can be messy, but the kits we've rounded up for you belong to a professional-grade and provide excellent results. They come with easy-to-follow instructions at the back so that you can achieve your dream look in a few easy steps. Take a look!
What Is Hair Bleaching?
Hair bleaching is a chemical procedure involving stripping the pigment (color) from the hair strands to lighten the color. Each hair shade has different levels of pigment to dissolve through. For instance, dark hair needs intense bleaching as it has more pigments. Hair bleaching depends on the hair condition, type, and natural color. The longer you leave the bleach on your hair, the more pigment is dissolved and the lighter the hair becomes.
Here is how hair bleaching works.
How Does Hair Bleaching Work?
The hair bleach oxidizes the hair pigment (melanin) from the hair shafts to fade the color. The two most commonly used bleaching agents are hydrogen peroxide and ammonia. Some brands may mix the two agents to speed up the bleaching process and give faster results. However, they can be quite harsh on your hair. That is why some manufacturers avoid peroxide and ammonia in their products. Instead, they use other oxidizing agents.
Here are our top picks of the 12 best hair bleach kits you can use at home.
11 Best Hair Bleach Kits You Can Use At Home
Get the pre-coloring step right and perfect the desired look with the Manic Panic's Flash Lightning Hair Bleach Kit. It is easy to use, gentle on hair, and lightens up to seven levels, ensuring precise results. The kit includes a 40 volume cream developer, a mixing tub, a tint brush, a plastic cup, and one set of plastic gloves. There is also an instruction manual to make the whole process easier. This bleach kit is perfect for dark brown and black hair and gives medium to very blonde results. Take a look at this video to know more about the product.
Pros
 Vegan-friendly
 Cruelty-free (PETA accredited)
 PPD-free
 Ammonia-free
 Phthalate-free
 Paraben-free
 Gluten-free
 Resorcinol-free
Cons
 May cause dryness and breakage
Price at the time of publication: $12.99
If you want an all-in-one bleaching and toning formula, go for the 'N Rage Bleach & Toner Kit. The 2-step process with off-the-scalp 10-minute formula is easily activated with the 40 volume activator for fast results. And that is not all – the kit also reduces dullness with the white-out conditioning toner that leaves your hair soft and lustrous. This kit preps your hair for frosting and highlighting. You may check more about this product in this video.
Pros
 Suitable for all hair types
 Easy to use
Cons
 Insufficient quantity for long hair
Price at the time of publication: $15.0
The Arctic Fox Bleach Please Complete Hair Lightening Kit lifts hair to 8 levels. This vegetable-based cream bleach includes a 35 volume developer and latex-free gloves to touch up your roots. It is developed with Polycarp Split Therapy, a patented technology that helps prevent split ends. The formula is infused with acai to prevent hair loss, cocoa seed butter to strengthen and moisturize your hair, sunflower seed oil to boost hydration, and castor oil to strengthen the hair. It also contains mango seed butter with antibacterial and anti-inflammatory properties and papaya fruit extract to prevent dandruff and stimulate circulation. This hair lightening kit also contains a violet base to help counteract post-bleaching unwanted yellow tones. Check out this video to learn more.
Pros
 Contains natural ingredients
 Includes latex-free gloves
 Vegan
 Cruelty-free
Cons
The BTZ Radical Bleach Kit is best for bleaching, tipping, and streaking. This easy-to-apply bleaching kit includes a lightening powder, 40 volume developer to give the best bleaching results, brush, gloves, a highlighting wand, a frosting cap, and a needle. It is suitable for dark hair and can give super blond results on lighter hair.
Pros
 Easy to use
 Affordable
 Good for beginners
Cons
None
This hair bleaching kit by Punky Colour is an all-in-one kit that contains everything you need for fuss-free hair bleaching. The 40 volume developer works quickly for maximum effect and lighter tints, while the bleach ensures that the hair lifts evenly. You can use this kit for hair lightening, streaking, tipping, and frosting. The kit is suitable for naturally dark and light hair.
Pros
 Easy to use
 Cruelty-free
 Includes instruction guide
Cons
None
The Brite Bleach Kit has a dust-free and ammonia-free formula that can lift and lighten your hair up to 8 levels. It includes everything you need to bleach your hair and is ideal for pre-lightening. The low odor formula contains a mix of protective emollients that lighten your hair without any damage and is suitable for all hair types.
Pros
 Dust-free
 Ammonia-free
 Vegan
 Cruelty-free
Cons
None
The easy-to-use eZn Creamy Hair Bleach is best for lightening the hair to ash and pastel shades. The formula is enriched with marula seed oil that helps prevent hair damage and minimizes scalp irritation. You can pour the bleaching agent into the oxidizer bottle, shake well to mix, and apply it directly to the hair. The kit includes a nozzle cap for easy application.
Pros
 Creamy formula
 Easy to apply
Cons
None
The Bleach London Total Bleach Kit is perfect for achieving the perfect platinum blonde base. It is best suited for unbleached, dark blonde to dark brown hair and root regrowth coverage. A single kit is suitable for short, cropped hair and roots up to 2.5 cm long. You may need at least three bleaching kits for covering long and thick, coarse hair.
Pros
 Cruelty-free
 Vegan
 Includes a conditioning mask
Cons
None
This hair bleaching kit by Punky Colour is gentle and non-damaging to your hair, and offers up to seven levels of lift. You can use this kit for highlighting, bleaching, and frosting. The product is formulated with an advanced Intrabond Complex that promotes hair bond reconstruction to give intense shine and deep conditioning treatment. The kit is easy to use and gives you professional results at home.
Pros
 Easy to use
 Cruelty-free
 Sulfate-free
 Paraben-free
 Color-safe
Cons
None
Getting the perfectly ice-toned silver hair is now easy with the Kiss Lift Up Complete Bleach & Tone Kit. It has a no-drip formula that is easy to use and gentle on your hair. The kit includes a powder lightener and crème developer to bleach the hair blonde and a toning treatment to minimize brassiness and give it the silver hue.
Pros
 Non-drip
 Easy to use
 Gentle
Cons
None
The Kiss Lift Up Complete Bleach Kit has a maximum strength formula to lighten even the darkest and resistant hair. The nourishing and non-damaging formula contains hair conditioning ingredients to provide maximum lift without drying the hair. It is safe and easy to use and includes a brush, plastic gloves, and tray.
Pros
 Easy to use
 Non-drip formula
 Gentle
Cons
None
Bleaching your hair at home can be a bit tricky. You need to follow the instructions properly. Otherwise, you may experience hair damage and breakage. Here are a few tips to avoid the damaging effects of bleaching.
Things To Consider Before Bleaching Hair
 Determine Your Hair Health
Bleaching agents are harsh and damaging. Hence, consider your hair's overall health before bleaching. If you have dry, brittle, and damaged hair or recently underwent any chemical hair treatment, wait for at least two weeks before bleaching. Dyed, permed, or highlighted hair is also not suitable for the bleaching process as it may damage your hair further.
Do not wash your hair a day or two before bleaching to prevent washing out the natural oils. They work as a protective barrier between the strands and the bleach. It is fine if your hair is a little greasy as it will not affect the bleach results or color payoff. Many top hair color brands add vegetable oils to their formulas to minimize hair damage while bleaching.
 Do Not Use Heat Styling Tools A Week Before Bleaching
Heat styling tools like rollers, hair straighteners, curling irons, and blow dryers may cause damage to your hair by stripping the natural moisture and oils. Avoid using these tools for at least a week before bleaching as your hair needs time to recover from this damage. Also, keep the strands moisturized as much as possible before bleaching.
Use a hair mask to deeply condition your hair and prepare it to withstand the bleaching process. You can apply hydrating hair masks a week before bleaching and use nourishing oils like coconut and olive oils to keep the hair moisturized. You may also use a DIY mask by mixing yogurt, honey, banana, avocado, etc., to prevent hair damage.
Always consult a professional hair colorist or hairstylist for hair bleaching. They can determine the hair condition and help you understand if your hair is fit for bleaching. They can also guide you on pre-and post-bleach maintenance to help minimize hair damage. You can also follow the tips discussed below to care for your hair after bleaching.
Hair Bleaching Aftercare Tips
Use nourishing hair masks that contain hydrating and moisturizing ingredients like vegetable oils, aloe vera, honey, and avocado. They can help restore hair softness and elasticity.
The hair tends to dry out after bleaching and becomes vulnerable to heat damage. Therefore, avoid using blow dryers, curling tongs, and straightening irons for at least a week or two after bleaching. When using the tools, make sure you keep the temperature to a minimum and use it only once or twice a week.
Leave-in conditioners contain emollients that lock in moisture and help revive and restore your hair. You may also try in-shower conditioning treatments to keep your hair healthy.
Chlorinated water can weaken the bleached hair strands and give it a brassy blonde, greenish hue, or carrot-orange tint. Avoid diving into the swimming pool at least for two weeks after you have bleached your hair. After that, you can use a swim cap to protect your hair from further damage.
 Comb Your Hair Only When Wet
Bleached hair is vulnerable and prone to snags and tangles. Use a wide-toothed comb or a wet brush with flexible bristles to detangle and comb your hair.
One of the most crucial aftercare tips for bleached hair is trimming off the split ends and easily getting rid of damaged hair. Ask your hairdresser to trim off two to three inches.
 Wash Your Hair Less Often
The hair is weak and susceptible to breakage during the first two weeks post bleaching. Therefore, avoid frequent shampooing. Wash your hair once every three to four days and use sulfate-free shampoos. You can also stretch the wash days by incorporating a dry shampoo into your hair care routine.
 Add A Hair Oil To Your Routine
Adding a nourishing oil to your hair care routine will help hydrate and protect roughed-up cuticles from the bleaching process. It will also make your hair shiny, frizz-free, and manageable.
Hair bleaching needs to be done carefully. Otherwise, you may end up with patchy hair and brassy-orangish tint. Here are some common mistakes to avoid.
Common Mistakes To Avoid When Using A Hair Bleach
 Not reading the package instructions properly
 Skipping the strand test before hair bleaching
 Leaving the bleach on your hair for long
 Not using deep conditioning treatments before and after bleaching
 Bleaching your hair too frequently
 Bleaching damaged or over-processed hair
These 11 best hair bleaching kits on the market make the color treatment look like child's play. If you are a beginner, the BTZ Radical Bleach Kit will be the best pick for you. If you want a vegan product, the Arctic Fox Bleach Please Complete Hair Lightening Kit is the best, and if you want a complete bleach and tone kit, go for the 'N Rage Bleach & Toner Kit.
Why Trust StyleCraze?
The author, Oyendrila Kanjilal, is a certified skin care coach and loves to experiment with her hair. She has consulted hair experts to understand and highlight all aspects of the at-home bleaching process. She has rounded up the list with the help of the experts and after going through hundreds of online reviews.
Frequently Asked Questions
Should I wash my hair before bleaching?
No, you should not wash your hair immediately before bleaching it. This may strip the natural oils and make the strands vulnerable to harsh bleaching ingredients.
Can you bleach greasy hair?
Yes, you can bleach slightly greasy hair. However, the bleach may not set on excessive greasy and oily hair.
Can you bleach wet hair?
No. Wet hair is vulnerable to damage, and bleaching may cause breakage.
How long do you leave bleach in your hair?
It may vary. However, it is best to leave the bleach on your hair for not more than 15-30 minutes.
How often can you use hair bleach?
You can bleach your hair once every 8 to 10 weeks.
How do you bleach dark hair without turning it orange?
After bleaching, you have to use a toning solution to minimize orange tint and brassiness.
Is it worth bleaching your hair at home?
Yes, you can easily bleach your hair at home using proper techniques.
Recommended Article