The 11 Best Hair Ties For Thick Hair Of 2023
Secure your thick hair easily with hair accessories that are stylish and affordable.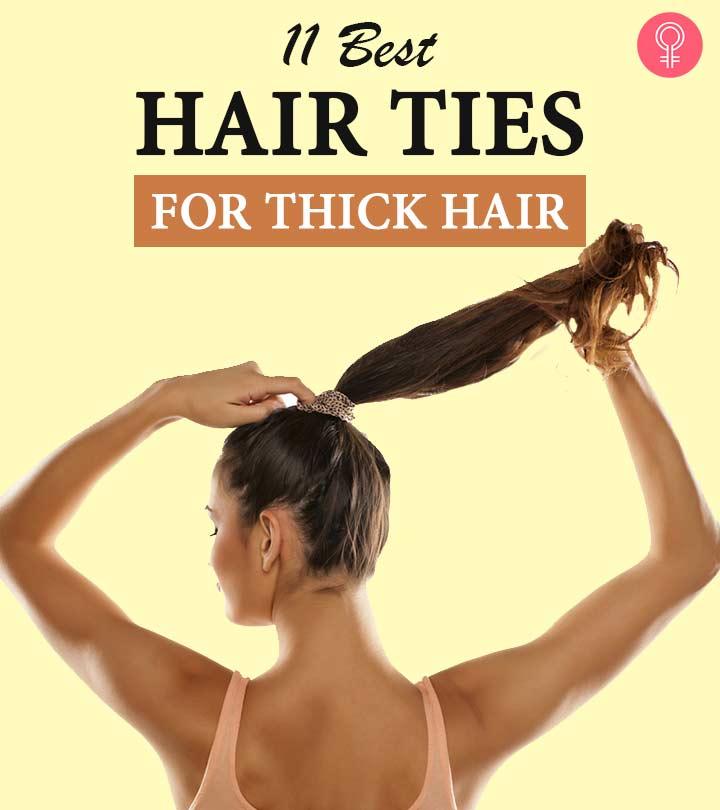 The best hair tie for thick hair is one that does not slide off quickly and at the same time does not squeeze your hair so tight that it gives you a headache! As great as it is to have thick hair, styling and to maintain it can be quite the ordeal. If tying it up with rubber bands is something you dread because of the breakage, and if not appropriately tied, it forever gets in your face. You often wonder, to have thick hair or not to have thick hair! Luckily for you, we're here to the rescue. Check out our article on the 11 best hair ties for thick hair, and you can thank us later.
The 11 Best Hair Ties For Thick Hair Of 2023
The J-MEE Thick Seamless Cotton Hair Bands are made from non-toxic, new industrial fabric with good texture, soft touch, and no objectionable odor. They are made of a stretchy material that allows you to compress the hair neatly, making them easy to use. They use highly elastic material that is thick and durable. Several reviewers attest that these hair ties hold the hair firmly in place without loosening and sit comfortably on the head, while you are working out, sporting, or just playing around. They are great for daily use and do not cause any snagging or hair breakage, thanks to the seamless design. These hair bands come in neutral colors.
Specifications
Diameter: 2 inches
Of Pieces: 100
Pros
Great for physical activities
Value for money
No metal clasp
Non-slip
No breakage or snagging
Cons
Sheds tiny elastic strands over time.
Price at the time of publication: $5.94
You can use these disposable Teenitor Clear Elastic Hair Bands anywhere and anytime you want without any worries. They are not too thick to prevent proper stretching, nor are they too thin to break when stretched. They easily slide off your hair when grabbed and can be pulled off cleanly because they do not roll or snag on the hair to create knots. Multiple reviewers have tested out this product and have noticed all day hold without any breakage. These elastic bands are suitable for all kinds of hair and can be used to make a sleek ponytail, an elegant updo, or pigtail.
Specifications
Diameter: 2 mm
Pieces: 2000
Pros
Stretchable
Easy to wear
Snag-free
Cons
None
Price at the time of publication: $5.99
The BIODEGRADABLE Elastic Hair Ties are made from organic materials like cotton and natural rubber. These no-crease ties are soft, comfortable, and stretchable. They can be worn without the worry of hair breakage or ponytail headaches. These biodegradable hair ties offer great comfort and keep the hair firmly in place for hours. Whether you're aiming for a sleek, sophisticated ponytail or an elegant updo, these hair accessories will hold your hair securely in place, making them perfect for thick, puffy, or wavy hair.
Specifications:
Diameter: 0.5 inches
Of Pieces: 27
Pros
Durable
Odorless
Long-lasting
Snag-free
Biodegradable packaging
Cons
None
Price at the time of publication: $14.95
The Ivyu Scrunchies are the perfect choice for thick, heavy, and curly hair. These hair ties are soft, stretchable, and comfortable to wear because of the satin material with which they are made. The elastic band inside the scrunchies also provides good stretch and hold. They are available in different colors and patterns, and will perfectly complement your dressing style.
Specifications:
Dimensions: 1.5 inches
Of Pieces: 6
Pros
Convenient to remove
Tangle-free design
Prevents breakage
Ideal for daily wear
Cons
None
Price at the time of publication: $6.89
These 79STYLE Spiral Coil Hair Ties are lightweight and durable, ideal for dense, curly hair. The hair ties offer a strong stretch that makes ponytails feel comfortable without creasing or harming the hair. These elastic plastic-cord hair bands have a firm grip on the hair and can be used every day, including at the gym or at the yoga. They are great for thick, heavy, and curly hair. Its durability and slight boost of volume has made it a favorite among reviewers. With their simple color, it is easy to match them to your dressing and fashion styles and create various hairstyles like braids and half up-half down looks. They are adorable enough to be worn as a bracelet and make great presents for your loved ones.
Specifications
Diameter: 0.79 inches
Pieces: 30
Pros
Lightweight
Durable
No creasing
Comfortable
Cons
Price at the time of publication: $12.99
The AwEx Ponytail Holders are made with the new "High Elastic Rubber Core" that stretches about 40% longer than its original size and does not lose its shape while holding the hair securely and strongly. They are convenient for people who have difficulty managing their hair, as they tie comfortably without damaging the hair. The AwEx company also has a new robot production line that has increased the gluing joint of the rubber core, making these hair ties last longer than usual. This pack of hair ties comes with a cute carabiner attached to carry some with you on the go. They come in assorted colors and shades to complement any style, and no metal used to secure the ends, thereby ensuring no pulling and ripping of the hair.
Specifications
Diameter:4 inches
Of Pieces: 72
Pros
Available in variety of colors
Extra-large size
Value for money
Soft feel
Cons
Price at the time of publication: $7.68
The Burlybands Ponytail Holders are big, super strong, and thick hair ties that have superior strength and are flexible enough to be pulled around long and thick hair. These hair bands can wrap around a ponytail up to 3 times (up to a 4.75" circumference) without giving you a headache. These are slide-proof athletic hair ties. They are ideal for wearing during work or while running, playing soccer, or when you are engaging in other high-impact sporting events. If you are still unsure, check out this honest review of a tester's experience of using the product.

Specifications
Diameter:25 inches
Of Pieces: 3
Pros
Available in various shades
Thick hair-friendly
Non-slip
Tight grip
Soft feel
Long-lasting
Cons
May cause dents/bumps in the hair texture.
Price at the time of publication: $11.29
The GIMME Thick Fit No Damage Hair Ties are designed to give a strong and long-lasting hold. The microfibers in the material spread tension and help in keeping your ponytail secured. The design makes these the perfect choice for managing thick hair. It does not cause pulling, tugging, ripping, or headaches. These thick hair bands can be easily removed without hair breakage or snagging. These tight-grip ponytail holders are comfortable to use, allowing you to tie a ponytail, pigtail, or bun.
Specifications
Diameter: 0.5 inches
Of Pieces: 6
Pros
Seamless design
Snag-free
Ponytail and bun holder
Ideal for everyday use
Suitable for curly and straight hair
Cons
None
Price at the time of publication: $12
The Goody Forever Ouchless Elastic Hair Tie is perfect for medium to thick hair. The elastic of this hair tie has an effective 16-strand core that helps maintain the bounce and original shape. The comfortable hold of these ties will also prevent snagging and hair breakage. The ties have high elasticity. They are designed for daily wear without the risk of headaches. Several reviewers also recommend this product for a secure hold during high intensity workouts.
Specifications
Diameter: 1.02 inches
Of Pieces: 10
Pros
Sturdy
Long-lasting
Comfortable all-day hold
Cons
The little beads may tangle the hair
Price at the time of publication: $4.22
The Wild & Stone Biodegradable Hair Ties and made from organic cotton and plant rubber. These hair ties are entirely biodegradable and produce no waste as they are free of plastic and metal. They are perfect for all hair types, whether you have curly, straight, short, long, thin, or thick hair. Since the ties do not have any metal, they do not put excess strain on the hair, which lessens damage and split ends. It does not pull off hair or cause any damage when removing them. The soft cotton causes no bends or deformations, while the stretchable elastic stays tight for both everyday use and vigorous sports use.
Specifications
Diameter: 0.35 inches
Pieces: 6
Pros
Organic material
Snag-free
Non-damaging design
Reduces tugging
Great for physical activities
Ideal for daily use
Cons
None
Price at the time of publication: $8.99
The Bunzee Bands Black Hair Ties come with bead-locking hair elastics, which help your ponytail to remain in place all day long, thanks to their long-lasting, and non-slip hold. They are delicate enough to work as the ideal hair ties for thin hair, while still being strong enough to manage thick, curly, and natural hair. They are not only convenient to put on and remove but also a great choice for DIY decorative hair scrunchies and bowknot accessories. VThese hair ties do not compromise hold, unlike conventional hair scrunchies that frequently budge and tumble out of place. They are the best hair ties for preventing creases, dents, damage, and headaches. They serve as the ideal sleep scrunchies by absorbing and relieving most of the tugging and pulling on your scalp and are adorable enough for you to wear them on your wrist without discomfort.
Specifications
Diameter: 0.67 inches
Pieces: 2
Pros
Long-lasting
Twist-free
Does not tug or pull
Prevents hair damage
Cons
None
Price at the time of publication: $10.95
If you have thick hair, you know the struggle of finding a hair tie that can hold all of your hair back. It can be frustrating to constantly search for a new hair tie that will work for your thick hair! In this guide, we'll go over some things to look for in hair ties for thick hair, so you can find the perfect one for your needs.
Things To Look For In A Hair Tie For Thick Hair
The first thing you'll want to look for in a hair tie for thick hair is a good grip. You'll want something that can hold onto all of your hair and keep it in place without slipping or coming loose. For instance, a coiled plastic material can grip even the thickest hair. It's also super comfortable to wear and doesn't leave any dents in your hair. You can also look for hair ties made from a strong elastic material that won't stretch out after one use.
Hair ties made with thicker material are more durable and last longer than those made with thinner material. This is especially important if you wear your hair ties often or have particularly thick or curly hair. A hair tie made from a sturdy material will help prevent breakage and keep your hair tie from stretching out over time. Alongside durable ties, look for one that is gentle on your hair. You don't want to damage your locks in the name of fashion!
For thick hair, traditional hair ties just don't cut it, as they tend to snap or slip right out. Instead, look for a hair tie with a wide band surface designed specifically for thick hair that can distribute your ponytail's pressure evenly to prevent headaches. The wide band ensures that your hair stays securely in place while the surface material prevents slippage.
Hair ties come in different sizes, from the tiny ones barely there to the big, chunky ones that make a statement. And then there are all the sizes in between. Make sure the size of the hair tie is appropriate for your hair thickness. If it's too small, it won't be able to hold all of your hair back; if it's too big, it may be uncomfortable to wear or leave indentations in your hair. Laura Dale, licensed cosmetologist, says, When it comes to choosing hair ties for thick hair, it is important to opt for the ones that won't cause breakage or damage. Look for hair ties that are made from materials like silk or satin, which are gentle on the hair and help prevent tangling and breakage. It is also important to avoid hair ties with metal parts, as these can snag and break the hair, leading to split ends.
Why Trust StyleCraze?
The author of this article, Oyendrila Kanjilal, is a haircare enthusiast and likes to stay updated on various hair care solutions. She wanted to help her readers buy the best hair ties for thick hair, so she conducted thorough research, checked user reviews and feedback and prepared a comprehensive list of the best-rated hair ties. The listed items can keep your ponytail intact all day long.
Frequently Asked Questions
Do hair ties damage your hair?
Yes, they can if the ponytail is too tight or they have a metal clasp as hair tends to get stuck in the cavities.
Is it better to sleep with hair tied or loose?
It is better to loosely tie your hair with an elastic as sleeping with open hair can cause tangles and knots in your hair.
Do scrunchies leave dents in hair?
No. Scrunchies are usually made with soft materials and fairly smooth elastic. They do not leave any dents in the hair if tied loosely.
Are slip hair ties worth it?
Yes, slip hair ties are worth the money. Compared to traditional hair ties, the price seems excessive, but one pack of these lasts a very long time.
Are rubber bands bad for hair?
Rubber bands may not be too damaging to the hair, as long as used cautiously on well brushed hair. It is recommended to use soft fabric hair ties on the hair.
Which hair tie is the best for thick hair?
The J-MEE Cotton Hair Bands are the best ties for thick hair. They sit comfortably on your hair without causing hair breakage. Also, the non-toxic fabric is highly durable.
How thick is a hair tie?
The standard size of a hair tie is 1.5-inch to 2-inch in diameter. Larger sizes are also great if you have very thick hair.
Which hair tie is least damaging?
The Nspring Cotton Hair Ties are elastic bands that keep the hair in place without pulling. These ties have a soft feel that sits comfortably on the hair.
Are hair ties better than clips?
Yes. Hair ties grip your hair tightly – they crease and bend your strands. On the other hand, clips keep certain sections of your hair in place without stretching them.
Recommended Articles: