9 Best Hair Ties For Curly Hair – Hold Those Gorgeous Curls In Place
Prevent hair breakage with these ties that will hold your kinky curls in place.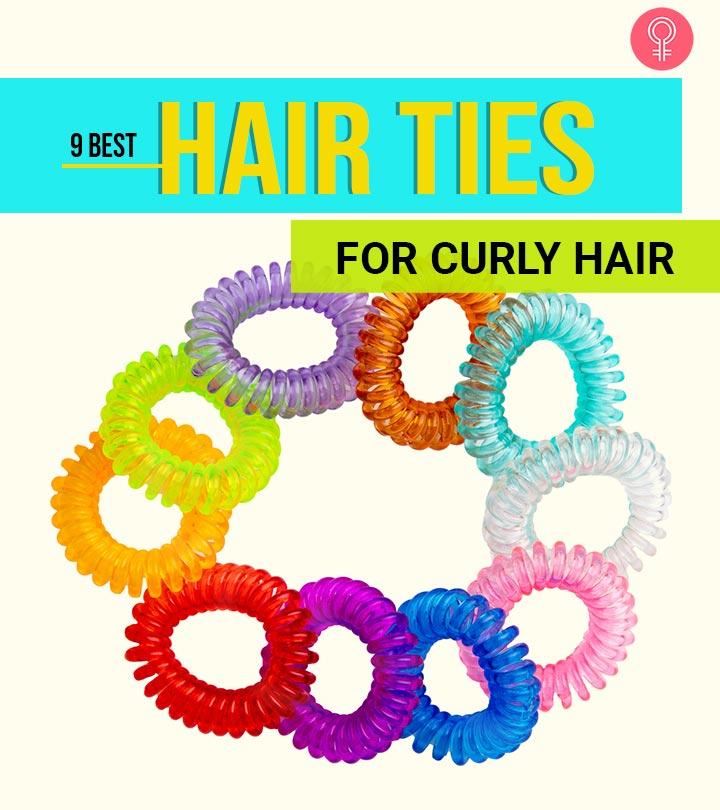 If you have thick and curly hair, your normal hair tie can tangle and break your hair. On the other hand, the best hair tie for curly hair is made of soft material and is designed to combat damage, tugging, and prevent creasing to your natural hair. Here is a list of no-damage elastic hair ties that will hold your gorgeous curls in place without causing any excessive hair damage to them. Scroll down to check them out!
9 Best Hair Ties For Curly Hair
The Kitsch Sleep Scrunchies are here to help keep your natural hair healthy while still adding style and sophistication wherever life takes you! They are made with soft silk material and no-crease elastic. Reviewers are highly impressed that these scrunchies are comfortable enough for all-day wear yet strong enough to tie thicker hair for long periods of time. Whether you're going to a formal event or just out running errands, this stylish hair tie will have you looking and feeling your best!
Pros
Suitable for daily use
Durable
Washable
Available in various colors
Creaseless elastic
Stretchable
Cons
None
The Ivyu Satin Mixed Color Silk Scrunchies are stylish and luxurious and are perfect for those who want to keep their hair looking great all day long during parties, ceremonies, cultural performances, and travel. It's made from premium silk satin material, so it won't pull or tug on your hair as normal ties do. The wider edges and slippery texture make them easy to wear and remove. It is 3.5 x 2.5 x 1.5-inch in size which makes it easy to fit comfortably around your wrist, allowing you to carry this fashionable accessory wherever you go!
Pros
No snagging or pulling
Suitable for daily use
Tangle-free elastics
Durable
Stretchable
Easy to use
Comfortable to wear
Cons
None
The Wexbi Hair Bands are adjustable and made of elastic material. These no-snag elastics work well as ponytail holders and hold your hair securely without snagging or pulling it. These hair bands can be used for creative hairstyles – a ponytail, bun, or a puff. The gentle hair elastics are ideal for those who have fine hair. They are suitable for yoga, swimming, biking, and any other sports activity.
Pros
Made of soft elastic
Stretchable
No snagging or pulling
Cons
None
The SWIRLYCURLY Snap Hair Ties are made of soft and stretchy elastic material that is gentle on your curls. They hold your hair firmly in place for a long time. These hair ties are easy to use and comfortable to wear. Its soft elastic and stretchy fiber does not cause hair damage while its snap-off technology makes wearing and removal very convenient. These hair ties enable you to style your hair in multiple ways – quick puff, ponytail, and dreadlocks. To find out more about a tester's experience of using this product, check this video review out.
Pros
Stretchable
Easy to use
Comfortable to wear
Durable
Machine washable
Secure hold for curly hair
Cons
The Styla Hair Ties are made of durable material that can hold thick, curly hair. They are flexible enough to wrap twice around a ponytail. These no-tug hair ties are made of soft and stretchy material that does not snag or pull your hair and are easy to use and comfortable to wear. Multiple reviewers attest that its firm grip and no-slip feature is perfect for sports activities. These strong and durable hair ties are suitable for hair buns, ponytails, braids, top knots, puffs, half-ups, and half-downs.
Pros
Durable
Easy to use
Stretchable
Non-slip elastics
No snagging
Comfortable to wear
Cons
None
The Interesse Hair Ties are made of durable and stretchy material that does not break easily. They are easy to wear and offer a firm grip, keeping your hairstyle intact the whole day. These versatile elastics do not snag or pull your hair and provide all-day hold. They also include 16 pieces of bobby pins.
Pros
Durable
Firm grip
Stretchable
Come with 16 bobby pins
Anti-breakage elastics
Cons
None

Are you tired of hair ties that don't last? Look no further than the Goody Ouchless Black Hair Elastics! These rubber elastics are designed to hold your locks in place while being gentle on all types of hair, so you don't have to worry about tangling and any scalp hurt or hair snag. Not only can they be used for a variety of hairstyles, but their 16-strand inner core ensures that these elastics always retain their original shape and bounce back after every use. Their durability and holding power have made them an instant favorite for many reviewers. With 10 long-lasting elastic bands included in each pack, you'll have plenty to keep your tresses looking fabulous all day long!
Pros
Comfortable to wear
Lightweight
Available in 10 colors
Waterproof
Stretchable
No snagging
No-pull elastics
Cons
None
Tie your hair conveniently with the HBY Hair Ties. They are strong, thick, soft, and made of seamless design. They are good for both curly and straight hair. The hair tie comes with a perfect grip, and you can also wrap the band 3x times. These hair ties are ideal for soccer, running, and other high-impact sports. The tie offers a gentle grip and firm hold.
Pros
Durable
Available in different colors
Suitable for regular use
Stretchable
No sagging
Seamless elastics
Cons
None

The Burlybands Hair Ties are durable and flexible enough to be wrapped around thick hair. They can be wrapped thrice around a ponytail without giving you a headache. These hair ties do not slip away during sports activities. Reviewers highly recommend the elastic material that provides a tight, no-slip grip. These hair ties are slide-proof and do not stretch out. The seamless design enables easy removal from your curly hair. Check out this review showcasing a tester's experience for a detailed understanding of this thick hair-friendly product.
Pros
Can be wrapped thrice around a ponytail
Non-slip grip
Durable
Easy to remove
Do not crease
No snagging
Cons
None
*The prices provided in this article are based on the latest available information. However, they may vary due to changes in pricing by the seller and/or promotional offers.
Maintaining curly hair's beauty is challenging if you always leave them open, especially if it is long. A hair tie makes a significant investment to keep those gorgeous curls in place. If you find it challenging to choose the best hair tie for curly hair, here's a buying guide to make it easier.
How To Choose The Best Hair Ties For Curly Hair
Be picky with the material of the hair tie. Traditional rubber bands can damage your hair by pulling and breaking it. Therefore, look for stretchy fabrics or high-quality, solid elastic bands wrapped in cotton. These offer good hold without tugging at the hair when you remove them. You can also choose telephone wire ties. Although they provide less grip than elastic ties, they will not pull your hair. Lastly, scrunchies are large fabric hair ties with elastic centers. They are great for a loose hold that won't result in hair damage. Choose the materials depending on the traction you require.
Thicker and broader ties are less likely to get tangled and more likely to stand up to curly and thicker hair. Prefer ties that are long enough to wrap around your hair twice comfortably without too much pulling.
Make sure your hair tie doesn't have any metal clasp or seam that could snag on your curly strands. The band should be continuous unless a fastener is specifically built into it for adjusting purposes, like a bungee band. Bungee bands open up with hooks at each end. They can be safer than traditional elastics and work better for tying away your ends for a longer period.
Choosing small ties that don't have enough elasticity can make it challenging to hold your curly hair up. Always choose hair ties and scrunchies that are durable and highly elastic so that they will not pull your hair off or give you a headache due to the tight hold.
Why Trust StyleCraze?
Oyendrila Kanjilal, the author, is passionate about hair care. Curly hair can be prone to tangles in high humidity, and she has found the perfect solution for her readers. After conducting extensive research and reviewing numerous online reviews, she compiled this list of the best hair ties for curly hair. Now, you can manage your wonderful curls with these hair ties and keep them from getting damaged.
Frequently Asked Questions
How do you tie your hair without ruining curls?
You can tie your curly hair using a satin scrunchie or fabric-covered hair tie to avoid breaking or ruining curls.
Do buns ruin curly hair?
No, buns do not harm curly hair unless your hair is tightly tied, which can destroy your curls, and cause thinning and headaches.
Do hair ties damage curly hair?
The average hair tie causes curly hair to tangle and break. However, the best hair tie is satin scrunchies specifically made for curly hair types.
How do you tie your hair up with curly hair?
The best way to tie your curly hair is to take all the hair and tie a pineapple bun, keeping the ends loose. You may style your hair with a satin scarf or headband.
How do I style my frizzy curly hair??
• Use the right shampoo and conditioner.
• Use leave-in conditioners to retain moisture in your curls.
• Always style your wet curls using a gel or mouse with good hold.
• Follow your curl pattern and avoid touching your hair while drying.
Recommended Articles