13 Best Co-Washes For Fine Hair That's Bouncy And Voluminous
It's time to revitalize fine hair by stimulating hair growth for extra shine and volume.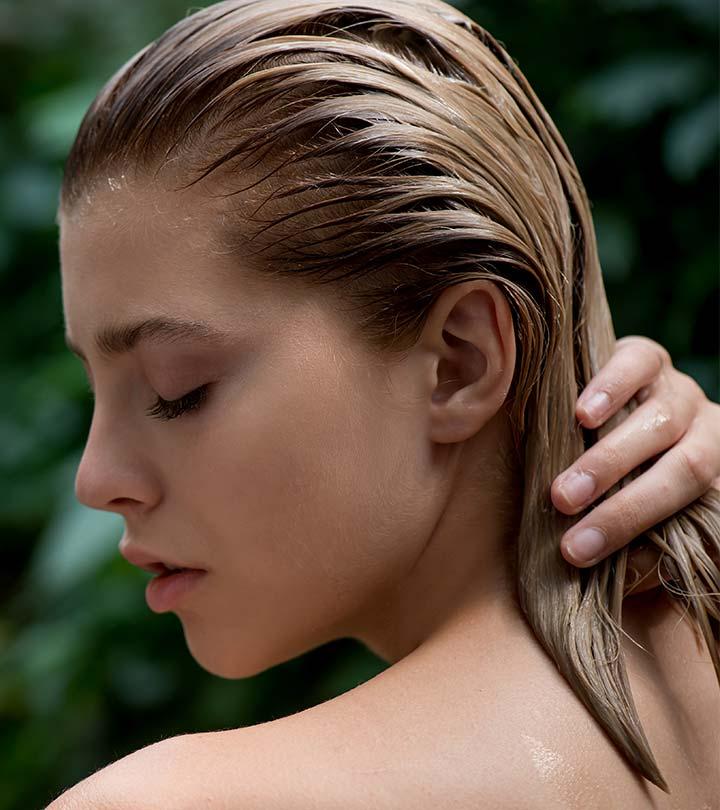 Women with fine hair understand the problem of an oily scalp. But, shampooing every day is no option either. Have you tried the best co-washes for fine hair available on the market yet? Co-washes or conditioner washes cleanse your scalp and hair without drying them out. They are enriched with natural moisturizing ingredients like shea butter, coconut, or argan oil to add back the lost moisture.
Limp hair can make you look and feel drab. But, washing your hair daily with regular shampoos strips your hair and scalp of their natural moisture. This makes your fine hair dry and brittle, often increasing hair fall. To prevent this and ensure that your oily scalp does not ruin your hairstyles, check out the best co-washes for fine hair that have made it to our list of favorites. We have carefully picked formulas that cleanse your scalp and prevent your hair from becoming lifeless. Keep scrolling to find out more!
What Is Co-Washing?
Co-washing, also called 'No-Poo' washing involves washing your hair by completely eliminating shampoos for good. For this, you will need a conditioner that does not lather yet cleanses your scalp thoroughly without drying it. Such co-washes are a magical potion to athletes and gym enthusiasts who need a regular hair wash to keep sweat at bay. Shampooing daily can cause hair damage while co-washes can nourish hair and improve its texture.
13 Best Co-Washes For Co-Washing Fine Hair Gently And Thoroughly
Style, flaunt, and shine as you like with the As I Am Coconut CoWash for caucasian hair that backs you up by keeping your hair well-nourished and free of damage. Coconut oil — the key ingredients of this no-sud co-wash deeply conditions the hair strands from root to tip. Other natural ingredients like castor oil, saw palmetto, tangerine, and phytosterols promote healthy hair growth and increase hair thickness. When you evenly spread this creamy potion on your hair scalp, it gently cleanses excess sebum, styling product residue, and other residues from the surface without disturbing the physiological balance of your scalp. For a thorough review of the product, have a look at this YouTuber's video.
Pros
Conditioning treatment
Cleanses gently
Adds moisture
Makes detangling easy for textured hair
Safe for color-treated hair
Pleasing coconut fragrance
Cons
Methylisothiazolinone present in the product might cause skin allergies.
Price at the time of publication: $7.97
Is the frizz in your hair sinking your self-confidence to outshine and stand out? Try the Pantene Gold Series Deep Hydrating Co-Wash — an ultra-rich cleansing conditioner formulated by scientists and perfected by hairstylists. This co-wash for fine hair is infused with argan oil that thoroughly cleanses the scalp and protects your hair's natural oils to keep it soft and shiny. The citric acid infused in the conditioner balances the scalp's pH level, making it suitable for healthy hair growth. The fact that it is free of parabens, sulfates, and other chemicals keeps your hair safe from damage. Grab this co-wash to fight frizz and hair breakage. Check out this YouTuber's review of the product if you require more details.
Pros
Deep softening
Damage repair
Tames frizz
Citrus fragrance
Cons
Price at the time of publication: $5.99
Your kinky, wavy, and, curly hair needs an extra dosage of nourishment to keep the frizz at bay. While most co-washes are very conditioning and tend to straighten your curls here is an exception! Try the Cantu Complete Conditioning Co-Wash to preserve your curls and gently nourish them. Shea butter and the other infused ingredients gently cleanse the curls and nourish them from root to tip. The frizz can easily be tamed and you will have that bouncy and springy hair of your dreams. Get naturally-moisturized curls with this amazing co-wash for thin and curly hair. You can also check this YouTube video for a complete idea about the product.
Pros
Formulated to preserve curls
Deeply hydrates the hair scalp
Prevents split ends
Makes hair softer
Cons
The co-wash may leave the hair too oily.
Price at the time of publication: $4.97
Do you get jealous when you see a celebrity's shiny mane on the TV screen but calm yourself down because you feel it is a distant dream? Get gorgeous and dazzling hair from the comfort of your home using the R+Co Television Perfect Hair Conditioner. This is arguably the best co-wash for fine hair infused with the extracts of juniper berry that soaks and gently detoxifies impurities. The babassu seed oil and glycerin retain the moisture and provide deep conditioning from the root to the tip of each hair strand. Your hair will have smoothness and shine, just like the way you watch it on TV.
Pros
Warm-romantic fragrance
Ultra-shine and dazzling effect
Vegan
Paraben and sulfate-free co-wash
Weightless conditioning
Cons
Irritates the eyes if it accidentally comes in contact.
Price at the time of publication: $16.0
Does your heart break when your hair color fades away quickly despite taking so much care and precautions? Well, water is the color thief you might have no idea about. The chlorine and traces of minerals oxidize and de-color your hair leaving you with dull and boring faded hair. All you need is proper nourishment from the KERACOLOR Clenditioner. Infused with Krystal Color Complex, this conditioner deeply nourishes your hair and neutralizes chlorine and other minerals to lock your hair color and enhance its texture. Let your hair look healthier as it dazzles and shines on using this ultimate co-wash for fine hair.
Pros
Color perseverance
Sud-free formula
Cleanses and conditions
Vegan
Cruelty-free
Cons
Price at the time of publication: $40.0
Do you prefer a keratin smoothening treatment over flaunting your natural curls? If frizz and tangles make you hate your hair, get the Of Nature Hydration Co-Wash — probably the best co-wash for wavy hair. You can use it for co-washing Caucasian hair, and all that you will be left with is well-defined smooth curls and kinks that you will simply fall in love with. The infused argan oil from Morocco hydrates your tresses and efficiently controls frizz and knots. You can use this on colored hair or natural one and flaunt the curly tresses in style.
Pros
Best argan oil from Morocco
Defined curls and kinks
Natural formula
Color-safe
Vegan
Cons
The conditioner can at times make your hair oily.
Price at the time of publication: $7.52
Drop the idea of shampooing and yet have shampoo-like cleansing with the Unwash Bio-Cleansing Conditioner. This is one of those good co-washing conditioners that removes all the dirt and impurities without disrupting the scalp function. Infused with hemp oil, this co-wash strengthens your hair. The hydrolyzed keratin locks moisture and reduces frizz to tame dry and rough hair. Organic evening primrose oil nourishes each strand to make the hair shinier and bouncier. Co-washing thin hair with this co-wash every day adds softness and luster to your air.
Pros
Formulated for daily use
Reduces frizz
Thorough cleansing
Hydrates scalp and strands
Cons
This co-wash is good for dry and not oily hair.
Price at the time of publication: $49.0
Are you worried about cleansing conditioners stripping off natural oils from the scalp? Cleanse and condition simultaneously with the Flawless Hydrating Co-Wash Cleansing Conditioner. It comes formulated with t coconut oil, castor seed oil, and passionfruit seed oil. These extracts promote thorough cleansing and detangling of your hair locks. If you have your hair damaged due to sun exposure and chemicals, this can be one of the best co-wash products to nourish and get bring back the smoothness and softness.
Pros
Removes dirt and product buildup
Enhances shine
Detangles effortlessly
Vegan
Cruelty-free
Cons
Not a co-wash for oily hair.
Price at the time of publication: $9.97
Looking to treat your hair with a weightless hydrating conditioner? Chose the R+Co Analog Cleansing Foam Conditioner and here is why it is considered the best co-wash for thin hair. This no-mineral and no-sulfate formula has the best ingredients chosen from the best countries across the world to give you long-lasting damage protection and weightless moisturized hair. Argan oil from Egypt nourishes and softens each frizzy strand while Japanese green tea and Indian horsetail extracts provide nourishment and make it beautifully soft. Your weak strands are repaired to shine out — thanks to the nettle leaf extract from France. Choose this co-wash for straight hair and never deal with tangles again.
Pros
Vibrant orange and cardamom scent
No mineral oil
Vegan
Cruelty-free
Natural shine and softness
Cons
Not recommended for daily usage.
Price at the time of publication: $34
The kiss of good health and good hair comes mainly through nature. Try the LuxeOrganix Refreshing Mint Co-Wash Cleansing Conditioner that is pH-balanced to prevent your scalp from drying up and enhances moisture. The co-wash comes formulated with peppermint oil and other essential botanicals to gently cleanse and refresh the scalp to promote better hair growth. It fights frizz and dryness by locking the hairs' natural oils and moisture. This is the best conditioner for co-washing fine hair or curly hair as it can smoothen straight hair as well as enhance curly locks.
Pros
pH-balanced
Color-safe
Minty scent
Cools the scalp while conditioning
Cons
The hair turns spongy and oily if used frequently.
Price at the time of publication: $32.47
Shampoing every day is a no-no if you have coarse and curly hair. The best way to keep your hair clean and free of frizz is by co-washing them and the best way to co-wash is by using a good co-wash conditioner like the TeaTree Lavender Mint Moisturizing Co-Wash. The hydrating formulation of jojoba oils, pequi, and monoi extracts locks the moisture and natural oils in the hair and scalp to make your hair soft and manageable. With this creamy co-wash, you can detangle your hair effortlessly and make it look nourished and beautiful.
Pros
Calming minty-lavender fragrance
Suitable for coarse hair
Moisture-lock formula
Creamy texture
Fights frizz and tangling
Cons
The co-wash is not meant for straight hair.
Price at the time of publication: $55.5
Cleanse, condition, detangle and nourish your hair with this amazing 4-in-1 co-washing conditioner for fine hair. The amalgamation of avocado oil for moisture, quinoa extracts for protection, green tea extracts to fight aging, and shine-enhancing bamboo extract makes this product one of the top co-wash conditioners for all hair types. You can have a chemical-free co-washing session as this co-wash is 98% naturally derived and makes your hair beautifully strong and healthy.
Pros
No artificial dyes
Safe for colored hair
Enhances shine and strength
Fights early greying of hair
Lightweight formula
Cons
Price at the time of publication: $59.99
Co-washing your fine hair with nature's best formulation is one of the most simple ways to keep it healthy. The Oyin Handmade Ginger Mint Co-Wash comes packed with all the goodness of mint and ginger, infused with sunflower oil, argan oil and other such hair refining products. You can cleanse your scalp gently and effectively with this co-wash to have deep conditioning and de-tangling action. The mint extracts refresh the scalp while ginger acts as an antioxidant and antibiotic to keep your head clean and healthy.
Pros
Quick detangling
Curl-refining
Vegan
Free of sulfates and chemicals
Cons
Price at the time of publication: $14.26
These are some of the best-reviewed co-washes of 2023. Look out for the buying guide below to choose the best one.
How To Choose The Best Co-Washing Fine Hair Conditioner:
Choosing a co-wash depending on your hair type makes you preserve the natural look of your hair and enhance it. If you have curly hair and choose a co-wash designed for straight hair, you can lose your curls. You can find co-washes for fine, thin, dense, curly, and straight hair. Pick the right one that suits you.
Co-washes can be used for both dry and oily hair. If you have a frizzy hair texture, opt for a good moisture-locking co-wash that has ingredients like coconut oil, argan oil, and more. Ingredients like these nourish the scalp and keep it moisturized. For oily scalp and hair, look for co-washes that have aloe and cider apple vinegar that cleanse your scalp and remove excess sebum while preserving the needed amount of natural oil and moisture.
Always look for co-washes that have natural ingredients. Co-washes formulated with sunflower extracts offer UV protection and the ones with rosemary oil and geranium oil promote circulation and boost hair growth.
How To Co-Wash Fine Hair
Step 1:Rinse your hair thoroughly with lukewarm water.
Step 2: Take a good amount of co-wash on your hand and apply it all over your scalp and hair.
Step 3: With your fingers, gently massage in circular motions just as you do while shampooing.
Step 4: Rinse well with lukewarm water and you are all done.
Why Trust StyleCraze?
The author, Vaishnavi Kothuri, is a hair care enthusiast. After thorough research and going through numerous product reviews and user feedback on multiple forums, she curated a list of the best co-washes for fine hair. The conditioner washes listed in this article help cleanse your scalp and hair without drying them out.
Frequently Asked Questions
Does co-washing work for fine hair?
Co-washing is considered to be good for frizzy and curly hair. However, you can co-wash your fine hair to get that extra shine and nourishment.
How often should you co-wash?
You can co-wash your hair twice or thrice a week to experience the benefits of co-washing fine hair.
Does co-washing make hair greasy?
Not really. Co-washes formulated for oily hair can keep excess oil off your hair. You just need to look for the right co-wash
Do you need a special conditioner to co-wash?
Normal hair conditioners cannot be used to co-wash your hair. You need conditioners that are designed and formulated to cleanse your hair along with conditioning it.
Does co-washing totally replace shampooing?
Yes, you can completely drop shampooing as co-washes cleanse your scalp and condition it.
Does co-washing slow hair growth?
No, co-washing doesn't slow hair growth; instead, it promotes healthy hair. However, if you are allergic to any of the ingredients, the resultant itching can cause you to lose hair.
When co-washing your hair, should you use a hair mask after or before?
Use the hair mask after co-washing for the best results.
Recommended Articles