13 Best Hair Straightening Products Of 2021 For Sleek And Smooth Hair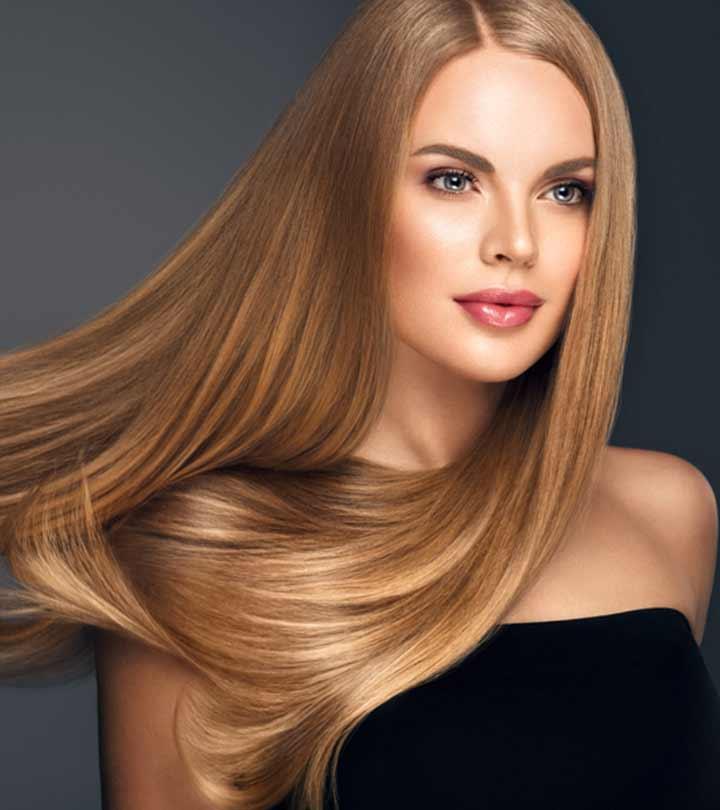 While we love our sensual curls, sometimes wavy and curly hair can wreck quite a havoc and become absolutely unmanageable. And there are days when you just want to rock sleek, straight hair with a strapless chic gown. However, if you are one of those chosen ones with rebellious hair, you know frizz-free locks means hours of straightening with flat irons that ultimately damage your hair. It gets worse when it is humid and hot, spending hours in front of the mirror sweating it out, only for it to curl in by the time you are done with makeup.
So, what do you do? Look for hair straightening products that not only give you the desired results but are gentle on your hair and nourish it. The key is not to compromise on your hair's well-being at any cost. To solve your woes, we have put together a guide to the 13 best hair straightening products of 2021.
13 Best Hair Straightening Products Of 2021
If you are someone who does not wash their hair everyday and use a flat iron on a regular basis, this product is great for you. It offers 450°F heat protection, so just apply a dime size amount on your hair and then use your heat styling tool. This L'Oréal Paris SLEEK IT Iron Straight Heatspray will protect your hair from heat damage while ensuring smoothness.
Pros
Calms frizz
Seals in shine
Blocks humidity
Style lasts three days
Does not leave residue
Cons
Tired of spending long hours before the mirror to straighten your hair? Well, with a 60-second fast heat-up technology, this TYMO RING Hair Straightener Brush offers you straight hair with lots of volume. This straightener brush has an anti-scald design, preventing incidents of burning and electricity shocks. This product comes with a pair of hair clips, gloves, and a travel bag.
Pros
Auto-off in 30 minutes
360° swivel power cord
Less breakage and frizz
Five heat settings for different hair types (266°F to 410°F)
Cons
May not work well on wet hair
This BaBylissPRO Nano Titanium Straightening Iron glides on easily on the most unruly hair locks and smoothens them with a single pass. The advanced titanium plating technology, along with its ultra-slim and lightweight styling, make this product an attractive buy. It has heat settings ranging from 50°F to 450°F. The 5-inch extended plate ensures that the iron straightens your hair faster.
Pros
Great for thick hair
Longer-lasting style
Works on damp hair
Resistant to corrosion
Cons
Formulated with keratin, this product protects your hair from heat damage when you use a flat iron. Depending on the volume of your curls, hair length, and thickness, spray the product on and spread it evenly with a comb. Start with 7 to 15 sprays, and then see if you need more. It would be ideal to use the product on wet or damp hair. Once you've combed, blow-dry your hair straight, and just use a flat iron to get the look you want.
Pros
Affordable
Smells wonderful
Style lasts three days
Makes hair more manageable
Cons
May not be suitable for dry hair
This Garnier Fructis Style Flat Iron Perfector Straightening Mist not only protects your hair from the heat damage of the flat iron but also from environmental heat and humidity.  Infused with argan oil, this mist can protect hair from heat up to 450° F. It is compatible with all hair types. Just lightly mist your strands of hair and use the flat iron through it for a smooth and sleek style. For best results, you can blow-dry your hair before applying the product.
Pros
Paraben-free
Tames frizzy hair
Seals in lasting shine
Style lasts for 48 hours 
Cons
May make hair texture a bit coarse
Fight the frizz and tame your curls with this TIGI Bed Head Control Freak Serum. Even if you don't have curly hair but are just looking for some frizz control, this serum will help. Apply the product on wet hair and let the formula do its de-frizzing magic. Just use a comb right after and then use a flat iron to straighten your lovely hair locks.
Pros
Non-oily
Lightweight
Adds lovely shine
Moisture-resistant
Cons
Style may not hold all day long.
Enriched with pure keratin and pentanol, this hair treatment mask repairs damaged hair by rebuilding and restructuring your hair strands to offer silky-smooth hair texture. Just apply this product before styling as it detangles hair and hydrates it. This Natural Formula Keratin Intense Pro Straight retains your straightened style three times longer than regular products.
Pros
Cruelty-free
Toxins-free
Natural formula
Sodium chloride salt-free
Cons
The smell may be a bit strong for a few.
Looking to get parlor-style permanently straightened hair finish at home? We've got you! This SHISEIDO H1 Crystallizing Straight H Straightener and Neutralizing Cream ensures to give you straight, sleek, and manageable hair in just two steps. Of course, you have to remember that this is a permanent straightening solution, so it is advisable to consult a stylist on the procedure to use these products, or you could just follow the instructions on the back of the packaging.
Pros
Salon-style hair finish
Improves feel and shine
Works on color-treated hair
Affordable solution to permanent straightening
Cons
Risky outcome if you don't follow procedure strictly.
This super-nutrient balm with acai extracts is a strong heat-activated formula that straightens your curls while also protecting them from heat damage during styling. It forms a protective protein coat around your hair to smoothen and seal cuticles. This allows for healthy growth and strengthens your strands.
Pros
Tames frizzy hair
Offers radiant shine
Resistant to humidity
Protects hair from damage
Cons
May make your hair a bit oily
This hair straightening serum is infused with aloe vera extracts, argan oil, and is rich in vitamin E. Aloe vera renews shine and makes your hair soft, while argan oil repairs dry and damaged hair. And the vitamin E in the formula nourishes hair follicles for better growth. Touch-up your hair with this serum before and after straightening to reduce fluffiness and seal split ends.
Pros
Conditions hair
Non-greasy formula
Great for everyday use
Works on color-treated hair
Cons
The fragrance may be a bit overwhelming for a few.
This gel is made from organic botanical extracts and oils. It straightens even the unruliest of hair, smoothens curls, and gives you sleek and silky straight hair. If you are worried about traveling when it is humid, just apply some of this formula on your strands to protect your hair. This GIOVANNI Straight Fast Straightening Elixir has omega fatty acids, vitamins, and antioxidants that nourish your hair for healthy growth.
Pros
Cruelty-free
Vegan
No artificial colors
Recyclable packaging
No sulfates and parabens
Cons
If you aren't a fan of chemical straighteners, then try L'ANZA Healing Smooth. Unlike other products that are loaded with chemicals, this balm does not break the disulfide bonds within your hair to make it straight. It instead increases strength in your strands. This balm contains  Coix seeds that improves flexibility without any breakage and Mangosteen fruit extract that lends your hair a beautiful sheen.
Pros
Lightweight
Calms curls
Conditions hair
Renders radiant shine
Cons
May leave residue on hair
Humidity making your hair go crazy? Or looking to style your curls into sleek straight and shiny hair for an evening party? Give this PHYTO Phytodéfrisant Botanical Straightening Balm a try. It is lightweight and does not make your hair oily. It loosens your curls and moisturizes them, allowing you to straighten with your choice of styling iron. This plant-based formula lends your hair volume and bounce.
Pros
Gluten-free
Cruelty-free
Non-greasy
Free of sulfates and parabens
Cons
How To Take Care Of Straightened Hair At Home
Here are a few things you can do to keep your straightened hair smooth and sleek.
Serum: Invest in a good quality leave-in serum for a smooth hair look. Rub a few drops of it on your palms and evenly apply it on your hair for a silky finish.
Boar bristles brush: Plastic bristle brush can damage your hair, causing it to split and break. Instead, it would be advisable to use a round nylon and boar bristles brush, which will not create tension in your straightened hair locks. 
Hair oil: Apply a drop of smoothing oil to keep the humidity and frizz at bay after you have straightened your hair. You can use either coconut or argan oil.
Hair clips: Clip your hair neatly to avoid damage during travel. You can undo it, once you reach your destination. 
Avoid the rain: If it looks like it is going to rain, carry an umbrella, because it could easily ruin your perfectly straightened hair.
If you are a newbie to the world of hairstyling, don't worry. Get to know the products well, do your experiments, and learn to style your hair on your own. Whether you are struggling to comb your hair through messy curls or looking for a temporary sleek hair look for a date night, understand what product suits you best and play with it. To quote Phoebe Waller Bridge's character in Fleabag, "Hair is everything…It's the difference between a good day and a bad day." So, learn to love your hair and, more importantly, have fun with it. We hope our list of the 13 best hair straightening products of 2021 helps you pick a product that brings you a lot of joy.
Frequently Asked Questions
Are hair straightening products safe?
Not all. Also, something that would work for your friend may not work for you. Try to experiment with organic formulas, understand your hair's needs, and avoid overloading it with too many products.
Can I straighten my hair every day?
If you wish to straighten your hair every day, then you may want to look at permanent straightening options. While it helps to use balms and serums as heat protectants whenever you straighten your hair, if you are doing it every day, you may want to consider alternative options.
Is there a shampoo that straightens hair?
Yes, there are several hair straightening shampoos in the market. Depending on how intense your curls are, you should try them out.
Can the hair be straightened permanently?
Yes. You can chemically treat your hair to keep it straight for months or until the new hair starts growing. Most hair salons offer such treatments. There are also several DIY tutorials online that you can follow if you are doing it at home.