11 Best Lancôme Perfumes That Are Irresistibly Good For Women
Choose a premium, timeless Lancome fragrance to stand out everywhere you go.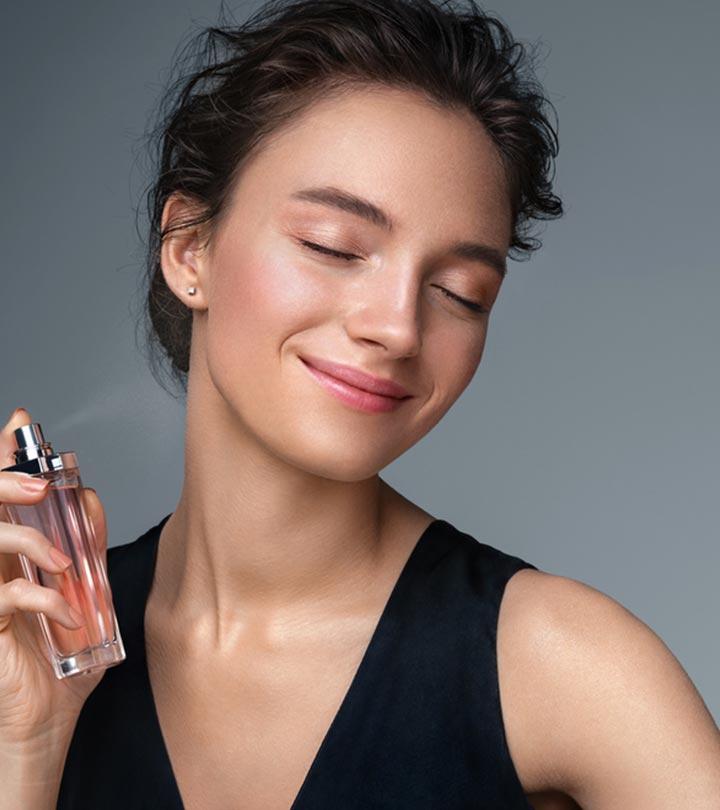 The best Lancome perfume can make you feel truly beautiful and high-end. Notable among aroma specialists, the celebrity-endorsed brand Lancome has been belting out exquisite and timeless fragrances since the 1930s and they know just how to create the best blends. Mixing fiery, sweet, decadent, and spicy aromas effortlessly, the brand and its perfumes have drawn in some big names and famous personalities across the globe. Definitely a work of art, the aromas have risen above time and trends to be established as a lady's unmistakable weapon and best adornment. If you have not tried out any of the best Lancome perfumes yet, simply pick the one that suits your persona and prepare to turn heads wherever you go.
As the French brand has quite a range of fragrances in its catalog, it may be a bit confusing to know where to begin. So, to make your experience smoother, we have carefully selected the best ones and got 11 quintessential Lancome perfumes for you on our list right here!

Top 11 Lancôme Perfumes For Women That Are Must-Try In 2023
One of the best-selling Lancôme perfumes, La Vie Est Belle, which translates to life is beautiful, is well-known for its irresistibly fresh and floral notes. The blend contains top notes of blackcurrant and pear, middle notes of iris, orange bloom, and jasmine, and base notes of vanilla, praline, patchouli, and tonka bean. Warm and rich with a delightful fragrance, this statement-making Lancôme scent isn't overpowering or old-lady-like and will leave sweet sillage wherever you go. With the dominance of patchouli that adds an earthiness to the sweet whiffs of vanilla and praline, this Lancôme fragrance is all you need to make your life beautiful. For an honest review of this product, you can check out the tester's experience with it in this video.
Pros
Sweet
Pleasing scent
Long-lasting
Casual wear
Ideal for autumn or winters
Cons
A balance of sweetness, warmth, and elegance—the expertly crafted Tresor Lancome Perfume for ladies has a velvety blend that'll invoke emotions you would want to treasure. Just like "liquid charm" in a bottle to elevate your vanity and beauty instantly, it is a great option to wear for a romantic date or an elite rendezvous. It has top notes of apricot blossom and rose for elegance, middle notes of peach, lilac, and iris to add a hint of sparkle to your aura, and base notes of vanilla, sandalwood, amber, and musk for everlasting sweetness. So, if you are looking for a Lancôme scent for women with floral notes that isn't overpowering or imperceptible, this classic (yet ultra-modern) scent of the 90s would be a chic addition. If you want to know more about the merits of this fruity-floral perfume, have a look at this YouTuber testing the product in this review video.
Pros
Light-scented
Long-wear
Elegant packaging
Ideal for evening or occasional wear
Cons
Idole by Lancôme is unapologetically modern and sophisticated with a fragrance that aims to empower and inspire young women. The Lancôme travel-size scent has the middle notes of a noble rose and jasmine flower to balance radiance, modernity, and youth with grace and softness. The fragrance bursts with top notes of juicy pear, peppercorn, and bergamot (citrus) and settles to the earthy and velvety aroma of white musk, patchouli, cedarwood, and vanilla (bottom notes). If you need more convincing, feel free to check out this YouTuber's detailed video of this perfume from Lancôme.
Pros
Fresh
Light
Feminine
Long-lasting
Spring and summer-wear
Cons
Not ideal if you need intense scent
If you are looking for a vanilla-based fragrance, you must try Lancôme's Hypnose. With irresistibly creamy vanilla as the heart note, it'll make you fall for its soft and seductive sillage right away. With hints of elegance, femininity, and intimacy in every whiff, the fragrance appeals to the senses with the top notes of passionflower. Then, it dries down to deep and lingering charms of the base note of warm vetiver. And did you notice the elegantly designed bottle? Inspired by the Japanese Kimono, this Lancôme original scent forms a hypnotic amethyst color in the bottle to calm your senses and look striking at the same time.
Pros
Natural
Feminine
Strong sillage
Romantic-wear
Ideal for winter wear
Cons
How about adding a zing to your aura with Miracle Eau De Parfum? Extraordinary, spicy, and sassy to the core, take a break from the sweetness and envelop your senses with this pure decadence. Irresistibly captivating, this Lancôme affordable perfume is packed with zesty freesia and dewy lychee as top notes to awaken your energies instantly, only transverse and spice things up with heart notes of ginger, jasmine, pepper, and magnolia. Lancôme Miracle Perfume instills a sense of empowerment and joy that settles into a warm and comforting linger of earthy amber and musk.
Pros
Refreshing
Mild sillage
Ideal for daily wear
Suitable for spring and summer
Cons
For women who believe in eternal love, this perfume is a must-try as it unfolds mystery and romance but with a modern twist. Imagine a present-day twist on Snow White. And do you remember the spellbinding kiss? This Lancôme long-lasting fragrance explodes with the fruity top notes of raspberry and lychee and transforms to the deep, romantic, and mysterious middle notes of Damascena rose and incense. And its secret weapon, vanilla from the Tahiti-grown orchid that blooms into a spellbinding aroma with praline, papyrus, and patchouli in the base notes. Just what you need to add a hint of romance and mystery to your aura, La Nuit Tresor is a keeper for those in love.
Pros
Intense
Long-lasting
Sweet and mysterious
Suitable for winter and occasional wear
Cons
Not fit if you are sensitive to strong scent
Thrill-seeking souls, here's an expertly crafted Lancôme sweet fragrance that'll uplift your spirits like an adrenaline-filled adventure. With top notes of blue Himalayan poppy and lychee blossom to hark back the scent of misty woods and hilly air, this oriental Lancôme Poême fragrance will charge your energies instantly. The middle notes have a zesty and sweet potpourri of orange blossom, soft jasmine, and mimosa that transverse into an intoxicating and longing trail of desert datura flower and vanilla. This statement-making perfume has garnered many positive remarks from reviewers on Amazon.
Pros
Striking scent
Comfortable wear
Long-lasting
Intense sillage
Best-suited for evening wear
Cons
Pure decadence, Midnight Rose is a charming and desirable redolence for women who like fairy tales but with a twist of darkness. Exploding with juicy top notes of raspberry and blackcurrant, it quickly unfolds to the desirable, intimate, and sublime middle notes of rose and jasmine. And if that wasn't enough to stir curiosity, this Lancôme seductive scent dries down to the alluring and magnetic base notes of musk and vanilla. A scandalous whiff with fruity, floral, and stimulating notes, try Midnight Rose Lancôme Perfume only if you can handle all eyes on you.
Pros
Mild sillage
Long-lasting
Suitable for daily wear
Cons
Not suitable if you dislike fruity scents
Tresor In Love celebrates all the "firsts" in love in life. It's modern, young, and flirtatious to laud all your firsts, be it kiss, date, or crush! An ideal sensual option for daily wear or if you want to make an impression without being over the top, this Lancôme fresh scent has a captivating charm. The blend has zesty and luscious top notes of pear, bergamot, and nectarine accord, middle notes of sublime jasmine and Turkish rose essence, and base notes of alluring musk and earthy cedarwood. Ready to fall in love, are you?
Pros
Fresh
Floral
Mild sillage
Suitable for spring and summer
Cons
A scent that women can't resist and men can't help but fall for— Magie Noire is all you need to give your aura a spellbinding sillage. Described by the brand as an enigma, its enchanting scent will envelop your senses with intense oriental notes. This iconic high-quality Lancôme oriental perfumery blend has top notes of blackcurrant bud and Bulgarian rose that smoothly transform into mysterious and soft middle notes of ylang-ylang and jasmine. A cult classic designer with a fanbase dating back to the 70s and 80s, it dries down to earthy and rich base notes of amber, patchouli, and sandalwood.
Pros
Intense scent
Long-lasting
Does not cloy
Suitable for occasional wear
Cons
The Oriental scent may be too intense for some.
Here's another whiff from the classics if you desire something light, fresh, and zesty to perk up your day. With citrusy notes to awaken and charge your energies, this Lancôme luxury perfume for women has a minty twist that'll keep you fresh and spirited all day. Comfortable wear, if you don't want to announce your entry everywhere you go (but still want to smell nice), this delicate misty spell will be a great choice. This Lancôme classic has top notes of mandarin, lemon, and bergamot and middle notes of rosemary, coriander, and basil that dry down to base notes of sandalwood, vetiver, and oakmoss.
Pros
Light
Refreshing scent
Nature-inspired
Suitable to wear daily
Cons
*The prices provided in this article are based on the latest available information. However, they may vary due to changes in pricing by the seller and/or promotional offers.
Can't wait to try one, can you? There you go, those were the 11 best Lancôme perfumes of 2023 that you must try this season. If you still need assistance while shopping for the best Lancôme fragrance, we have some tips for you in our buying guide below.
How To Choose The Best Lancôme Perfume?
Choosing a perfume online can be tricky. Look out for the following features before buying the perfume:
Inspect The Notes
Every perfume has different types of notes that make it unique. It's essential to understand these notes before buying for the best experience. The top notes are the scents that you smell instantly after spraying. They last for up to 5-15 minutes and are usually fruity or floral. After 15 minutes, the middle notes start developing, and they last for up to 2-4 hours. These are the core notes that make up the perfume and are mostly floral such as rose, ylang-ylang, lemongrass, jasmine, and more. Lastly, after 4 hours, the notes start settling or drying down to the base notes that last for 4-6 hours. Mostly, these are warm, earthy, or oriental notes such as musk, patchouli, sandalwood, oakmoss, etc.
Strength
Are you wondering how to determine the strength or intensity of the perfume? Here is a quick tip for you. Every scent has these titles, Eau De Parfum, Eau De Toilette, etc., which determine the strength of the fragrance. Extrait De Parfum is the strongest or the most concentrated with 20-40% perfume oil to alcohol measure, and it is also the most expensive. Eau De Parfum has 10-20 % perfume oil to alcohol measure that you will mostly find amongst niche brands. Eau De Toilette has 5-15% perfume oil with alcohol or water and is ideal if you don't like overpowering scents. Eau De Cologne and Eau De Fraîche are super light 2-4% and 1-3% perfume concentrations and are suitable if you are sensitive to smell.
Stay Power
One of the best ways to discover the staying power of a fragrance is to check the perfume oil to alcohol/water concentration. And here's a rough estimate for you: Eau De Parfum Spray lasts easily for up to 7-8 hours on the skin, whereas Eau De Toilette Spray will last for up to 2-4 hours. Also, any perfume with lighter concentrations than Eau De Toilette will not last for more than 1-2 hours. Also, to be doubly sure, go through the user reviews that address the long-lasting aspects of the perfumes for a more precise assessment.
Why Trust Stylecraze?
Srijani Roy Chowdhury, the author of this article, understands perfumes and is passionate about reviewing them for users. For this article, she has set her research lens on perfumes from Lancome and shortlisted its best products. She selected them on the basis of their fragrance notes, staying power, and excellent user reviews across multiple trusted platforms. These perfumes belt out exquisite and timeless fragrances that make you feel refreshed and uplifted throughout the day.
Frequently Asked Questions
Why are Lancôme perfumes so dominating?
Crafted in the 1930s, Lancôme is a classic Parisian perfume brand that, over the decades, has attracted the likes of many celebrities and women around the world. Today, it's one of the best-selling perfume brands for women and is well-loved for its captivating and desirable floral fragrances.
Is Lancôme perfume cruelty-free?
No, Lancôme perfume is not cruelty-free.
What does Lancôme perfume smell like?
The scent may differ from perfume to perfume. Most of the Lancôme perfumes have fruity or floral top and middle notes, whereas the base notes are either warm, woody, or oriental.
How long does Lancôme perfume last?
Every perfume has a different stay power. Most of the Lancôme Eau De Parfum sprays last up to 7-8 hours on the skin, whereas the Eau De Toilette sprays last for up to 2-4 hours.
Is Lancôme perfume for old ladies?
Lancôme makes perfumes for women of all age groups. For instance, the La Vie Est Belle L'Eau de Parfum Spray is a classic fragrance for mature women, while the Idole Eau De Parfum Spray is most loved by the younger folk.
Which Lancôme perfume is the most attractive?
The captivating scent of the Trésor In Love Eau De Parfum Spray has stood the test of time and is considered a classic in the world of perfumes.
Recommended Articles