16 Best Sandalwood Perfumes Of All Time For Women
A few spritzes of these perfumes shall fill your surrounding with a relaxing woody aroma.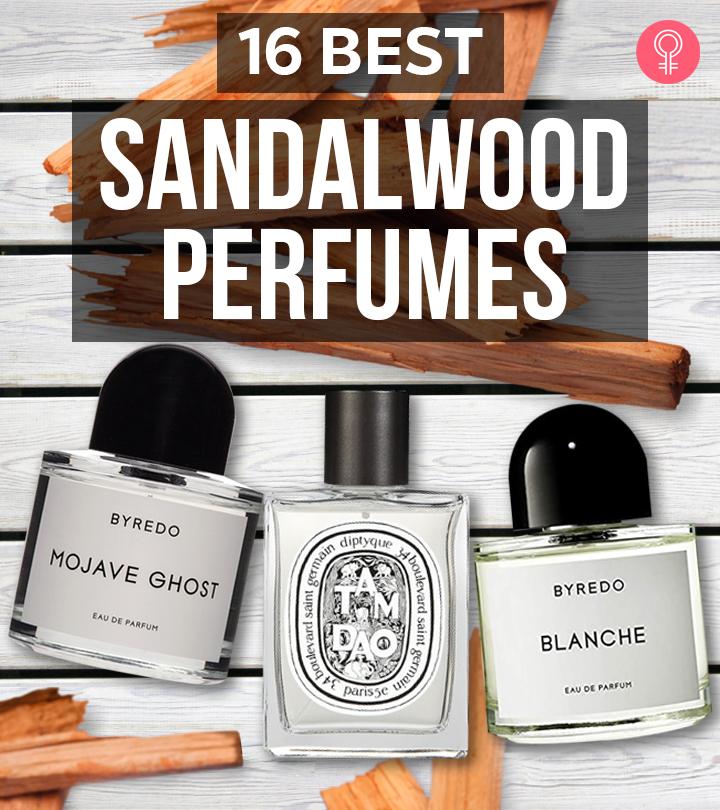 Sandalwood is known for its unique woody and earthy fragrance. It has been a part of many perfumes used by women since ancient days. The best sandalwood perfume is enough to keep you refreshed throughout the day. Musk, patchouli, cedar, and vanilla are usually added to sandalwood for a rich fragrance. In the article, we have compiled a list of the 16 best sandalwood perfumes and oils that add an oriental touch to your perfume collection. Check them out and choose the one your heart desires!
16 Best Sandalwood Perfumes To Check Out
This perfume was created by Bruno Jovanovic. The notes and scents are based on Sofia's signature loved fragrances. The top notes of blackberry, plum, and cassis buds allure your senses. The floral mid notes consist of purple violet flowers, Columbian rose, and orchid. The base notes are sandalwood, vanilla, and earthy woods. This juicy floral-oriental perfume works well in fall and winter. It is perfect for daytime use and special occasions. Take a look at this video to get more information on the product.
Pros
Oriental fragrance
Beautiful packaging
Long-lasting
Cons
The Pacifica Sandalwood Perfume has a woody fragrance and can be worn by both men and women. It contains natural and essential oils from all over the world. The top notes are tangerine, sweet orange, and mandarin. The mid and base notes consist of Indian sandalwood, which imparts a warm and velvety woody aroma. This perfume has a natural grain, alcohol base. It is vegan, cruelty-free, and does not contain parabens, phthalate, gluten, sulfates, propylene glycol, mineral oil, petroleum, peanut oil, and triclosan.
Pros
Attractive packaging
Contains skin-friendly ingredients
Ideal for daily use
Vegan
Cruelty-free
Cons
The Wild And Free Amber Sundance is a hydrating fragrance for the body and hair. It is infused with the fragrance of citrus, coconut cream, gardenia petals, sandalwood, and amber. This perfume also has a rich fragrance of coastal bergamot and white cedar that pairs well with the vanilla and musk notes.
Pros
Good sillage
Sweet fragrance
Floral scent
Ideal for gifting
Cons
None
The Byredo Blanche Eau De Parfum has a pure, light, and clean fragrance. It has top notes of white roses, pink pepper, and aldehydes, which impart a floral and light aroma. The heart notes are violet, neroli, and peonies. It has strong base notes of blonde woods, sandalwood, and musk. This perfume lasts for 6 hours and is recommended for day time and casual wear. This video offers a more detailed explanation of the product.
Pros
Unisex
Floral aroma
Good sillage
Ideal for casual wear
Long-lasting
Cons
None
The Tam Dao by Diptyque has a light floral, woody, and musky fragrance suitable for both women and men. It has top notes of rose myrtle and Italian cypress. The rich mid notes are sandalwood and cedar, while the strong base notes consist of spices, amber, white musk, and Brazilian rosewood. 
Pros
Good sillage
Woody musk fragrance
Long-lasting
Unisex
Value for money
Cons
None
This perfume was inspired by the spirit of Western America. The Santal 33 by Le Labo has a spicy, floral, and woody aroma that suits both women and men. The top notes feature violet accord and cardamom, while the mid notes consist of iris and ambrox. Cedarwood, leather, and sandalwood form the base notes. You may check this video for a better understanding of this product.
Pros
Good sillage
Ideal for gifting
Long-lasting
Unisex
Exotic fragrance
Cons
Might feel overpowering
Expensive
The Chanel Coco Eau de Parfum was designed by Jacques Poige. It has an oriental, spicy fragrance. The top notes are coriander, mandarin orange, jasmine, peach, and Bulgarian rose. Mimosa, cloves, clover, orange blossom, and rose constitute the mid notes. These scents are set in a base of labdanum, amber, sandalwood, tonka bean, opoponax, civet, and vanilla.
Pros
Ambery scent
Ideal for gifting
Contrasting notes
Good sillage
Cons
The Frederic Malle Dries Van Noten is designed by Bruno Jovanovic and has a rich oriental and woody fragrance. It has a strong scent of Mysore sandalwood infused with vanilla, Peruvian balm, and sacrasol. This perfume contains rich hints of jasmine, musk, saffron, and patchouli. This perfume is suitable for both men and women.
Pros
Skin-friendly ingredients
Ideal for sensitive skin
Long-lasting
Cute packaging
Cons
None
The Byredo Mojave Ghost Eau de Parfum has an oriental, woody, and floral fragrance. It has heady top notes of musk ambrette and Jamaican sapodilla. The middle notes are violet, sandalwood, and magnolia. Ambergris and cedar make up the base notes of this perfume. It is a unisex musky and floral fragrance.
Pros
Woody, wild aroma
Good sillage
Ideal for gifting
Elegant packaging
Medium intensity
Cons
None
The Samsara Eau De Parfumis designed by Jean Paul Guerlain is a sensuous and sophisticated scent with woody hints. It has fruity and fresh top notes of bergamot, ylang ylang, lemon, peach, and green notes. The mid notes are floral – jasmine, rose, narcissus, violet, and iris. Sandalwood, vanilla, tonka bean, musk, and amber comprise the base notes.
Pros
Amber woody fragrance
Elegant packaging
Suitable for all skin types
Good sillage
Cons
Estee Lauder 'Pleasures' has a refreshing floral fragrance on a sandalwood base, reminiscent of springtime. It was launched in 1995. This sparkling parfum comes with top notes of white lily, violet leaves, and green accents. It has middle notes of black lilac, white peony, karo-karounde blossoms, baie rose, pink rose, and jasmine, while the base notes are of musk, sandalwood, and patchouli. It is available in 50 ml and 100 ml.
Pros
Skin-friendly ingredients
Mild intensity
Good sillage
Unisex
Perfect for creating impression
Cons
None
12. Best Long-Lasting Perfume: Amuze Fragrance
The Amuze Fragrances is vegan, long-lasting, and cruelty-free. It has top notes of musk, cedarwood, and clove. The middle notes are patchouli, amber, and sandalwood. Vanilla makes the base note. It does not contain alcohol, parabens, or phthalates.
Pros
Vegan
Alcohol-free
Cruelty-free
Paraben-free
Phthalate-free.
Long-lasting
Cons
None
The Amaali Perfume Oil bySwiss Arabianis a part of their exotic range of concentrated perfumes. It has a sweet gourmand floral and fruity fragrance with an oriental woody fusion. This perfume is long-lasting and all-natural with hints of citrus rose, apple, lemon, pineapple, and jasmine. The base notes are cedarwood, sandalwood, musk, vanilla, and amber.
Pros
Phthalate-free
Alcohol-free
Long-lasting
Vegan
Cons
The Swiss Arabian Edge Intense perfume has heart notes of freesia, magnolia, and peony that impart a tender floral and woodsy fragrance. It has strong base notes of musk, iris, and sandalwood. The top notes are apple, rose, and tangerine. This exotic perfume is long-lasting with high sillage and is suitable for everyday wear.
Pros
Phthalate-free
Ideal for sensitive skin
Suitable for everyday wear
Perfect for layering with other fragrances
Cons
The SwissArabian Florence has a strong feminine fragrance with notes of zesty Italian lemon and bergamot. It also has hints of rose and vanilla, paired with a sweet praline. The velvety base note smell of sandalwood, patchouli, and musk. It is long-lasting and has high sillage.
Pros
Value for money
Dark woods and citrusy scent
Cute packaging
Long-lasting
Cons
The SwissArabian Zahra is a concentrated perfume oil that has a sandalwood fragrance with floral and fruity notes. It is long-lasting with high sillage. This perfume is infused with all-natural and organic Oriental Oudh, which has strong sandalwood notes. It has notes of rose, jasmine, marigold, mimosa, saffron, berries. The strong base notes are sandalwood, vetiver, and vanilla. It is best suited for regular wear in warm seasons.
Pros
Alcohol-free
Ideal for gifting
Elegant packaging
Long-lasting
Cons
None
Recommended Articles