10 Best Britney Spears Perfumes For Women To Try In 2022
Surround yourself with a celeb vibe with these fragrances from the 'princess of Pop'.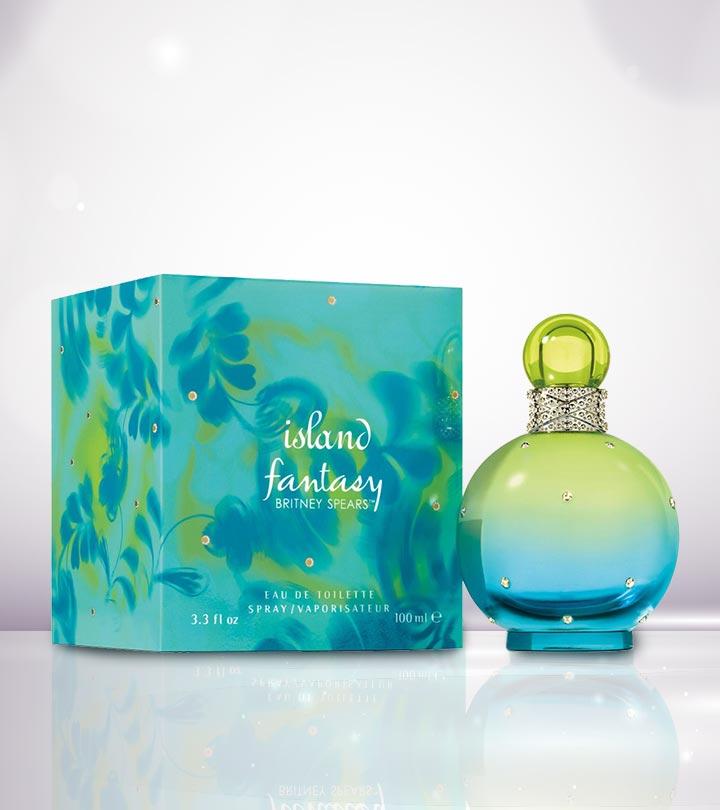 If you are looking for a celeb-inspired fragrance to rock, the best Britney Spears perfumes are the way to go. Her fragrance line is versatile, just like her, as she offers rich-smelling scents fit for any occasion. The fashionista and celebrity vibes aside are known for lasting long and are safe to use on skin. So, what are you waiting for? Pick your fave Britney fragrance below!
Here are my favourites from Britney Spears perfumes range:
The newest of the perfumes by Britney, Island Fantasy is due to launch this April 2013. It is an extension of her line of sweet fragrances. This perfume has all the goodness of the tropical aromas that give it a fruity and floral feel. The fragrance starts with citruses cocktail, Clementine, mandarin, watermelon and red berries and later transforms into the aromas of violet, jasmine, sugar cane, musk and freesia.
Pros
Perfect for the summers
Suitable for all age groups
Suitable for daytime use
Subtle sillage
Cons
Needs frequent reapplication
The Sunset Fantasy by Britney Spears has a fruity floral fragrance with top notes of Italian mandarin, blood grapefruit, and apple. The middle notes include peach, raspberry leaf, and orange blossom, while and the base notes have milk mousse, vanilla, amber, and Australian sandalwood fragrance. This citrus blend uplifts your senses and transports you to a land of romantic sunsets, iridescent sky, and the warm glowing sun.
Pros
Suitable for all age groups
Suitable for day wear
Medium sillage
Alluring packaging
Mild scent
Cons
Needs frequent reapplication
Launched in the year 2009 in collaboration with Elizabeth Arden, Circus Fantasy is a keeper. This perfume has the intoxicating scents of creamy musk and exotic flowers. A combination of orchid, lotus, blue peony, apricot blossom, raspberry, violet candy and vanilla can be felt.
Pros
Suitable for all age groups
Suitable for spring and summer
Subtle sillage
Perfect for brunches
Attractive packaging
Cons
No products found.
Launched in collaboration with Elizabeth Arden, Cosmic Radiance is a unique perfume launched in the year 2011. The perfume begins with fresh citrus and deep floral scents in its heart notes along with a creamy amber, sandalwood and vanilla base.
Pros
Moderate sillage
Long-lasting fragrance
Perfect for nighttime use
Suitable for spring
Cons
None
Curious Britney has a very intriguing essence to it, just as the name suggests. The perfume has a base of white flowers that are serenaded with musk and vanilla nuances. A combination of pears, magnolia and lotus along with vanilla, jasmine, tuberose and precious woods can be felt in this perfume.
Pros
Moderate sillage
Perfect for all-day wear
Suitable for spring and summer
Attractive packaging
Cons
[Read:Best Vintage Perfumes]
Launched in 2005, Fantasy by Britney was the second fragrance by the Britney Range of perfumes. It is also considered to be a love potion in a magical bottle. Fantasy Britney is a blend of white chocolate, jasmine, golden quince, litchi, kiwi, orrris root, wood and musk.
Pros
Perfect for day time use
Attractive packaging
Alluring fragrance
Cons
Midnight Fantasy has been launched especially for the younger generation of audience. It has a very fresh feel to it and is composed of aromas that include black cherry, plum and framboise. Freesia, iris and night orchid along with musk, amber and vanilla fragrances can be felt right at the heart of the Midnight Fantasy.
Pros
Long-lasting fragrance
Perfect for brunches
Attractive packaging
Budget-friendly
Cons
None
A sexy yet sweet combination of fragrances that truly justifies the name of the perfume. A combination of musk and vanilla can be felt in every spray of this perfume. The fragrance is on the note of night orchid, crème brulee, tonka crystals, black vanilla bean on the base of musk and sandalwood.
Pros
Alluring packaging
Suitable for summer
Suitable for office use
Cons
[Read:Best Selling Tom Ford Perfumes]
A fragrance that is completely on a fruity and gourmand note, Hidden Fantasy was launched in the year 2008. This perfume has a combination of aromas which include grapefruit blossom, clove, verbena, sweet orange, Napolitano cake, sambac jasmine, stargazer lily, amber, vanilla bean, jacaranda wood and sandalwood.
Pros
Suitable for summers
Suitable for both formal and casual occasions
Subtle sillage
Cons
This is long lasting and enticing fragrance. Radiance is a blend of fragrances of orange blossom, jasmine, iris, tuberose, berries and musk.
Pros
Long-lasting fragrance
Moderate sillage
Perfect for summers
Perfect for lunch dates
Cons
None
*Subject to Availability
So which is your favourite Britney Spears perfume among these?
Why Trust StyleCraze?
Jyotsana Rao is an aficionado of perfumes and loves reviewing and researching different fragrances. She believes in wearing the best Britney Spears perfume to have a lingering smell that follows you all day. The rich scent is something that makes heads turn, and her comprehensive review will help readers select the best one according to their choice. Not only do they have a versatile smell, but they are also safe to be used directly on the skin.
Frequently Asked Questions
What does Britney Spears's perfume smell like?
Britney Spears's perfumes have sophisticated, versatile fragrances with floral, fruity, musky, citrusy, and spicy notes.
Are Britney perfumes vegan?
Yes, Britney perfumes are vegan and suitable for most skin types.
How long does Britney Spears perfume last?
Most Britney Spears perfumes last for five to six hours on average
Is Britney Spears perfume unisex?
No. Not all perfumes are unisex, but Prerogative by Britney Spears is for both men and women.
Which Britney Spear perfume is the best for winter?
The Midnight Fantasy is one of the most favorite winter wear among users worldwide.
Recommended Articles