10 Best Cosmetologist-Approved Hair Toners For Brassy Hair – 2023
Flaunt a head full of shiny tresses in the shade of your choice with the right options at hand.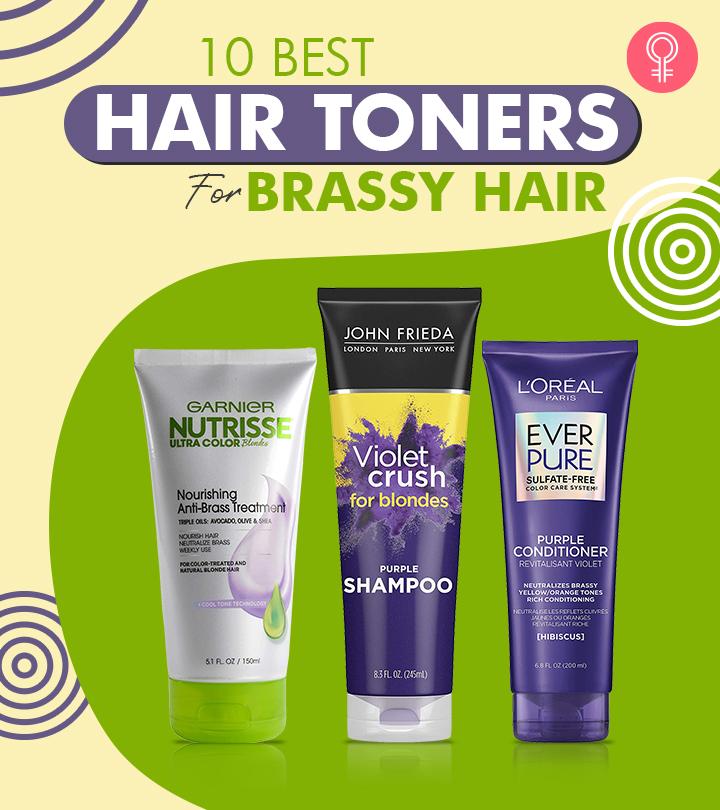 No matter how expensive your hair color is, it will wash away after its lifetime is over. But the good news is, there are ways to delay the process and keep your hair color looking fresh and beautiful for long. If you were searching for the perfect toner for brassy hair, you are at the right place. Here are the 10 best hair toners that give your hair color a shine that will stay longer and make it look more lustrous. These toners also add brightness and vibrancy to your brass hair color. Read on to choose the one that suits you best.
What Does Brassy Hair Mean?
Brassy hair refers to the unwanted warm pigments that become visible on colored hair. It occurs if the lifting or bleaching does not remove all the underlying pigment in your hair, allowing the warm tones to become visible after a few weeks of your color treatment. When you color your hair, the natural hair color is removed for the new color. Still, since all hair has underlying warm tones, removing the natural color makes the orange, yellow or red tones more visible, which causes brassy hair. Therefore, to extend the life of your new hair color and to help it stay the correct shade, you need to fix the brassiness. For example, platinum or blonde shade becomes yellow, and light brown or darker shade becomes orange to red.
What Color Toner Should I Use For Brassy Hair?
The color of the toner depends on the tone of your brassy hair. For orange and yellow brassy tones, a purple or blue tinted toner will work. Similarly, for red tones, a blue or green toner is ideal.
Should I Apply Toner To Wet Or Dry Hair?
Ideally, toners should be applied to damp and towel-dried hair. If the hair is dripping wet then the toner might not be effective as it will get diluted. On the other hand, if the hair is completely dry, it might result in an uneven application of the toner.
10 Best Hair Toners For Brassy Hair
The gentle duo of shampoo and conditioner that makes up the L'oreal Paris EverPure Purple set is an ideal toner for blonde, bleached, silver, and highlighted brown hair. It is formulated with hibiscus and purple dye to moisturize color-treated hair while neutralizing brassy tones. This set gives you the luxurious experience of a rich lathering shampoo and a deep conditioning effect without leaving any residue. Learn more about this product in this video.
Pros
Paraben-free
Sulfate-free
Gluten-free
No harsh salt
Vegan
Cruelty-free
Cons
Total Results Brass Off Blue Shampoo from matrix reduces brassy tones and has a clarifying action on the scalp. It is suitable for lightened brunette hair as it deposits balancing blue-violet pigments that effectively counter the brassy tones. This professional salon shampoo can be left in the hair for two-three minutes for the extra toning. This Color-depositing toner is formulated to gently wash away hair-dulling residue and build-up while maintaining the brightness and vibrancy of the color. It can also be used on natural hair to make it shinier and stronger. This video will provide you with added insights about the product.
Pros
A little goes a long way
Value for money
Pleasant fragrance
Cons
None
This innovative formula from amika is fortified with sea buckthorn berry that is rich in vitamin C and A, antioxidants, and omega fatty acids to promote stronger and healthier hair. It is enriched with wild cherry bark extract to protect color and enhance shine in color-treated blonde and natural hair. Hydrolyzed keratin and avocado oil combine to nourish and restore moisture and elasticity to keep the hair smooth and lustrous. Take a look at this video to know more about the product.
Pros
Sulfate-free
Paraben-free
Phthalate-free
Mineral oil-free
Petrolatum-free
Cruelty-free
Vegan
Cons
The rich formula of the John Frieda Violet Crush Purple Shampoo contains crushed violet pigments that, when deposited into blonde hair, reduce brassy yellow tones to make color-treated hair brighter and lighter. This deep cleansing shampoo washes away product build-up to leave the hair feeling revitalized and healthier. The violet pigments also absorb UV light to send out a blue-white glow that instantly eliminates dullness and makes blonde hair appear cooler. This advanced formula is gentle on the hair and protects the blonde from fading while moisturizing it.
Pros
Does not weigh down the hair
Peroxide-free
Cost-effective
Pleasant fragrance
Cons
The Garnier Nutrisse Ultra Color Nourishing Anti-Brass Treatment is enriched with olive, avocado, and shea oils to condition color-treated hair and keep it healthy. You can use it weekly to keep the blonde color light and bright while neutralizing brassiness. It is formulated with CoolTone technology to help refresh the color and tone down warm hues. It can be used on color-treated and natural blonde hair to preserve its shine and gloss.
Pros
• Pleasant fragrance
• No drip formula
• Suitable for natural blonde too
Cons
Works best as a light toner
This multitasking purple shampoo helps brighten blonde hair, impart a shine to silvers, and tone down brassiness. This gentle plant-based cleanser is a blend of sunflower, avocado, and argan oils that repair and nourish the hair while locking in moisture. It neutralizes yellowing and dullness from everyday pollutants and product residue. This product can be left in for two to five minutes for more intense results and to preserve cool tones.
Pros
Sulfate-free
Paraben-free
Silicone-free
Phthalate-free
Non-GMO
No synthetic filler
Cruelty-free
Mild fragrance
Cons
This conditioner is infused with native Australian blue cypress oil with remedial purple pigments that eliminate brassy orange and yellow tone hair while enhancing faded highlights in blonde, silver, gray or bleached hair. The rosemary and sage leaf extracts combine with vitamins A and C to promote hair growth and improve scalp health. In addition, this powerful conditioner is further fortified with pro-vitamin B5 to nourish, strengthen and restore shine and softness to dry and dull hair. Finally, this subtly fragrant product deeply hydrates the hair to combat frizz and flyaways.
Pros
Natural ingredients
Sulfate-free
Paraben-free
Silicone-free
Cruelty-free
Vegan
Cost-effective
Cons
The restorative purple pigments in the MARC DANIELS PROFESSIONAL Lush Luminous Blonde Shampoo are sustainably extracted from the blue cypress tree. The cobalt blue oil enhances faded highlights and neutralizes brassy yellow-toned hair in color-treated blonde, bleached, highlighted, silver, or gray hair. This multipurpose cleanser is enriched with sage and rosemary leaf extracts that bring back shine and luster to the hair while improving scalp health and promoting hair growth. This mildly fragrant shampoo also contains pro-vitamin B5 to strengthen and restore brittle hair.
Pros
Natural ingredients
Pleasant fragrance
UV protectant
Sulfate-free
Paraben-free
Silicone-free
Vegan
Cruelty-free
Cons
Say goodbye to unwelcome yellow hair streaks with the oligo Blacklight Blue Conditioner that is designed to eliminate brassiness and preserve color specifically for light brown to medium blonde hair. It is enriched with argan oil to strengthen the hair strands and restore scalp health while protecting against UV rays. It is infused with 11 amino acids that repair the surface damage to make your hair stronger and shinier. Additionally, this professional toning hair treatment nourishes dry, damaged hair to leave it smooth and radiant.
Pros
Gentle formula
Sulfate-free
Paraben-free
Vegan
Salt-free
Suited for sensitive scalps
Cons
The deeply nourishing Purple Hair Mask from Majestic Pure Cosmeceuticals has violet pigments that eliminate brassy and yellow tones from blonde and silver hair to leave it radiant and bright. This silver toner is enriched with moisturizing ingredients like olive oil, argan oil, and shea butter that condition color-treated, heat-processed, dry, and damaged hair to keep it healthy and strong. It can be used once a week to give longevity to color and maintain hair and scalp health.
Pros
Pleasant fragrance
Sulfate-free
Paraben-free
Cruelty-free
Cons
*The prices provided in this article are based on the latest available information. However, they may vary due to changes in pricing by the seller and/or promotional offers.
How To Choose The Best Toner For Brassy Hair
Before you choose a toner for brassy hair, there are some essential points to keep in mind.
Hair color: There are different color toners available that fix different shades of brassy hair. Choose one that is suitable for your shade.
Type of toner: Toners are available as masks, creams, shampoos, and conditioners. Some can be left in for longer to work, and others like shampoos are meant to be rinsed off immediately. Again, choose depending on your preference and convenience.
Chemicals: Go for toners that have the least amount of harsh chemicals to prevent hair damage. Paraben-free and ammonia-free products are gentle on the hair and also have a pleasant fragrance.
Pro Tips For Using Toner At Home
Below are some tips to help you get the most benefits from your toner at home.
It is best to choose toning shampoos, conditioners, masks, and treatments that offer conditioning and moisturizing benefits.
Toners that have a blue pigment cancel orange cast, and purple toners eliminate brassy yellow tones. Depending on your shade of blonde, choose the one that is right for you.
Wait for two weeks after you have bleached your hair before using a toner.
Limit the usage to once a week to increase the life of your color and for maximum brightness.
Identify the brassiest spots and apply the toner only on those areas. If you apply it all over, then the rest of your hair may not match the brassy sections. But if all your hair is discolored, then you can use it all over.
How Long Should I Leave Toner On My Hair?
The duration for which you leave a toner on your hair depends on the product. Some toners, like shampoos and conditioners, need less time to act, whereas others, like masks, need more time. Hence, it is best to follow the instructions that come with the product.
Why Trust StyleCraze?
The author of this article, Shiboli Chakraborti, is a certified skin care coach and hair care enthusiast who loves reviewing products. She has curated this list of the best hair toners for brassy hair after carefully researching and reading online reviews from several e-commerce websites. These hair toners are vegan, cruelty-free, and devoid of harsh salts. Not only do these toners smell good, but they are also lightweight, paraben-free, and suited for sensitive scalp.
Frequently Asked Questions
Do you shampoo after using toner on brassy hair?
Yes, shampoo and deep condition your brassy hair after applying a toner.
Does toner get rid of brassy hair?
Yes, toners especially made for brassy hair are very effective.
How often can you tone your brassy hair?
You can tone your hair every 1-2 months for the best results.
Is toner better on clean or dirty hair?
Tone clean hair but not completely wet hair. Instead, tone dry or damp hair for the best results. For the best results, read the brand instructions carefully.
How do you know when the toner is done?
When the process is complete, you will notice a visible change in your hair's texture.
What happens if you leave the toner on too long?
You can end up with a purple or blue hue, or your locks might lose color for weeks if the color is oversaturated.
Recommended Articles