The 15 Best Rebounder Trampolines To Buy Online In 2023
Build muscles and improve effortlessly with a fun component in your routine.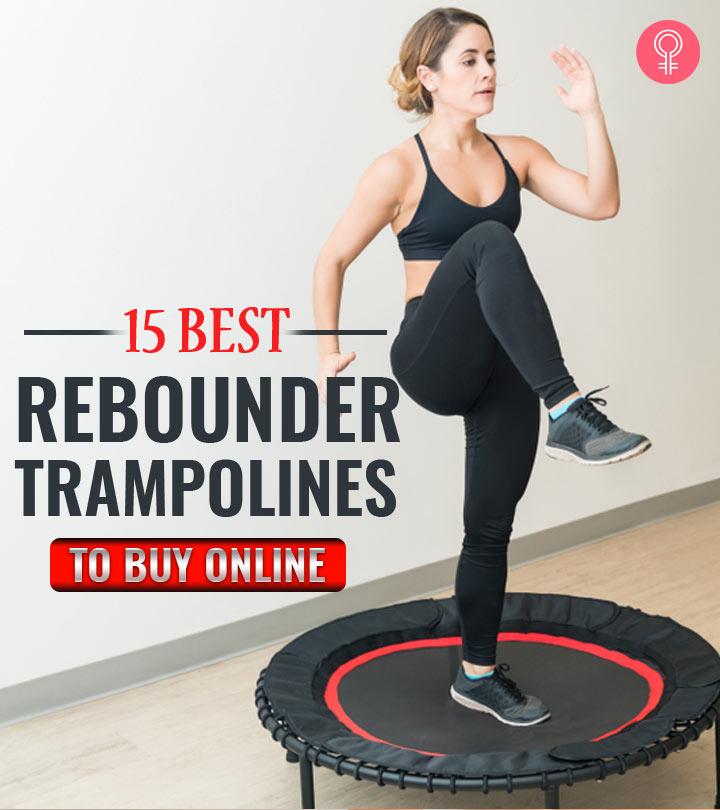 How fun would it be to add the best rebounder trampolines to your workout routine?! A mini trampoline is a great low-impact workout that strengthens your muscles and improves posture. It also hikes your immunity, metabolism, and bonus – it helps you lose weight through calorie burning! What could be more fun than that for shedding the extra pounds we have gathered by laying on the bed all day! Go through the list of 15 rebounder trampolines and choose your favorite one right away.
15 Best Rebounder Trampolines To Check Out Right Now
Pros
Large jumping surface
Arched legs
Sturdy
High stability
Easy to assemble
Durable
High quality
Virtually silent
Lifetime warranty for frame and legs
2-year warranty for mat and cords
Cons
Pros
Provides aerobic workouts
Easy installation
Sturdy
Great rebound
Safe and Soundless
UV-resistant mat
Superior bounce quality
Cons
Pros
Folding design
Durable steel frame
Six detachable legs
Heavy-duty rebounding surface
Easy to store
Easy to assemble
Compact
Lightweight
Cons
If you want to strengthen your bones and joints, go for MXL MaXimus Life Fit Bounce Pro Bungee Rebounder. It is a small indoor trampoline for adults. Experience a soft and silent landing with this patented bungee system with 60 strong connectors (twice in number than any other bungee rebounder). It is designed with a unique rebound technique that mainly focuses on controlled downward push and is engineered for maximum lymphatic drainage, and to tone muscles, improve posture, and tighten the skin. It can be an effective and fun workout equipment to incorporate in high-intensity interval training (HIIT) workout sessions. It comes with folding legs for easy set-up and storage, a metal locking bolt for safety, a bounce counter, an exercise DVD, online videos, and one strong zip-up storage bag for easy transportation. Go through the honest in-depth review of the MXL MaXimus Life Fit Bounce Pro Bungee Rebounder by clicking on this video that details a tester's experience.
Product Specifications
Bounce Area: 28″
Weight Limit: 330 lbs
Frame Diameter: 40″
Storage: Quarter folding
Pros
Ideal for low-impact workout
High quality
Sturdy construction
High stability
Easy to assemble
Lifetime warranty on frame
3-year warranty on mat
Cons
BCAN 40″ Mini Trampoline is the best foldable and adjustable trampoline that can be used above the ground. It comes with 4 different levels of adjustable handle height ranging from 32″ to 42″, which makes it suitable for both adults and kids. Ten minutes of bouncing on this trampoline is equal to 20 minutes of swimming, 30 minutes of cycling, and an hour of jogging. It offers a fun and efficient way to tone and shape your body, improving cardiovascular health and overall fitness. Crafted with high-quality steel and polypropylene design, this trampoline can support weight up to 330 lbs. You can store this trampoline easily as it folds down to a quarter of its size. The anti-skid rubber material makes your trampoline not only safe but also quiet. The polypropylene mat is made of waterproof material that makes it easy to clean. This rebounder comes with a foam handlebar, a folding Oxford pad with holes, closed steel springs, and 6 steel tubes.
Product Specifications
Frame Diameter: 40″
Weight Limit: 330 lbs
Adjustable Height: 32″ to 42″
Pros
Lightweight
Foldable design
Knob for adjusting the height
Foam handlebar
Easy to assemble
Cons
None

Maximus Pro Gym Rebounder is a professional gym rebounder. It features spring-loaded folding legs for easy storage. This trampoline can withstand up to 287 lbs of weight. This extremely robust and best-quality trampoline is used by many professional athletes for cardio and core training. It comes with two compilation rebounding workout DVDs with 7 workouts. The Maximus Pro Gym Rebounder is ideal for fitness and sports training, lymphatic system drainage, weight loss, and core and joint-friendly exercises. It comes with a stability handlebar for extra balance support during balance training.
Product Specifications
Bounce Area: 28″
Weight Limit: 287 lbs
Frame Diameter: 40″
Storage: Non-folding
Pros
Sturdy
Easy to assemble
High stability
Ideal for weight loss and muscle toning
Cons
Low quality
Unpleasant odor
Treat yourself to a joint-friendly cardio rebounding workout with the SportPlus Silent Fitness Trampoline. The 36-bungee rope design and net cover will protect you and your kids while jumping on this mini-trampoline. It is designed with an adjustable handrail and an easy removable set-up. It comes with bungee cords for gentle training without creating any noise. This high-quality trampoline can support weight up to 286 lbs.
Product Specifications
Jumping Surface Diameter: 33″
Weight Limit: 286 lbs
Adjustable Handrail: 33" to 47″
Trampoline Size: 44″
Pros
Detachable handle
Bungee cords
Comes with a safety cover
Sturdy
High-quality
Cons
JumpSport 350 PRO Fitness Trampoline is the best rebounder trampoline with a large jumping surface for a full-body workout. Its patented no-tip arched legs provide safety and stability and come almost fully assembled. The 36 patented EnduroLast 4 cords provide great bounce, and the integrated permatron skirt covers the cords for added safety. With the 50% extra space, you can perform more types of jumping fitness exercises. This trampoline helps you reach your fitness goals and can be used to do balance exercises and high-intensity training. Its frame is sealed and protected with a tough, durable 3-coat charcoal gold and low-friction finish for lasting durability. It comes with 4 workout videos.
Product Specifications
Number Of Cords: 36
Leg Shape: Arched legs
Frame Diameter: 39″
Weight Limit: 300 lbs
Pros
Ultra-quiet bounce
High stability
Durable
Sturdy
Compact
High-quality
Cons
If you want to add some bounce to your workout routine, Wamkos 40″ Rebounder Trampoline is your best choice. This 40″ mini rebounder helps in weight loss, improving balance and core strength, and burning calories. This heavy-duty trampoline comes with a folding frame and weighs only 17 lbs. It is a perfect space-saver and suitable for both adults and kids rebounder exercises. It is designed with high-quality components like a sturdy frame and a jump mat that is made of heavy-duty polypropylene material to ensure safe and sustained bouncing. The durable and sturdy construction of this rebounder can support up to 220 lbs. Ten minutes of exercise on this Wamkos rebounder is equal to 20 minutes of swimming, 30 minutes of cycling, 30 minutes of yoga, and 30 minutes of running.
Product Specifications
Weight Limit: 220 lbs
Rebounder Size: 40"
Trampoline Weight: 17 lbs
G-force Springs: 32
Pros
High-elasticity PP mat
Most durable rebounder
Heavy-duty steel tubes
Foldable design
Quick assembly
2-year warranty
Cons
None

ANCHEER Mini Fitness Trampoline is the most compact trampoline for fun workouts. It improves your cardiovascular health and builds physical strength. The body frame is made with 1.5mm steel and tough non-slip rubber guards that stop any unwanted movement. It comes with a protective pad and a breathable mat that ensures safety to the users. It is uniquely designed for folding, making it suitable for the garden, the living room, the office, or any other limited space. The high quality 32 enhanced springs and 6 durable and firm stainless steel legs can withstand up to 220 lbs. This rebounder trampoline is available in two sizes (38″and 40″) and two modes (folding and non-folding).
Product Specifications
Weight Limit: 220 lbs
Springs Quantity: 32
Frame Diameter: 38″
Stainless Steel Legs: 6
Pros
Non-slip design
No noise
Foldable
Easy to carry
Compact
Easy to assemble
Cons
Stamina 38-Inch Intone Plus Rebounder is a multi-functional and cost-effective electronic trampoline. This compact and portable rebounder is ideal for low-impact cardiovascular exercises for beginners to plyometric exercises for advanced fitness freaks. It has an electronic monitor that tracks your workout time, jumps per minute, total jumps, and calories burned. This rebounder comes with a 38″ wide sturdy steel frame and an optic blue border to keep you safe. You can use this durable polypropylene rebounder anywhere, indoor or outdoor. It has two resistance tubes with foam-padded handles for upper-body strength training.
Product Specifications
Weight Capacity: 250 lbs
Frame Diameter: 38″
Rebounder Weight: 13 lbs
Pros
Foldable design
Easy to assemble
Sturdy
Portable
Cons
N1Fit 40″Mini Trampoline is one of the best mini rebounders for adults. It is the quietest mini-trampoline with a spring system for home cardio workouts for stress relief or rehabilitation exercises. When compared with traditional bouncers, this 36-spring rebounder provides 50% lower-impact exercises. The 36 galvanized steel springs provide safe bouncing. This rebounder can hold up to 220 lbs of weight. It provides a 40″ jumping surface for safe bouncing and other exercises. Also, it features a rust-resistant powder-coated steel frame and waterproof PVC pad cover cords.
Product Specifications
Springs: 36
Jumping Surface: 40″
Weight Limit: 220 lbs
Pros
Low noise
Folding design
Durable
Easy to assemble
Lightweight
Cons
None
The ORISTUS Trampoline is a mini trampoline with 6 anti-slid rubber-bottomed legs that give you a solid grip. It comes with an adjustable and removable handrail that prevents accidents; the foam-covered handlebars are skid-resistant for jumping workouts. It is made of high-quality steel and resistant PP material that make it durable, while the tough oxford cloth offers long-lasting elasticity. The foldable design makes it space-saving. This trampoline also supports up to 330lbs.
Product Specifications
 Material: Steel tubing PP trampoline cloth, and Oxford cloth cover
 Disc Size: 40 inch
 Weight Limit: 330 lbs
 Support Foot Diameter: 25 mm
Pros
 Durable
 Foldable design
 Non-slip soft foam handrail
 Adjustable handrail
 Anti-slip rubber legs
 Easy storage
Cons
None
RedSwing Mini Trampoline is the best fitness rebounder with removable handrails. It maintains its resistance for a long time. The handrail allows for easy grip and can be removed easily. This mini-trampoline is foldable for convenient storage. It is made from soft and strong polypropylene mesh and can bear up to 275 lbs of weight. It comes with a handle that you can hold on to and avoid falling off. It also has a heavy-duty steel frame and a 4-leg base frame for sturdy grip and stability. The 32 tightly coiled, rust-resistant, and noise-free springs provide plenty of bounce. The RedSwing Mini Trampoline aids in building muscle mass, strengthening your leg, shoulder, and hip muscles, and requires less storage space.
Product Specifications
Frame Diameter: 40″
Coiled Springs: 32
Weight Limit: 275 lbs
Pros
Removable handrails
Rustproof springs
Safe design
Abrasion-resistant PP mat
Adjustable height
Suitable for a home gym and outdoors
Cons
None
Maximus PRO Folding Rebounder is the perfect indoor exercise mini-trampoline for adults. Designed with high-quality parts, this rebounder supports a person weighing up to 310 lbs. The 32 highly calibrated springs give the most resilient and low-impact bounce while providing support to your feet. It also comes with a double cross-stitched non-slip mat, a handlebar, sand weights, and resistance bands for conditioning and strength training. It can be folded into quarters for easy storage. This trampoline provides balance, and coordination, improves bladder control, and builds muscular strength. A free storage carry bag and 7 rebounding workouts on DVD are also available with this trampoline.
Product Specifications
Disc Size: 40″
Springs: 32
Weight Limit: 310 lbs
Pros
Foldable design
High quality
Low-impact bounce
Comes with a stability bar
Robust construction
Easy to assemble
Cons
None

*The prices provided in this article are based on the latest available information. However, they may vary due to changes in pricing by the seller and/or promotional offers.
Rebounding is an excellent exercise that may provide several health advantages. To help you with your shopping, we have curated a buyer's guide on things to look for when buying a rebounder trampoline.
Things To Consider Before Buying The Best Rebounder Trampolines
Springs: The springs are one of the first items to inspect. Any mini-trampoline that uses tube springs should be avoided. The technology is outdated and provides less movement, limiting the possibilities of your training regimen. Look for a rebounder that has tapered steel springs. These parts accommodate a wide variety of body weights and motions, offering the device more usability and longevity. While looking for springs, look for spring covers to keep the springs protected and limit injuries in case the springs pop off during your routine.
Mat Quality: The quality of the mat is vital for your safety and efficiency. Pay particular attention to the mat type; canvas, nylon, and plastic mats are prone to stretching over time, resulting in support concerns and possible foot pronation. Check that the mat material will not stretch much. High-quality materials can also withstand weather damage if you leave your rebounder outside. You should also seek a mat that will provide adequate support when working out barefoot.
Weight: Rebounding derives its benefits from leaping and the force of gravity. Based on your weight, one rebounder may provide more efficient results than another. Springs should be tensioned enough to get the most out of your bounce, and all sections should adequately support your weight for safety.
Portability: There are many sizes of rebounder trampolines. Rebounders are generally easy to store and move. If you intend to travel with your rebounder, you should look for a lightweight rebounder that can be folded up and kept inside carrying cases, making them easy to store during long vacations.
Replaceable Parts: Even if you check for high-quality parts, there is still the possibility that something will lead a part to crack. As a result, choosing a rebounder trampoline with replacement parts is vital. You do not want things to go wrong which may force you to buy a new product.
Why Trust StyleCraze?
Aditi Naskar, the author of this article, holds a diploma in health and wellness. She knows the importance of a regular fitness routine and tries to make it fun and comfortable for you. She has in-depth knowledge of the various tools, equipment, and accessories that can help enhance the benefits of your fitness regimen. She has gone through several health and wellness forums and scoured through valuable customer testimonials before carefully curating this list. These trampolines are perfect for that low-impact workout that not only strengthens your muscles but also improves your posture alongside.
Frequently Asked Questions
What's the difference between a rebounder and a mini trampoline?
Rebounder trampolines are designed for fitness and are smaller than mini trampolines. They are easily portable, unlike mini trampolines.
Does rebounding make your face sag?
No, rebounding doesn't make your face sag. Instead, it aids circulation improvement. And the better blood flow over time tightens your skin to give it a smoother appearance.
Who should not use a rebounder?
If you are above 50 with back and joint pain and poor blood circulation, then you should not use a rebounder.
Is 10 minutes of rebounding enough?
When you are first starting rebounding, 10 minutes is an ideal amount of time for practicing it.
Do I need a bar on my rebounder?
No, you do not need a bar on your rebounder because it may affect your posture adversely and also limit your core activities.
Should you wear shoes when rebounding?
No, do not wear any shoes during rebounding. Rebounding barefoot will increase the strength and stability of your feet and ankles.