15 Best Witch Hazel Products Of 2023
For the right amount of TLC your skin deserves after being exposed to a harsh environment.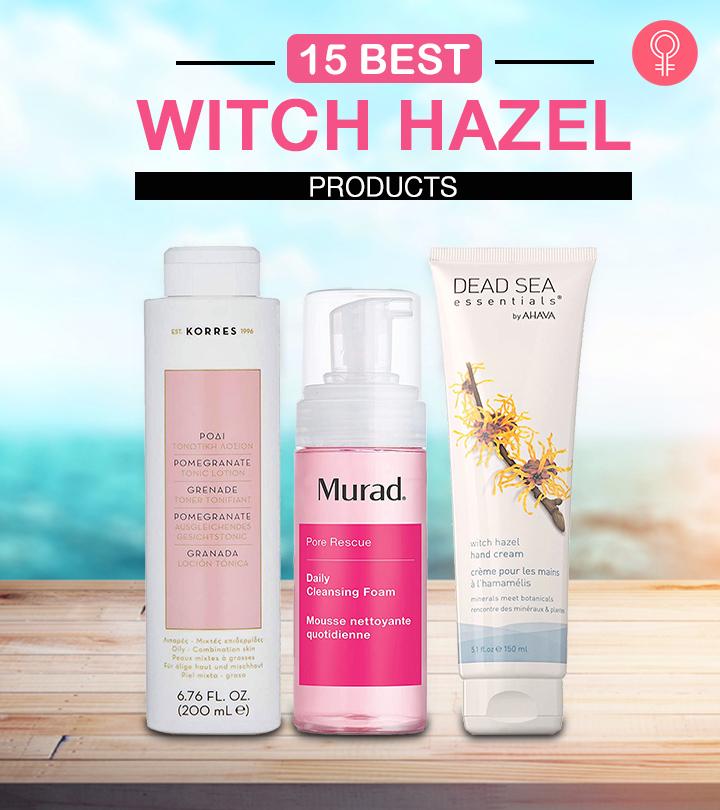 Skin care professionals love witch hazel as a topical remedy. Among the best witch hazel products are toners, exfoliators, and face mists. Witch hazel is a flowering plant sometimes called winter bloom. The plant is recognized for its ability to fight bacteria and reduce inflammation. Witch hazel is an excellent natural astringent for acne-prone or oily skin types. There is simply no better ingredient to calm your skin. In this article, we've compiled a list of top witch hazel products. Check them out!
15 Best Witch Hazel Products For Your Skin
This is among the top-rated witch hazel toners available on the market. It is an extremely gentle toner that cleanses, tones, and moisturizes your skin, helps balance the pH level, and improves skin tone. Apart from non-distilled witch hazel extracts, this skin tightening toner contains pore-cleansing rose water and organic aloe vera extracts. Rosewater, a popular ingredient known for its various skin care benefits, helps in hydrating the skin, tightening pores, strengthening the skin cells, and fading scars and blemishes. The witch hazel is extracted in such a way that it retains the natural therapeutic tannins present in it.
Pros
Paraben-free
Phthalate-free
Gluten-free
Certified organic
No synthetic preservatives
Dermatologist-tested
Cruelty-free
Cons
The bottle cap might give trouble.
This is an extremely gentle and non-irritating toner, ideal for maintaining healthy skin. It is made from 100% natural witch hazel that gently removes excess oil and impurities from your skin without causing excess dryness. The dermatologist-tested product leaves the skin soft and smooth. It also doesn't hamper the natural balance of your skin. It is suitable for everyday use and is free of gluten, dyes, parabens, and sulfates.
Pros
100% natural and distilled ingredients
Sulfate-free
Dye-free
Paraben-free
No synthetic preservatives and gluten
Certified organic
Dermatologist-tested
Suitable for all skin types, including sensitive skin
Calms redness and irritation
Cons
Those with sensitive noses may not like the smell.
The Ultra Deep Cleansing Pore Strips by Biore contain tea tree oil, witch hazel, and menthol. They are designed to reduce the appearance of enlarged pores by helping extract the dirt and oil locked deep into your pores that cause blackheads. They help remove blackheads and keep the pores refreshed. These dermatologist-tested strips use a patented C-bond technology that helps them bind to blackheads and impurities and not the skin.
Pros
Vegan-friendly
Cruelty-free
Easy to apply and take off
Pulls out dirt effectively
Dermatologist-tested
Hypoallergenic
Unscented
Cons
Contain parabens
Expensive
The Neutrogena Pore Refining Toner contains a blend of alpha and beta hydroxy acids that help to slough away dead skin cells and reduce roughness and uneven patches. The formula also contains witch hazel that keeps the skin calm and can be used to tighten loose skin. The dermatologist-recommended toner penetrates deep into your skin pores and cleans them to visibly reduce their appearance. This premium skin care product leaves the skin soft and smooth without overdrying it. The toner is suitable for all skin types and is non-comedogenic and hypoallergenic.
Pros
Dermatologist-tested
Non-drying formula
Non-comedogenic
Oil-free
Hypoallergenic
Helps reduce the appearance of pores (visible results)
Cons
Contains alcohol
Contains PEG
Cleansing cloths or wet wipes are extremely handy for cleaning your face, especially while on the go. These cleansing cloths are formulated with 100% natural witch hazel. They are gentle enough to not irritate your skin and keep it clean and calm. The cleansing cloths gently remove dirt, oil, and impurities from your skin and can be used on both the face and the body. They also help soothe minor skin irritations without leaving any sticky residue.
Pros
Alchohol-free
No artificial fragrances
No synthetic dyes
Not tested on animals
Paraben-free
Sulfate-free
No synthetic preservatives
Cons
The package may not re-seal.
This witch hazel and rosewater toner helps to restore radiance to the skin, keep it thoroughly cleansed, and make it brighter. This toner has natural astringent properties, thanks to witch hazel, which ensures complete removal of surface impurities without stripping the skin of its natural oils. It also contains aloe vera that keeps the skin hydrated and rosewater that rejuvenates the skin and provides an antioxidant boost.
Pros
Paraben-free
Cruelty-free
Reduces the appearance of pores
Pleasant fragrance
Non-irritating
Cons
The fragrance may be overpowering for some.
This is a 100% natural witch hazel astringent that cleanses your skin and relieves skin irritation. It is gentle enough to be used on sensitive skin. The dermatologist-tested astringent penetrates deep into your skin pores and removes dirt, oil, and traces of makeup, leaving your skin soft and smooth to touch.
Pros
Non-drying
Dermatologist-tested
Does not irritate the skin
Paraben-free
Sulfate-free
Cons
Contains alcohol
The smell might irritate sensitive noses.
These pads are saturated with 50% witch hazel, which is a potent astringent that helps soothe inflammation, calm redness, and relieve irritation. The product is mainly meant for relieving anal itching and burning. However, it can be used for maintaining vaginal hygiene as well. It also contains 12.5% non-greasy glycerin that helps to protect the skin. The pads feel extremely soothing on the skin and are flush able and biodegradable.
Pros
Phthalate-free
Sulfate-free
pH-balanced
Dye-free
Can be used for vaginal care
Can be used for maintaining anoperineal hygiene (for infants)
Effectively relieve pain and swelling (especially during postpartum care)
Biodegradable
Cons
This body bar by Thayers contains witch hazel, aloe vera, and rose petals. It is 83% organic and 100% natural. Aloe vera has emollient properties, and it helps to keep your skin moisturized without making it feel greasy. Witch hazel has antibacterial and antiseptic properties that gently clear oil and impurities from your skin that can cause blackheads and acne. Rose petals contain natural oils and sugar that hydrate dehydrated skin and impart a natural glow. This body bar lathers well due to the rich mix of coconut and palm oils.
Pros
Cruelty-free
Contains palm and coconut oils
100% natural product
Organic ingredients
No synthetic preservatives
Paraben-free
Sulfate-free
Phthalate-free
Non-drying
Cons
The scent fades too soon after bathing.
Remove dead skin cells and impurities gently with the Pyunkang Yul Low pH Pore Deep Cleansing Foam. Its 2-step cleansing process penetrates deep into the skin, offers residue-free cleaning, and makes your skin smooth and irritation-free. The cleansing foam is blended with the wellness of witch hazelnut extract, green tea extract, and hyaluronic acid, to address irritated and itchy skin. These powerful ingredients regulate sebum production, calms the skin, while infusing moisture deep into the skin to make it healthier. Moreover, it offers a full money-back guarantee within a month in case of any skin issue.
Pros
Non-drying
Smooth texture
Pleasant fragrance
Lathers well
Travel-friendly
Cons
None
This toning mist is meant for those with normal to oily skin. It is extremely cooling and feels refreshing. It helps hydrate and balance your skin by dissolving excess surface oil and keeping the skin pores clean. This mist contains clean ingredients such as witch hazel, white oak, and peppermint that provide mild astringent benefits and help reduce the appearance of skin pores.
Pros
Cruelty-free
Recyclable packaging
Naturally derived ingredients
Tested on humans
Paraben-free
Sulfate-free
Phthalate-free
Cons
Contains Alcohol Denat
The spray dispenser may malfunction.
The Quinn's Witch Hazel Rose Petal Toner is great for acne-prone and oily skin. It has a subtle rosy scent and contains aloe vera that hydrates the skin without drying. The toner minimizes acne inflammation, reduces puffy eyes, and under-eye circles, and soothes razor burn and sunburn, providing instant relief. Its healing properties also help relieve itching caused by inflammatory conditions like eczema and psoriasis.
Pros
Pleasant fragrance
Certified organic ingredients
Alcohol-free
Suitable for all skin types
Non-drying
Paraben-free
Cons
None
This kit is meant for relieving pain, discomfort, and itching associated with hemorrhoids and any other anorectal discomfort. This is a medicinal kit that aids in hemorrhoid treatment. This kit contains 5% lidocaine cream that helps numb pain and protects the skin from irritation and witch hazel pads that help soothe burning, itching, and other mild discomforts. You can use them together or separately.
Pros
Effective in reducing itching and pain
Aids in wound healing
Does not cause a burning sensation
Gentle and effective
Does not cause dryness
Cons
This lotion is fortified with witch hazel to soothe dry skin, heal cracked hands, and restore elasticity to your skin. Use this on your elbows, feet, hands or anywhere that needs pampering. This lotion also treats inflamed or broken skin, razor irritation, and burn, sunburn, and is a salve for people with eczema. Additionally, you can also use it as a massage lotion to relax aching and tired muscles and to soothe any after-shave irritation. It has a weightless feel and glides smoothly for an easy application.
Pros
Lightweight
Absorbed quickly
Non-greasy formula
Restores elasticity
Helps in wrinkle treatment
Aids in eczema treatment
A little bit goes a long way
Cons
Some may find the fragrance strong
This is a hydrating toner mist that absorbs excess oil from your skin without drying it. This mist also visibly reduces the appearance of the skin pores. The combination of rosewater and witch hazel is extremely soothing, and with regular use, it gives your skin a dewy and radiant glow.
Pros
No synthetic preservatives
Paraben-free
Gluten-free
Cruelty-free
Vegan
No artificial fragrance and color
Sulfate-free
Phthalate-free
Pleasant fragrance
Cons
None
*The prices provided in this article are based on the latest available information. However, they may vary due to changes in pricing by the seller and/or promotional offers.
With a wide variety of witch hazel products on the market, it can be quite challenging to pick the right product that is suitable for your skin and its needs and requirements. So, given below are some factors to keep in mind while choosing the best witch hazel products.
Things To Consider While Selecting The Best Witch Hazel Product
To make the most of a witch hazel product, you must keep an eye on the additional ingredients it contains. The best additional ingredients to look for in witch hazel products are rose water, aloe vera, vitamin E oil, chamomile extracts, calendula, tea tree oil, menthol, alpha, and beta hydroxy, coconut oil, palm oil, and other natural ingredients. Watch the videos to know about a reviewer's experience or read reviews to gain a better understanding of ingredients and how they will suit your skin type.
Avoid harmful chemicals and artificial preservatives including products. that can harm your skin in the long run. Avoid using products that contain synthetic preservatives, paraben, gluten, sulfate, phthalate, artificial fragrance and color, greasy formulas, and alcohol. However, make sure to always perform a patch test if you have sensitive skin.
Before buying any witch hazel product, you must look for the percentage of witch hazel in the particular products. If you have sensitive skin, use products that have a low concentration of witch hazel. Products with a high concentration can cause irritation and excessive dryness on your skin. If you have normal skin type, choose a high concentration of witch hazel products.
Skin Type is also an important factor to consider while buying witch hazel products. Witch hazel usually contains an alcohol content of 14%-15%. It can irritate oily, acne-prone skin. It is beneficial in the short run but can aggravate the acne situation in the long run. If you have dry skin, using witch-hazel products can cause irritation and make your skin dry out.
Some witch hazel products can be applied directly on the skin such as toners. But some products need to be combined with some moisturizers for effective results. Therefore, check the direction of the application properly before buying witch hazel products.
Shawnda Dorantes, a California-based beauty nurse practitioner says, "When choosing which witch hazel product to use, look for a high-quality formula that is alcohol-free to avoid drying out the skin. Also, choose witch hazel products with minimal additives and a concentration of 10-20% of the ingredient to effectively harness its antibacterial and anti-inflammatory properties. The ingredient is also valuable for calming and soothing acne-prone or oily skin."Witch hazel is mostly preferred for its skin cleansing and soothing properties. These are the best-rated witch hazel products that you can currently include in your skin and body care routine. Go ahead and pick your favorite from the list.
Why Trust StyleCraze?
Shiboli Chakraborti, the author of this article, is a certified skin care coach. She has browsed online to read hundreds of reviews to shortlist the best witch hazel products for the list. The products listed above are formulated without any harsh chemicals. These products help rejuvenate your skin and keep it hydrated and conditioned.
Frequently Asked Questions
What are witch hazel products made of?
The leaf, bark, and twigs of the witch hazel plant are dried, and the liquid that is distilled from them is used in skin care products and medicines.
Do all witch hazel products have alcohol?
Not necessarily. It depends on the product type and the formula used by the brand.
Can you make a hand sanitizer with witch hazel?
Yes, you need to combine it with rubbing alcohol and a few drops of any essential oil.
How often should you use witch hazel toner?
You can use it 1-2 times a day.
Is witch hazel good for older skin?
Yes. Witch hazel contains polyphenol, which helps brighten the skin and reduce age spots and blemishes.
How often should I use witch hazel on my face?
You can use witch hazel daily or based on how your skin reacts.
Does witch hazel fade dark spots?
Yes, witch hazel helps fade dark spots.
Recommended Articles