21 Best Beauty Products From Whole Foods In 2022 For Skincare
Say goodbye to all your skin woes with these highly effective, natural skincare products.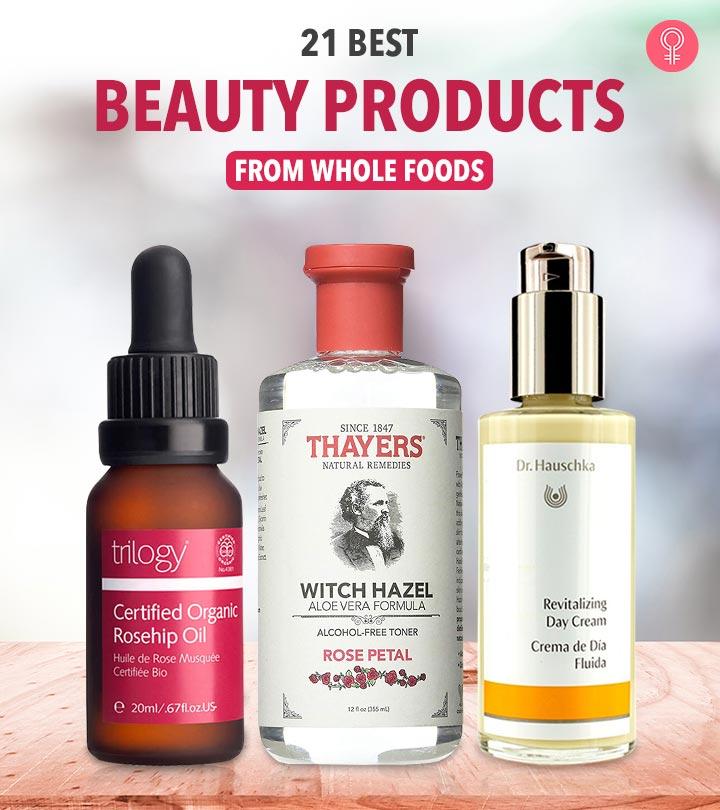 A beauty product made with whole food is natural and non-toxic. The best whole foods products include clay masks, toner, soaps, serums, etc. These are ideal for perfecting your skincare and haircare routine if you love all things natural. These products are suitable for all skin types. Additionally, the ingredients in these products hydrate your skin and keep it healthy.
Choosing the right whole food product can be tricky. So, in this article, we bring you a list of the 21 best whole food products that help you have a healthy beauty routine. Check them out below!
21 Of The Best Beauty Products That You Can Buy At Whole Foods – 2022
The best detoxifying mask ever is available at Whole Foods for less than $10! In recent years, Aztec Secret Indian Healing Clay has become a huge hit, even among celebrities. This mask is made from bentonite clay, a type of medicinal clay that is known for its healing properties for different skin issues. Whether you are struggling with breakouts or your skin looks dull and lifeless, this mask will be your instant savior. It comes in a huge tub that will last you forever. Add a little water or apple cider vinegar to this clay, and you've got yourself a magical acne-busting mask that's perfect for any time of the year. This video review will help you learn more about the product.

Pros
Eliminates harmful toxins, oil, and dirt
Stimulates and improves blood circulation
Tightens skin
Fights breakouts
100% natural
Budget-friendly
Cons
None
Thayers Lavender Witch Hazel Toner is another product that deserves a spot in your cart on your next Whole Foods run. This gentle toner is derived from a traditional formula developed by Thayers to cleanse, tone, moisturize, and balance the pH level of your skin. It contains the goodness of calming lavender, certified organic aloe vera, and non-distilled witch hazel. These naturally-sourced ingredients help revitalize your skin, combat acne and reduce redness and irritation. This video will help you make an informed decision about your purchase.

Pros
Does not dry out your skin
Removes makeup residue
Pleasant fragrance
Alcohol-free
Non-sticky
Cons
None
[ Read: Top 10 Websites For You To Buy Organic Food ]
Want to steer clear of harsh body washes and cleansers? Then, try out this African black soap that is made from palm ash, tamarind extract, tar, and plantain peel to cleanse your skin of dirt and impurities deeply. If you have acne-prone skin, this works just as well as a face cleanser. Shea butter, its star ingredient, helps keep your skin calm and conditioned. Watch this video to get a detailed review of the product.

Pros
Unclogs pores
Soothes and clears breakouts
Does not dry out your skin
Ideal for oily skin
Pleasant fragrance
Cons
None
If you are looking to incorporate vitamin C into your skincare regimen, Mad Hippie's Vitamin C serum whole foods might be precisely what you're looking for. This harmonious blend of vitamin C, vitamin E, ferulic acid, and hyaluronic acid is an excellent option for anyone who wants to lighten hyperpigmentation and increase radiance.

Pros
Gets absorbed quickly
Fades scars and spots
Suitable for sensitive skin
Best anti-aging formulation
Does not irritate or dry out your skin
Cons
None
Amp up your cheeks, eyes, and lips with this organic multipurpose stick from W3ll People. Its vegan formula is rich in antioxidants and organic aloe that help hydrate and improve your skin's overall quality. It has a creamy consistency and weightless texture that is free of harsh and artificial chemicals. This stick is available in three shades: Nude Rose, Nude Berry, and Nude Peach.

Pros
Blends beautifully
Quick and easy application
Cruelty-free and vegan
Non-comedogenic
Multipurpose
Cons
None
Weleda's Skin Food is a universal savior of dry and rough skin. Even Victoria Beckham seconds that – she calls this moisturizer her body secret. Its formula is crafted with extracts of gentle viola tricolor, calendula, and chamomile and has a rich, thick base of beeswax and oil. If you have very dry skin, this is going to work wonders for you. Slather the lotion all over the dry areas of your face or body, and say hello to healthy, glowing skin that feels baby soft at all times.

Pros
Extremely hydrating
Soothes and calms skin
Pleasant fragrance
Budget-friendly
Ideal for dry to dehydrated skin
Free of synthetic preservatives, colors, and fragrances
Cons
Takes time to get absorbed because of its thick formula
Some people may experience sensitivity to lanolin.
This lip balm is truly a kiss of color and care. Its moisture-rich formula is made with shea butter and botanical wax and is free of parabens and chemicals. It not only keeps your lips hydrated through the day but also leaves them with a soft tint of color. This lip balm is available in six flattering shades: zinnia, pink blossom, hibiscus, rose, red dahlia, and sweet violet.

Pros
100% natural
Lightweight
Hydrating
Affordable
Cons
None
Want the purest form of rose water? This one from Heritage Store is a wholesome blend of 100% pure rose water and natural vegetable glycerin. There are no hidden chemicals in it. It is multifunctional and versatile, so you can use it as a moisturizer, a pre-moisturizing toner/serum, a makeup primer, and even a setting spray. It works brilliantly to soften and hydrate your skin, as well as in providing your skin with the nutrients it needs daily.

Pros
Refreshing scent
Moisturizes well
Suitable for all skin types
100% natural
Affordable
Cons
Comes in a plastic bottle
If you haven't already heard of marula oil, you are missing out. Marula oil is rich in proteins and omega fatty acids and works wonders on dry skin. Its lightweight formula gets absorbed quickly and does not leave your skin feeling sticky. If you have dehydrated skin that no amount of moisturizing seems to be able to fix, you definitely need to try this cold-pressed oil.

Pros
Brightens dull skin
Advanced anti-aging benefits
Treats topical conditions like eczema
Provides deep hydration
Fights acne-causing bacteria
Helps treat pigmentation and acne scars
Value for money
Cons
None
Evanhealy Rose Geranium Facial Tonic is formulated to make your skin look clear and refreshing. This rose geranium hydrosol is 100% organic and an elixir for dry as well as oily-combination skin. It soothes your skin, maintains the pH balance, hydrates dry skin, and tones oily skin. Additionally, the delicate rosy fragrance is sure to lift your spirits all day.
Pros
Suitable for all skin types
Balances pH of the skin
Hydrating
Refreshing
Paraben-free
Cruelty-free
Gluten-free
Non-GMO
Cons
Derma E's Ultra Hydrating Serum is a concentrated treatment that plumps your skin with moisture and nutrients. If you find your skin lacking its natural glow and luster, this is the hydrating serum you need to try. The hyaluronic acid in this formula infuses your skin with intense hydration, so it looks revived and rejuvenated on a daily basis. It is lightweight enough to be used during the day and at night. Pair it with a moisturizer to take its effectiveness to a whole new level.

Pros
Gets absorbed quickly
Extremely hydrating
Suitable for dry skin
Evens out skin tone and texture
Value for money
Cons
None
These handy wipes gently remove dirt, sweat, and makeup without the need to rinse. Whether you are out and about, going for a run, or having a late-night, these wipes make it super easy to freshen up on the move. Here's the best part – these towels don't make your skin feel dry or stripped of all its moisture.

Pros
Removes makeup
Calms and soothes skin
Versatile
Alcohol-free
Inexpensive
Cons
None
If there is one face mask from Whole Foods that is absolutely worth trying, it is this one from Ren Clean Skincare. This potent exfoliating mask is formulated to get rid of dead skin cells and renew your complexion. It also helps reduce the appearance of fine lines and wrinkles. Its main ingredients include glycolic acid, lactic acid, and papain that work wonders to smoothen and refine your skin's texture and radiance.

Pros
Gently exfoliates the skin
Tightens pores
Suitable for aging skin
Travel-friendly
Cruelty-free
Cons
This gentle mascara from Mineral Fusion is a clean formula that actually works. Its non-toxic formula works as it should without flaking or smudging. It makes your lashes look lush with a velvety finish. Its chubby wand makes it easy to coat each lash smoothly. Although it is not entirely made of natural ingredients, all of the ingredients (including the synthetic ones) have a well-established safety record. You can find this mascara in three colors: Chestnut, Jet, and Midnight.

Pros
Thickens and volumizes lashes
Natural effect
Easy to apply
Affordable
Cons
None
If you want one multipurpose cream for all your issues, this is the one. It contains beeswax, organic olive oil, and natural herbs that heal broken skin and help it return to its original state. All of its ingredients are organically grown and extracted while fresh to maintain their bioactive compounds.

Pros
Hydrates and moisturizes skin
Heals damaged skin
Versatile
Affordable
Organic
Cons
None
Rosehip oil is known to improve skin texture and reduce the appearance of scars and stretch marks. Even the Duchess of Cambridge swears by this formula. Its potent natural actives make it highly effective for skin concerns such as acne scars, blemishes, stretch marks, dryness, and fine lines. Its solvent-free extraction process guarantees a minimum of 80% essential fatty acids to help hydrate, repair, and strengthen your skin.

Pros
Certified organic product
Fades scars and marks
Soothes redness
Ideal for dehydrated skin
Finest quality ingredients
Cons
None
[ Read: How To Get Glowing Skin In 7 Days – With Instructions ]
If you feel like your pores need some intensive cleansing, try out this powerful face wash. This lathering cleanser is formulated with zit-zapping salicylic acid and willow bark extract that digs deep into your pores to unclog the gunk, banishing existing pimples and preventing new ones. If you have oily or acne-prone skin, this face wash is a must-try!

Pros
Oil-free
Non-comedogenic
Suitable for acne-prone skin
No harsh sulfates
No synthetic fragrances
Cons
None
Revitalize your facial skin with the Dr. Hauschka Regenerating Day Cream. The cream has a rich-creamy consistency and absorbs quickly to leave your skin with a non-stretchy feel. Its natural ingredients, such as red clover and raspberry seed oil, helps minimize the appearance of wrinkles and fine lines. Additionally, the day cream effectively balances the moisture content and makes the skin soft, smooth, and supple. It is specially formulated for mature skin.
Pros
Suitable for all skin types
Non-greasy
Easy to use
Spreads evenly
Smooths the skin
Cons
Wash away all the build-up and treat your hair to a double dose of organic oils infused with lemongrass with this vegan shampoo that lathers well, rinses clean, and smells amazing. The best part? It is super affordable. Its clarifying formula works brilliantly on all hair types (including notoriously oily hair). It is also gentle enough for everyday cleansing.

Pros
Gentle ingredients
Suitable for daily use
Sulfate-free
Paraben-free
Cruelty-free and vegan
Cons
None
[ Read: 21 Best Beauty Products For Glowing Skin ]
While most retinal treatments can be on the drying side, this one from MyChelle is quite mild, as it also contains ceramides. It is perfect for anyone looking to get rid of dark spots and discoloration or to minimize the appearance of fine lines and wrinkles. All you need to do is apply this serum in the evenings and follow up with a moisturizer after 30 minutes.

Pros
Effective anti-aging formula
Evens out skin tone
Improves skin texture
Gets absorbed quickly
Cons
None
This best-selling mask helps reveal a brighter complexion, all thanks to the potent alpha and beta hydroxy fruit acids (AHA and BHA) in it. It delivers spa-grade exfoliation while reducing the appearance of fine lines, wrinkles, dark spots, and discoloration. It is suitable for all skin types, except very sensitive skin due to its AHA/BHA content.

Pros
It helps fight free radicals
Helps even out skin tone and texture
Nourishes skin with vitamins C and E
Cons
None