10 Best Clay Masks For Combination Skin In 2023
An in-between skin type needs specialized care and products to look and feel the best!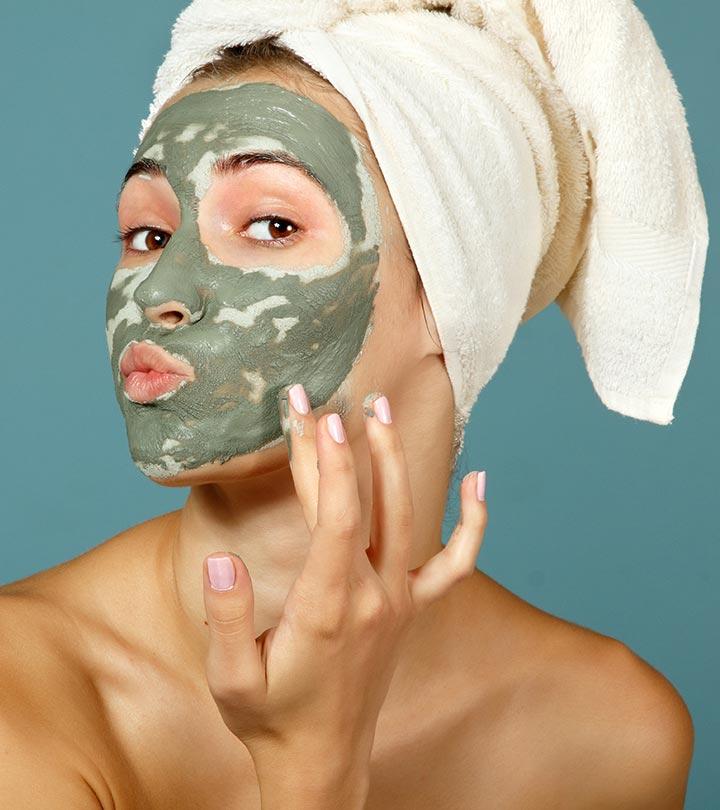 Those with combination skin can have very specific concerns, which can be addressed with clay masks. The best clay mask for combination skin comes with a multitude of skin benefits. People with combination skin have both oily and dry skin issues, and clay masks are effective in treating them. These face masks help remove excess oil production, cleanse the dirt in pores, boost hydration, and provide gentle exfoliation without stripping off the skin's natural oils. Neither do they dry your skin out, nor do they leave it feeling greasy.
While some clay masks are formulated for providing long-lasting hydration to the skin, others can effectively exfoliate the skin and clear the skin pores. But the wide range of clay masks available on the market may leave you confused. To help you out, we have prepared a list of the best clay masks for your skin type. Pick your favorite that is suitable for your skin concern. Using them regularly and as directed can leave you with clearer, plumper, and smoother skin.
10 Best Clay Masks For Combination Skin – Reviews And Buying Guide
In search of a good face mask for combination skin that cleanses your face without leaving it dry and uncomfortably tight? This Plantifique Superfood Marine Clay Mask could be the answer. Featuring mineral-rich kaolin, this mask purifies your skin by getting rid of all the impurities clogging your pores. It also relies on a uniquely formulated combination of superfoods and natural herbs such as aloe vera, spinach, and avocado that nourish and intensely moisturize your skin while also combating redness, acne, and breakouts. Rich in antioxidants, essential amino acids, vitamins, phytonutrients, and minerals, it lends you a glowing and youthful-looking complexion. For best results, use this green clay mask 2 to 4 times per week on your combination skin. Take a look at this video to know more about the product.
Pros
Dermatologically-tested
Age-defying properties
Deeply penetrating feature
Cruelty-free and vegan
Paraben and sulfate-free
Comes with a brush
Cons
May stain clothing
Might be slightly difficult to wash off
Price at the time of publication: $21.5
If you want your at-home facial session to feel more like a spa treatment, give this face mask a try. As the name suggests, this beauty item will hydrate your dehydrated skin, leaving it moisturized and supple. All while the bentonite and kaolin clay blend will sink into your pores to eliminate pore-clogging grime and dirt while also absorbing excess oil and healing your skin. The result is an incredibly smooth and squeaky clean face. Besides how it makes your skin look, you may also love the enchanting fragrance it releases, thanks to the infusion of essential oils such as peppermint, patchouli, and lavender. This rich, creamy formula is made from natural ingredients and contains zero toxins, making it safe to use on all skin types, including combination, oily, and acne-prone skin. You may check more about this productin this video.
Pros
Lightweight texture
Prevents acne
Reverses signs of aging
Cruelty-free and reef-safe
Free of synthetic dyes and fragrances
No parabens, phthalates, and sulfates
It contains botanical extracts that nourish the skin.
Cons
The scent might be too strong for some.
Price at the time of publication: $37.99
If you are a man looking to rid your skin of impurities and prevent premature aging, this Brickell Men's Products Purifying Charcoal Face Mask might be the one for you. This skin-purifying and renewing treatment features kaolin clay, activated charcoal, and MSM as the primary ingredients. This trio eliminates bacteria, excess oil, and impurities stuck in your pores, along with smoothing out uneven skin tone, while the other ingredients slow down the process of aging. It has vitamin E to protect your skin against damaging free radicals and DMAE to improve skin elasticity. Plus, this formula is packed with aloe vera and hyaluronic acid that help hydrate your skin. Not only will your skin become clear and pores less noticeable, but your complexion will also improve.
Pros
Unscented
Cruelty-free
Firms skin
Ideal for all skin types
Made from natural ingredients
Cons
Price at the time of publication: $19.0
As one of the best facial clay masks for combination skin and other skin types that will soothe irritation and extract impurities from the pores, this Australian Pink Clay Mask is a great way to say bye-bye to your dull skin and breakouts. The versatile pink clay guarantees deep cleansing by drawing out dirt and grime and shrinking pores while also providing nourishment. It is also formulated to boost collagen production, leaving you with smoother, brighter, and younger-looking skin. Vegan and gluten-free, this formula also contains various other ingredients like witch hazel, aloe vera, and rosemary leaf oil, which are great for the skin.
Pros
Cruelty-free
Exfoliates skin
Enriched with natural minerals
Has replenishing benefits
Creamy texture ensures smooth application
Cons
May be difficult to remove
Price at the time of publication: $14.0
Enlarged pores, skin dullness, and wrinkles are problems that most women have been struggling to eliminate, and with this clay mask, one can totally get rid of these skin concerns. Suitable for combination skin prone to blemishes, this formula features a blend of Australian kaolin clay and charcoal to exfoliate and purify the skin. Along with sloughing off dead skin cells, it absorbs excess sebum and diminishes pores. But that's not all! This skincare product is infused with many naturally derived ingredients such as antioxidant-rich manuka honey that safeguards cells from free radical damage, mineral-rich red algae that provides a boost of hydration, and aloe vera that calms and heals skin.
Pros
Promotes cell regeneration
Leaves your skin smooth and supple
Not tested on animals
Paraben, sulfate, and petrolatum-free
Does not contain preservatives and harsh chemicals
Cons
Some people may not like the strong honey smell.
Price at the time of publication: $18.37
Combining kaolin clay with heartleaf extract (majorly found in Korean skincare products), this formula is great for skin that needs some TLC in banishing blemishes, soothing irritated complexion, and soaking up excess oil. This oil-controlling clay mask travels deep into your pores to work its magic. A perfect clay mask for sensitive, combination skin, it does not have any damaging effect since it is formulated without phthalates, sulfates, parabens, and silicones. This formula is well-known for its detoxifying and purifying properties and should be part of your skincare regime.
Pros
Clarifies skin
Cruelty-free
Vegan and gluten-free
Sustainable packaging
Suitable for oily and dry skin too
Cons
Price at the time of publication: $23.0
A wash-off clay mask that can be used daily and does wonders for your skin? Yes, please! This uber-creamy mask by Blossom Hill Beauty is made from organic and non-toxic ingredients, making it safe to use every day. Featuring a powerhouse combination of purifying kaolin clay, organic coconut oil, organic aloe, botanical hyaluronic acid, green tea, and vitamin E, it delivers an effective nourishing skincare treatment. This formula works excellently well for combination skin, because not only does it cleanse away impurities and dead skin cells, but it also hydrates and replenishes your skin. Your lifeless and dull skin will become smooth and luminous over time. Aside from being vegan-friendly and cruelty-free, this mask is free from parabens and sulfates.
Pros
Gluten-free ingredients
Has anti-aging properties
Prevents acne
Minimizes blemishes and redness
Eliminates environmental toxins
Works well for normal, dry, and oily skin types too
Cons
May cause a slight tingling sensation when applied
The smell might be too potent for some.
Price at the time of publication: $16.99
A thin layer of this retexturizing mask and 10 minutes is all you need to give your skin a glowing radiance it truly needs. It is infused with Canadian willowherb, which is anti-inflammatory and antibacterial. This pretty pink flower prevents dullness and restores your skin's lost youthful luster. What's more? In addition to Mediterranean rose clay that deeply cleanses to pull out debris and dirt, this mask uses jojoba seeds that exfoliate and polish your skin to shrink pores and lend your skin a refined texture. You can now eliminate all your blackheads and acne scars with this drugstore clay mask for combination skin. Check out this video to learn more.
Pros
Gentle formulation
Vegan and 100% vegetarian
Clarifies and smoothens skin
Also fit for normal and oily skin
Free from parabens, sulfates, parabens, and other harsh chemicals
Cons
Price at the time of publication: $16.0
The ANAI RUI Rose Clay Facial Mask is formulated with rose flower and papaya fruit extracts, collagen, and niacinamide to promote skin radiance and relaxation. These ingredients work together to cleanse and exfoliate the skin, leaving it bright, smooth, and supple. The mask's creamy rose texture revitalizes and hydrates the skin. The mask gently removes toxins from the skin, resulting in a clear and balanced complexion that looks younger, smoother, and cleaner. The collagen in the formula restores skin protein, reduces fine lines and wrinkles, and provides instant moisture and smoothness. Hyaluronic acid helps to bind water and moisture to the skin, while kaolin clay softly polishes and exfoliates the face, absorbing excess oil and impurities for a clean and silky feel.
Pros
Paraben-free
SLS-free
Vegan
Mineral-oil free
Cruelty-free
Exfoliates skin
Enriched with natural minerals
Has replenishing benefits
Creamy texture ensures smooth application
Cons
None
Price at the time of publication: $12.99
From the multiple award-winning brand and makers of some of the best beauty and skincare products comes this oil-absorbing clay mask that's particularly suited for combination, oily skin. It features all those elements that can give your skin a clearer and brighter complexion without intensifying acne or irritation. Formulated with a unique blend of natural mineral clays, this formula gently draws out oils and debris lodged in your pores; it cleans without over-drying your skin. It also relies on sea whip, oatmeal, and aloe vera to calm and revitalize your skin. With this face mask, you won't have to worry about skin irritation or itching as it's free of fragrance, paraben, alcohol, peppermint, and menthol.
Pros
Shrinks pores
Easy to rinse off
Softens and refreshes skin
Lends a shine-free complexion
Gentle and non-irritating
Recyclable packaging
Leaping Bunny Certified Cruelty-free
Cons
Might sting the skin initially
Price at the time of publication: $24.0
There it is, our most favorite clay masks for combination skin! If you're still unsure about picking the right one, look at the points given below.
How To Choose Clay Mask For Combination Skin?
Combination skin-friendly ingredients: As mentioned earlier, combination skin means you have both oily and dry skin. Hence, you should pick products that are formulated to work on this skin type. Besides clay, look for oil-absorbing or pore-cleansing ingredients like activated charcoal or vitamins C and E, which can unclog and diminish pores. Plus, to keep your dry areas hydrated and restore lost moisture, the clay mask should have elements like hyaluronic acid and aloe vera.
Types of clay: There are mainly 2 types of clay that work well for combination skin — kaolin and bentonite clay masks. If you have congested pores and suffer from acne-prone skin, bentonite clay is the best option for you as it is super absorbent and efficient in cleaning out pores. However, it can irritate sensitive skin. Whereas, kaolin clay is gentle yet effective and absorbs excess oil.
Non-irritating: Once you have decided what ingredients work for you, the next step is to check whether the clay mask is formulated without stress-causing ingredients and harsh chemicals. This will ensure better results as it won't trouble your skin or aggravate your skin condition.
Usage and application: The usage varies from brand to brand. While some clay masks are recommended to be used once or twice a week, others are safe to use every other day. As for the application, always follow what the product suggests. Because leaving the mask for a short time won't soak up grease or dirt, and leaving it for longer than recommended can dry up your face.
Why Trust StyleCraze?
The author of this article, Kirtana Divakar, is a skincare enthusiast and loves staying updated on skincare solutions. She read several product details and customer reviews to compile a list of the best clay mask for combination skin for her readers. The items in this list can hydrate your skin and make it plumper, clearer, and smoother. They are a must-buy.
Frequently Asked Questions
How often should you use face masks for combination skin?
This generally depends on each brand, the kind of face mask you use, and your skin concern. While some face masks are best used once a week, others can be used every day or alternate days.
Is a mud mask good for combination skin?
Yes, a mud mask works extremely well on combination skin as it not only draws out excess oils and tightens pores but also restores moisture in your skin.
Is it good to use a facial mask every day?
Only some facial masks are ideal for everyday use. For instance, sheet masks are excellent for daily usage if you want to boost the hydration levels in your dehydrated skin. A clay mask such as Blossom Hill Beauty Radiance Soothing Face Mask can also be used daily since it is toxin-free.
Why do I get pimples after using a clay mask?
Clay masks penetrate deep into the skin and draw the toxins out. Unfortunately, in the process, it can develop a few pesky pimples on the skin.
Which is better, charcoal or clay mask?
Charcoal masks eliminate excess oil and pore toxins but leave the skin dry and patchy. In contrast, clay masks clean the pores while hydrating and nourishing the skin. Thus, a clay mask is better in this way.
What is the difference between clay and mud mask?
Clay masks seep into the skin and draw excess dirt and oil. They offer skin tightening and exfoliation benefits. On the other hand, Mud masks rejuvenate tired skin and improve the texture and look of your skin. In addition, they stimulate blood flow and add shine to your facial skin.
Should I apply a clay mask on a wet or dry face?
Apply the clay mask on slightly damp skin to allow the ingredients to penetrate the skin better.
How often should I use a clay mask?
Use a clay mask twice a week to enjoy clean and rejuvenated skin.