7 Best Shampoos For Oily Color-Treated Hair In 2022
Wash off the grease, not the color, with these gentle yet effective shampoos.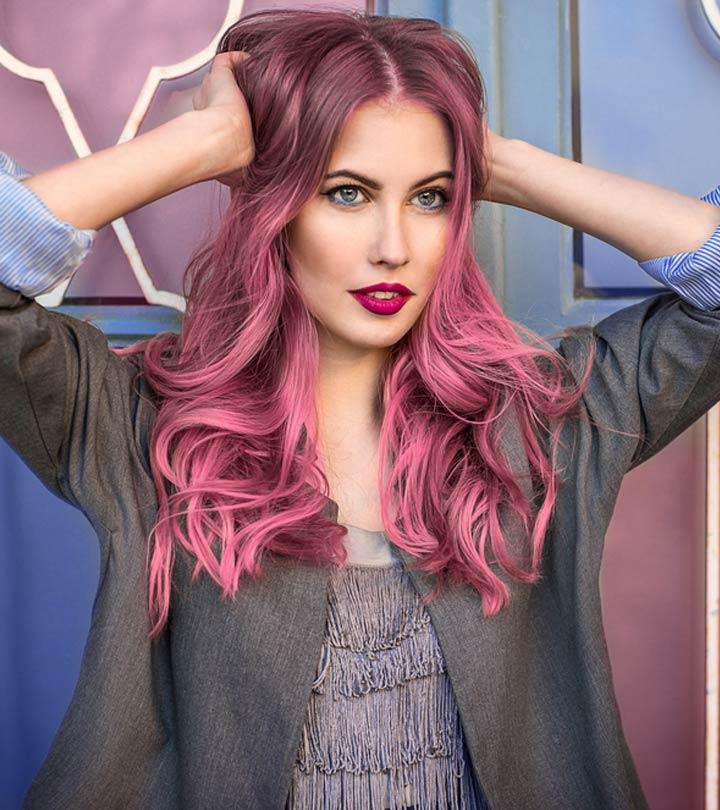 You know you have found yourself the best shampoo for oily, color-treated hair if your tresses stay grease-free and your color doesn't disappear shortly after you got it done. If you haven't been so lucky yet, keep reading!
Oily hair is a result of overactive sebaceous glands that produce a lot of sebum (naturally produced substance that moisturizes our skin, scalp, and hair fibers). Sebum is absolutely crucial but excessive sebum can be problematic. Firstly, it makes the hair look greasy and life-less. Secondly, it sticks to the hair fibers and form a barrier that prevents color from locking in properly and spreading evenly. Using aggressive anti-oil shampoos is counterproductive as that only dries out the scalp and pushes the sebaceous glands into super high gear which translates to even more oiliness. The trick is to find a shampoo designed for oily, color-treated hair which can help you maintain your hair color while gently cleansing it off excess oil. To help you find just the right product, we have got a carefully compiled list with the 7 best shampoos that fit the bill.
7 Best Shampoos For Oily Color-Treated Hair You Should Get Your Hands On!
Degrease from Maple Holistics is a moisture control shampoo that helps eliminate oil build-up oil from the scalp and hair. This clarifying shampoo for oily-color treated hair is made from natural ingredients like lemon, basil, cypress, peach kernel, rosemary, and jojoba oils along with keratin, which keep greasiness at bay and revitalize the hair with vitamins, collagen, and antioxidants. This scalp balancing shampoo ensures that the hair's pH balance is intact and promotes a healthy sebum secretion. It also works as an alternative hair loss solution and is free of parabens and sulfates. You may check this video for a better understanding of this product.
Pros
Made with natural ingredients
Paraben-free
Sulfate-free
Maintains pH level of the scalp
Cruelty-free
Cons
It may not help reduce dandruff.
Price at the time of publication: $11.95
This therapeutic-grade oil treatment from Honeydew helps remove extra sebum from the scalp and hair. It helps control the sebum secretion while balancing the scalp's pH levels and reduces product build-up. This volumizing shampoo helps soothe an itchy scalp and promote the growth of healthy cells. It is composed of natural ingredients like lemon, sage, rosemary, tea tree, argan, jojoba and keratin. It is free of sulfates and helps in maintaining your mane. You can be sure of making an ethical choice while buying it as this plant-based shampoo has not been tested on animals.
Pros
Helps remove excess oil
Made of natural ingredients
Cruelty-free
Sulfate-free
Cons
Price at the time of publication: $12.95
Feel fresh and awakened after shampooing your hair with the lingering smell of peppermint from the Tree to Tub shampoo. It is made from the saponin-rich, naturally anti-bacterial and anti-inflammatory wild soapberry. This healing shampoo is also enriched with the goodness of organic ingredients like argan oil, aloe vera, chamomile, olive leaves,coconut oil, and pomegranate extract among others. It acts as a one-stop solution for all your oily hair problems without affecting your natural hair or color-treated tresses. Suitable for all types of hair, this gift of Mother Nature is cruelty-free, vegan and devoid of harmful chemicals and irritants at the same time maintaining the gentle pH balance of the scalp to ensure healthy, grease-free hair.
Pros
Made of natural ingredients
Cruelty-free
Vegan
Gluten-free
Devoid of harsh chemicals and irritants
Cons
It may not help eliminate frizz.
Price at the time of publication: $35.98
Tired of greasy and oily hair? Try switching to the Maple Holistics Degrease shampoo that is composed of a hair volumizing formula. This clarifying shampoo for oily color-treated hair reduces dandruff, grease, and product build-up. It also adds volume and an impeccable natural shine to your hair. Packed with the goodness of lemon, rosemary, peach kernels, jojoba, cypress, and basil, this purifying shampoo helps in revitalizing your locks. It is free of harsh chemicals and irritants like sulfates and parabens and is a gentle shampoo, which works on the hair follicles and controls the secretion of the sebaceous glands.
Pros
Reduces dandruff and oil build-up
Enriched with natural ingredients
Cruelty-free
Free of harsh chemicals and irritants
Cons
A lot of product is to be used for a decent amount of lather.
Price at the time of publication: $11.99
Oily hair can be very lacklustre and flat. But combatting this problem can be easier with the use of Bio Sense raw apple cider vinegar shampoo. Apple cider vinegar is an excellent degreaser that helps keep the hair clean. Its inclusion along with the extracts of jojoba and keratin helps in cutting out greasiness from your colored hair, while locking in moisture and restoring a healthy sheen. This moisture-rich, invigorating shampoo is free of sulfates and incorporates organic ingredients, which help boost hair growth.
Pros
Made with organic ingredients
Sulfate-free
Boosts hair growth
Cruelty-free
Cons
Some might not like the smell
Price at the time of publication: $12.77
The Tru Moroccan Anti Dandruff Shampoo is a clarifying shampoo of professional quality. It helps get rid of dandruff and itchiness of the scalp and promotes hair growth while removing excess oils. The composition includes a powerful blend of essential oils and herbs like witch hazel, rosemary, tea tree, horsetail, jojoba, apricot, wheat germ, aloe vera, dandelion, ginger, thyme, hops, willow bark, wild geranium, cilantro, asparagus, chamomile, and others. It is a go-to product if you wish to keep sebum off your colored tresses, while leaving a citrusy smell on them. Let your hair get a voluminous look, leaving the flat, listless look behind with the use of this shampoo for oily color-treated hair with dandruff.
Pros
Packed with natural ingredients
Sulfate-free
Cruelty-free
Paraben-free
Phthalate-free
Vegan
Cons
Price at the time of publication: $20.0
Forget your greasy hair woes by trying out the gentle GK hair balancing shampoo from Global Keratin. Devoid of any harmful chemicals and irritants like sulfates, parabens, phthalates, gluten, DEA, TEA etc, it ensures the overall health of your colored mane and keeps greasiness at bay. Its all-natural formula consists of ingredients like plant extracts, natural seed oils and keratin, which lend the strands strength, hydration, and protection against damage. This shampoo for oily colored hair cleanses all types of hair and maintains the pH level of the scalp.
Pros
Restores and balances pH level
Made from natural ingredients
Free of harsh chemicals and irritants
Repairs and fortifies hair and scalp
Cons
Might leave hair dry at times
Price at the time of publication: $25.9
It is very important to make a very careful and well-informed decision while choosing a shampoo for your hair, as it can make or break the texture and look of your lustrous mane. Here are a few things to keep in mind when choosing a shampoo for oily color-treated tresses.
How To Choose The Right Shampoo For Oily Color-Treated Hair
Choosing the right kind of shampoo for an oily mane that is color-treated can sometimes be a tough task. But we are here to make it easy for you. Before heading out to buy a shampoo, one should keep in mind the following points:
If you have a dry scalp and oily hair, choose a hydrating and moisturizing shampoo, which also adds volume to the hair. For an oily scalp and hair, strengthening and volumizing shampoos work best.
If you have thin, oily hair, opt for a shampoo that clarifies the hair and scalp and adds volume. If your hair density is more, you will need a hydrating and balancing shampoo that makes your hair bouncy.
Look for a shampoo with a host of natural ingredients rather than chemicals, so that oiliness is kept at bay and the color of the hair doesn't fade away too soon.
Your hair might also become too dry if you color it frequently. As a result, the sebaceous glands on the scalp might produce more oil. Therefore, a good strengthening and balancing shampoo might work well in keeping greasiness of your colored tresses away.
Why Trust StyleCraze?
Vaishnavi Kothuri is a skin and hair care enthusiast who loves writing detailed beauty articles for her readers. She has carefully browsed through online reviews and compiled the best recommendations on shampoos for oily, color-treated hair. She has evaluated and analyzed the product specifications and user feedback before curating this list. The recommended products are made with natural ingredients that remove excess oil from the scalp and keep your hair healthy and beautiful!
Frequently Asked Questions
Is it safe to use shampoo for oily color-treated hair regularly?
No. Unless it is a very mild, color-safe shampoo, you should wash your hair every second or third day. Daily washing with a regular shampoo will strip your hair's natural oils and also wash down the vibrancy of your hair color.
How do you keep oily colored hair from getting more greasy?
Keep these points in mind to keep oily, colored hair from getting greasy.
• Wash your hair with the right shampoo and avoid conditioning your scalp.
• Use a scalp exfoliator once or twice a week.
• Avoid using hair care products with silicone.
• Rinse your hair with apple cider vinegar.
• Use antibacterial shampoos enriched with tea tree oil to prevent scalp itchiness and dandruff.
• Plan your washes after your sweatiest workouts and busy days.
Recommended Articles