The Top 10 Aloe Vera Gels To Treat Acne In 2022
Say goodbye to those pesky acne marks on the face with these toxin-free aloe vera gels.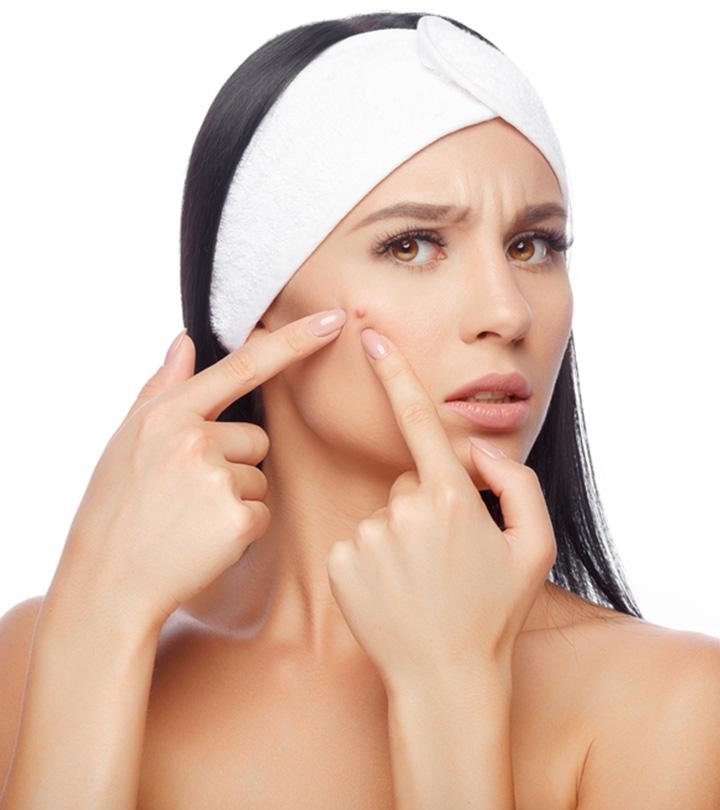 You must be tired of trying multiple treatments for acne with no results. We are happy to tell you that there is a one-stop solution for getting rid of those pesky acne marks. Presenting to you the best aloe vera gels for acne! Aloe vera contains essential nutrients that help in soothing inflammation and reducing the acne marks on your skin. Here is our list of the best aloe vera gels for acne you can try out!
Top 10 Aloe Vera Gels To Treat Acne In 2022
What's not to love about this aloe vera gel that is made of natural and organic ingredients, and is a favorite of hundreds of people worldwide? To start with, Seven Minerals Organic Aloe Vera Gel is prepared using freshly cut, organic aloe leaves (grown in the USA). It uses the cold-pressed method to preserve its natural properties. Regular use of this gel can improve acne and clear up existing scars. It is also enriched with the goodness of vitamin C, which aids in repairing damaged skin cells. You won't believe how fast your skin absorbs this gel without leaving any sticky residue, resulting in smooth and supple skin. The Seven Minerals Organic Aloe Vera Gelcan work wonders for your skin. If you need further convincing, check out this YouTube video.
Pros
Made from 100% natural and 99% organic ingredients
Does not contain carrageenan, xanthan, and carbomer
Uses seaweed extract as a natural thickener
No sticky residue
Fragrance-free
Soothes skin
Lightens dark spots
Affordable
Does not need refrigeration
Cons
Not suitable for sensitive skin
When it comes to skincare products, Amara Beauty has always been a crowd pleaser. They produce premium skincare products, and their aloe vera gel is no exception. It is made of 99.7% organic, cold-pressed aloe vera and contains vitamin C, which is excellent for treating acne. It is paraben, color, alcohol, and fragrance-free, and is vegan, making it ideal for sensitive skin. This gel has a thin consistency, which absorbs into the skin quickly, leaving no stickiness behind. All you will be left with is silky-smooth and blemish-free skin. The best part is that the brand promises a 100% money-back guarantee! If you want to know more about the benefits of the Amara Beauty Aloe Vera Gel, have a look at this YouTube video.
Pros
No sticky residue
Fragrance-free
Vegan
Cruelty-free
No added color
Paraben-free
Alcohol-free
Does not need refrigeration
Suitable for sensitive skin and dry skin
100% money-back guarantee
Cons
Are you looking for a gel that is affordable and reduces your acne in no time? If yes, this aloe vera soothing gel by the Nature Republic is the one for you! Made in Korea, it is rich in organic aloe vera leaf extract, which makes it ideal for sensitive skin. Furthermore, it is paraben-free and does not contain any mineral oil and artificial colors. This gel is easy to apply and does not leave a sticky residue behind and does not clog pores. Besides reducing acne, it has hydrating, soothing, and anti-inflammatory benefits. Plus, it is compact and convenient to carry and makes for a perfect on-the-go moisturizer. Don't forget to check out this video for a detailed review of the Nature Republic Aloe Vera Soothing Gel.
Pros
Anti-inflammatory properties
Paraben-free
Travel-friendly size
No artificial color
Mineral oil-free
Cost-effective
Can be used as a base for makeup
Cons
Some may find the smell of alcohol overpowering
Everyone gets acne at some point in their life, which can be frustrating and difficult to get rid of! That's when NaturSense Organic Aloe Vera Gel comes in handy! Packaged in an eco-friendly bottle, this cold-pressed, and charcoal filtered gel is made from freshly harvested aloe vera leaves and is enriched with essential vitamins, minerals, proteins, and enzymes. It has anti-bacterial, antiviral, and antifungal properties, which not only soothes acne but also heals cuts and sunburns. In addition to that, it is cruelty-free, gluten-free, fragrance-free, and free from other harsh chemicals.
Pros
Gluten and cruelty-free
Paraben, aloin, colorant, and fragrance-free
Affordable
Comes in an eco-friendly and BPA-free bottle
Thin and silky consistency
Safe to use for adults and children
Cons
Not suitable for sensitive skin
Are you tired of using harsh chemicals and prescription drugs to soothe acne and lighten dark spots? Switch to ArtNaturals Organic Aloe Vera Gel! Rich in antioxidants, minerals, and other nutrients, it contains organic cold-pressed, premium-quality aloe vera, which has moisturizing qualities, making it an in-demand beauty and skincare product. This all-natural aloe vera gel quickly sinks into the skin, ensuring long-lasting hydration and moisturization. It not only works to promote acne healing but also works for sunburns, rashes, dry skin, and dandruff.
Pros
100% natural
No added colors
Cruelty, alcohol and fragrance-free
Vegan
Quick-absorption formula
Long-lasting moisturization
Cons
Thin and water-like consistency
We know that living with acne can be difficult and painful. But don't lose hope yet! Green Leaf Naturals Pure Aloe Vera Gel will help you fight your acne problems easily. Every bottle of this gel contains 99.8% pure, cold-pressed, and charcoal-filtered aloe vera gel made from organic aloe vera. With the addition of vitamin C, it can clear pimples and reduce scars. It also comes with 0.25% safe preservatives, which eliminate the need for refrigeration, and uses xanthan as a natural thickener. This aloe vera gel works as a great ingredient to make homemade products ranging from soaps to massage oils.
Pros
Organic
Easy and smooth application
Highly versatile
100% money-back guarantee
Ideal for normal and oily skin
Cons
Not suitable for dry skin
Some might find the scent a little too strong
Let's take a minute to appreciate this exceptional aloe vera gel by Earth's Daughter as it does a fantastic job in treating acne and maintaining healthy skin. This Texas-grown product is considered to be one of the purest products available in the market! Rest assured that it works amazingly well on your skin as it treats comedonal acne, clears out dark spots, prevents sunburns, and moisturizes your skin, among other issues. This gel is alcohol-free, fragrance-free, and does not contain petrochemicals or parabens, making it ideal to be used on children and pets as well. Along with these fantastic properties, Earth's Daughter also provides a 100% satisfaction guarantee.
Pros
Natural and organic
Cold-pressed
Can be used on sensitive skin
Free from harmful chemicals and alcohol
Includes an e-book with the best DIY aloe vera uses
Cons
Tends to be a little runny
This aloe vera gel contains 99% pure aloe vera that moisturizes and soothes your skin. It is enriched with natural antioxidants and minerals, which make your skin healthy and younger-looking. The gentle formula is absorbed quickly into the skin without leaving any sticky residue. This product helps treat acne, cuts, sunburns, or other skin irritations.
Pros
Non-sticky
Absorbed quickly
Alcohol-free
Gentle formula
No added colorants
Cons
None
Majestic Pure Aloe Vera Gel is made using organic and natural aloe vera to work from deep within to clear out your skin. It has a thin and watery consistency that works well as a daily moisturizer. While we are raving about its many benefits, it's worth mentioning that it also revitalizes and softens irritated, sun-exposed, and moisture-deprived skin. Grown and made in the USA, this aloe vera gel contains a huge amount of vitamins, minerals, choline, and folic acid, all of which help improve the skin's appearance.
Pros
Certified organic and natural
Chemical-free
Vegan
No added colors
Absorbs quickly
Cons
Not thick and gel-like
The natural aloe vera fragrance may be overpowering
Another amazing aloe vera gel made from extracts of aloe vera leaves is this aloe vera gel moisturizing lotion and facial cream by KANGMOON. Its gel-like consistency makes it glide smoothly and absorb quickly. Regular application of this gel is not only effective in reducing acne, but it also delays melanin formation, promotes cell metabolism, and gradually reduces pigmentation in the skin. It also has a soothing and moisturizing effect on sensitive skin.
Pros
100% natural
Non-greasy
Long-lasting moisturization
Improves dry skin
Suitable for sensitive skin
Absorbs quickly
Easy to apply
Cons
Contains carbomer, which is a synthetic thickening agent
Having a good understanding of what your skin needs is extremely important, in this case, acne-prone skin. In the next section, we will tell you how to find the right product.
How To Choose The Best Aloe Vera Gel
Here are a few points to consider when you are buying an aloe vera gel:
Firstly, make sure the product contains the highest percentage of aloe vera extract. There are very few brands that make 100% organic and natural aloe vera gels. So even if it says 98% or 99%, it should be good.
Secondly, aloe vera gel is mainly used to tackle skincare and hair fall problems, so the product should not contain any ingredient that can cause damage. Avoid products that use alcohol, synthetic thickener, or harsh chemicals.
Thirdly, every product will have a shelf life. If not for a decade, and aloe vera gel will last for a year or two. Ensure it only contains skin-friendly preservatives like potassium sorbate, ascorbic acid, to name a few.
Be it gel-like or thin consistency, it should be easy to apply on the skin and should absorb quickly. Also, look for something that doesn't leave behind a sticky residue.
Apart from a few essential oils, a good aloe vera gel should not contain artificial fragrance. And as for the color, a pure and real aloe vera gel will be transparent and not green. So, take extra care while buying one.
Why Trust Stylecraze?
Oyendrila Kanjilal is a certified skin care coach who writes and reviews skin care products. After extensive research, she wrote this post on the best aloe vera gels to treat acne and has studied many customer reviews to present the list of pros and cons. In addition, the features that make these aloe vera gels stand out from the rest in the market, such as ingredient, absorption rate, texture, and much more, were specified. She has also given a short buying guide to help you make an informed decision.
Frequently Asked Questions
Is aloe vera gel good for acne?
Yes. Aloe vera has antibacterial properties and can be used to treat acne. It can be directly applied to the skin to kill acne-causing bacteria. Aloe vera is a natural astringent, which works in cleaning out impurities from deep within the skin. This will further reduce the formation of pimples and breakouts.
What is the best aloe vera for acne?
The more organic and natural the aloe vera gel is, the better. And there is nothing better than a gel containing the highest amount of aloe vera extract and a few skin-friendly ingredients like vitamin C and seaweed extract.
Which brand of aloe vera gel is best?
All the products mentioned above are some of the best that are available in the market. We recommend Seven Minerals Aloe Vera Gel because it is gentle on the skin and includes natural aloe vera extract and natural seaweed extract. It uses fewer preservatives and does not contain harsh chemicals and skin irritants. We also love the fact that it works as an excellent moisturizer.
How long does it take for aloe vera to work on acne?
Aloe vera should be applied twice daily to see any improvement. It takes a few weeks to a couple of months for visible results.
How often should you apply aloe vera for acne?
Aloe vera gel contains anti-inflammatory properties that help treat acne, pimples, and acne nodules. Apply aloe vera gel to the pimple spot three times daily for better results.
How to apply aloe vera gel to soothe acne?
Apply a small quantity of aloe vera gel to your clean face to increase blood circulation and kill harmful bacteria that cause acne. You can also treat your acne breakout by leaving the aloe vera gel overnight and washing it off in the morning to reduce redness.
Are there any side effects of using aloe vera for acne?
No. Aloe vera is entirely natural and does not damage your skin. However, aloe vera gel may initially cause a tingling or burning sensation for people with dry or sensitive skin.
Recommended Articles:
Best Aloe Vera Gels For A Clear And Healthy Skin
Aloe Vera For Acne: 9 Ways To Use Aloe Vera For Pimples
Aloe Vera Face Packs For Different Skin Types
Best Aloe Vera Skin Care Products For Every Skin Type