9 Best Products To Use After Microdermabrasion
Soothe and protect the micro wounds on your skin to recover healthily and pain-free.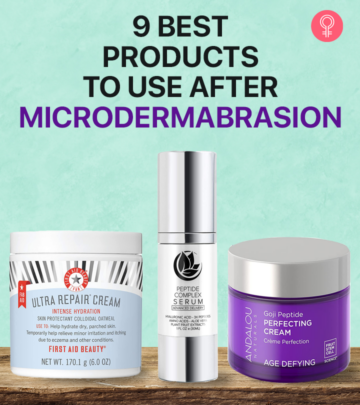 If you are looking for the best products to use after microdermabrasion, we are here to help. This article will talk about the best options available in the market. Although microdermabrasion is a procedure that offers gentle exfoliation to compromised skin, can treat mild skin concerns such as enlarged or clogged pores, dull skin, mild symptoms of acne, skin pigmentation, light scarring, stretch marks, fine lines, and minor wrinkles, it requires some post-procedure care too. This care includes keeping the skin safe from aggressors and keeping it moisturized and hydrated. So, check our list of the 9 best options below.
9 Best Products To Use After Microdermabrasion
First Aid Beauty's Ultra Repair Cream provides intense moisturization to the skin. Catie Wiggy, licensed esthetician, says, "After a microdermabrassion the top layer of dead skin cells has been removed, therefore your skin is more receptive to the products you apply next and this fast-absorbing product comes in a light, whipped texture and offers long-term hydration to distressed and dry skin." It gives relief to eczema-prone skin without making it greasy. The formula is enriched with colloidal oatmeal, which relieves itching and irritations. Ceramides and shea butter strengthen, moisturize, and protect the skin barrier, while FAB antioxidant booster wards off environmental aggressors. Allantoin soothes the skin and licorice root, feverfew, and white tea provide nourishment. It leaves flaky skin feeling hydrated and smooth after just one use. The formula has been clinically proven to improve skin hydration by 169% almost instantly.
Key Ingredients: Oatmeal, Shea butter, Licorice root
Pros
 Vegan
 Gluten-free
 Nut-free
 Alcohol-free
 Artificial colorants-free
 Artificial fragrance-free
 Lanolin-free
 Mineral oil-free
 Parabens-free
 Petrolatum-free
 Phthalates-free
 Propylene glycol-free
 Sulfates-free
 Talc-free
 Formaldehydes-free
 Oxybenzone-free
 Coal tar-free
 Triclocarban-free
 Ethanol-free
 Methanol-free
 N-butyl alcohol-free
 Oil-free
 Parthenolide-free
 Soy-free
 Safe for sensitive skin
 Nano-free
 Cruelty-free
Cons
None

Price at the time of publication: $38.0
The Andalou Naturals Goji perfecting cream firms and lifts the skin with its innovative fruit stem cell science. Formulated with 71% organic ingredients, the cream renews skin cells and removes visible signs of aging. It also repairs deep dermal damage and regenerates healthy cells. A bioactive 8 berry complex including Resveratrol and Goji berry provides potent antioxidants that fight environmental stressors and help increase collagen and elastin in the skin. This, in turn, improves dermal immunity. Aloe vera provides deep hydration that protects the skin's moisture barrier.
Key Ingredients: Resveratrol, Goji berry, Aloe vera
Pros
 Sulfate-free
 GMO-free
 Petrochemicals-free
 Phthalates-free
 Paraben-free
 No synthetic fragrance, colors, or preservatives.
 pH balanced
 Hypo-allergenic
 Cruelty-free
Cons
Price at the time of publication: $11.99
This Renewing Night cream from Weleda is a certified natural product for skin care. It nourishes the skin and restores elasticity and vitality. Catie Wiggy, says, "Using a good night cream well help amplify your post-procedure results, and this formula is packed with aromatic wild musk rose seed-oil, replenishing evening primrose, myrrh and other nourishing ingredients to hydrate the skin while you rest." The formula offers all-night hydration to minimize fine lines and make the skin supple. It is suitable for all skin types.
Key Ingredients: Wild rose extracts, Sweet almond oil, Olive oil
Pros
 No synthetic preservatives
 Fragrance-free
 Colorant-free
 Mineral oil-free
 Paraben-free
 Phthalate-free
 Dermatologically tested
Cons
Price at the time of publication: $21.37
This Peptide Complex Serum from Microderm GLO is great for toning and tightening the facial skin. Its 100% pure and natural formula keeps the skin hydrated and nourished and boosts collagen synthesis. It also enhances skin tone, increases skin elasticity, treats dullness, and signs of aging. The cream unlocks your skin's natural radiance with natural hyaluronic acid, Japanese green tea, 3X active peptides, aloe vera, and honeysuckle. This is a concentrated formula that supplies hydration and moisturization to make your face radiant. It also reduces dark spots and blemishes while making the skin smooth and enhancing the complexion.
Key Ingredients: Hyaluronic acid, Japanese green tea, Aloe vera
Pros
 Natural ingredients
 Dermatologist-recommended
 Easy to apply
 Paraben-free
 Pump dispenser
Cons
Price at the time of publication: $35.99
This is a chamomile-infused moisturizer that soothes skin irritations and inflammations. It detoxes the skin, reduces redness, and offers healing properties. Chamomile revitalizes and balances skin, while calendula and grape leaf extracts are antioxidants that offer protection. Shea butter moisturizes the skin and is also an excellent emollient that replenishes the skin's moisture barrier. The sunflower oil is enriched with Vitamin A, D, and E and offers protection from further damage. Aloe vera soothes and refreshes the face. The BioComplex in this moisturizer acts as an antioxidant booster with Coenzyme Q10 and Alpha Lipoic Acid, which together reduces the appearance of age signs and boosts hydration and nourishment.
Key Ingredients: Chamomile, Calendula, Grape leaf extract, Shea butter
Pros
 Organic
 Biodynamic
 Natural
 Sustainable
 Cruelty-free
 Paraben-free
 Phthalate-free
 SLS-free
 No propylene glycol
 No Animal Testing
Cons
Price at the time of publication: $115.97
The moisturizer is enriched with calendula that soothes the skin and sea buckthorn that hydrates it. Sunflower has moisture-retaining properties that keep the skin's moisture levels intact. The cream is also rich in vitamins A, C, and E, antioxidants, phytosterols, carotenoids, and essential fatty acids like Omega 3, 6, 7, and 9 oils. It has a fast-absorbing texture to provide nourishment and deep hydration to the skin. The cream has a refreshing scent of neroli, sandalwood, and sour rose. It replenishes dull, tired skin overnight, and you wake up with replenished skin every morning.
Key Ingredients: Calendula, Sea buckthorn, Black currant seed
Pros
 Non-toxic
 Vegan
 Cruelty-free
 Paraben-free
 Petrochemical-free
 Sulfate-free
 No synthetic fragrance or color
 Glycol-free
 Silicone-free
 PEG-free
Cons
 Not suitable for dry skin
Price at the time of publication: $52
The Biossance moisturizer is a gel-based formula enriched with squalane and probiotics. It is gentle and soothes skin affected by rosacea or redness. It also reduces enlarged pore size and restores skin radiance. The weightless moisturizer minimizes the damages from daytime stressors to make the skin visibly brighter. Red seaweed and ginger extracts in the moisturizer boosts hydration with its fast-absorbing property, which is essential after a microdermabrasion session. The gel moisturizer can be used with oils or on its own.
Key Ingredients: Red seaweed, Ginger extracts
Pros
 PEG-free
 Paraben-free
 No synthetic fragrances
 Vegan
 Cruelty-free
 Non-toxic
Cons
None

Price at the time of publication: $46.8
CV Skinlabs brings you a calming moisturizer with advanced therapy for sensitive and dry skin. It is rich in antioxidants that reduce redness and repair the skin by boosting hydration. This cream is also suitable for skin that is prone to eczema and chronic dehydration. It is also ideal for soothing irritated skin due to the effects of microdermabrasion, retinol use, laser treatments, excess sun exposure, chemical peels, or chemotherapy. The formula includes Beta Glucan, which promotes collagen production and diminishes wrinkles and fine lines. Aloe vera soothes, calms, and moisturizes the skin while oat extract reduces redness, irritation, and itching. It repairs the skin with its proprietary Tri-Rescue Complex and its anti-inflammatory formula aids in skin-soothing and wound-healing to induce a healthy glow.
Key Ingredients: Beta glucan, Aloe vera, Oat extracts
Pros
 No synthetic fragrances & dyes
 Paraben-free
 Formaldehyde-free
 1,4-dioxiane-free
 Hydroquinone-free
 Phthalate-free
 No mineral oil/petrolatum
 Silicone-free
 No propylene glycol
 SLS/SLES-free
 PEG/PPG-free
 Triclosan-free
 No disodium EDTA
 Hydroquinone-free
 Talc-free
 MEA-DEA-TEA-free
 No chemical sunscreens
Cons
Price at the time of publication: $52
This advanced moisturizer is enriched with peptides and collagen. Powerful multi-peptides like Matrixylsynthe'6, Argireline, and Pycnogenol also have antioxidants that promote healthy collagen synthesis, which, in turn, increases elasticity and smoothness of the skin. Panthenol in the formula is a great humectant that draws moisture to the skin. Jojoba seed oil moisturizes skin, while reducing signs of dryness and flakiness, and also soothing redness and stress. Vitamin C and green tea offer intense moisturization to make the skin soft, supple, and youthful.
Key Ingredients: Multi-peptides, Jojoba seed oil, Panthenol, Green tea
Pros
 100% vegan
 Cruelty-free
 Paraben-free
 Sulfate-free
 No mineral oil
 Lanolin-free
 Gluten-free
 GMO-free
Cons
Price at the time of publication: $23.08
Microdermabrasion is highly beneficial for your skin. But it requires a steady hand and the right products to get the best results. For starters, your post-dermabrasion skin will require hydration, moisture, and protection. However, any regular moisturizer might not give your the desired results. This is why we have put together a guide that will help you find the best post-microdermabrasion products. Check it out below!
What To Consider When Buying Products To Use After Microdermabrasion
Hydration: Look for an ultra-hydrating cream since your skin needs extra moisturization after microdermabrasion. Go for botanical ingredients like shea butter, licorice root, aloe vera, goji berry, olive oil, and almond oil are hydrating ingredients that your skin needs immensely after microdermabrasion.
SPF: Buy a sunscreen with SPF 30 or above since protecting the skin from UV rays after the procedure is crucial. Check the formula – it should be 5-10% zinc or titanium or 3% mexoryl. Go for a lightweight and non-greasy formula that gets absorbed easily.
Ingredients: After microdermabrasion, choose a cream rich in antioxidants that will heal your skin after the procedure. Aloe vera, rich in anti-inflammatory properties, soothes the skin and alleviates healing. Witch hazel extract has antibacterial properties that keep the skin infection-free. Avoid retinol, alpha- and hydroxyl acids since they might trigger rashes and irritation.
Skin types: Choose a product according to your skin type. For dry skin go for extra hydrating and calming moisturizer to quench the thirst of the skin after the procedure. If you have sensitive skin with rosacea or redness, opt for products enriched with squalane and probiotics.
Chemical-free: Your skin is always ultra-sensitive after microdermabrasion. Look for products free from chemicals like paraben, silicone, phthalate, gluten, formaldehyde, SLS, triclosan, talc, GMO, sulfate, etc. Do not go for synthetic fragrances, colors, and preservatives. All these ingredients are notorious for triggering skin sensitivity and irritation.
Benefits Of Microdermabrasion
Microdermabrasion is a quick way of dealing with several skin care issues. It used to be an in-clinic procedure only. But with at-home microdermabrasion technologies coming in the market, this skin care procedure is gaining more and more popularity. If you are thinking of getting this treatment, below are some benefits to look forward to:
 It unclogs pores.
 It exfoliates dead skin cells.
 It reduces the appearance of minor wrinkles, fine lines, and stretch marks.
 It improves skin tone and uneven texture.
 It treats light scars.
 It minimizes enlarged pores.
 It clarifies sun-damaged skin.
 It reduces dark spots.
 It stimulates collagen production.
 It makes skin brighter and softer.
 It reveals a natural radiance.
 It improves absorption of skincare products.
 It is safe for all skin types.
How To Prepare Your Skin For Microdermabrasion
 Microdermabrasion is a kind of physical exfoliation so avoid using chemical peels or scrubs with retinol 2-3 days before the procedure.
 Avoid any kind of hair removal procedures on the area.
 Wear sunscreen and avoid direct sunlight or tanning beds for a few days before the procedure.
 The treatment should be done on freshly cleansed skin.
Microdermabrasion After Care
 Post-microdermabrasion skin care essentially includes avoiding the sun, and ensuring broad-spectrum protection and heavy moisturization.
 Skin can temporarily become red, dry, and irritated after the exfoliation. Thus, it is important to apply a good hydrating face serum. A soothing sheet mask right after the treatment may also help calm the skin. Use a moisturizer after the mask.
 Avoid using skin irritants like retinol, alpha- and hydroxyl acids, and acne treatments for a few days.
Aftercare DON'Ts:
Avoid makeup for a few days after microdermabrasion.
Avoid direct sunlight for 10-14 days.
Don't pick or touch the treated skin.
Avoid workouts or anything causing excessive sweating for 1-2 days.
Avoid exfoliating the skin for two weeks.
Avoid vitamin A topicals for a week.
Why Trust StyleCraze?
The author, Shiboli Chakraborti, is a certified skin care coach passionate about finding effective and practical skincare solutions for you. Here, she brings you a list of the best products to use after microdermabrasion to keep your skin hydrated and moisturized. Shiboli has spent hours studying each product and its reviews. She has selected each product based on its key ingredients, skin benefits, and suitability for different skin types.
Frequently Asked Questions
Can I use vitamin C after microdermabrasion?
Yes, you can use vitamin C after 48 hours of microdermabrasion. Vitamin C is a good antioxidant that helps your skin after microdermabrasion.
What face cream to use after microdermabrasion?
You can opt for the First Aid Beauty's Ultra Repair Cream after microdermabrasion for intense moisturization.
How long does it take for skin to heal after microdermabrasion?
It can take three months for your skin to heal completely after microdermabrasion.
Can I use aloe vera gel after microdermabrasion?
No. Avoid aloe vera or any vitamin E product for the first week after the microdermabrasion.
Why do I have scratches after microdermabrasion?
Your skin may feel tight as if exposed to sun or wind for too long after the procedure, and it may leave fine red scratches on your face due to skin sensitivity. However, this is temporary and will vanish soon.
Recommended Articles