10 Best Chanel Perfumes For Women – Top Picks Of 2022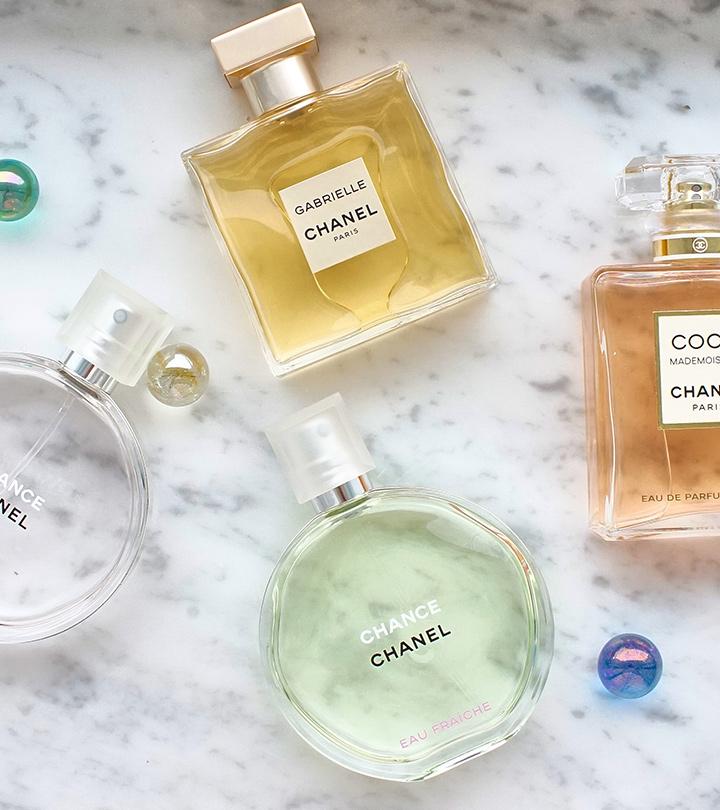 Chanel perfume is the most iconic fragrance in the world. The best Chanel perfume has an instantly recognizable scent. These perfumes have mostly flower scents – jasmine, rose, and lilac and they are known for the complexity of their notes. Gabrielle Bonheur 'Coco' Chanel, the French fashion designer, founded Chanel No.5. In this article, we bring you a list of the 10 best Chanel fragrances suitable for every occasion. Check them out below!
10 Best Chanel Perfumes For Every Occasion
Chanel's Coco Eau de Parfum was introduced in 1984 and designed by Jacques Poige. It has an oriental, spicy fragrance. This opulent perfume starts with coriander, Mandarin orange, jasmine, peach, and Bulgarian rose as the top notes. The mid notes are a complex mix of mimosa, cloves, clover, orange blossom, and rose fragrances. These scents are set on a base of labdanum, amber, sandalwood, tonka bean, opoponax, civet, and vanilla fragrances. Watch this video of the product for more information.
Chance Eau Tendre from Chanel has an accentuated fruity-floral fragrance. It comes in a classic Chanel bottle with a silver cap and a golden accent. The perfume has strong notes of jasmine and rose. It is best described as an intoxicating and feminine scent. This perfume was launched in 2019 and designed by Olivier Polge. Its top notes are grapefruit and quince, rose and jasmine are the middle notes, while white musk forms the base note. Go through this video review for a detailed understanding of the product.
Allure Sensuelle is a modern fragrance from Chanel for sensual and intense women. It is best described as a soft oriental floral fragrance with gourmand accents paired with oriental notes of may rose, frankincense, and amber patchouli. The perfume has heightened notes of bourbon, vanilla, and pink pepper. This fragrance, created by Jacques Polge, was launched in 2006. Its top note fragrances are pink pepper, mandarin orange, and bergamot. Vetiver, dried fruits, iris, rose, and jasmine forms the middle notes, while vanilla, musk, amber, patchouli, and labdanum are the base notes. Check out this video for a detailed review of the product.
N°5 from Chanel is one of the most sought-after fragrances by perfume lovers. It was created by Gabrielle Chanel and perfumer Ernest Beaux in 1921. Since its launch, it has become a symbol of femininity for the chic modern woman. Gabrielle Chanel designed the stopper to be cut like a diamond, inspired by the geometry of the Place Vendome. The bottle is sealed using the baudruchage technique, enhancing the overall experience with a personalized touch. The latest version of the classic Chanel No. 5 perfume was created by Jacques Polge and launched in 1986. Aldehydes, ylang-ylang, neroli, bergamot, and peach are its top notes; iris, jasmine, lily of the valley, and rose form the middle notes, and sandalwood, vanilla, oakmoss, patchouli, and vetiver are its base notes.
[Related: 10 Best Vintage Perfumes For Women]
Chance Eau Fraiche by Chanel was launched in 2007 and perfected by Jacques Polge. It is a floral fragrance blended with sandalwood hints. The top notes have hints of lemon, citron, and cedar. The middle notes contain a blend of pink pepper, jasmine, and water hyacinth, while patchouli, white musk, amber, iris, and teak wood form the base notes.
Although Bleu De Chanel is a men's perfume, it is also coveted by many women. It has a woody aromatic scent with hints of grapefruit that combines citrus and woody scents brilliantly. It was launched in 2010 and made by Jacques Polge. Its top notes have grapefruit, lemon, mint, and pink pepper fragrances. The middle notes are a blend of ginger, jasmine, and nutmeg scents. Finally, the base notes include a sophisticated blend of sandalwood, incense, vetiver, cedar, patchouli, labdanum, and white musk fragrances.
This irresistible and spirited Coco Mademoiselle fragrance was launched in 2018 and created by perfumer Jacques Polge. It has a warm and feminine floral scent with a touch of woodsy hints. Sicilian orange and bergamot are its top note scents. Rose, Jasmine, and other fruity scents form the middle notes of this fragrance, while patchouli, Madagascar vanilla, tonka bean, labdanum, and white musk are its base notes.
The inspiration behind this sparkling floral fragrance is none other than the founder of Chanel herself, Gabrielle Chanel. This fragrance was created by perfumer Olivier Polge in 2017. It is based on a bouquet of four white flowers, including exotic jasmine, fruity green notes of ylang-ylang, sparkling orange blossom, and the finest grasse tuberose. This perfume has a rich, enveloping, and deeply feminine fragrance perfect for the modern woman.
[Related: 9 Of The Best Jasmine Perfumes For Women]
Allure is a floral, fresh, and oriental fragrance with a clean and sheer effect that resonates uniquely for women wearing it. It comes packaged in a well-shaped rectangular bottle, engraved with the brand name, and sealed with a cap enveloped in a simple ring. The fragrance has notes of mandarin, may rose, and vanilla, paired with passion fruit, peony accord, and warm oriental hints.
This luminous and voluptuous interpretation of Chanel's classic fragrance is created by Jacques Polge in 2011. The incredibly soft No 19 Poudre has a wonderfully floral musk scent with woody hints. Its top notes are a blend of galbanum, neroli, and mandarin orange fragrances. Iris and jasmine scents are its middle notes, while the base notes reveal an earthy blend of musk, tonka bean, and vetiver fragrances.
Recommended Articles