Best Armani Perfumes For Women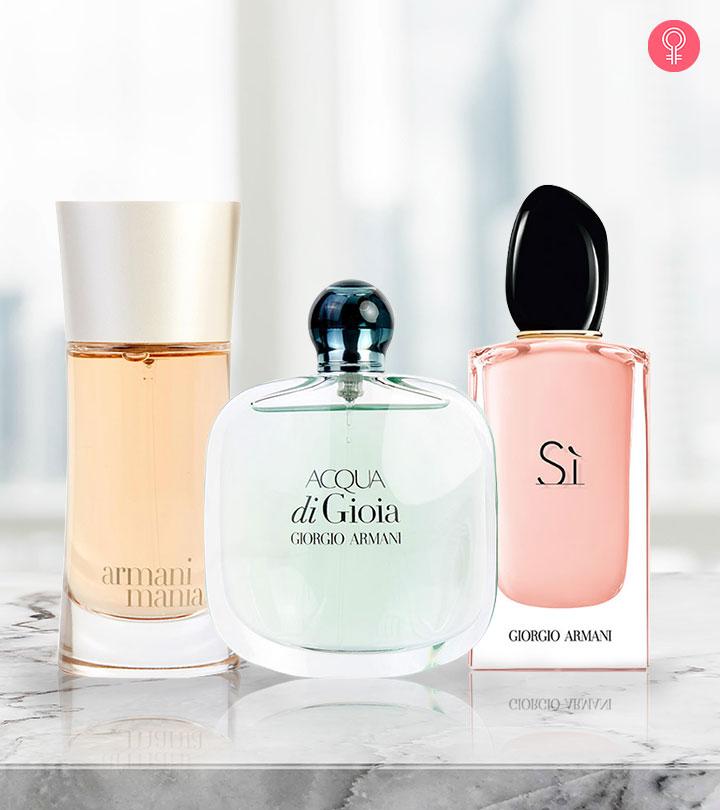 Choosing the best Armani perfume keeps you fresh and intoxicated and, in some cases, may even define your personality. Giorgio Armani delivers a wide range of fragrances, giving you a pleasant experience, and is a popular brand even among fashion illiterates. Its perfumes have fruity, floral, and woody notes. In addition, the scents are inspired by nature. In this article, we have listed some of the best Armani perfumes that can keep you smelling divine for a long time. Keep scrolling to pick your fragrance!
Top 10 Armani Perfumes For Women
Acqua Di Gio By Giorgio Armani Eau De Toilette is inspired by Giorgio Armani's holiday spent on the isle of Pantelleria and evokes the freedom and sweetness of lazy summer days. Alberto Morillas is the nose behind this fragrance that was launched in 1995.
Fresh peach and pineapple hit you with the first whiff, blending smoothly into the heart notes of rich jasmine, freesia, and oakmoss. The musk, sandalwood, and amber in the base notes balance out the fruity and floral elements with a refreshing earthiness. This breezy fragrance is versatile enough to suit different occasions with its inherent serenity and sensuality. Here's a personal review video to help you get a better understanding of the perfume.
Armani Code By Giorgio Armani Eau De Parfum adds an intoxicating excitement to your days and night outs with its captivating scent. It was released in 2006 and evokes the intimacy of a rendezvous with a new person. This perfume is all about passion, seduction, and oozing extravagance.
Sweet orange flower mixes with spicy ginger in the top notes to capture your attention immediately. The heart of the fragrance is jasmine sambac, which creates a beautiful floral scent. The base notes of sandalwood, vanilla, and honey create a lingering scent that keeps you addicted all day long.
Acqua Di Gioia By Giorgio Armani Eau De Parfum is a charming fragrance that was first introduced in 2010. It is designed for the unfettered spirit of a woman who is in sync with nature.
The top notes are a delectably intoxicating blend of crushed mint and Limone Primo Fiore Femminello all the way from Calabria. The floral heart notes consist of dewy peony, aquatic jasmine, and pink pepper. Yellow sugar, cedarwood, and labdanum in the base notes bring the scent to a tantalizing finish. This fresh scent is best suited for casual outings on warm days, evoking the laid back mood of a summer holiday. Here's a detailed review video of the perfume.
Si By Giorgio Armani Eau De Parfum was designed keeping in mind the modern woman: strong yet feminine, elegant yet enigmatic. She represents the soul of Italian chic.
The top notes tantalize your senses with a heady fusion of cassis and black currant extracts. At the heart of this fragrance lies an accord of May rose, neroli absolute, davana, and osmanthus. The base contains patchouli, ambroxan, and a blend of woody notes as a pleasing finish. This YouTuber's review video will help you get a deeper insight into the notes of this luxurious perfume.
Emporio Armani Diamonds By Giorgio Armani Eau De Parfum brims with an enduring and timeless appeal – exactly like a diamond. Wear this perfume to awaken your confident inner goddess who knows exactly what she wants and is not afraid to get it.
Litchi and raspberry open the fragrance, with an indulgent and luxurious accord of rose, freesia, and lily-of-the-valley in the heart notes. Cedarwood, vetiver, vanilla, and patchouli in the base notes round out this gorgeous designer scent. This elegant yet sexy perfume is perfect for showing off the strength and brilliance you know you own.
Armani Mania By Giorgio Armani Eau De Parfum possesses a thrilling sensuality that is fresh and cosmopolitan in its appeal. This perfume is the creation of Dominique Ropion and was introduced in 2004. It strikes an admirable balance between the energetic and the delicate.
The sophisticated fragrance opens with mesmerizing top notes of green mandarin, black currant, bergamot, bay leaf, and pink pepper. The unique heart contains lovely floral notes of iris, peonies, and magnolias. This aromatic perfume ends on addictive base notes of musk, Virginia cedarwood, amber, vanilla, and sandalwood.
Si Passione By Giorgio Armani Eau De Parfum is a new flanker of the original Si perfume. As the name suggests, this 2017 version is meant for a passionate woman, both feminine and free. As Armani himself says, it is "an irresistible combination of grace, strength, and independence of spirit."
Blackcurrant essence and pear open this vivacious perfume with a burst of spicy pink pepper. Rose and jasmine form the floral heart notes in a fragrance that is a true declaration of desire. It ends with vibrant and sensual base notes of intense cedarwood and vanilla. Choose this sparkling fruity-floral scent when you want an extra dose of romance on your dinner date.
Emporio Armani Because It's You by Giorgio Armani Eau De Parfum is one half of a pair of fragrances that were released together in 2017. The masculine scent is called Stronger With You. This new release from the Emporio Armani range represents "an olfactive embodiment of authentic modern-day love."
The top notes highlight raspberry and neroli. Rose absolute is the focus of the captivating heart notes. At the base, the scent lingers with seductive accords of musk and vanilla. Wear it on a date to charm your lover or at a special anniversary celebration – the fragrance is sure to add romance, no matter what the occasion is.
Sky Di Gioia By Giorgio Armani Eau De Parfum is an evocative fragrance that represents modern women. It was released in 2016, and has a floral-fruity scent that is cheerful and feminine.
Seasonal fruits like litchi and pear open the fragrance, blending into pleasing heart notes of rose and pink peony. The base notes of blackberry, white musk, and cedar give it a signature touch. Sweet and juicy, this is best suited for summer and spring wear.
Si Fiori By Giorgio Armani Eau De Parfum is the latest flanker of the original Si perfume, released in March 2019. It is for women who are confident in their skin and have a zest for life. This is a sweeter and more flirtatious interpretation of the original scent and is ideal for spring and summer.
The top notes of blackcurrant and green mandarin give the Si Fiori a sparkling sweetness. The warm heart notes of neroli and rose bring in a sensual feminine quality blended with patchouli and oakmoss. Vanilla and white musk form the lingering base notes that continue to enthrall and turn heads no matter where you go.
These are the best Armani perfumes for women. The designer house commands immense respect in the fashion community, and their fragrances have certainly taken that authority one step ahead. Which of these fragrances would you like to own as a treasured status symbol? Let us know in the comments section below.
Why Trust StyleCraze?
The author, Sakshi Bahal, is our in-house product writer and a makeup enthusiast. She listed the best Armani perfumes for women after extensive research of the base and middle notes. These top-in-class Armani perfumes come in floral, woody, wild, or subtle fragrances that best suit your mood and fancy.

Recommended Article