The 15 Best Victoria's Secret Perfumes For Women of 2023
Smell incredible with these Victoria's Secret perfumes with enticing fragrances!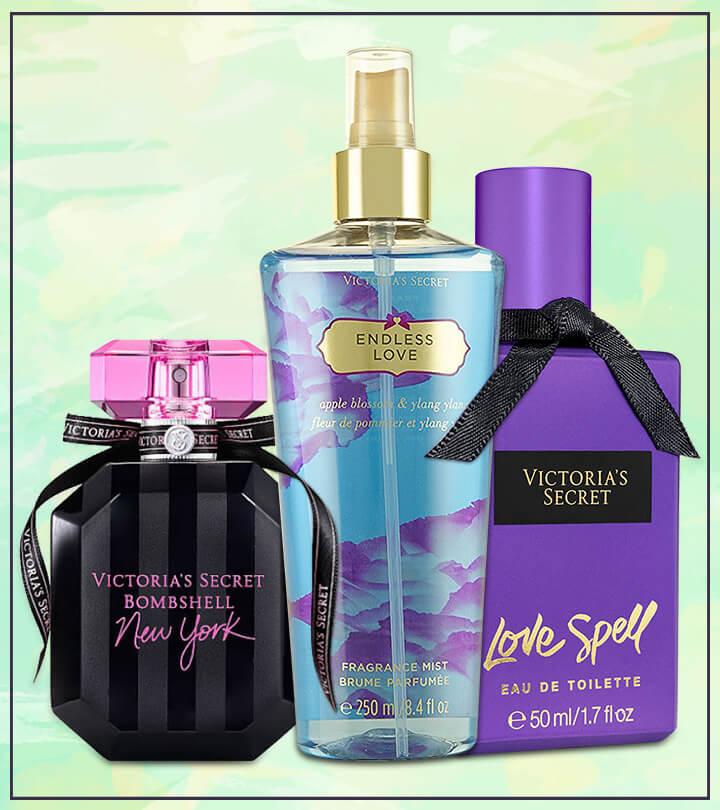 Victoria's Secret is one of the most popular brands worldwide, and it is most commonly known for lingerie. But their array of fragrances with sweet, fruity, and floral notes is not something that you can miss out on. The best Victoria's Secret perfumes evoke something unique in your personality type. They offer a wide range of fragrance mists that suits everyone. However, choosing a perfume that matches your preferences can be puzzling. So, we have carefully picked a list of products that will definitely lift your spirit. Check out our list of the 15 best Victoria's secret perfumes with enchanting fragrances. Keep scrolling!
Best Victoria's Secret Perfumes For Women – 2023
The best seller amongst Victoria's Secret line of perfumes, Bombshell is a fruity floral scent also known as the 'LBD of Fragrance'. The perfume contains notes of Purple Passion Fruit, Shangri-La Peony and Vanilla Orchid that combine to give you a fragrance which is the perfect blend of flowers and fruits.
Pros
Not overpowering
Pleasant fruity notes, suitable for people of all ages
Cons
Bombshell Eau de Parfum Review
Kick-starting this list for today is everybody's eternal favorite from the Victoria's Secret Collection—the Bombshell Eau de Parfum. With notes of Purple Passion Fruit, Shangri-La Peony and Vanilla Orchid, Bombshell is a subtle pleasure to the senses which very, very few perfumes have come close to in my humble opinion (Ferragamo's Incanto Shine being one of them). This pleasant fruity floral scent comes with no limits on what ages may or may not use it and is a hit with young girls and women alike for not being too overpowering. Also, thanks to the fact that it isn't what one would call a 'statement perfume', there are no restrictions on what time of the day, or in what sort of crowd one can use this perfume making it a winner all the way. My only complaint with this perfume is that it doesn't stay on for as long as one would've liked, requiring constant reapplication. But if that doesn't pose a problem to you, Bombshell is one perfume that should definitely make it to your shopping list this season. To get a better understanding of this fragrance, check out this video on YouTube.
Price at the time of publication: $54.95
A warm and ethereal scent that Victoria's Secret describes as 'an angel favorite', Heavenly Eau de Parfum combines notes of White Musk, Sandalwood, Vanilla and White Peony that make it an award winning favorite.
Pros
Strikes a good balance between floral and fruity
Lasts long
Light, pleasant fragrance
Cons
Mature fragrance—better suited to grown-up women
Vanilla tones might be overpowering for some
Heavenly Eau de Parfum Review
For women who'd like Victoria's secret bestseller that has no hint of floral or fruity in it, here's Heavenly to the rescue. A bestseller since its launch, this particular fragrance has undergone a revamp in recent times to make it more appealing to the new generation, though thankfully it's intrinsic tones have remained the same. The new Heavenly now comes in a bottle that has angel wings on the cap and is embellished with tiny crystals—an ode to their VS angel fashion show? That's what I'm assuming too. But a nice touch nonetheless. Coming to the fragrance itself, I find that the notes of White Musk, Sandalwood, Vanilla and White Peony lend it a striking warm essence that to me speak elegance and sensuality. In fact, the sandalwood and musk, in addition to giving Heavenly a distinctly musky flavor, also lend to its longevity that Bombshell lacks, thus making it perfect for long term wear. As a woman trying to make a subtle yet defining impression, there could hardly be a better scent than this. Keep in mind though, that this fragrance might be better suited to grown-up women than teenagers.
Price at the time of publication: $52.95
NOTE- Image used for representation is a special edition bottle.
The Victoria's Secret Pure Seduction Body Mist has a new, better-than-ever formula. This translucent mist is designed to mix, blend, and play for a unique aroma, with red plum and freesia. It feels great on the skin and boosts your confidence all day.
Pros
Sweet and fruity aroma
Has moisturizing properties
Gives a seductive and appealing aroma
Travel-friendly packaging
Cons
Victoria's Secret Pure Seduction Body Review
Pure Seduction is a sensual scent that makes you think of a romantic dinner date at a fancy location. Red plum, sweet melon, and freesia enrich the aroma making you smell fresh and pleasant. The scent combines fruity and flowery notes. Aloe vera and chamomile essence are added to the scent, making it moisturizing as well. This would be the ideal scent to complete your look and feel for a leisurely Sunday morning wearing a gorgeous summer dress and dark burgundy lips!
Price at the time of publication: $16.15
Back by popular demand, Victoria's Secret So In Love perfume is a mesmerizing fragrance that imparts a sheer, fresh floral bliss to the wearer, and is a fragrant ode to the timeless allure of love. Winner of the FiFi Award for Fragrance of the Year (Women's Private Label/Direct Sell), 2006.
Pros
Floral scent, without being too sweet
Back on popular demand
Suitable for all ages
Cons
So In Love Eau de Parfum Review
Seems like Victoria's Secret can do no wrong when it comes to the fragrance market. Another scent that was brought back purely due to customer demand, Victoria's Secret 'So In Love' is a timeless classic that can be worn by women of any age with ease. With undertones that I particularly love—rose, violet leaves, cognac, jasmine, honey, and ylang-ylang- this a floral fragrance that is pleasant without being too sweet. Call it an ode to my name or whatever, but I find that I am very partial to perfumes with an essence of roses and So In Love is no exception. Despite the honey tones that sweeten the deal, the cognac warms it up just the right amount to maintain its beautiful essence of roses. In the years since its launch, So In Love has found a niche group of loyalists who swear by it for its non-fruity non-chemical fragrance, including yours truly. Wear it on a first date, or a day out with your partner, for setting the perfect mood. You might want to thank me later!
Price at the time of publication: $33.89
Get ready to be hit with the right chords of nostalgia with the Victoria's Secret Rapture Eau de Cologne. It was launched in 1992 and has been retired and relaunched many times now. It combines the unique notes of orange blossom, amber, citruses, and jasmine, to offer women a rejuvenating fragrance that is spicy yet pleasant.
Pros
Long-lasting
Amber spicy fragrance
Cons
Rapture Eau de Cologne Review
Let me warn you – Rapture is like no other fragrance from Victoria's Secret. The spiciness of the scent is here to create a spell on you. The cologne opens with the notes of orange blossom and citruses, blending into the heart notes of jasmine, Bulgarian rose, and freesia to give you a heavenly fragrance. The base notes of amber, heliotrope, vanilla, and musk again rule the traces of the whole perfume, making you stand out in the crowd like never before. You can check out this YouTube video for a brief review of this perfume.
Price at the time of publication: $29.96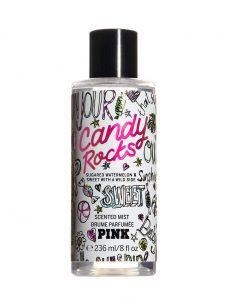 Wild meets sweet in this coveted fragrance by Victoria's Secret infused with sugared watermelon, which is sweet yet wild. It contains conditioning aloe to let you love your skin while feeling like you're in candy store.
Pros
Fruity fragrance
Long-lasting
Cons
None
Candy Rocks Body Mist Review
Who doesn't love fruits and candies? There's always a child hidden in us that wishes to run across a candy street, wild and free. This body mist from Victoria's Secret is a reminiscence of childhood. It takes you down memory lane and is perfect to be worn any time of the day. The fruity fragrance is rejuvenating and uplifting in a heartbeat. The warm and wild scents are a mixture of both worlds. It can be ideal wear for a casual hangout during the day or early evening.
Price at the time of publication: $44.99
An ode to the energy of the world's most famous city, Bombshell New York is a fragrance inspired by the flowers of the night, bottled exclusively for the sexy and glamorous
Pros
Strong without being overpowering
Lasts long
Edgier variant of the Bombshell line
Victoria's Secret Bombshell New York Perfume Review
What's better than one very good thing? Two very good things, of course! Just like yours truly, VS couldn't seem to get enough of Bombshell either me thinks and that's how Bombshell New York happened. Because similar to Bombshell, Bombshell New York too is a fruity floral scent, albeit with an edge. Carrying undertones of Starfruit, Twilight Jasmine and Madagascar Vanilla, I'm pegging this fragrance as a mature variant of Bombshell, better suited to women looking to make a statement. Another way it scores over the original Bombshell is that the shorter staying power of Bombshell seems to have been corrected here making Bombshell New York an absolute winner. Use it a couple of times to know why I'm calling it that, and why you'll never want to step out of the house again without wearing it. No cons for this little baby here, only tonnes of love. Check out this YouTube video to learn more about this signature fragrance.
Price at the time of publication: $70.99
An edgy, dark twist on the original Crush fragrance with some absolutely delish notes like Freesia, Black sugar and Tahitian Vanilla, Victoria's Secret Wicked is a warm perfume meant for the 99% angel.
Pros
Suitable for wear by everyone
Lasts long
Great dry down
Sweet fragrance neither floral nor fruity
Cons
The sweetness may be overpowering for some
Victoria's Secret Wicked Perfume Review
So, I have a real feeling that the noses involved in creating Wicked were on a sugar rush that particular day coz Wicked is hands down one of the sweetest fragrances from Victoria's Secret collection. With notes of Freesia, Black Sugar and Tahitian Vanilla, the VS Wicked is a fragrance that can be a real hit or miss with users. Personally, I feel that if you're looking for something that is neither too floral nor too fruity, you're going to love Wicked for what it is. A mostly vanilla sweet smell, it is rescued by just the right amount of floral tones that give it a nice warmth. Of all the VS perfumes I have tried in the past, I particularly love the dry down here (the smell that lingers after the initial notes have worn off) for its distinct smell that is never too floral, or fruity, or musky, but a happy blend of all three. Great job by VS at trying to create something different from their regular collection. Do bear in mind though that the strong sweet notes have put off a user occasionally, which is why you'd be well advised to try it for yourself before buying it. I'm going to go with 4 stars for this one.
Price at the time of publication: $89.95
The Victoria's Secret Midnight Bloom Mist has a classic aroma with a touch of sophistication. The infusion of floral and woody aroma in the mist keeps you relaxed, and fresh and smells amazing.
Pros
Long-lasting
Affordable
Travel-friendly
Cons
Few may find the scent strong.
Victoria's Secret Midnight Bloom Mist Review
The Midnight Bloom by Victoria's Secret is a lovely smell with notes of moonflower, velvety woods, and star-crossed lovers. The lightest form of the warm floral scent is ideal for a short spritz throughout the day to keep you feeling fresh and active. This perfume comprises 1-3% perfume oil. You can wear this perfume daily for a floral and fresh feel. Wear it on your pulse points on moisturized skin so that it keeps you smelling fresh throughout the day.
Price at the time of publication: $14.77
Immerse yourself in the magic of Victoria's Secret new fruity floral fragrance that takes sexy to a whole new level. With notes of Black Peony, Raspberry Liqueur and Praline, Scandalous is one fragrance that women of all ages would love to wear.
Pros
Warm, floral dry down
Suitable for all ages
Fruity floral fragrance
Cons
Body mist better than the perfume
Does not last long
Scandalous Eau de Parfum Review
With the stunningly sensual Jasmine Tookes as the face of this perfume, Scandalous has one thing to say, and it says out loud—if you're looking to slay, this is the perfume to do it with. A fruity floral scent a la Bombshell, Scandalous has undertones of Black Peony, Raspberry Liqueur and Praline, a distinct combination that makes for a distinct signature too. An essentially fruity-floral fragrance (VS seems to have cornered the market on this segment), it has a beautiful dry down that gave me just the right hit of floral notes. However, I must admit that I didn't care much to stock up on it because, though it's a great scent, I find it comparable to a lot of other VS perfumes that I already own and must do away with before I get another. Its effect doesn't last long either which is why a couple of friends I know seem to prefer the body mist over the perfume as a cheaper alternative. That said, it is suitable for women of all ages, and if you're on the lookout to shake things up a bit while still sticking to the floral-fruity theme, Scandalous should be your go-to perfume.
Price at the time of publication: $89
A zany mix of floral and spice, Victoria's Secret 'Crush' is a young, fresh scent that bottles the feeling of being addicted to someone.
Pros
Sweetness isn't too overpowering
Citrus base
Summer go-to
A youthful, fresh scent
Cons
Victoria's Secret Crush Perfume Review
Channeling a whole lot of pink and a whole lot of cute in its packaging, Crush is Victoria's Secret offering for youngsters, and for the young at heart. With notes of Pink Peppercorn, Treasure Peony and Ashok flower, Crush takes you on a frosting filled trip to wonderland right from the first spritz. What I like best about this fragrance is that though sweet and high on its own 'youthfulness', at no point is the sweetness too overpowering an attack on the senses. With a warm, citrus base, Crush makes for the perfect summer scent and considering I live in a tropical country, it comes in handy pretty much all year round. But that very seasonality is also a bane as people who live in colder areas might not find it much to their liking. So, do keep that in mind before you go out shopping for this one.
P.S.- I bought this perfume for my niece last Christmas, and I don't think I could've chosen any better. This is why I now nominate Crush as the perfect gift for female members of your family this festive season too. Do let me know how that fares!
Price at the time of publication: $89.83
Designed as the consummate flirt, Victoria's Secret Tease is the result of what happens when a seductress meets a coquette—a fragrance that is the ultimate in the art of seduction.
Pros
Beautifully packaged
Not harsh on the skin
Warm scent
Cons
Longevity is terrible
Not travel-friendly
Not suited to all age groups
Tease Eau de Parfum Review
There isn't a single thing I dislike about how Tease looks sitting on my vanity, a boudoir inspired fragrance that is an instant throwback to the parlors of France. The fishnet and lace packaging on the bottle coupled with the hot pink atomizer makes for some truly attractive packaging that I fell in love with at first glance. Full marks to whoever came up with the design for this little baby. As for the fragrance itself, combining notes of Black Vanilla, Frozen Pear and Blooming Gardenia, I find that coming to Victoria's Secret collection at least, this fragrance truly is the ultimate 'tease'. A warm scent that I feel is better carried off by grown women, the major downer with this fragrance is its longevity. At barely an hour or two of staying power, Tease hardly lasts you for even a quarter of a day which is a shame as it has a pleasant dry down that I liked smelling for whatever little time it lasted. If longevity isn't a concern you have, Tease might just make another great gift this festive season, this time for the ladies of your family.
Price at the time of publication: $45
Seduction in a bottle, Victoria's Secret Very Sexy has been a crowd favorite right since its launch in the early 2000s. A 'spicy' scent, it combines notes of Vanilla Orchid, Sun-drenched Clementine and Midnight Blackberry.
Pros
Spicy fragrance
Arousing (as reported by users)
Cons
Not for regular wear
 Strong scent, to be used with a light hand
Very Sexy Eau de Parfum Review
Honest to heaven, I'd like to tip my hat to whoever at Victoria's Secret came up with this fragrance. A strong, spicy scent that has undertones of Vanilla Orchid, Sun-drenched Clementine and Midnight Blackberry, Very Sexy hasn't been taken off the shelves since its launch in the 2000s. Imagine! But smell it once, and it isn't too hard to understand why, as Very Sexy has a delectable peppery fragrance that exudes a strong come-hither scent which is difficult to resist, and (reportedly) is a crowd favorite with boyfriends and husbands alike. Be careful to use it with a light hand though as it is a strong perfume. Not suitable for regular wear either.
Price at the time of publication: $63.99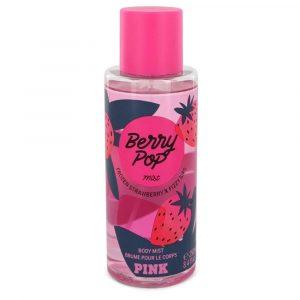 This body mist is a combination of fruits fresh at the market, evoking a memory of a vivid summer afternoon. With the infusion of essential oils, the mist keeps you smelling and your skin feeling sunny and bright.
Pros
Fresh fruity fragrance
Summer fragrance
Cons
None
Berry Pop Body Mist Review
Despite being a summer fragrance, Berry Pop Body Mist will have your heart all year round. With the amalgamation of the beautiful frozen strawberry, pink hibiscus, and amber crystals as its notes, the scent gives you fresh-juice feels that not only quenches your skin's thirst but also provokes your senses gently. This body mist is a fond fragrance to remember someone as it would bring back pleasant moments of joy, fun, and all things sunny. Wear this sweet-smelling scent for a day out with your girls or for a picnic with your family, and see yourself blush as the compliments pour in.
Price at the time of publication: $24.99
This fragrance is as light as air and is so captivating that it makes you impossible to forget. It gives a little remembrance of him that smells seductive on you.
Pros
Long-lasting
Fresh flowery fragrance
Cons
None
Love Fragrance Mist Review
Love Fragrance Mist is a beloved fragrance from the family of Victoria's Secret. Infused with the notes of fresh air flowers, this scent is delicate yet heavenly. This elegant and sophisticated scent is ideal for all occasions. Its soft flowery fragrance adds to the simplicity of your overall personality. If you want to speak for less is more, Love Fragrance Mist should be your best bet for all times.
Price at the time of publication: $14.99
*Subject to Availability
Give us a yay or nay in the comments below, we'll be waiting to hear from you.
Why Trust StyleCraze?
Jyotsana Rao, the author, is a skin care and makeup enthusiast who loves trying new products that make one feel pampered and luxurious. She has carefully gone through several customer reviews and has tried some for herself before bringing you this list of the top Victoria's Secret perfumes. These classy, luxurious perfumes mesmerize your senses and suit every occasion. Floral, woody, wild, or subtle – go ahead and pick one that best suits your mood and fancy!
Frequently Asked Questions
Do all Victoria's Secret perfumes last all day?
Yes, Victoria's Secret perfumes are lightweight, subtle, and last all day long. Most of them do not need reapplication.
Which flavor of Victoria's Secret is the best?
While every Victoria's Secret perfume has a unique flavor and fragrance, the Bombshell stands apart due to its enriching blend of flowers and fruits like passion fruit, Shangri-la peony, and vanilla orchid.
Is Victoria's Secret a luxury brand?
Yes. Victoria's Secret is a luxury brand that manufactures a collection of premium-quality perfumes, body care products, lingerie, and athleisure.
Recommended Articles