13 Best Body Lotions That Smell Amazing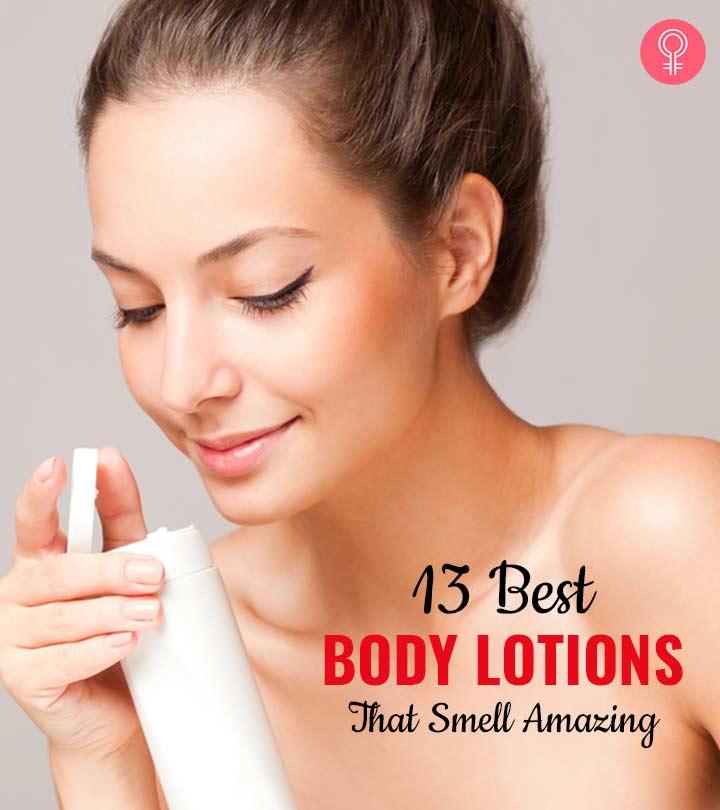 When it comes to nourishing and hydrating the whole body, body lotions always win the race. However, finding a body lotion that also smells wonderful could be a challenge – as it needs to have the appropriate ingredients, not only for your skin but also for your senses. On that note, we have listed the top 13 body lotions that also make you smell great all day long. Take a look!
13 Best Smelling Body Lotions
The Hempz Original Herbal Body Moisturizer soothes extremely dry skin, and heals and soothes inflammation and atopic dermatitis. It leaves a fresh and light fragrance. It is infused with hemp seed oil, shea butter, organic cucumber extract along with aloe vera. The hemp seed oil contains omega-6 fatty acids (Gamma-linolenic acid) that have powerful anti-inflammatory properties and soothe irritated skin. The lotion also helps control excess sebum production without clogging skin pores. The combination of omega-3 and omega-6 fatty acids reduces the appearance of atopic dermatitis.
The fatty acid content of shea butter and sunflower seed oil helps provide a protective shield and support the skin's natural oil barrier. The moisturizing properties deeply nourish the skin and leave your skin feeling soft, smooth, and supple. The cucumber and aloe extracts are rich in antioxidants that protect, calm, and condition the skin. Ginseng root is rich in antioxidants that slow down the process of aging. This rich moisturizer is naturally scented with the clean aroma of flowers and banana.
Key Ingredients: Hemp seed oil
Pros
Soothes inflammation
Naturally aromatic
No residue
Absorbs quickly
Alleviates winter dryness
Protects from environmental aggressors
Paraben-free
100% vegan
Gluten-free
THC-free
Cons
Consistency is too thin
Not suitable for sensitive skin
Restore your skin's moisture with the fast-absorbing OGX Extra Creamy+  Coconut Miracle Body Oil Lotion. It keeps your skin nourished and hydrated the entire day. The lotion is enriched with coconut oil and the essence of Tiare flower and vanilla extracts. It also contains safflower seed oil with an essential fatty acid that nurtures your skin from deep within.
The coconut oil is anti-inflammatory, antibacterial, and deeply moisturizing. It is also enriched with essential fatty acids, lauric acid, and vitamin E, which offer the skin the extra nourishment and glow. The safflower seed oil in the lotion balances the skin pH.
Key Ingredients: Coconut oil and safflower seed oil
Pros
Long-lasting
Absorbs quickly
Leaves skin soft and hydrated
Relaxing tropical aroma
Cons
The Jergens Ultra Healing Dry Skin Moisturizer gives outstanding results with just one use. It repairs, heals, and deeply nourishes extra dry and flaky skin. It penetrates five layers of the skin and gets quickly absorbed. It offers hydration to more vulnerable areas like heels, elbows, and knees.
The lotion is reformulated with the hydralucence blend. It also contains naturally infused vitamins C, E, and B5 that provide longer-lasting hydration with a visibly enhanced skin tone. This unique formula eliminates dullness, dryness, and flaky skin by deeply penetrating the five skin layers. The product can seal moisture for up to 48 hours. It powerfully reflects light and makes skin more luminous.
Key Ingredients: Vitamins B5, C, and E
Pros
No oily residue
Effective on extra dry/sensitive skin
Visible results with one use
Fast-absorbing
Hypoallergenic
Seals moisture for up to 48 hours
Pleasant scent
Cons
The Love Beauty And Planet Luscious Hydration Body Lotion is enriched with soybean oil, coconut water, and early green wattle flower extract with a fresh aroma of orange, tangerine, and lemon oil. Soyabean oil is rich in vitamin E that protects the skin from toxins and delays the signs of aging. The natural fresh rejuvenating aroma of mimosa flower leaves skin fresh and healthy-looking. It offers 24-hour moisturization. It is a vegan body lotion that contains ethically sourced mimosa flower. The lotion is free of silicones, dyes, and parabens.
Key Ingredients: Soybean seed oil and coconut water
Pros
Paraben-free
Silicone-free
100% vegan
Non-greasy
Plant-based moisturizer
Long-lasting
No artificial colors
No artificial fragrances
Bottle made of 100% recycled material
Cons
None
The Aveeno Daily Moisturizing Body Lotion is specifically formulated to moisturize dry and dehydrated skin. This nourishing lotion is infused with active natural oat kernel flour and chamomile extract that protect dry skin for up to 24 hours. The oat kernel flour is an effective skin cleanser that removes impurities and dirt by unclogging the pores. It also makes your skin smooth and silky. It helps balance the skin pH and protects the skin barrier to seal natural hydration.
Chamomile flower extract contains anti-inflammatory and antioxidant properties that soothe irritated skin and provide protection from toxins. It also helps boost skin healing properties and could calm the symptoms of eczema and psoriasis. The calming fragrance of lavender extract and ylang-ylang essential oil refreshes your mood. The product's non-greasy, non-comedogenic, hypoallergenic, and gentle formula gives you desirable results when used daily.
Key Ingredients: Oat kernel flour and chamomile extract
Pros
Non-greasy
Fast-absorbing
Natural ingredients
Dermatologist-recommended
Provides 24-hour moisturization
Non-comedogenic
Non-greasy
Hypoallergenic 
Cons
None
The Dionis Goat Milk Skincare Lotion is infused with blue ridge wildflower aroma that refreshes your senses. The fragrance uplifts your mood and is not overpowering. This rich, creamy body lotion is infused with goat milk, which is rich in proteins, fat, iron, and vitamins that nourish the skin. The lotion leaves no greasy residue. Goat milk is rich in lactic acid, which is an effective alpha-hydroxy acid (AHA) that provides gentle exfoliation and improves skin appearance. It has a pH nearly the same as human skin. It gets quickly absorbed. The lotion keeps your skin moisturized, hydrated, soft, and supple.
Key Ingredients: Goat milk
Pros
Paraben-free
Gluten-free
Sulfate-free
Suitable for extra sensitive skin
Deeply nourishes and hydrates skin
Cons
Yes To Coconut is a lightweight body lotion that provides full-body hydration. It leaves no greasy residue. It is infused with virgin coconut oil and sunflower seed oil that deeply penetrate and nourish the driest parts of the skin. Coconut oil is rich in medium-chain fatty acids and possesses antibacterial properties. It treats acne and protects the skin from harmful bacteria. The anti-inflammatory property helps soothe irritated skin, keeps skin moisturized, and helps heal wounds. Sunflower seed oil is rich in vitamins A, C, D, and fatty acids that regenerate skin cells and provide relief from acne-causing bacteria.
Key Ingredients: Virgin coconut oil and sunflower seed oil
Pros
Paraben-free
SLS-free
Petroleum-free
Made of 95% natural ingredients
Certified organic
100% vegan
Easy to use
Lighter texture
Soothing aroma
Cons
Thin consistency
Defective spray bottle
The Nivea Oil Infused Body Lotion gets absorbed fast into the skin. It leaves skin feeling soft, smooth, and supple. It is infused with jojoba oil that keeps skin moisturized for up to 24 hours. The organic jojoba seed oil has anti-inflammatory properties that help tame chapping and chaffing, reduce redness, and treat the symptoms of eczema and psoriasis. It also contains vitamins E and B complex that protect skin and repair skin damage. The delicate fragrance of cherry blossom lifts your mood and leaves you feeling refreshed.
Key Ingredients: Jojoba seed oil
Pros
Long-lasting moisturization
Fast-absorbing
Pleasant aroma of cherry blossom
Effective for dry skin
Paraben-free
Non-greasy
Cons
None
The AHAVA Dead Sea Mineral Botanic Velvet Body Lotion is a quick absorbent formula that nourishes the skin. It is made with nutrient-rich dead sea water, aloe vera, and smoothing witch hazel extract for long-lasting hydration. Dead sea water is replete with 21 essential minerals, including magnesium, calcium, and potassium. These minerals provide deep nourishment and improve skin elasticity. The tropical aromatic aroma of subtle hibiscus and figs lifts your mood.
Key Ingredients: Dead seawater
Pros
Paraben-free
Hypoallergenic
100% vegan
Fast-absorbing
Non-greasy
Cons
May not suit sensitive skin
The L'Occitane Body Lotion envelops your skin with the soft and light almond milk and provides a blissful sheet of moisture. It leaves your skin texture feeling soft and supple. This rich creamy body lotion is infused with almond extract, sweet almond protein, shea butter, and sunflower seed oil that offer long-lasting hydration. The protein and fat in the almond milk gently cleanse the skin, add nourishment to chapped, dry skin, and fade acne scars, stretch marks, and skin pigmentation. The unique combination of milk and proteins with silicium helps nourish, soften, and tone the skin. The micro-pearls in the lotion help illuminate the skin and improve its appearance.
Key Ingredients: Sweet almond oil and almond protein
Pros
Ultra-lightweight
Fast-absorbing
Illuminates skin tone
Leaves the sweet smell of almond milk
Cons
None
The epicuren Kukui Moisturizer is an exotic blend of essential oils and exfoliants that protect dry, dehydrated skin. The signature metadermabolic enzymes, organic shea butter, and kukui nut oil perfectly hydrate the skin and help retain moisturization. The lotion leaves no residue.
Kukui nut oil is rich in omega-3 fatty acids that help reduce inflammation. It is easily absorbed into the skin to prevent itchiness too. The infused B vitamins energize the skin and visibly revitalize skin elasticity.
Key Ingredients: Kukui nut oil and shea butter
Pros
100% vegan
Lightweight
Protects dry, dehydrated skin
Long-lasting effects
No residue
Can be used daily after bath
Cons
The signature aroma of the luxurious rose in Jurlique Body Lotion provides a soothing and refreshing feel. This lightweight lotion is enriched with macadamia seed, avocado oil, and other botanicals from the Jurlique farm that leave a velvety soft and radiant feeling. The macadamia nut oil is rich in omega-9 fatty acids that moisturize, regenerate, and soften the skin cells. The oil also slows down the signs of aging, reduces the visibility of scars and blemishes, and soothes skin irritation.
Avocado oil is also rich in essential fatty acids that hydrate and soften the skin and rebalance skin oil secretion. The lightweight rosehip oil in the lotion soothes chafed and chapped skin. The rich botanical extracts with the essence of rose petals leave you with a fresh feeling and a better mood.
Key Ingredients: Macadamia nut seed oil
Pros
Lightweight
Paraben-free
Sulfate-free
Silicone-free
PEG-free
No artificial colors
No artificial fragrances
Free from soaps
Fast-absorbing
Protects and softens skin
Cons
None
The Crabtree & Evelyn Body Lotion absorbs quickly to condition the skin. It leaves you with a soft, supple look. It is formulated with the nourishing French lavender, French lemon extract, and moisturizing glycerin that restore a youthful skin glow and radiance. The delightfully light fragrance leaves you with a refreshed feeling.
Key Ingredients: Glycerin
Pros
Natural aromatic extracts
Ultra-nourishing
Lightweight
Cons
None
These are the 13 best smelling body lotions of 2020 that you can buy online. Before you make a purchase, you must check if the product meets your skin requirements. The following buying guide can help you make a better purchase decision.
Choosing The Right Smelling Body Lotions – A Buying Guide
Select the body lotion as per your skin type. Usually, a non-greasy, organic, and 100% vegan body lotion with organic botanical extracts should suffice.
Pick naturally aromatic body lotions. They help leave a refreshing feeling and do not overpower your senses. Lavender, citrus flavor, and rose extract can make you feel rejuvenated.
Check for any added chemicals, dyes, or artificial fragrances. The best body lotions are always infused with natural ingredients and contain chemical-free formulas.
Pick a long-lasting moisturizing body lotion that seals hydration for up to 24 hours.
The best smelling body lotions not only rehydrate your dry skin but also wrap you within a blanket of refreshing fragrance wherever you go. Ensure your lotion has natural ingredients. Pick your favorite from this list and start using it today.
Recommended Articles