15 Best Stick Foundations For Every Skin Tone & Texture – 2023
Whether you need a quick fix or a whole makeup session, these products are a must!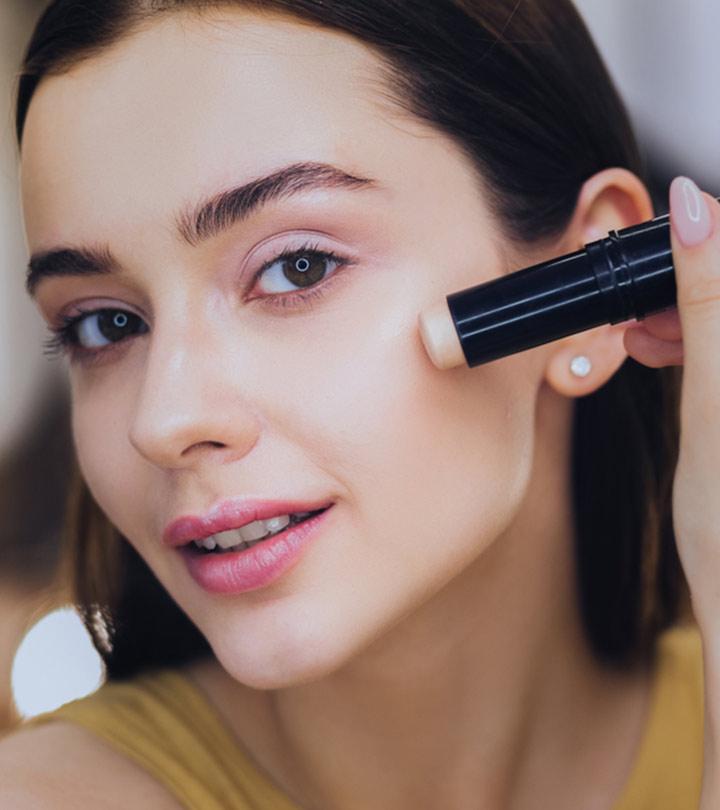 A stick foundation is an easy-to-use makeup item that makes your lets you do your makeup faster and more efficiently. The best stick foundation offers a smooth base and covers up skin imperfections like age spots, marks, pigmentation, and fine lines. These foundations provide flawless skin. Their texture feels like a combination of liquid and powder foundation. The lightweight formula feels lighter on the skin. In addition, with a stick foundation, you won't have to worry about spillage in the makeup bag. Using the stick foundation is as easy as using lipstick or lip balm. They serve the purpose of a concealer and can also be used to contour and highlight the skin. Stick foundations are long-lasting, and you can have a melt-free foundation throughout the day. Additionally, some stick foundations can nourish your skin and give you a proper makeup base.
Stick foundations provide full coverage and make you look fresh and elegant. They blend well on the skin and offer an effortless natural finish. If you are considering switching to stick foundations or would like to have an extra stick foundation for your purse, check out our list of the 15 best stick foundations below!
15 Best Stick Foundations For That On-The-Go Glow In 2023
Setting the foundation for your makeup has never been easier than with the Wet n Wild Photo Focus Stick Foundation that comes in a whopping range of 21 shades for varied skin tones. The formulation comprises argan, coconut, soybean, macadamia seed and sunflower seed oils that moisturize and hydrate the skin while allowing the foundation to blend flawlessly for a natural matte finish. Not only does it offer long-lasting coverage, it blends like a dream, is incredibly lightweight, and settles as a semi-matte finish. Check out this ideal cruelty-free product to help you conceal fine lines and even out your skin tone for a brighter look.
Pros
Moisturizing ingredients
Long-lasting semi-matte finish
Maximum coverage
Available in 21 shades
Blends easily
Cons
May have a slightly chemical odor
Price at the time of publication: $6.49
Tired of foundations that make your face look greasy and shiny in just a couple of hours? It's time to take that problem as a signal to switch to Maybelline New York's Fit Me! Shine-Free + Balance Stick Foundation. This non-comedogenic stick foundation absorbs excess oil and sebum in a single swipe to give you clear skin with a natural-looking matte finish. Conceal large pores and control the amount of shine on your nose making this a great foundation stick for oily skin. Dab the foundation onto your face and blend for an even-looking, bright complexion that stays put for up to 10 hours. One of the best drugstore foundation sticks, it's available in 8 classic shades, and the Classic Ivory does a great job of softening features on wheatish skin tones.
Pros
Suitable for sensitive skin
Fragrance-free
Non-comedogenic
Lightweight
For oily skin types
Matte finish
Hypoallergenic
Cons
Not available in a shade for dark skin tones
Price at the time of publication: $5
If you're looking for a full-coverage stick foundation that'll never let you down, you're in the right place! The Mehron CreamBlend Stick is specially formulated for actors who perform under Broadway's glaring stage lights, so you can rest assured that it's going to stay put throughout the day. This highly-pigmented vegan formula not only provides full coverage but is also enriched with vitamins, minerals, and antioxidants like vitamin E and aloe leaf extract that will nourish your skin without drying it. Gentler than your average performance makeup, it doesn't contain harsh petrolatums in its base and is healthy for the skin.
Pros
Provides full coverage
Creamy and pigmented formula
Easy to blend
Vegan
Cruelty-free
Cons
Price at the time of publication: $13.95
If a long-lasting matte look is what you yearn for, it's exactly what you will get with the L'Oreal Paris Infallible Longwear Shaping Stick Foundation that glides smoothly to give you flawless coverage. Say goodbye to dry and cakey skin with this 24-hour lasting foundation. The creamy consistency is weightless as it melts into your skin to cover up skin imperfections and evens out your complexion with nourishing ingredients like jojoba oil. The buttery stick is available in 12 shades, you can choose from these defining makeup stick foundations to contour, highlight, and conceal all your blemishes. The product allows buildable coverage from medium to full.
Pros
Even coverage
Lightweight formula
Glides on easily
Non-cakey finish
Cons
Some may find it slightly greasy
Price at the time of publication: $6.93
With Black Opal's True Color Skin Perfecting Stick Foundation, you can be confident in your own skin. Highly pigmented, these sticks are long-lasting and give you full coverage with a velvety finish. It's a top-notch foundation that can also effectively conceal dark circles, blemishes, and fine lines. The result is an even-toned and even-textured complexion that looks natural and effortless. This cruelty-free foundation stick uses shade ID technology to match your skin shade perfectly. With aloe leaf extract that lightens blemishes and soybean oil that retains moisture, you can count on this product to fully nourish your skin. The presence of beeswax ensures that your skin heals quickly and has a strong skin barrier. It also contains vitamins A and C along with a sunscreen with SPF 15 to provide your skin with antioxidants and protect it from the harmful rays of the sun. It's also a safe alternative as it is made without parabens.
Pros
Fragrance-free
Hypoallergenic
The creamy texture blends smoothly
Offers UV protection
Best suited for caramel skin tones
Cons
May not be entirely suitable for oily skin types
Price at the time of publication: $17.99
Available in 9 highly-pigmented shades, this incredibly versatile makeup foundation stick by Revlon doubles as a concealer to mask under-eye circles, spots, fine lines, and wrinkles. Its compact and portable packaging makes it a must-have in your travel purse for easy touch-ups on the go. The flawless finish is designed with a light-filtering technology to reveal a natural-looking finish without being too cakey. Get your hands on this creamy foundation available in 9 shades that will give you light to medium coverage and SPF 20 sun protection to supplement your regular sunblock.
Pros
Doubles as a concealer
Creamy texture
UV protection
Suitable for daily use
Needs minimal blending
Long staying power
Cons
May not provide full coverage
Price at the time of publication: $9.99
Do you want to know what makes the Milani Conceal + Perfect Foundation Stick one of the best ones in the market? The infusion of bamboo powder absorbs excess oil and sebum and lily extracts minimize your pores' appearance to give you fresh and glowing skin in this non-comedogenic stick foundation. An absolute treat for those who have greasy skin, this cruelty-free stick foundation for oily skin is transfer-proof and water-resistant to ensure that it stays on your face for up to 12 hours. With a natural-looking matte finish, the vegan stick foundation also hides spots, discoloration, blemishes, and fine lines to give you an even complexion. This full-coverage foundation stick has a creamy formula that blends smoothly into your skin for the perfect no-makeup look. It is available in 18 shades for skin tones ranging from light to medium to deep.
Pros
Provides full coverage
Matte finish
Transfer-resistant
Waterproof
Works as a concealer
Easy-to-blend formula
Suitable for oily skin
Cons
It may not be best studied for dry skin types
We love multi-functional products, and the Neutrogena Hydro Boost Hydrating Foundation Stick will make you forget about any other foundation you've ever tried. This super-hydrating foundation does a fantastic job of masking all your fine lines, blemishes, and dark circles to give you a natural-looking glow. Even though it's ideal for people with normal and dry skin types, it's also oil-free, so it won't clog your pores if you've got oily skin. But we definitely think it is the best foundation stick for dry skin. With a lightweight yet creamy formula, this chubby stick foundation glides on smoothly and blends in without a fuss. Enriched with the goodness of purified hyaluronic acid, this non-comedogenic stick foundation pumps up the hydration levels of your skin, leaving it looking fresh and dewy.
Pros
Hypoallergenic
Hydrating formula
Suitable for all skin types
Non-comedogenic
Blends easily
Lightweight
Cons
Not available in many shades
Price at the time of publication: $35
Shine on in all the right ways with this full-coverage formula from True + Luscious. The Camera Stick Foundation makes your skin photo-ready with photo-filter pigments to help cover under-eye circles, blemishes, and fine lines. You won't need those filters when you want to take a selfie anymore! Taking inspiration from Hollywood's makeup artists, True + Luscious brings to you an all-vegan stick foundation range that is so creamy that it blends like a dream. The anise fruit extract in this organic stick foundation elevates your skin health by minimizing irritation and reducing the appearance of wrinkles. A kind of fountain of youth, right? Available in 8 unique shades, this lasting foundation stick is also suitable for all skin types to give a natural-looking finish.
Pros
Smudge-proof
Easy to blend
Vegan
It doesn't look patchy
Pleasant fragrance
Cons
Not available in a shade for people with dark skin tones
Price at the time of publication: $32
The W3LL PEOPLE Narcissist Foundation Stick is a plant-based foundation formula designed to give you a full coverage look with a soft, radiant glow. Star ingredients like organic aloe leaf extract and vitamin E, soybean, castor and safflower seed oils are infused in this foundation to keep your skin hydrated even with a full face of makeup on. A range of other benefits like skin healing, preventing acne and reducing the appearance of wrinkles can be derived from these ingredients. The creamy texture makes blending easy and will give you an ultra-smooth complexion without looking cakey or greasy. If you're looking for coverage that looks natural, this is the right cream foundation stick for you. All 9 shades also have a bit of shimmer in them — and who doesn't love that? This fast base stick foundation doesn't contain any parabens, petrolatum, or dimethicone, making it safe for daily use.
Pros
Cruelty-free
Full, natural-looking coverage
Contains nourishing ingredients
Available in 10 shades
Fragrance-free
Cons
Price at the time of publication: $27
With an impressive full-coverage formula, the Hourglass Vanish Seamless Finish Foundation Stick stays put throughout your workday. The packaging is classy as the stick is slim, making it easy to handle and use. The 2-in-1 foundation and concealer are on double duty to mask all your tiredness and dark circles. This Hourglass stick foundation glides on easily with little to no tugging and is exceptionally lightweight. We already know this dewy stick foundation will be your go-to product if you are looking for a natural finish. The Warm Ivory shade is one among 12 beautiful, creamy formulas you can choose from to get a glowing finish.
Pros
Waterproof formula
Stays up to 12 hours
Doubles as a concealer
Cruelty-free
Non-toxic
Cons
Price at the time of publication: $65
Do you think the ultimate foundation stick doesn't exist? Think again. Bobbi Brown's Skin Foundation Stick is versatile and has a unique transparent base that is made to match your skin's undertone seamlessly for moderate coverage. Ensure that your makeup looks natural and effortless as the cream blends into your skin to hide any spots or signs of aging. Its formulation consists of a natural combination of olive oil and shea butter, moisturizing your skin deeply to prevent dryness. This stick foundation is your best bet to faking healthy skin and maybe even the appearance of a good night's sleep. Whatever your skin type, you can go ahead and use this bad boy without any fear! You can choose from 20 beautiful shades according to your skin tone and undertone.
Pros
Water-resistant
Weightless formula
For medium-to-full coverage
Smooth texture
Cons
Price at the time of publication: $29.98
If a matte finish isn't your thing, this Max Factor Pan Stik Foundation is an oil-free formula that will save the day. Without much effort, you have the luxury of full coverage that soothes the appearance of fine lines, pigmentation, spots, and dark circles. The creamy formula in this oil-free foundation stick absorbs into your skin to give the appearance of an even-textured complexion. With a single swipe, you can sculpt your favorite features while hiding away imperfections at the same time. It doesn't leave your skin feeling heavy or greasy, and the transfer-proof foundation works wonders when you set it with some powder.
Pros
Dewy, natural glow
Provides full coverage
Evens out skin texture
Non-greasy
Lasting formula
Cons
May not be suitable for oily skin types
Price at the time of publication: $8.48
Made without any parabens, gluten, SLS, synthetic fragrance, and talc, the Complexion Rescue Hydrating Foundation Stick by bareMinerals is a gamechanger. Providing full coverage without any oils that may clog your pores, this water-based liquid foundation in the form of a stick is super easy to blend. This could also be the best foundation stick for contouring and enhancing your facial features. Designed to significantly boost your skin's hydration levels with 30% enhanced mineral water, this enriching formula will keep your skin mochi-like plump and soft. Containing a host of other ingredients like moringa for collagen building, tsubaki and cacao for antioxidant benefits, grasswort for skin barrier strengthening, and black tea ferment for anti-aging properties, it truly is one of the best stick foundations for dry skin. Think of it as a clean tinted moisturizer-meets-foundation that you can use on the go and retouch throughout the day. You can also count on it to protect your skin from pollution and other harsh conditions.
Pros
Doubles up to contour and conceal
UV protection of SPF 25
Weightless formula
Cruelty-free
Best suited for dry skin types
Long staying power
Cons
The coverage is not buildable
Price at the time of publication: $20.43
If you are on the lookout for a foundation stick that works like magic, allow us to introduce to you the Fast Base Stick Foundation by Revolution. Its highly buildable formula is lightweight and effortlessly seeps into your skin to hide your under-eye bags, pigmentation spots, and fine lines. This dreamy medium coverage formula is cruelty-free and vegan and doesn't look cakey or heavy. Get your hands on this natural-looking matte finish that will help boost your confidence in front of the camera.
Pros
Hypoallergenic
Blends easily
Weightless formula
Matte finish
Available in 18 shades for various undertones
Cons
Might not be suitable for oily skin
Price at the time of publication: $8.5
Now that we've gone over some of the best stick foundations available in the market let's look at how you can choose one that's right for your skin type.
How To Choose The Right Stick Foundation
For people with oily skin, a foundation that offers matte finish and claims to control oil production is a good option. You must read the label to ensure that the foundation is non-comedogenic for acne-prone and oily skin types. Choosing a non-comedogenic and oil-free product won't clog your pores, which can prevent pimples and blackheads. Dry skin types tend to fare better with stick foundations that give a dewy finish with a subtle glow owing to hydrating ingredients like aloe and essential oils. So, it would be wise to keep an eye out for the label. If you are looking for something for combination skin, you can mix and match different foundations according to where your skin is oily and dry.
Looking for makeup with skincare infused ingredients can help your skin stay healthy even with makeup on. While normal skin types do well with any kind of product, you can hydrate dry skin with ingredients like aloe, hyaluronic acid, and essential oils. Bamboo powder and lily extracts, on the other hand, have pore-blurring effects and help to control oil and sebum production. It is best to steer clear of ingredients like aluminum, mineral oils, parabens, sulfates, petroleum, artificial dyes and fragrances.
When looking for a foundation that is the right fit, it's necessary to determine your skin tone so that your makeup looks even overall. One way to figure out if you have warm undertones (which usually has yellow undertones) is if your wrist veins are green. And if you have cool undertones (with pink undertones), you will have blue wrist veins. Neutral undertones feature a mix of the two. Selecting a foundation that matches both your skin tone and undertone can be a complicated task, but it makes your makeup look all the more flawless once you nail it down.
If you're not a fan of wearing too much makeup, steer clear stick foundations labeled as 'full coverage.' These are best for people that don't want multiple touch-ups throughout the day or have acne or hyperpigmentation. 'Natural,' 'light,' or 'medium' coverage is better for people looking for a more natural, fresh-faced look. You can pile some more product on these foundations without looking cakey.
What do you do after buying the best foundation stick? You learn to use it, of course! Read on to find out how you can blend your foundation for a flawless finish.
How To Use A Stick Foundation
With your foundation stick, gently draw lines on your face — along your nose bridge, on your cheekbones, the middle of your forehead, and on your chin. You can also just dab the product in a few places if you want to be minimal with your use. Now, with either your fingers or a beauty sponge (your preference), start by slowly blending the cream from the middle of your face and work it outwards and up. Work your way down your jawline and chin and up towards your hairline with gentle strokes for seamless blending. If you would like to conceal, you can use your ring finger to cover up your dark circles or some sun or acne spots and fine lines. Continue to blend gently until the result looks as natural as you want. You can go ahead and set the look with some setting powder, blush, highlight, or contour.
Why Trust StyleCraze?
The author, Srijani Roy Chowdhury, is a makeup enthusiast who loves trying out different makeup brands. She relies on stick foundation to do quick makeup and believes that they are ideal for anyone who likes adding a flawless finish to their touch-up. She has carefully reviewed the online reviews to pick the best ones for her readers. These foundations cover your skin perfectly and make sure you look natural and have a lasting dewy glow.
Frequently Asked Questions
Are stick foundations hygienic?
When it comes to hygiene, liquid foundations get brownie points as you can control how much of the product touches your face. If you can't give up on your stick foundation, using it with a brush and cleaning it often will help.
How long does a foundation stick last?
Depending on how frequently it is used, a stick foundation can last you anywhere between 1 month to 6 months because they are generally made compact and used on the go.
Is stick foundation good for mature skin?
Stick foundations that contain nourishing ingredients like essential oils will help give a natural base on mature skin without letting the product settle in between lines. Moisturizing ingredients also make the cream smooth so it doesn't tug on the skin.
Is stick foundation good for dry skin?
Liquid foundation tends to work better with dry skin, but stick foundation can give good results after proper moisturization. Ensure that the skin is amply hydrated so that the foundation stick doesn't tug or cause lines.
Is stick foundation good for acne-prone skin?
Acne-fighting ingredients like tea tree or witch hazel in stick foundations will help your skin, along with the absence of pore-clogging oils. Non-comedogenic foundations that help conceal spots and marks are the best option.
Recommended Articles
Best Stick Foundations For Oily Skin For Clear, Shine-Free Skin
Best Full-Coverage Foundations Suitable For All Skin Types
Best Foundations For Oily Skin That Keep You Shine-Free All Day
Best Drugstore Stick Foundations To Achieve That Flawless Look