10 Best Anti-Theft Travel Purses That Are Stylish & Secure – 2023
Keep your documents, cards, and cash safe and sound while you travel around.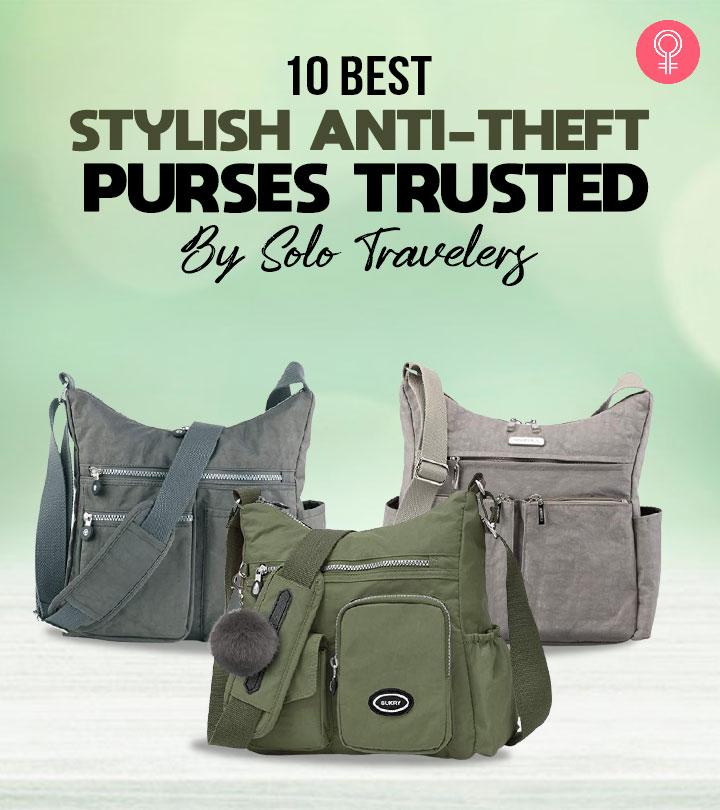 The best anti-theft purses can keep you stress-free on your trips and vacations. To prevent getting stranded on foreign lands without a passport or penny, you must invest in an anti-theft purse. A good-quality anti-theft purse can help you store your essentials like cards, passport, money, room keys, etc.
Anti-theft purses are no longer drab and boring. Brands now have the most quirky styles and designs available in various sizes and budget limits. You can choose from a wide range of these bags to match all your outfits. This article lists some of the best anti-theft purses available on the market right now. Go ahead and check them out to find the ones that suit your style and needs the best.
What Is An Anti-Theft Purse?
An anti-theft bag is secured luggage with built-in safety features designed to keep your belongings safe. These bags are made of special slash-proof fabric that cannot be ripped apart. Some come with lockable zippers or cut-proof shoulder straps for added safety as well.
Safety is the topmost priority when traveling. The anti-theft purses are a lifesaver while traveling alone in an unknown country. Here are some of the well-known benefits of anti-theft purses.
What Are The Benefits Of Using An Anti-Theft Purse?
 An anti-theft purse made of slash-proof fabric is difficult to cut through. It can protect your belongings from pickpockets and thieves.
 Most anti-theft purses come with a secure clasp, so they stay put on your body and reduce the risk of getting lost or misplaced.
 The RFID lining prevents unwanted scans, saving you from digital theft.
10 Best Anti-Theft Purses In 2023
Pros
 Lightweight
 Multiple compartments
 Slash-resistant material
 RFID blocking pockets
 Durable
 Easy to clean
 Adjustable straps
 Ample amount of storage
 Does not feel bulky
Cons
None

Price at the time of publication: $66
Pros
 Lightweight
 RFID protection
 Water-resistant
 Machine-washable
 Multiple compartments
 Wide color range
 Sturdy design
 Spacious interiors
 Non-slip straps
Cons
Price at the time of publication: $50.14
Pros
RFID security paneling
Slash-proof lining
Built-in wallet
Waterproof
Tear-proof
Antimagnetic zippers
Scratch-resistant
Durable
Multiple pockets
Adjustable shoulder strap
Cons
None
Price at the time of publication: $174.9
Pros
Versatile
Durable
Lightweight
Covered with aluminum lining
Smooth zippers
Adjustable straps
D-ring connecting holders
Value for money
Cons
Price at the time of publication: $21.89
Pros
 Versatile
 Water-resistant
 Durable
 Moisture-wicking
 Lightweight
 Easy access design
 Multiple compartments
 Large capacity
Cons
Price at the time of publication: $26.99
Pros
Adjustable, convertible, and removable straps
Ideal for daily use
Durable
Versatile
Water-repellent fabric
Cons
None
Price at the time of publication: $63
Traveling with your expensive laptop can be nerve-wracking. The best option is to invest in this handy laptop backpack by PACSAFE, which is specifically designed to keep your laptops safe from theft. The eXomesh slashguard fabric reinforced with steel wire mesh makes the bag slash-resistant. Plus, the added zip tabs and custom Rootbar style locking system provide enhanced protection from theft and pickpockets. The adjustable shoulder straps in this bag are reinforced with a detachable wire that does not slide.
It has 10 working pockets – one front zip pocket, one interlocking zipper compartment, one padded sleeve, one zipper interior pocket, two expandable side pockets, and four card slots. The front and interior zipped pockets are equipped with RFID blocking to protect your IDs and credit card details. The brand offers a five-year warranty against damages, which makes it a safe buy as well!
Specifications
 Dimensions: 15.4 × 10.6 × 6.3 inches
 Color: Black
 No. of pockets: 10
Pros
 Breathable fabric
 Slash-resistant
 Water-resistant
 Easy to clean
 Spacious design
 Padded sleeves to keep laptop safe
 Multiple pockets
 Lightweight
 Comfortable to wear
 Heavy duty
 Sleek design
 Comes with a 5-year warranty
Cons
Price at the time of publication: $169.95
Pros
 Water-resistant fabric
 Six-point anti-theft technology
 Vegan
 Adjustable strap
 Comfortable to wear
 Durable
 Slash-proof
 Enough space
 Affordable
 Lightweight
 Stylish design
Cons
Price at the time of publication: $79.95
The Prima Anti-Theft Purse by Sherpani is a minimalist crossbody purse that has a front hidden zipper pocket, a back slip pocket, and an exterior zipper pocket. It is designed with water-resistant, lightweight, and durable nylon and melange fabric. The bag has a polyester and vegan leather trim design for a modern look and a lime green interior for easy visibility. Its main compartment has a clip lock opening and is also equipped with RFID protection for added security. This 3.5 L slash-proof bag is perfect for use during vacations, work, travel, school, business, or shopping. Plus, the bag also comes with a lifetime warranty and offers replacement against damages.
Specifications
 Dimensions: 7.5 × 9.5 × 1.5 inches
 Color: Sterling
 No. of pockets: 3
Pros
  Vegan
 Adjustable strap
 Comfortable to wear
 Quality material
 Durable
 Slash-proof
 Spacious
 Water-resistant
 Lightweight
 Stylish design
Cons
None
Price at the time of publication: $55.95
Pros
Lightweight
Versatile
Sleek design
SpeedThru Pocket
Smooth zippers
Adjustable strap
Built-in organizer
Easy to wear
Travel-friendly
Cons
Price at the time of publication: $149
These are the 10 bestselling anti-theft purses trusted by travelers worldwide. But which purse to choose for your next travel plan? Here are some pointers that can help you make the right purchase decision.
Must-Have Features In An Anti-Theft Purses
The anti-theft purses made of slash-proof mesh wire can withstand cuts and knife slashes, making them perfect for tourists traveling through crowded places.
Lockable zippers with tiny little latches make it more difficult for pickpockets to open your bag or purses.
Most theft-proof purses come with adjustable shoulder straps to be attached to a table or chair when relaxing. It also allows you to conveniently adjust the bag according to the size of your body for a snug fit.
RSID lining is an added plus. Almost all theft-proof bags come with RFID blocking pockets, which help keep your information from being stolen electronically.
Most anti-theft purses are made with water-resistant nylon that is easy to clean and keeps your belongings dry during bad weather. It also ensures your purse is durable and sturdy.
If you are wondering how to use an anti-theft bag while traveling, trust us, you are not alone. The following section lays out some important pointers that can help you in wearing your purse with confidence.
 Always wear the strap across your body. Do not wear the bag hanging over one shoulder, as this can make snatching easier.
 Avoid carrying all your valuables in your anti-theft purses, especially when going to festivals or busy markets. You can carry your passport to places where it's mandatory.
 Have your purse positioned towards the front and not on your back.
 Hold your anti-theft purse closer to your body when boarding public transportation like crowded trains or buses.
 Avoid walking into abandoned streets where your purse is most likely to be yanked.
 More is always better. Choose additional anti-theft products like money belts or bra pouches to hide extra cash.
Finally, and most importantly, look up for thefts and scams in your travel destination to avoid any risks.
With so many options, the choice of picking the one anti-theft bag for your next travel can be overwhelming. To help you out, we have created a buying guide for you.
How To Choose The Best Anti-Theft Purse?
When choosing an anti-theft purse, here are a few features to look for:
It is important that you choose an anti-theft purse with a zipper opening, which can be closed securely. Avoid purses that have faulty clasps or wide openings.
Make sure the material of your purse is high-quality, durable, slash-proof, and tear-proof. The best option is to go for purses with a nylon make.
You would also want to consider the size and weight of your purse, as you will be carrying it for the whole day while sightseeing. Unless and until you are carrying items for children or other people, avoid choosing a purse too big.
More is always better. That's why it is best to choose an anti-theft purse that has enough space to store your daily essentials and comes with multiple compartments for organizing your valuables.
The Bottom Line
Why Trust StyleCraze?
Baishali Bhattacharya, is a certified image consultant who has in-depth knowledge of which attire suits what place and occasion. So if you are looking for some recommendations in selecting the right anti-theft purse for your next trip, look no further than this specially curated list by her. She has extensively researched and personally tried a few different types of these secure purses, to bring you a selection of nothing but the best. These not only help keep your valuables safe while travelling but also are handy and convenient to use.
Frequently Asked Questions
Are anti-theft bags necessary?
Yes, anti-theft bags help safeguard your possessions in unknown locations. They are helpful during traveling and keep your personal belongings secured.
What is the safest type of purse to travel with?
A crossbody anti-theft purse is the safest to travel with. Use the Travelon Anti-Theft Cross Body Bag to keep your belongings safe.
Are fanny packs safe for travel?
Yes, fanny packs are safe for traveling and keep your items close at hand.
Are tote bags easy to pickpocket?
It depends on the design of the tote bag. Some tote bags with narrow openings that remain closer to your body are hard to pickpocket. However, some bags with wider openings may not be too safe.
How can I make my purse anti-theft?
Add secret zipper compartments inside your bag and make them as secure as possible. Make your bag slash-resistant and add an RFID-blocking system to prevent electronic identity theft.