Top 15 Back Scrubbers Of 2020 – Reviews And Buyer's Guide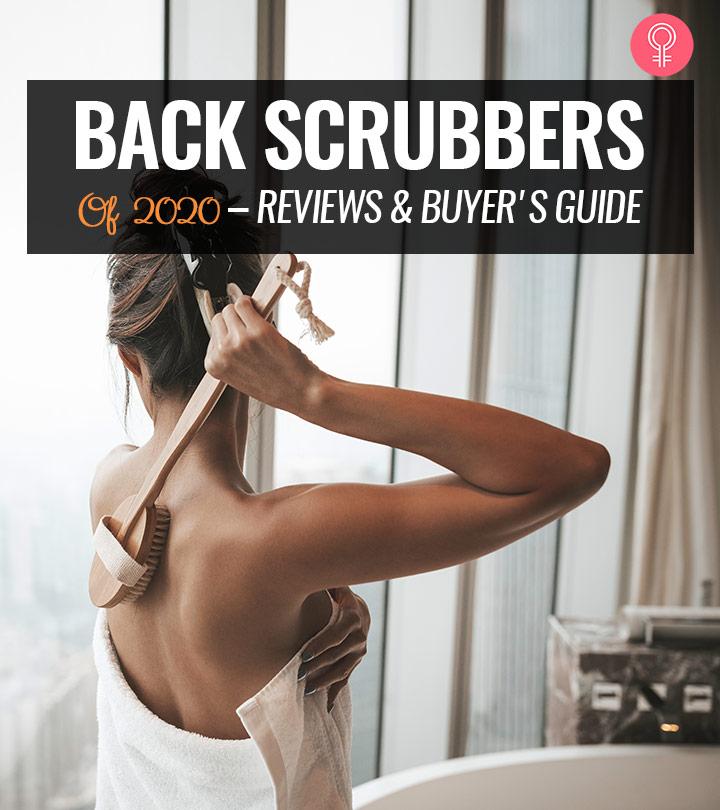 Although it is out of sight, it is never out of your mind. You don't know exactly how to shower your love and care on it. We are talking about your back. Yes. That hard-to-reach and difficult-to-clean part of your body.
Bending your hands to clean, scrub, and exfoliate the skin on your back properly demands some crazy yoga skills. But, with a proper back scrubber, that may not be the case anymore! Here is a list of the best back scrubbers to help you take care of your back and a guide on how to utilize them. Take a look!
What Is A Back Scrubber?
A back scrubber is something that helps you reach different spots on your back to clean it properly. It's usually hasis usually a long length and may look like a big brush with which you can clean your back. There are different types of back scrubbers available in the market. Below is a list of the top 15 back scrubbers available right now.
The 15 Best Back Scrubbers of 2020
This back scrubber has a loofah-like exfoliating surface on one side and a smooth microfiber (for massaging) on the other. The two handles attached on the two ends of the scrubber make it easy for you to clean your back. The scrubber doesn't retain moisture and is easy to clean.
Pros
Cons
None
Similar Products
This back scrubber has an exfoliating loofah on one side and an ultra-soft cotton polish on the other. The loofah helps in exfoliating the back and works best for those who have back acne and eczema-prone skin. The scrubber has two handles that make it easy to use.
Pros
Cons
None
Similar Products
The soft nylon bristles of this back scrubber gently exfoliate your skin. It has a long curved handle that offers a comfortable grip and is long enough to reach the tough-to-reach parts. It is easy to clean and dries quickly. You just need to hang it upside down and air-dry!
Pros
Ergonomic design
Durable design
Replacement or refund available
Cons
None
Similar Products
This is a dual-sided brush and is excellent for both wet and dry brushing. The stiff boar bristle brush on one side is ideal for exfoliating your skin, and the other side has soft nylon bristles for gentle scrubbing.
Pros
Long extended handle
Waterproof
60 days guarantee
Cons
None
Similar Products
This back scrubber gives you a spa-like experience at home. It has a soft mesh loofah brush that works very well for sensitive skin. It massages your back and improves circulation. It comes with a long handle and a cord attached to it. This makes it easy to hang the scrubber and dry.
Pros
Waterproof handles
Durable
Cons
None
Similar Products
This brush runs on a battery and comes with five different types of brush heads – a massager, a microderm scrubber, a regular brush, a pumice rock head, and a cleansing brush head. You can easily adjust the speed. This product is safe to use.
Pros
Versatile
Can be used on different body parts
Cons
None
The nylon bristles of this bath brush are medium soft. They are not too soft or too tough but are coarse enough to give you a decent scrub. It has a plastic body and works well with shower gel.
Pros
Cons
This brush is made of bamboo material and is apt for daily use. It comes with two types of brushes and can be used for both dry and wet scrubbing. Moreover, it is easy to clean and can be air-dried.
Pros
Cons
None
This is a multi-function brush. You can use it as a bath brush, back scrubber, and cellulite massager. It has a long wooden handle and boar bristles and can be used for both dry and wet brushing.
Pros
Sturdy
Short and soft bristles
Cons
Bristles may shed with use (as per user reviews).
If you are looking for a brush with stiff bristles and for some serious back scrubbing, this one is perfect. It is slender, easy to hold, and lightweight and can effectively clean every corner of your body.
Pros
Cons
Hard bristles not suitable for sensitive skin.
This 2-in-1 back scrubber has both bristles and a loofah, so you can use any side you like. It is convenient for both dry and wet brushing. It exfoliates your skin and improves skin health. It has a hanging rope, so storing this brush is not an issue.
Pros
Sturdy design
Soft bristles
Cons
None
This is a humidity-resistant and multi-functional brush that can be used for both wet and dry brushing. It claims to exfoliate your skin, improve skin quality, promote blood circulation, and make the skin smooth. It offers a better grip with its anti-slip design.
Pros
100% degradable materials
Sturdy
Cons
None
This is a versatile back scrubber. One side of the scrubber has a textured, loofah-like surface that can be used for exfoliation, while the other side has a microfiber surface for massaging the skin. The two handles of the scrubber make it convenient to use.
Pros
Long-lasting
Machine washable
Quick-drying
Cons
Short (may not provide enough coverage)
This is a polished bamboo bath brush with medium-soft bristles. The bamboo handle is long and has a rubber grip so that it doesn't slip. It has high-quality natural bristles that exfoliate your skin without hurting it.
Pros
Cons
Bristles may fall.
Not long-lasting
If you have sensitive skin, you can use this brush. The bristles of this brush are medium-soft, so it doesn't irritate your skin. However, it can be used only for wet brushing and not dry brushing.
Pros
Cons
Not durable
Grip slips when wet
These are the top back scrubbers available on the market right now. Picking any one of them can be confusing. Here are a few tips to help you decide.
Things To Consider When Buying Back Scrubber
1. Can It Reach All The Places?
The right back scrubber should have a long handle that will help you get the maximum benefits. Before buying, check whether it helps you reach areas without straining yourself.
2. Is It Easy To Grip?
The handle design is crucial. Before you pick a brush, check if it is easy to grip and has an anti-slip design or non-slip ridges. Make sure that the handle is durable.
3. Can It Be Used For Both Wet And Dry Brushing?
It is best when the brush serves both purposes. Dry brushing before showering helps stimulate your skin and exfoliate the dead skin cells. Hence, make sure the brush you are picking is suitable for both dry and wet scrubbing.
4. Is It Mildew-Resistant?
Mold and mildew deposits are pretty common in brushes. Pick a brush that dries quickly. This helps to reduce the chances of molding. If you are picking a cloth back scrubber, ensure that it is quick-drying.
5. Are The Bristles Firm?
You do not want the bristles to fall out after a few uses. Hence, make sure that the bristles are attached firmly to the base of the brush. Also, make sure that the bristles are not extra soft. This will keep them in shape for long.
Back scrubbers come in a lot of varieties. Here are the most common types of back scrubbers that you will find.
Different Types Of Back Scrubbers
Cloth Or Pad Type Back Scrubber: It has handles on both ends that you can hold and use the scrub on your back. This type of back scrubber is easy to use and store.
The Brush: This type of back scrubber usually has either nylon or natural bristles. Some may even have plastic nodes for massaging. This is the most common type of back scrubber you will get.
Electric Back Scrubber: You really do not need to do much when using an electronic brush. It does everything on its own and gives you a hassle-free experience. Compared to other brushes and scrubbers, this one is a bit expensive.
Now that you know which back scrubber you are going to pick, here are a few tips to help it utilize properly.
How To Use A Back Scrubber
If you are using the cloth or pad type scrubber:
Rinse the cloth part and add soap.
Place the cloth on your back and hold the two handles with your hands.
Move your hands up and down for scrubbing.
If you are using the brush type:
Add water and soap on the bristles.
Grab the handle and rub it on your back.
Do not forget to clean the bristles.
If you are using the electric brush:
Add water and soap on the bristles.
Set the speed on the device.
Turn it on and let it scrub your back.
Keep changing the position of the brush on your back.
Your shower is never complete unless you have cleaned each body part. Often, it gets impossible to reach a few parts, like your back, due to a lot of reasons. A back scrubber is an easy and convenient way to reach the centre of your back without straining your muscles and is definitely worth trying. We hope this article will help you pick the right product.
Expert's Answers For Readers' Questions
How often should you exfoliate your back?
You can do it every alternate day.
Is a back scrubber only for showering?
Some scrubbers can also be used for dry scrubbing and massaging.
What is the difference between a brush and a cloth-type back scrubber?
A brush has bristles attached at the end of a wooden or plastic handle, while a cloth-type scrubber comes with two handles at both the end of the pad. The cloth-type is much softer compared to the brush scrubber.
Recommended Articles