The 10 Best Back Lotion Applicators In 2021 – Reviews & Buying Guide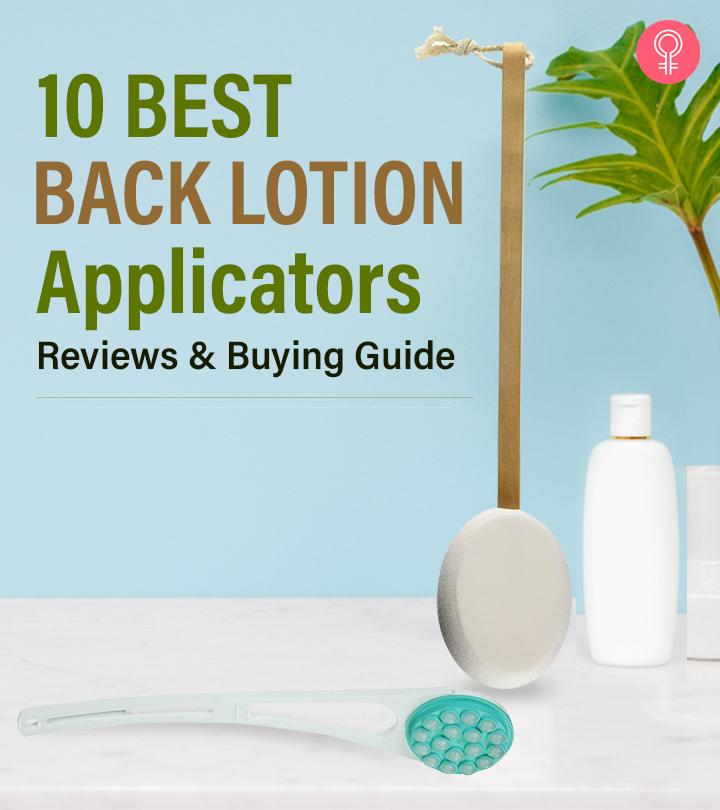 Moisturizing our skin is a regular affair. Though it does not require much effort to moisturize our arms and legs, it is hard to bend or twist and apply lotion to our back. But this does not mean we should neglect our back! Irrespective of the body parts, our skin needs moisturization to stay soft, healthy, and hydrated. Enter: back lotion applicators.
A back lotion applicator helps you apply lotion to your back with ease. If you have never used one, do not worry – we got your "back!" In this article, we have picked some of the best back lotion applicators for you. Scroll down and choose one from our list!
What Is A Back Lotion Applicator?
A back lotion applicator is an easy-to-use tool with an extended handle to help you apply lotions, creams, or gels to your back effortlessly. The extended handle makes it easy for you to moisturize the hard-to-reach areas of your back and body.
Let's now look at the 10 best back lotion applicators available online.
10 Best Back Lotion Applicators
The Aquasentials Easy Lotion Applicator is one of the top-rated applicators available on the market. It features a PVA sponge that is 3.5 inches wide and 4.5 inches long and a 15.5-inch long handle that makes it convenient to use. The firm and the soft sponge does not irritate your skin. It comes with a protective head cover that allows safe storage after use.
With a slight bend on the handle, the applicator reaches the most challenging areas of your body with ease. The sturdy and lightweight handle has finger grooves attached to it on one end for a comfortable grip and a small rope for easy hanging.
Pros
Includes a protective headcover
Sturdy handle
Easy to store
Easy to use design
Inexpensive
Cons
Sponge head not replaceable
Not durable
The ALINCAS Kingsley Lotion Applicator is the perfect solution to apply lotion to your body's hard-to-reach areas. It has a soft foam applicator that can be washed and reused as many times as you want. The ergonomically designed, 15-inch long wooden handle allows for a decent grip.
Pros
Easy to wash
Long, ergonomically designed handle
Comfortable grip
Cons
Might not work great with thin consistency lotions
The Hydas Back Massager has an 18-inch long handle. It is a full body massager, and the 2-part handle makes it an ideal travel companion. This handy knobber, roller tool allows you to reach new pressure points on your foot or back to provide extra relief. The long handle enables a comfortable grip and offers a better massaging experience.
Pros
18-inch long handle
Easy to store
Travel compatible design
Easy to clean
Includes a protective cover cap
Cons
Rollers are not long-lasting.
The Vive Back Lotion Applicator helps you apply lotions, creams, and ointments conveniently. No twisting, turning, or bending your arms! The lotion applicator has a 17-inch long handle with 3.5 inches soft applicator pads for untroubled applications. The handle is made of durable, split, and crack-proof lotus wood and has a waterproof coating on the body. The non-slip, textured rubber grip ensures a comfortable and secure grip. The pad is designed specifically to hold the lotions in place without any stripping or dripping.
Pros
Lightweight
Durable
Hassle-free application
Soft applicator pad
Non-slip textured grip
Waterproof handle
Cons
The applicator head is not flexible.
This back lotion applicator by Slick Solutions features a soft velvet band that is made of durable microfiber cloth and is flexible, stretchable, and super easy to use. It has well-stitched rope handles, is lightweight, and easy to carry. You can take this applicator to any beach or pool to apply your preferred suntan lotion. The applicator comes with a six-month warranty.
Pros
Simple design
Travel-friendly
Stretchable and durable material
Easy to clean
Cons
Short handle
Comparatively expensive
The Maddak Roll Easy Lotion Applicator comes with a 14.5-inch long folding handle for compact storage. If you are looking for a travel-friendly back lotion applicator, this is the one for you. This cream applicator for the back has a roller head for massaging the body while applying moisturizer. The handle has a pivoting head that can be used at various angles to cover hard-to-reach areas. It comes with two different roller heads – one for your back, and the other for your arms, legs, and neck.
Pros
Folding handle
Easy storage
Ideal for traveling
Includes two roller heads
Evenly distributes the lotion
Cons
The Toem Lotion Applicator is easy to use and comes with four applicator pads. The 3.5-inch soft applicator pads are textured, do not absorb the lotion, and do not drip or slide away. The 17-inch long handle has a well-designed, non-slip rubber grip to allow a secure grip while using the applicator.  The handle is sturdy, durable, split, and crack-proof and comes with a hook for easy hanging.
Pros
Includes four soft pads
Long-lasting
Does not absorb the lotion
Non-slip handle
Comes with a hook
Durable handle
Cons
The sponge might fall off the handle.
The GranNaturals Lotion Applicator is designed to easily apply lotion on your back without any pain or strain. The ergonomic wooden handle is firm and sturdy compared to the regular plastic handles. This product is a versatile, long reach lotion applicator that can be used even under the shower to clean your back. Use this tool to apply body butter, medicinal ointments, muscle salves, sunscreen, sunscreen lotion, after sun care, aloe gel, and all your go-to body products.
Pros
Ergonomic design
Sturdy handle
Suitable for dry and wet use
Suitable for applying all body products
Cons
None
The Daylee Naturals Lotion Applicator features a sturdy 15-inch long handle made of high-quality wood. The soft, densely padded, sponge head of the applicator is made of good quality foam that does not absorb lotions and moisturizers, allowing easy and even application. Choose your favorite suntan, body butter, or body lotion, and use this applicator to apply it. The applicator comes with a zip lock bag for easy storage.
Pros
Sturdy handle
Soft, dense foam
Mess-free application
Includes a zip lock bag
Cons
The Body Buddy Lotion Applicator is a high-quality, band-type, non-absorbent lotion applicator. It reaches every spot for even application, minimizing product wastage. This lotion applicator is machine washable and can be used for applying moisturizers, ointments, and medication. You can use this travel-friendly band-type applicator to enjoy a spa-like feel at home and moisturize your dry and flaky skin.
Pros
Machine washable
Durable material
Non-absorbent
Cons
None
These are the best back lotion applicators that you will find on the market. You can pick any of these as per your convenience. However, if you have never tried out back lotion applicators before, consider these factors before selecting one.
Factors To Consider While Choosing The Best Back Lotion Applicator
Check the quality of the applicator. The handle should be well-stitched, have a non-slip grip, and durable. The material should be hypoallergenic to avoid any skin irritation.
The purpose of using a back lotion applicator is to moisturize the entire back and other hard-to-reach areas of the body. Ensure that the applicator has a long handle to avoid pain or strain while using it.
Choose an applicator that is flexible and gives you enough coverage. If you choose a bendable lotion applicator, check the material to ensure durability.
Using a suitable back lotion applicator has a lot of benefits.
What Are The Benefits Of Using A Back Lotion Applicator?
Prevents Dry And Patchy Skin
Not moisturizing the skin on your back can make it dry and cause white flaky patches and itching. Applying a cream or lotion on damp skin after a shower lock in the moisture. With the best back lotion applicator, you can apply lotion evenly on all parts of your body.
If you live in a place with extreme climatic conditions, your skin needs regular hydration. And even if the climate is good with moderate humidity levels, hydrating your skin is crucial. The gradual aging process can also make your skin lose its elasticity. With a back lotion applicator, the skin will not miss the daily boost of hydration it needs.
Offers Relaxation To Tour Body
A long day at work can be extremely tiring for your body. Sitting in the same posture for hours makes your body and back stiff, and that is when you yearn for a great body massage. Using a back lotion applicator to apply lotion can give you a spa-like feel at home. The wand-like applicators can massage and relax the back muscles.
If you are using a back lotion applicator for the first time, you might have a few doubts about using it. However, it is not complicated and can be used by people of any age group or gender. Here are some tips to help you with this tool.
How Do You Use A Lotion Applicator In The Right Way?
Keep your favorite lotion handy.
Take a shower and ensure that your skin is damp.
Pour the lotion or cream on the applicator tool.
Hold the handle with a firm grip and then slowly apply it all over your back area.
You no longer have to depend on anyone for moisturizing your back! A back lotion applicator is a handy tool to keep your skin looking and feeling good. Choose the best one for yourself now!
Frequently Asked Questions
Is there a tool to put lotion on your back?
You can apply lotion on your back with the help of a back lotion applicator. These tools smoothly glide through all parts of your body and offer even moisturization.
Why do the elderly need a lotion applicator for their back?
Older people need a back lotion applicator because the gradual aging process causes mobility issues, and it becomes difficult for them to reach different areas of their body. A back lotion applicator with an elongated handle makes the task easier for the elderly.
Recommended Articles
The following two tabs change content below.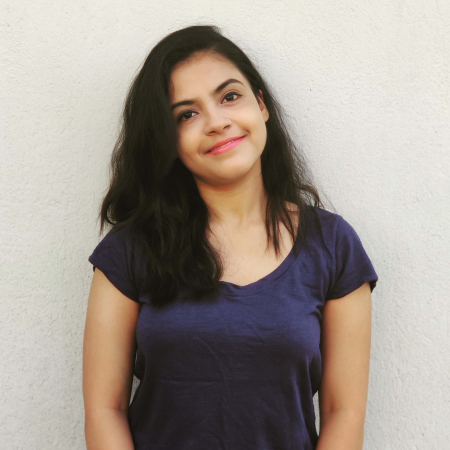 Oyendrila Kanjilal has a Master's Degree in English Literature. As a Beauty and Lifestyle writer, she writes about everything that the modern woman needs to know about grooming and self-care. She also reviews makeup, skin care, and lifestyle products to help readers make the best purchase. She is a trained classical dancer and loves binge-watching web series of different genres.