16 Best Trendy Beach Bags With Coolers – 2022 Update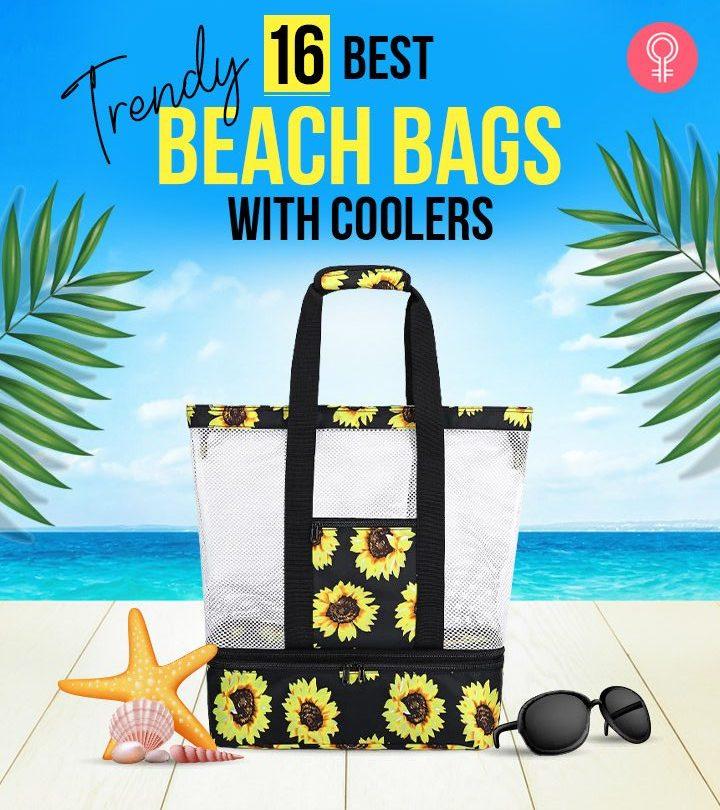 The best beach bags with coolers ensure that your drinks stay cold for a long time while you are out in the sun. These bags are generally spacious and can hold all your essentials without looking bulky. They come with strong, cushioned handles that do not dig into your shoulders. These bags are also extremely organized and look trendy.
A day out on the beach requires you to pack many essentials like towels, food, water bottles, glares, lotions, etc. But, carrying a big bag means having to rummage through everything and having a disorganized mess at hand. So, before your next trip to the beach, check out our list of the best beach bags with coolers that are not just spacious, durable, and waterproof but are also budget-friendly. Scroll down to find out more about each of them!
16 Best Beach Bags With Coolers – 2022 Update
This is a zippered tote shoulder bag by Blue Boon Mesh Beach Bag. This spacious bag has a detachable insulated compartment at the bottom to keep your food and drinks cool and fresh. Its upper mesh compartment can store your wet clothes, towels, and more. In addition, its small external zipper pocket allows you to keep other accessories like your phone or keys. Finally, its padded reinforced handle ensures there is no stress on your shoulder.
Pros
Lightweight
Fashionable
Durable
Breathable fabric
Cons
The printed floral design of this bag gives it a trendy look. The Btoop Beach Tote Bag has multi-functional features with a mesh section and a detachable cooler section to keep food items fresh. Its detachable section is connected with high-quality SBS zippers that can be removed if you want to carry the mesh section alone. The bag's mesh design makes it sand-free and waterproof and can store your wet clothes. In addition, the bag also features a small zippered pocket for accessories and a durable handle that sits comfortably on your shoulder.
Pros
Sand-free design
Lightweight
Multi-functional
Long-lasting
Large capacity
Easy to fold
Cons
None
Looking for a large beach bag for swimming, family picnics, camping, or traveling? Try the Camtop Beach Bag – a two-in-one bag with a detachable insulated cooler to store cold drinks, fruits, snacks, and more. Its unique design features eight pockets to keep all your items segregated. Its open mesh pockets can be used to keep slippers, water bottles, and more, while the zippered pocket can be used to store your phone or cash. This lightweight bag is convenient to carry all your beach supplies safely.
Pros
Lightweight
Padded handles
Durable
Multiple pockets
Spacious
Cons
This comfortable oversized beach bag can hold all your accessories for a beach trip. The Cibaabo Beach Bag is equipped with an undetachable cooler bag to keep your food items safe and maintain their ideal temperature for optimum freshness. The bag has a small zippered pocket on the outer to keep your small items secured. Its open-ended design allows more room for items, while its mesh design keeps your clothes odor-free.
Pros
Lightweight
Multi-functional
Durable
Large capacity
Breathable fabric
Cons
Cooler bag is not detachable
This two-in-one beach bag with a cooler is perfect for family outings, swimming, picnics, and more. The bag has a large capacity and comes with one main pocket and eight outer pockets to hold shoes, glasses, towels, water bottles, and more. It is made with polyester lining for durable construction, and its insulated compartment can be attached to the bag with two-sided buckles. The F-color Beach Bag also has four hanging loops to hang your keys or sunglasses. Its sturdy handle has reinforced padding to ensure it does not dig into your shoulder.
Pros
Sturdy
Breathable fabric
Zipper closure
Mesh design
Rip-free
Eco-friendly material
Cons
The white-colored, multi-functional, and zippered Foci Cozi Beach Tote Bag is convenient to carry and easy to use. This mesh beach bag features an insulated cooler to hold your cold drinks, snacks, and other food items, keeping them fresh. The main section of this bag is secured with a zip to keep your clothes or other items safe. In addition, the bag has an open pocket on the outside for storing small accessories.
Pros
Spacious
Multi-functional
Easy to wash
Zippered closure
Leak-proof
Cons
Get your hands on this stylish cooler bag in polka dot design with a durable polyester exterior in fine finish. This large cooler bag has a silver-interior lining to keep all your food items fresh and cool. Its large open design allows you to keep all your food items safe. The Kate Spade Cooler Bag comes with an interior mesh pocket to keep a spoon or a fork. Its nylon webbed handles are durable and long and enable easy transportation.
Pros
Collapsible
Easy to clean
Durable
Lightweight
Cons
Want a large cooler bag with a capacity of 24 liters that is ideal for the beach, picnics, or family get-togethers? Try the Lifewit Cooler Bag. This elegant bag is constructed with high-density oxford lining with Peva foil interior lining to keep cool items cool and warm items warm. Its wide-open design allows for easy loading and unloading. In addition, its two-sided mesh pockets can be used to store bottles, while the large front zippered pocket allows you to keep napkins, towels, and more.
Pros
Large capacity
Adjustable shoulder straps
Easy to clean
Durable
Cons
None
This Manelord Beach Bag is a go-getter choice as it is designed professionally keeping the convenience of the user in mind. This spacious two-in-one bag has a mesh-tote bag and a detachable cooler bag at the bottom with an overall capacity of 36 liters. It is constructed with high-quality PVC material that is environment-friendly and keeps the items dry. In addition, it is equipped with eight mesh pockets that keep all your items organized.
Pros
Eco-friendly material
Odor-free
Mesh design
Lightweight
Reusable
Fast-drying
Cons
The Matein Beach Bag is lightweight and convenient. It is constructed with durable oxford fabric for long-lasting use. This two-in-one tote bag has a large mesh design and an insulated cooler bag – and both can be used separately too. The insulated cooler section can keep your food items fresh and cool for five hours. The bag is equipped with a long shoulder strap to hang it conveniently over your shoulder. In addition, its small zippered pocket allows you to store small accessories.
Pros
Durable
Spacious
Lightweight
Leak-proof
Breathable mesh
Padded handle
Separate wet/dry bag
Cons
None
Try a travel-smart and fashionable beach bag that is convenient to carry for a day-trip. This zippered Odyseaco Beach Bag has a large capacity and features two external pockets to store small accessories and one main compartment to accommodate large beach towels. Its insulated cooler section is detachable and easy to clean. In addition, its adjustable straps with padding do not add bulk while carrying. Finally, its durable zippers keep your valuables secure.
Pros
Sand-proof
Waterproof
Zipper closure
Removable shoulder strap
Cons
None
Here's a perfect beach bag with multiple pockets constructed with high-quality polyester fabric for long-lasting use. The One Savvy Girl Beach Bag is equipped with a removable insulated cooler bag, an internal slip pocket, an external zippered pocket, and one large main compartment. It also includes two quick-dry towels that can be folded and stored outside the bag.
Pros
Multi-functional
Lightweight
Foldable
Durable
Easy to carry
Cons
Try this stylish and large storage beach bag that stands out from its counterparts. Its spacious insulated cooler can store around 12 cans comfortably. It features three exterior pockets and webbed straps with padded handles for a convenient hold. The Tingueli Beach Tote Bag features zippered waterproof pockets on the outside to store small essentials.
Pros
Padded handles
Large mesh pocket
Leak-proof cooler
Zippered front pocket
Cons
None
This Totecooler Beach Bag is durable with multipurpose features and is made from heavy-duty 600D nylon. This convenient tote bag has two internal sling-mesh pockets to hold a bottle, costume, or a wet outfit. Its two outer zippered pockets are convenient to store small belongings. At its bottom lies a built-in cooler to keep all food-grade items fresh till consumed. The base of this bag is made with a non-slip rubber liner to guard the bag against sand and water.
Pros
Double-stitching
Waterproof zipper liner
Multipurpose
Magnetic flap pockets
Padded strap for firm grip
Tear-resistant mesh
Non-slip rubber base
Cons
The Ventura Pal Beach Bag is stylish and functional. Its exterior is made with dirt-proof and waterproof Oxford fabric, while its inner has a lining of PE foam and PEVA insulation. It has an insulated lining with non-toxic aluminum foil that preserves your food, whether hot or cold, so that you can consume it fresh. It features one main zippered compartment, one front zippered pocket, and two mesh pockets for bottles, spoons, and more. The bag is easy to carry with a long adjustable strap that can also be removed if not required.
Pros
Spacious
Lightweight
Easy to clean
Leak-proof
Cons
None
This is a two-in-one bag with a mesh-designed handbag and insulated cooler at the bottom. The Yodo Beach Tote Bag has see-through mesh compartments and keeps your things organized. Its detachable insulated cooler section is equipped with an aluminum foil liner that makes it leak-proof and keeps your food warm and fresh. There are two-sided handles attached with its cooler that allow it to be used as a lunch pack too. This is a perfect beach tote bag that can be used for picnics, vacations, or sporting events.
Pros
Breathable
Tear-proof
Easy to clean
Multi-purpose
Comfortable handles
Cons
Now that we have a list of the best products, lets scroll down to explore some important features to consider before picking the best beach bag with a cooler.
How To Choose The Best Beach Bag With A Cooler
Material: Mesh, nylon, polyester, or canvas are best for beach purposes as they are water-resistant and sand-proof.
Size: A spacious bag always has a better use. If you are want to carry food items, a bag with an insulated cooler works best as it keeps your food fresh.
Pockets: This is a very valuable feature for any bag. Multiple pockets will keep your items better organized. Small zippered pockets on the outside can keep your accessories like phone and keys safe and secured. Consider a pocketed design while investing in a beach bag.
Handles: Most beach bags are hand-carried, which may not be a practical choice. It is always better to buy a bag with an adjustable shoulder strap with a padded design for ease of carrying.
Why Trust StyleCraze?
The author, Baishali Bhattacharya, is a certified image consultant. She has compiled this list of the best bags with coolers after researching various products and considering user reviews posted on online forums. These bags are spacious and can accommodate all your beach essentials besides keeping your drinks cold for a long time. Moreover, these bags are durable and budget-friendly and look trendy and sturdy.
Frequently Asked Questions
How to clean a beach bag with a cooler?
It is very easy to clean a beach bag with a cooler. Simply wipe the insulated part with a wet cloth and leave it open for some time to prevent any odor.
Recommended Articles