13 Best Backpacks For Nursing School With A Buying Guide – 2023
Keep all your essential nursing equipment, notes, and heavy books in one place.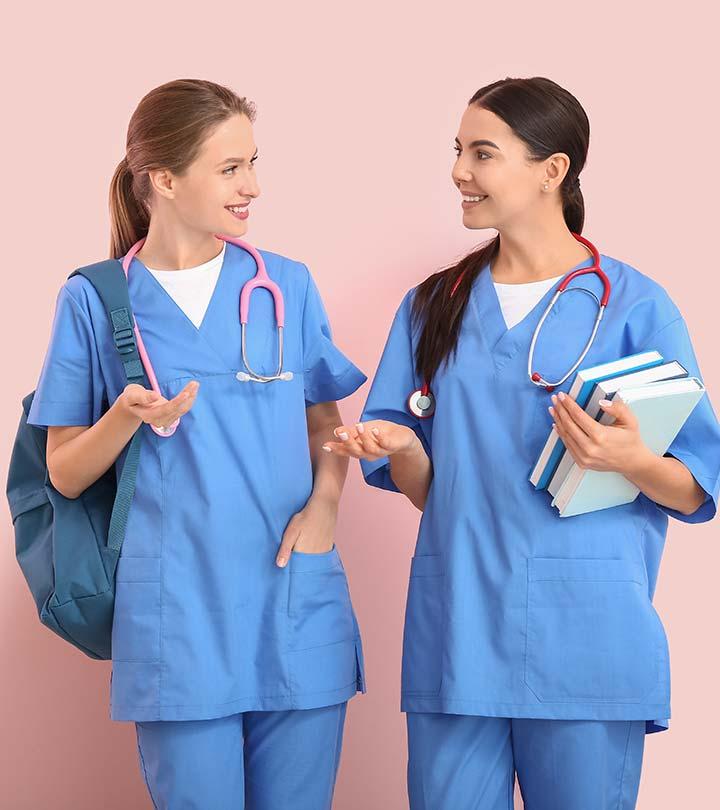 Commuting with a world of essentials is not an easy task, but healthcare professionals are required to do it every day. Therefore, the existence of the best backpacks for nursing school seems like a blessing for many. The tiring OSCE preparations, hour-long lectures, and rotations around the hospital wards are stressful. Add to that the task of perfecting your clinical knowledge, and it is a complete train wreck! While there is no shortcut to these situations, you can surely avoid popping NSAIDs from lugging heavy textbooks and nursing supplies. Therefore, add a nursing backpack with multiple compartments for organization to your collection.
It is hard to find a durable and sturdy backpack that can easily accommodate all your essentials. That's why we have we have compiled a list of the best backpacks that are spacious enough for your books, stethoscopes, and electronic devices. Read on to explore the trusted picks.
13 Best Backpacks For Nursing School To Lighten Your Load
Designed to offer oodles of space with tons of nifty organizational pocket designs, this travel backpack from Matein is your best bet for economical storage. Boasting a handy USB charging cable in the interiors with the built-in charger conveniently placed on the exteriors, this backpack allows you to charge all your devices on the go. This one is a favorite among the reviewers as it offers amazing back support with ventilated multi-panel padding that's thick yet soft, combined with low-strain, adjustable, and durable shoulder straps. Made with water-resistant polyester fabric, several organizational features, and sturdy black metallic zippers, it's available in 7 stunning colors that fabulously complement most nursing scrubs.
Pros
Can securely accommodate a 15.6 inch laptop
Features an external port
Key fob hook & multi-compartment design for organization
Luggage strap for convenient travel during flights
Anti-theft pocket on the back to protect valuables
Cons
Laptop compartment needs more padding
One of SwissGear's bestsellers, the iconic 1900 ScanSmart Laptop Backpack is every daily commuter's first choice and has been crafted to support your active lifestyle. From the ScanSmart technology and RFID pockets to an in-built USB charger and lush airflow panels for cooling, it's smart enough to be your college wingman. Meanwhile, the contoured straps, numerous pockets, custom lightweight fabric, and lush, padded panels are designed to minimize stress on the back, making this contemporary bag wildly comfortable to carry. If you're an organization queen, you will especially love all the internal organization compartments and pockets designed to help you find the right nursing supplies at the right time, so you're always on your A game!
Pros
TSA-approved laptop bag
Features an external port
Stylish yet ergonomic design
Accommodates laptops up to 17 inches
Optimum fit and lush to touch
Available in a variety of colors
Supremely roomy with a 31L volume capacity
Cons
The backpack tends to not sit up straight.
If you're on a budget and organization plus ample storage space are your two biggest backpack priorities, this simple yet sturdy laptop bag from AmazonBasics, a trusted brand, is a great candidate. With its 17-inch laptop sleeve, nifty mesh side water bottle pockets, and multiple compartments to organize all your textbooks and other knick knacks, this black backpack is designed to meet all your essential needs as a nursing student. This easy-access backpack is made with a 100% durable polyester fabric and weighing a mere 1.98 lbs compared to the 2+ lbs of its competitors, the AmazonBasics laptop backpack is extraordinarily lightweight, making it ideal for long hospital rotations.
Pros
Large storage capacity
Laptop sleeve is padded for security
Handy side pocket to carry a water bottle
Relatively less expensive than competitors
Front pocket organizer for keys, pens, and cell phones
Cons
Only available in the color black
The perfect matrimony of function and fashion, the Hustle 3.0 backpack by Under Armour is for every nursing student who needs some eye candy to brighten their scrubs yet lighten their load. Not only is it extremely roomy, durable, and comfortable, but the bag also benefits from Under Armour's Storm technology, which gives it a waterproof and element-battling finish to always keep your valuables safe. Additionally, it has a padded 15-inch laptop sleeve to keep your laptop safe along with a sturdy, abrasion-resistant heavy-duty bottom panel and 2 side pockets to secure your water bottles and umbrellas. Oh, and the bonus? This stylish scratch-resistant backpack also has a huge gusseted shoe pocket/laundry bag at the bottom, which makes it perfect for those surgical rotations where you may need to carry a spare pair of shoes to the hospital.
Pros
Adjustable straps for ergonomic comfort
Amazingly resistant to storm damage
Water resistant material
Available in 17 beautiful color combinations
Offers secure storage for spare shoes
Cons
Bag may get too top heavy and topple at full capacity
With a backpack's functionality but a tote's elegance, this Laptop Backpack Purse is all things uber chic. Shockingly lightweight and offering a 20L volume capacity in the form of 18 nifty pockets and 2 main compartments, this glamorous backpack purse makes organizing all your nursing school essentials super simple and oh-so-spiffy. The main compartment is designed to remain wide open, allowing you easy access to textbooks, stationery, and all those little trinkets that tend to vanish inside the alleged Bermuda's Triangle that seems to lie at the bottom of traditional backpacks. This practical and adorable backpack is made with premium grade polyester, lush shoulder handles, reinforced seams, and slip-resistant zippers, these gorgeous nursing student backpacks aren't just pretty — they're strong! These time-tested nursing backpacks make for the perfect gift for a loved one who's about to embark upon the fateful journey from student nurse to nurse.
Pros
Padded 15.6-inch laptop sleeve
Available in 9 stunning designs
Conveniently built-in USB charging port
Side water bottles pockets
Hidden anti-theft pocket at the back for valuables
Cons
May not be able to carry multiple textbooks
JanSport has been crafting durable, reliable, and high-quality backpacks since 1967. So, it shouldn't exactly come as a surprise to know that their Big Student Backpack line is a bestseller at college campuses. Engineered with premium-grade polyester and reinforced with a polyester lining and slip-proof metallic zippers, the Big Student features the iconic backpack silhouette and logo that JanSport bags are renowned for. Loved by multiple reviewers, this backpack is equipped with S-curved ergonomic shoulder straps, making it even snugger and more comfortable to carry around all day. The padded posterior panel is perfect for accommodating textbooks and personal items, ensuring that students can easily carry their academic materials without straining their backs. Additionally, the front utility compartment provides ample space for organizing stationery and keys, while multiple side pockets offer extra storage for other essentials. With a variety of 16 stunning colors and prints available, the JanSport Big Student Backpack not only offers functionality but also allows students to make a style statement wherever they go.
Pros
Specially padded 15-inch laptop sleeve
Made with high-quality, durable fabrics
Ergonomic design and comfortable fit to reduce back strain
Available in unique prints and solid colors
Side water bottle pockets or to store an umbrella
Cons
No built-in USB charging port
Say hello to the new and improved avatar of Adidas' acclaimed Prime Backpack line. Compared to its predecessor, the updated Prime V Backpack has an XXL capacity and is equipped with multiple strategically-located zip pockets designed for easy access and hassle-free storage. The upgrade also includes a lushly padded compartment to secure all your electronic devices as well as a pair of load spring system shoulder straps that reduce back strain and offer extra comfort during wear. It's available in 21 gorgeous designs, all of which incorporate reflective detailing in order to enhance your visibility in dimly lit conditions. So, it is an ideal compact backpack for nursing school when you're cycling or walking to rotations during foggy mornings with all your everyday essentials and personal items.
Pros
Iconic Adidas logo
Offers oodles of storage and organization
Sleek black exteriors and ergonomic design
Luxuriously padded laptop compartment for extra security
Side water bottle pockets
Cons
OGIO's flagship backpack, the Renegade RSS has been engineered to handle any challenge that comes its way. Equipped with thick foam panels to secure your electronic devices and other valuables, it safely stores all your nursing supplies in its roomy interiors that contain multiple organization compartments. Not only does it contain a padded laptop compartment that can accommodate 15-inch laptops (and thinner 17-inch laptops), it also contains 2 specially padded pockets — one for an e-reader or iPad and another for your digital camera or mouse. The ergonomic, adjustable straps, along with the extra foam padding along the shoulders, provides an incredibly comfortable commuting experience.
Pros
Padded straps
Padded pockets for multiple electronic devices
Multiple zippered pockets for organization
Made with premium, tear-resistant 600D polyester pindot
Dual water bottle pockets for or an umbrella
Slides on rolling luggage handle for travel convenience
Cons
If you're attending an elective or are often expected to shadow during on-calls, you may want to pack well for studying and (fingers crossed) napping needs. In that case, the Powerglide nursing bag with wheels from High Sierra is your best friend. With hidden shoulder straps, special inline skating wheels and a telescoping handle, this innovative design can seamlessly transform into a backpack or rolling piece of luggage, depending on your needs. Containing multiple compartments and side pockets to systematically store all your nursing supplies, this nursing school rolling backpack also boasts a thickly padded laptop sleeve that can accommodate up to 17-inch models. Many reviewers like this backpack as it can be used as a lab or medical equipment bag too.
Pros
Can be used as a nurse backpack or rolling luggage
Premium front pocket organizer for keys, pens, and phones
Specially padded laptop compartment for extra security
Available in 2 bold color options
Cons
The wheels sometimes misbehave on sharp turns.
The BAGSMART Laptop Backpack is a quilted and waterproof backpack that features two-way zipper closures to keep nursing essentials in multiple storage compartments safe and secure. The ergonomic design offers comfortable shoulder straps and a breathable mesh back panel to release stress from your neck and shoulders while carrying your everyday essentials. It also contains a unique charging port to ensure you charge your phone even when you are traveling in public transports. According to reviewers, the backpack is lightweight, stylish, and durable, and comes with an anti-theft pocket to store your valuables. It also comprises two inner storage pockets and two front-zipped pockets for easy access of your items. It comes with a wide-open top and durable top handles that make its design stylish and increase portability.
Pros
Lightweight design
Breathable mesh back panel
Ergonomic design
Comfortable shoulder pads
Multiple storage compartments
Anti-theft storage facilities
Cons
None
Loaded with nifty compartments and organizational pockets specifically designed to hold nursing tools, this bold and spacious beauty is "the ultimate backpack" for medical professionals or students for carrying their everyday essentials. Besides the multiple document compartments to hold all your precious (and oh-so-heavy) textbooks and notebooks, it also possesses an insulated front utility compartment to ensure the items stored within remain cold. Reviews on online platforms indicate the large hinged mouth of the bag offers easy access to the roomy interiors, while the durable, water-resistant material and sturdy metallic zippers help prevent weather damage. Available in 2 spectacular prints (Cheetah and Grey Camo) and 2 bold colors (Charcoal Rose Gold and Grey Linen), this backpack will meet all your nursing school needs in absolute style.
Pros
Easy to clean
Features a padded laptop compartment
Offers fashionable prints and bold colors
Multiple roomy storage compartments
Multiple tool pockets
Cons
The sleek Kenneth Cole Women's Chelsea Laptop Bag is made of sustainable materials like quilted polyester. It has a padded laptop compartment for safety. You can also fit your tablet in its own dedicated pocket to study in your free time. There are two bottle sleeves and adjustable straps to balance the weight of your essentials. It also includes a sturdy top grab handle to make it easy to carry. The bag also comes with a trolley strap to fit it over upright handles of trolleys and luggage while walking through stations and airports. The lightweight bag is available in four bright colors such as black, burgundy, navy and olive.
Pros
Lightweight
Quilted polyester fabric
Padded pockets
Adjustable shoulder straps
Sturdy handle
Available in four colors
Cons
None
The himawari Laptop Backpack is stylish, eco-friendly and waterproof. The multifunctional adorable backpack comprises one main pocket and two small pockets to carry all the everyday essentials you need. You can keep your phone in charge during classes with its built-in detachable USB cable port design. It comes with two front zip pockets, two inner pockets, and two side pockets which makes it easier for you to arrange your essentials inside the bag. The thick back panels and adjustable padded straps make the bag lightweight to remove pressure from the shoulders while running for classes.
Pros
Water-resistant material
Lightweight
Breathable material
Multifunctional pockets
USB cable port design
Cons
None
*The prices provided in this article are based on the latest available information. However, they may vary due to changes in pricing by the seller and/or promotional offers.
Having trouble deciding on a soon-to-be study companion from our meticulously researched list of the best backpacks for nursing school students? Check out our buying guide for insightful tips and organizational hacks.
What To Look For When Buying The Best Backpack For Nursing Students
Considering the hours you have to spend lugging around textbooks, most nursing students (and medical professionals and students, too) would argue that comfort is always a priority assessment when deciding to buy a backpack. A majority of the derived comfort depends on the design of the padded straps on the shoulder as well as the overall structure of the backpack, both of which can alleviate or exacerbate the strain on the muscles in your neck and back. You can avoid undue strain by keeping an eye out for ergonomically engineered, adjustable straps. Alternatively, if budget isn't a problem, you could always invest in a backpack with wheels that you can roll instead of carrying.
Recognizing your storage needs and deciding on a minimum requirement is another way to quickly filter through your potential bags for nursing students. For example, if your everyday essentials lists comprise a 17-inch notebook computer, you can't settle for a backpack that accommodates 15.6 inches at its max. Secondly, if you also own an e-reader, tablet, or iPad, it may be a better idea to purchase an additional standalone sleeve. Lastly, you might also want to decide the trinkets in your backpack that should be easiest to access, like keys, wallet, highlighters, phone, etc. This way, you can look out for front utility pockets for all your essentials.
Beyond the features mentioned above, the overwhelming options of snazzy backpacks in the market also offer other unique features to make their product stand out. Assessing which of these are useful to you can help you narrow down your choices. Headphone sockets and built-in charging cables/ USB charging ports allow you to charge your electronic devices on the go, while anti-theft sleeves can protect your small valuables in crowded spaces. You can also opt for a bag with quick access sleeves, which are strategically located or wide open-layouts that allow you direct access to frequently used items (e.g., textbooks, stethoscope, notepads) without having to go through the hassle of rummaging through all the contents of your bag.
Your backpack experience is only as good as your organization. If the contents of your bag are in pure chaos, it will inevitably translate into your life as well. It's just Newton's fourth Law of Motion (please don't Google that). To get the most function out of your investment, here are some simple tips to ensure you effortlessly find what you need when you need it:
Tips For Organizing Backpacks For Nursing Students
Begin with a clean backpack
If you've already started making use of your newly purchased bag, it's best to just dump out the contents to make sense of what you're working with. Ensure you organize similar items together and thoroughly clean the interiors of your bag.
Organize nursing supplies according to frequency of use
It's time to assess what nursing school supplies you use daily, every other day, or once in a month. This will largely depend on your year. If you haven't reached your clinical years yet, you'll most likely need frequent access to notebooks, textbooks and your laptop. Alternatively, if you've started hospital rotations, you'll need notepads for patient case notes, your stethoscope, pen torch, and other clinical exam tools.
Keep all your miscellaneous items separately
Let's be honest. Regardless of how well we organize all the contents of our backpack, there are always certain odd items like rulers, binder clips, sticky notes, etc. that fall out of their allotted place eventually.Instead of just dumping it all into the main zippered pocket compartment when you're in a hurry, keep a zippered pouch or case in your bag or front utility pocket instead Inside, you can store all your miscellaneous items that need to be organized later.
Why Trust StyleCraze?
The author of the article, Priyam Gupta, is a fashion enthusiast who loves trying out products that make life easier. She has carefully researched and gone through user reviews and feedback to bring forth a list including the best backpacks for nursing school students that can securely accommodate your laptop and other belongings. Some of these bags also contain anti-theft pockets to protect your valuables and are available in stylish designs.
Frequently Asked Questions
What is the best backpack for nurses?
Nurses usually require excellent backpacks that offer a lot of room and organization pockets for storage. We've compiled a list of the 13 best backpacks for nursing school students right above, each of which serves unique functions. The best among these will be based on what you're looking for.
What supplies should I have in my nursing school backpack?
That depends on your year of study, clinical rotation, and hospital guidelines. Besides the usual textbooks and stationery, you may very likely have to carry scrubs, nursing shoes, a watch, stethoscope, pen torch, study clipboard, and nursing scissors.
Can backpacks be professional?
More and more millennial professionals have transitioned from attachés and briefcases to backpacks for their comfort and convenience. However, with formal wear, we recommend carrying a backpack in neutral colors like black, beige, brown, white, etc. rather than loud or colorful prints.
How often should you get a new backpack?
It depends on the wear and tear of your existing backpack as well as whether you have a warranty. If, with use, your backpack has been damaged to the extent that it's affecting functionality, it's probably time to either get it repaired or replaced. Always check if you have a warranty and whether or not it has expired.
What type of backpack do I need for nursing college?
Nursing students need a backpack that is seamlessly constructed with adequate space and multiple compartments to securely carry notebooks and nursing or medical equipment.
How big should be the backpack for nursing students?
Invest in a backpack for nursing students that is big enough to carry textbooks, stationery items, nursing essentials, and a laptop.
Do nursing students use rolling backpacks?
Yes. Switch to rolling backpacks if you have severe back pains. However, you might want to avoid carrying them in monsoon seasons.