9 Best Korean Toners For Dry Skin You Should Try
Hydrate and rejuvenate your dry skin with these gentle and nourishing Korean toners.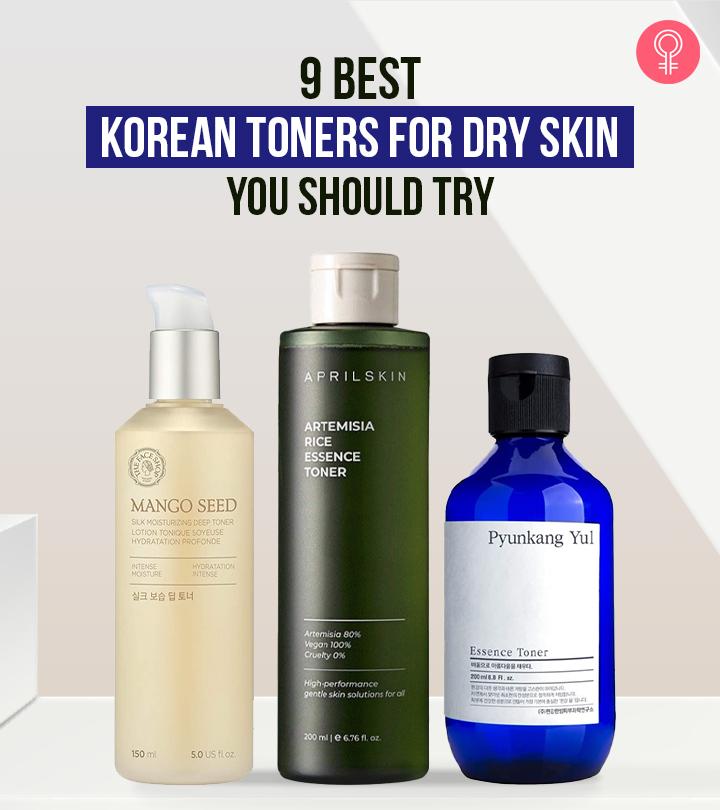 If you have dry skin, you can't use just about any toner. So, we bring you the best Korean toners for dry skin just for you. These gentle toners do not strip the natural oils present on your skin. Their special ingredients replenish moisture.
Harsh or drying toners can lead to inflamed and irritated skin. A good moisturizing toner helps balance the skin's pH and soothes the skin. It helps clear any leftover debris, products so that your actives can be readily absorbed into the skin. Grab a refreshing toner from the list below to prep and pamper your skin!
Top Picks
Best Korean Toners For Dry Skin You Should Try
Pros
Lightweight
Mild scent
Alcohol-free
Vegan
Cruelty-free
Cons
Price at the time of publication: $22
The moisturizing face toner from The Lab By Blanc Doux restores hydration and makes the skin healthy. The formula gets quickly absorbed into the layers of the skin without clogging the pores or feeling heavy. The hyaluronic acid in the formula forms a protective layer on the skin. It hydrates the skin and prevents dirt and other skin irritants from clogging the pores. This toner promotes a youthful glow by stimulating cell regeneration and collagen production. It doubles up as a soothing aftershave lotion to fight shaving bumps and heal razor cuts. 
Key Ingredients: Hyaluronic acid 
Pros
Non-comedogenic
Hypoallergenic
Quick-absorbing
Lightweight
Vegan
Alcohol-free
Cons
Price at the time of publication: $19.99
The Face Shop Mango Toner is a premium product ideal for skin in its 20s and 30s. It hydrates extremely dry skin and prevents loss of radiance due to dryness, itchiness, redness, and wrinkles. The toner is formulated with essential amino acids that promote collagen production while moisturizing the skin. It also contains mango butter that creates a protective layer over the skin to shield it from harmful environmental aggressors. Other ingredients like vitamin E and botanical squalene slow down skin aging and keep cell membranes intact.   
Key Ingredients: Mango butter, Essential amino acids, Vitamin E, and Botanical squalene 
Pros
Lightweight
Paraben-free
Mineral oil-free
Talc-free
Paraffin-free
Polyacrylamide-free
Cruelty-free
Cons
Price at the time of publication: $16.49
Pros
Hypoallergenic
Non-comedogenic
Long-lasting
Fragrance-free
Cons
Thick and sticky formulation
Price at the time of publication: $19.3
The Jin Jung Sung Facial Toner Serum soothes and calms the skin right from the first application. It is formulated with ultra-hydrating ingredients like glycerin, meadowfoam seed oil, apricot kernel oil, botanical squalene, beeswax, and shea butter to moisturize and balance the skin. This toner is loaded with active ingredients that nourish the skin to make it look younger and healthier. 
Key Ingredients: Hyaluronic acid, Collagen, Organic lavender water, Glycerin, Meadowfoam seed oil, Apricot kernel oil, Botanical squalene, Beeswax, and Shea butter 
Pros
Quick-absorbing
Evens out the skin tone
Vegan
Cruelty-free
Silicone-free
Paraben-free
Cons
Price at the time of publication: $23.99
This essence toner from Pyunkang Yul is a multipurpose skin care product that helps calm irritated skin. This product has an essence-like dense texture and concentrated active ingredients that heal the skin from within. The milk vetch root extract in the toner goes deep into the skin and moisturizes it. It perfectly gets absorbed into the skin without being sticky. Before buying the product watch the video of a reliable skin care expert reviewing the Pyunkang Yul Essence Toner.
Key Ingredients: Milk vetch root 
Pros
Non-greasy
Vegan
Alcohol-free
Fragrance-free
Artificial color-free
Cons
Price at the time of publication: $12.25
Pros
Hypoallergenic
Non-irritable
Cruelty-free
Vegan
Paraben-free
Sulfate-free
Phthalate-free
Cons
Price at the time of publication: $35
Pros
Non-comedogenic
Mild fragrance
Absorbed quickly
Layers well with other products
Cons
Price at the time of publication: $13.99
The Papa Recipe Eggplant Clearing Peeling Pad Toner gently exfoliates the skin for a clearer appearance. Its 100% nature viscose pads, soaked in hydrating toner, control sebum production and reduce skin inflammation. The eggplant extracts in the formula relax irritated skin and calm acne and redness, while tea tree leaf and birch sap soothe the skin and keep it moisturized. 
Key Ingredients: Eggplant extract, Tea tree leaf extract, Birch sap, and AHA Fruits Complex 
Pros
Mess-free application
Lightweight
Vegan
Cons
Overpowering scent
Contains alcohol
Price at the time of publication: $12.99
If you have dry skin, finding the right toner can be a challenge. There are a lot of products on the market, and it can be hard to decide which one is right for you. Therefore, we have put together this guide to help you find the right Korean toners for dry skin.
Things To Look For In A Korean Toner For Dry Skin
Formula: Thick and cream-based Toners are ideal for dry skin because they work well to soak up excess oils and moisture. Water-based or lightweight formulas may not be as effective as removing oil and may feel drier on the skin.
Key Ingredients: Toners typically contain AHAs (glycolic, lactic, and tartaric acids) that help improve skin texture and tone while cleansing. Look for toners containing botanical extracts or antioxidants to protect the skin against free radical damage. Many Korean toners are enriched with hydrating properties like botanical extracts, grapefruit seed extract, glycerin, and pearl powder. These ingredients help restore the natural moisture of your skin and prevent dryness.
Fragrance: Although Korean toners are devoid of harsh fragrances or additives, read the ingredient's list closely before making any purchase so you know what is going into your skin. Some toners may cause mild irritation in sensitive skin types, so it is important to conduct a patch test before using them.
Things To Avoid
Alcohol, menthol, and mineral oils can strip the skin's natural moisture, make it drier, and prone to inflammation. Therefore, do not buy products with these ingredients to prevent pore clogging and further dryness.
Dr. Anna Chacon, a board-certified dermatologist, says, "A toner can be used by anybody above the age of twelve. Mild toners are recommended for teenagers to reduce post-pubertal acne and preserve the skin's optimal pH balance."
Why Trust StyleCraze?
Oyendrila Kanjilal is a certified skin care coach who understands the current interest in K-beauty products. After thoroughly studying several products, she has put together this list of the finest Korean toners for dry skin. She has also evaluated numerous online reviews to identify the best and recommend authentic K-beauty products. This post also explains the characteristics of each product and their pros and drawbacks to assist you in selecting the ideal toner for your skin.
Frequently Asked Questions
Are Korean toners necessary for dry skin?
Yes. Korean toners are infused with active ingredients that hydrate your skin while maintaining its pH level. The formulas are rich in potent moisturizing ingredients that nourish your skin and improve its radiance.
How should I use a Korean toner the right way?
Wash your face with a gentle cleanser. Then, pat your face dry. Next, pour a few drops of your toner on a clean cotton pad and apply it on your face. Ensure to apply it evenly in an upward direction.
Do Korean toners brighten your skin?
Yes. Many Korean toners consist of skin-brightening agents like niacinamide that effectively remove the deep-seated dirt from your face and restore the skin's natural tone.
How often should you use a Korean toner for dry skin?
Use a Korean toner twice daily to keep your skin clean, firm, and moisturized.
Is it necessary to use a Korean toner if I'm using an essence?
Yes. Korean toners are directed toward cleaning the leftover dirt from your face while nourishing the skin. But an essence primarily acts as a primer for your skin. It locks the skin-benefitting ingredients in and prevents environmental irritants from penetrating the skin. Thus, use both to achieve the best skin.
What are the benefits of using a Korean toner?
The benefits of Korean toners are multifarious:
• Balance the skin's pH level.
• Exfoliate the excess dirt from your skin.
• Tighten the pores and tone the skin.
• Increase the absorbing power of the skin.
• Add moisture to the skin.
What should you avoid when looking for the best Korean toner for dry skin?
Try to avoid formulas with menthol or witch hazel when looking for the best Korean toner for dry skin. They strip off the natural moisturizing oils from your skin and leave it looking dull and dry. In addition, avoid products containing alcohol, SLS, mineral oil, and petrolatum, as they may irritate your skin and cause inflammation.