9 Best Korean Toners For Dry Skin You Should Try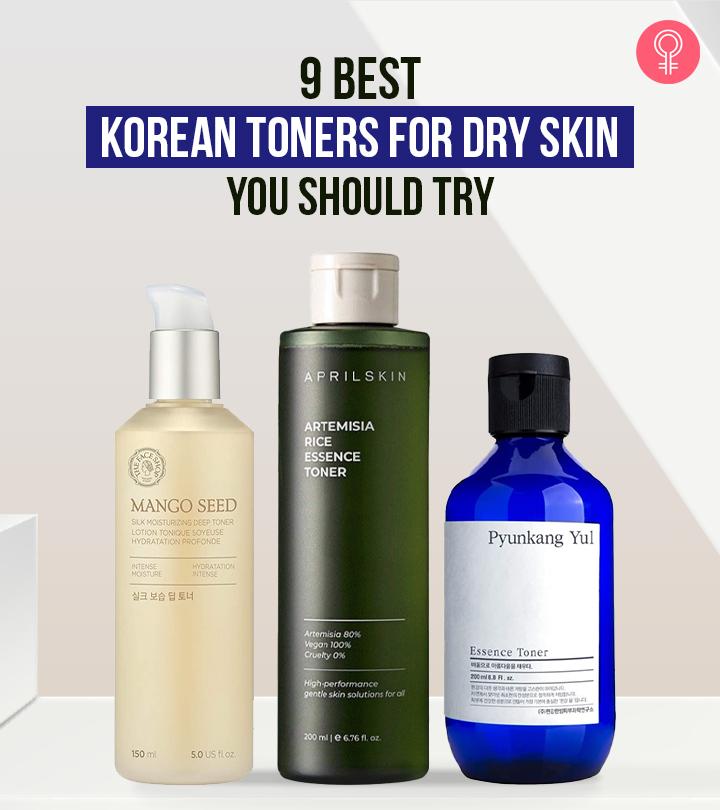 Toning is an important part of a skin care regimen. A good toner not only clears your skin of dirt and makeup residue but also shrinks the pores and balances the skin's pH. However, if you have dry skin, some toners may dry it out further and cause irritation and inflammation. Hence, you need a toner specifically meant for dry skin.
These hydrating toners are enriched with skin-soothing ingredients to help refine rough patches and gently refresh the skin without stripping its natural oils and moisture. This article lists the 9 best Korean toners for dry skin. Scroll down to check them out!
Best Korean Toners For Dry Skin You Should Try
The Artemisia Rice Essence Toner from APRILSKIN soothes, hydrates, and firms up the skin without irritating it or drying it out. It is loaded with pure artemisia vulgaris extract that soothes and heals the skin and promotes cell turnover.
The toner also contains rice bran water that moisturizes the skin and removes impurities to make it soft and smooth. The formula is infused with Hymagic-4D (four different types of hyaluronic acids) that intensely hydrates the skin and locks in moisture. This calming, lightweight toner replenishes tired skin and makes the skin look fresh, healthy, and rejuvenated. 
Key Ingredients: Artemisia vulgaris, Rice bran water, and Hymagic-4D 
Pros
Lightweight
Mild scent
Alcohol-free
Vegan
Cruelty-free
Cons
The moisturizing face toner from The Lab By Blanc Doux restores hydration and makes the skin healthy. The formula gets quickly absorbed into the layers of the skin without clogging the pores or feeling heavy. The hyaluronic acid in the formula forms a protective layer on the skin. It hydrates the skin and prevents dirt and other skin irritants from clogging the pores. This toner promotes a youthful glow by stimulating cell regeneration and collagen production. It doubles up as a soothing aftershave lotion to fight shaving bumps and heal razor cuts. 
Key Ingredients: Hyaluronic acid 
Pros
Non-comedogenic
Hypoallergenic
Quick-absorbing
Lightweight
Vegan
Alcohol-free 
Cons
The Face Shop Mango Toner is a premium product ideal for skin in its 20s and 30s. It hydrates extremely dry skin and prevents loss of radiance due to dryness, itchiness, redness, and wrinkles. The toner is formulated with essential amino acids that promote collagen production while moisturizing the skin. It also contains mango butter that creates a protective layer over the skin to shield it from harmful environmental aggressors. Other ingredients like vitamin E and botanical squalene slow down skin aging and keep cell membranes intact.   
Key Ingredients: Mango butter, Essential amino acids, Vitamin E, and Botanical squalene 
Pros
Lightweight
Paraben-free
Mineral oil-free
Talc-free
Paraffin-free
Polyacrylamide-free
Cruelty-free 
Cons
The IsNtree Hyaluronic Acid Toner is formulated with natural ingredients to provide long-lasting moisturization. The hydrating formula penetrates deep into the skin without clogging pores or feeling heavy. This toner is formulated with hyaluronic acid that locks in moisture while protecting the skin from irritation and sunburns. It stimulates collagen production and heals acne scars and spots. The aloe vera extract in the formula soothes irritated skin and reduces the redness caused after shaving or sunbathing. 
Key Ingredients: Hyaluronic acid and Aloe vera extract 
Pros
Hypoallergenic
Non-comedogenic
Long-lasting
Fragrance-free 
Cons
Thick and sticky formulation
The Jin Jung Sung Facial Toner Serum soothes and calms the skin right from the first application. It is formulated with ultra-hydrating ingredients like glycerin, meadowfoam seed oil, apricot kernel oil, botanical squalene, beeswax, and shea butter to moisturize and balance the skin. This toner is loaded with active ingredients that nourish the skin to make it look younger and healthier. 
Key Ingredients: Hyaluronic acid, Collagen, Organic lavender water, Glycerin, Meadowfoam seed oil, Apricot kernel oil, Botanical squalene, Beeswax, and Shea butter 
Pros
Quick-absorbing
Evens out the skin tone
Vegan
Cruelty-free
Silicone-free
Paraben-free 
Cons
This essence toner from Pyunkang Yul is a multipurpose skin care product that helps calm irritated skin. This product has an essence-like dense texture and concentrated active ingredients that heal the skin from within. The milk vetch root extract in the toner goes deep into the skin and moisturizes it. It perfectly gets absorbed into the skin without being sticky. 
Key Ingredients: Milk vetch root 
Pros
Non-greasy
Vegan
Alcohol-free
Fragrance-free
Artificial color-free
Cons
This all-natural and vegan toner from Melixir is formulated with green tea extract that is rich in nutrients like catechins and polyphenols. These nutrients shrink the pores, remove layers of dead skin cells, and protect the skin's natural barrier. This balancing toner restores the natural pH level of the skin to around 5.5. It hydrates and calms irritated skin, repairs dullness, and smooths out uneven skin texture. 
Key Ingredients: Green tea extract 
Pros
Hypoallergenic
Non-irritable
Cruelty-free
Vegan
Paraben-free
Sulfate-free
Phthalate-free
Cons
The Intensive Hydrating Toner is enriched with a natural moisturizing factor (NMF) from MEDIHEAL and is an intense skin treatment. It keeps the skin hydrated, fades fine lines and wrinkles, and soothes inflamed skin. The formula contains a rich combination of mushroom extracts, hyaluronic acid, and Centella Asiatica that helps you achieve smooth and brighter skin.
The mushroom extract hydrates the skin and has anti-aging properties. Centella asiatica soothes irritation, reduces inflammation, makes the skin firmer, and protects it from free radical and UV damage. The copper tripeptide enhances skin elasticity, reduces the appearance of wrinkles, and evens out the skin tone.  
Key Ingredients: Mushroom Extract, Centella Asiatica, and Copper Tripeptide 
Pros
Non-comedogenic
Mild fragrance
Absorbed quickly
Layers well with other products 
Cons
The Papa Recipe Eggplant Clearing Peeling Pad Toner gently exfoliates the skin for a clearer appearance. Its 100% nature viscose pads, soaked in hydrating toner, control sebum production and reduce skin inflammation. The eggplant extracts in the formula relax irritated skin and calm acne and redness, while tea tree leaf and birch sap soothe the skin and keep it moisturized. 
Key Ingredients: Eggplant extract, Tea tree leaf extract, Birch sap, and AHA Fruits Complex 
Pros
Mess-free application
Lightweight
Vegan 
Cons
Overpowering scent
Contains alcohol
The right toner is key to a healthy skin care routine. It not only balances the skin's pH but also keeps other skin issues at bay. So, take your pick from the above list of the best Korean toners for dry skin and help it feel refreshed and rejuvenated.
Recommended Articles