The 9 Best Japanese Toners Of 2023
Soft, supple, and radiant skin is so easy to achieve with these hydrating toners.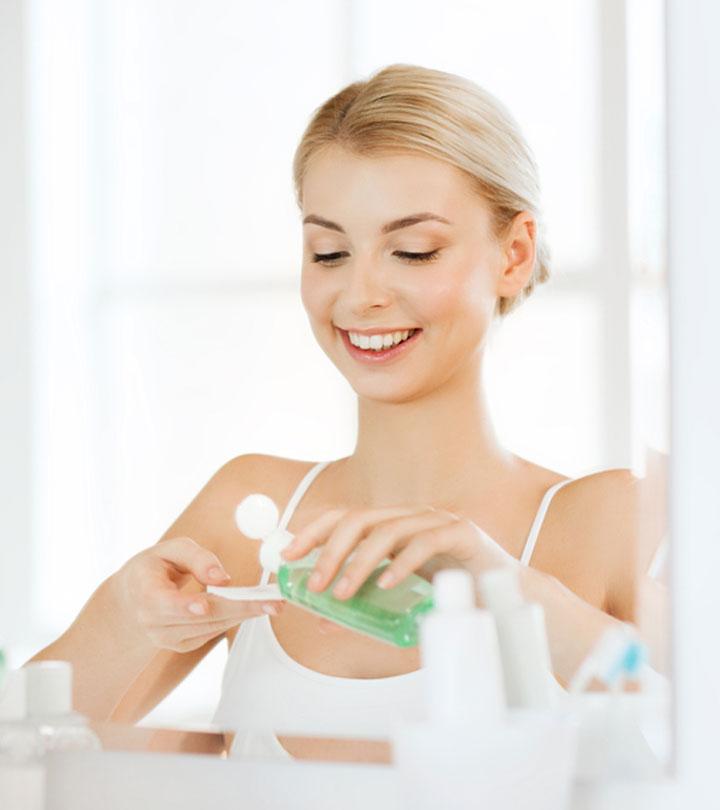 Japanese skin care products have grown popular over the years because they show great results on your skin. The common secret to having flawless, glowing, radiant, and youthful skin is to use the best Japanese toners. Japanese toners add a layer of hydration and get quickly absorbed into your skin. Including this potent product in your skin care routine will instantly bring a positive change to your skin. Most people who have switched to Japanese toners find that they feel gentle on your skin.
To give your skin a boost of hydration, we have listed the 9 best Japanese toners that you should try. Scroll down to know more!
9 Best Japanese Toners Of 2023
Pros
Gentle formula
Non-irritating
Hydrates the skin
Ideal for all skin types
Fragrance-free
Colorant-free
Cons
Might make the skin sticky
Might not absorb completely
Price at the time of publication: $33
Pros
Light on skin
Easy absorption formula
Applies easily
Moisturizes skin
Suitable for all types of skin
Cons
Price at the time of publication: $10.99
This miracle toner is highly sought-after and for a good reason! It helps tone your skin and restores the natural shine upon regular use. To make the moisturizing action more effective, it is curated with an advanced formula that helps relieve the skin from any dry patches. This quick-absorb formula is easy to apply, making you look flawless in no time!
Pros
Acidic formula offers protection
Alcohol-free
Suits all skin types
Easy-absorption
Rich texture
Cons
May have an unpleasant aroma
Price at the time of publication: $26.99
Pros
Acts as a super hydrating agent
Provides a healthy glow to the skin
Evens out skin tone
Repairs cell and pores
Alcohol-free
Helps in maintaining the pH levels of the skin
Cons
May take time to absorb into the skin
Price at the time of publication: $43.0
The IPSA The Time Reset Aqua contains aqua presenter III and 1000 trillion fine moisturizing molecules. These ingredients penetrate the skin and increase its natural hydration level. This toner locks your skin's moisture barrier, leaving it soft and refreshed. It is enriched with hyaluronic acid that helps control excess oil, reduces acne, and shrinks enlarged pores. "It also contains tranexamic acid which is a known brightening agent. It interferes with melanin production by inhibiting the interaction of melanocytes with keratinocytes, thereby, reducing dark spots," adds Dr. Patricia Gaile Espinosa, MD, Philippine Dermatological Society.
Pros
Hydrates the skin
Controls excess oil
Reduces acne
Cons
None
Price at the time of publication: $33.85
Pros
Reduces signs of aging
Replenishes moisture barrier
Contains 90% PITERA
Even tones the skin
Cons
Price at the time of publication: $59.4
Pros
Curated using natural minerals
Moisturizes skin
Restores the natural skin barrier
Alkaline in nature aiding in skin revitalization
Paraben-free
Maintains the pH levels of the skin
Long-term use prevents the appearance of wrinkles
Cons
May not suit sensitive skin
Price at the time of publication: $29.99
Pros
Can be used as a base for foundation
Protects against harmful chemicals present in makeup
Absorbs easily and convenient to apply
Suitable for all skin types
Cons
Not suitable for dry skin
Price at the time of publication: $12.9
Say hello to flawless skin! This toner is a perfect base for dry skin as it moisturizes and improves skin tone. It is known to have a rejuvenating effect on the skin that also restores the elasticity, making it supple and radiant. It acts as a cleansing agent that helps in getting rid of the impurities and unclogs pores. It balances the pH level of the skin and heals it by slowly replenishing the damaged cells.
Pros
Restores elasticity
Improves skin tone
Hydrates dry skin
Easy absorption
Maintains pH balance of skin
Feels light on skin
Cons
Excessive use on sensitive skin might disturb the pH levels
Price at the time of publication: $16.98
Why Do We Need Japanese Toners
As discussed before, Japanese products not only help rejuvenate the skin but also replenishes the skin in the long run.
Japanese toners have a watery texture that makes them easy to apply.
Most toners are moisturizing in nature.
These toners help in balancing out the pH levels of the skin resulting in less damage.
Japanese toners effectively retain moisture from the skin.
Most Japanese toners have a therapeutic effect on underlying skin issues like acne, open pores, sensitive spots, etc.
How To Choose The Best Japanese Toner
To choose the best Japanese toner, specific parameters should be taken into consideration:
Opt for a non-greasy formula that absorbs easily
A toner that is light or airy provides the perfect base for any other steps in your skincare regime
A Japanese toner with intense moisturizing nature is a good pick as it will not only protect the skin but also keep it hydrated
A composition of hyaluronic acid is perfect for skin-replenishing purposes
A toner containing ceramides is beneficial to achieve supple skin
Certain Japanese toners are rich in linoleic acid that makes them suitable for acne-prone skin
For excessively dry skin, Japanese toners infused with oleic acid should be chosen as it instantly hydrates dry skin
A slightly acidic solution helps in getting an even skin tone
Japanese toners also contain 'arbutin' that can reduce the effects of melanin deposition
A paraben-free and alcohol-free toner is good for your skin
Why Trust Stylecraze
Vaishnavi Kothuri is a skin care enthusiast who loves to write about different beauty products as they hit the shelves. She prefers using a Japanese toner because it is the key to flawless and radiant skin. She has sifted through various online reviews and product specifications before curating the list. Her recommended products add a boost of hydration to your skin and add a healthy glow to it.
Frequently Asked Questions
What is the difference between Japanese and American toners?
Japanese toners use gentle and organic ingredients that look after your skin. But American toners might use more harsh chemicals that could prove to be detrimental to your skin.
What are the ingredients in a Japanese toner?
Usually, Japanese toners use a blend of chemical and natural components that are proven beneficial for your skin. However, some of the common ingredients that are found in a daily-use toner are glycerine, alcohol, collagen, hyaluronic acid, trehalose, etc.
How should you use Japanese toners?
•  Double cleanse your skin to get rid of all the existent dirt.
•  Soak a cotton ball with a few drops of the Japanese toner or pour it onto your palms.
•  Gently swipe the cotton all over your face and neck. Or pat the product on your skin.
•  Let it sit for a few seconds and dry before following up with a moisturizer.
Which Japanese toner is the best for dry skin?
The Chyururia Hyaluronic Acid Skin Conditioner is the best for dry skin. The Bulgarian rose water in the formula moisturizes the dry patches of your skin and the rose oil calms down any irritation.
Which Japanese toner is the best for acne-prone skin?
The IPSA The Time Reset Aqua is best for acne-prone skin. The herbal extracts in the formula control sebum production and reduce the appearance of acne.