5 Best Japanese Body Lotions Of 2023
Improve your skin elasticity and reduce aging signs with body lotions from Japan.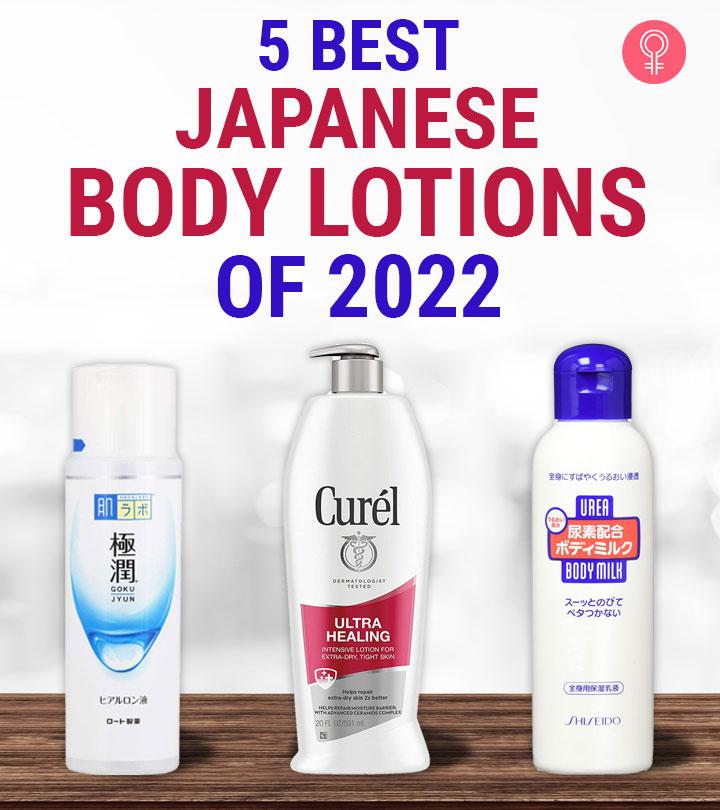 Getting your hands on the best Japanese body lotion is no easy task. J-beauty is famous for its flawless, youthful skin and is crafted to restore the skin's natural barrier and give a long-lasting youth to your face. While you would look for products that conceal the fine lines and wrinkles, the J-beauty products increase the skin's elasticity and reduce the aging signs from roots. Their products are packed with antioxidants and hyaluronic acid that calm and nourish irritated skin. They also contain ceramides that restore texture and keep your skin supple and radiant. To help you with your search, we have with us the top 5 lotions to choose from to keep your skin feeling young constantly.
5 Best Japanese Body Lotions Of 2023
The Curél Ultra Healing Intensive Lotion is a non-greasy formula that repairs and heals extra-dry skin. It is clinically tested and promises 24-hour hydration for a soft and supple look.
This Japanese body lotion is formulated with an advanced ceramide complex that restores the natural barrier of the skin and keeps it moisturized. It also contains oatmeal and shea butter that improve skin moisturization and prevent clogging of pores. The hydrating agents are absorbed quickly into your skin and provide instant relief from itching. This lotion also improves skin elasticity and makes it look younger.
Pros
Non-greasy
Fast-absorbing
Non-comedogenic
Dermatologically tested
Cruelty-free
Cons
Price at the time of publication: $9.77
The Shiseido Urea Body Milk is formulated with a urea complex that deeply moisturizes your skin. This milk-based moisturizer treats and soothes irritated skin with its hydrating properties. This powerful hydrating formula prevents flaking of the skin and shows visible improvement within a few uses.
Pros
Non-greasy
Long-lasting
Non-sticky
Fragrance-free
Cons
None


Pro Tip
The ideal technique to lock in moisture is to apply lotion as soon as possible after a bath, when the skin is still somewhat damp.
Price at the time of publication: $9.74
The Hadalabo Gokujun Lotion is fortified with three types of hyaluronic acids that retain water to keep your skin tissues lubricated and moist. It allows deep moisturization of your skin and makes it look soft, supple, nourished, and radiant. The non-irritating lotion does not contain any artificial fragrance. This Japanese lotion works best when applied to damp skin.
Pros
Non-sticky
Fast-absorbing
Non-irritating
Fragrance-free
No harmful chemicals
Alcohol-free
Oil-free
Cons
None
Price at the time of publication: $10.99
This body lotion from Kikumasamune is a Japanese sake-based hydrating moisturizer that suits all skin types. The acidic formula protects your skin against moisture loss and environmental damages. This moisturizer can be used in your daily skin routine for healthy-looking skin. It promises ultra-hydration and skin brightening and keeps your skin soft and supple.
Pros
Fast-absorbing
Non-greasy
For all skin types
Alcohol-free
Cons

Did You Know?
Japanese skincare products have botanical extracts and natural herbs added to them to enhance the texture and appearance of your skin.
Price at the time of publication: $15.89
The Yu-Be Moisturizing Body Lotion has a powerful formula that penetrates deep into the skin to impart a youthful look. It contains glycerin that helps in keeping the skin smooth and healthy. The unique blend of vitamins E and B2 helps restore the natural barrier of the skin for a radiant look. The creamy formula can be applied at any time of the day and suits all skin types.
Pros
Lightweight
Non-comedogenic
Absorbed quickly
Alcohol -free
Fragrance-free
Cons
Price at the time of publication: $56
Japanese beauty products have found huge popularity among beauty enthusiasts, and for a good reason. They protect the natural barrier of your skin to keep it soft, shiny, healthy, and properly hydrated. The best Japanese body lotions are enriched with hyaluronic acid and antioxidants that offer anti-aging benefits and keep the skin firm. They improve skin elasticity and add a dewy glow to it. These lotions do not clog open pores and soothe irritated or inflamed skin. Their non-greasy formulas last long and absorb quickly into the skin. However, avoid products that have parabens or overwhelming fragrances.
Why Trust StyleCraze?
The author of this article, Shiboli Chakraborti, is a certified skin care coach. She has curated this list of the best Japanese body lotions after carefully researching, checking reviews online, and going through multiple forums for user feedback. These products enhance skin elasticity and reduce aging signs.
Frequently Asked Questions
How do I use body lotions properly?
• Wash your skin with mild soap.
• Pat it dry with a clean towel.
• Pour some lotion on your palms..
• Rub the palms to warm up the lotion.
• Apply the lotion in small circular motions on your body.
Is it okay to use a Japanese body lotion every day?
Yes. Use a Japanese body lotion suitable for your skin daily to achieve hydrated and moisturized skin.
What is the difference between a milk, lotion, and a cream in Japanese skincare?
A Japanese lotion is meant to moisturize the entire body. They contain multiple nourishing ingredients that hydrate the skin without leaving a heavy feeling. A milk lotion has a runny texture that easily absorbs into the skin. A Japanese cream has a thick consistency that feels heavy on the skin. Creams also might leave a sticky feeling on the skin.
How long does a Japanese body lotion last?
A Japanese body lotion usually has a shelf life of three months after opening the package.
The following two tabs change content below.