12 Best Antioxidant-Rich Moisturizers For Glowing Skin
Preserve your skin's youth and get long-lasting hydration with these moisturizers.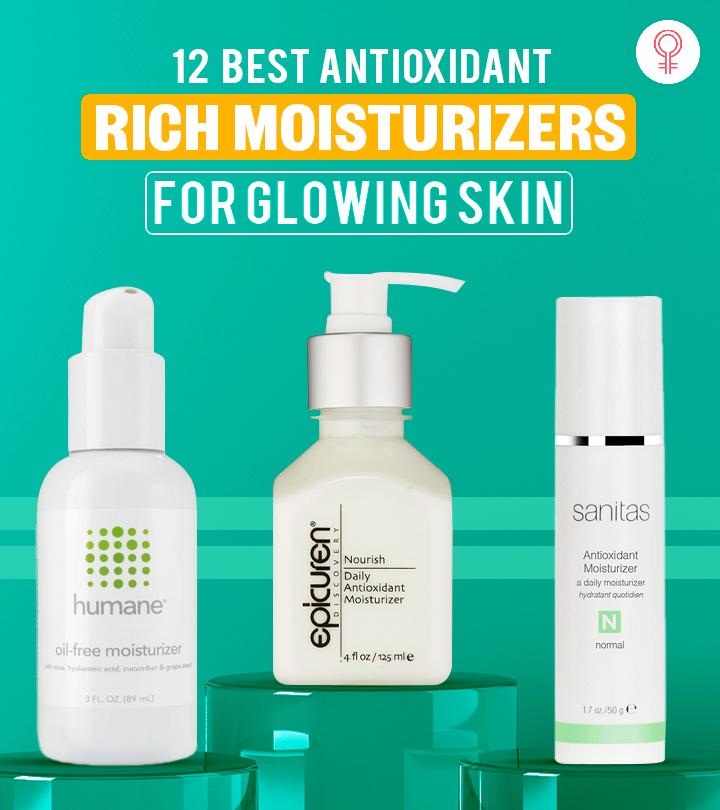 Our skin needs special care as it protects us from sun damage, skin care products laden with chemicals, aging, and climatic changes. The solution lies with the best antioxidant moisturizers for glowing skin and a wrinkle-free look. As antioxidants offer an array of benefits, a moisturizer loaded with them mimics these actions and promotes the regeneration of skin cells. Such a moisturizer also protects the skin and strengthens it to effectively combat the negative effects of external factors.
Check out these 12 best moisturizers loaded with antioxidants and choose the one that best suits your skin.
What Are Antioxidants?
Antioxidants protect the skin cells from damage and the epidermis from oxidative damage caused by pollution, UV rays, and free radicals. Cell damage can occur due to diseases, age, unhealthy lifestyle and eating habits, or environmental stressors.
Often referred to as free radical scavengers, these substances can improve your immunity and help fight diseases in the long run. Antioxidants are found in daily food items or dietary supplements. Some cosmetic industries have introduced them into skin care products to counter the damage to the skin and offer anti-aging benefits. Some common antioxidants are vitamins C and E, polyphenols, selenium, lutein, retinoids, niacinamide, carotenoids, and coenzyme Q10.
Let's now take a look at the top 12 moisturizers enriched with antioxidants.
12 Best Antioxidant-Rich Moisturizers
The Jergens Natural Glow Moisturizer keeps the skin soft and enhances its natural glow. It is enriched with nutrients, antioxidants, and vitamin E that benefit the skin. This self-tanning moisturizer is formulated for fair to medium and medium to tan skin tones. Regular application gives the skin a sun-kissed glow and leaves it feeling fresh and lightly scented. Watch this YouTuber's honest review video to get a better idea about the product
Pros
Lightweight
Streak-free
Blendable formula
Smells good
Value for money
Cons
Contains mineral oil
May make the skin look patchy.
Price at the time of publication: $9.47
The PCA SKIN Collagen Hydrator is a rich moisturizer that hydrates mature skin. The formula is rich in antioxidants that soften and condition dry skin and impart a healthy glow. This moisturizer is infused with olive oil, shea butter, and sweet almond oil that nourish your skin and make it soft and smooth. While olive oil contains antioxidants that protect the skin, sweet almond oil smoothens it, and shea butter hydrates and softens it. This cream encourages collagen production and gives the face a supple, youthful appearance. This video will give you a better insight into the qualities of the product.
Pros
Non-greasy
Quick-absorbing
Lightweight
No irritants or dyes
Fragrance-free
No animal testing
Cons
Expensive
May cause breakouts.
Price at the time of publication: $53.0
The Honeydew Grapeseed Oil is a cold-pressed moisturizing oil that is rich in antioxidants and great for the skin, nails, and hair. This anti-aging massage oil is powered with the goodness of vitamins E, C, and D that hydrate the skin, keeps it moisturized, and heal and regenerate the cells. It minimizes the appearance of the signs of aging, stretch marks, sunburns, psoriasis, hyperpigmentation, acne, and scars. The oil contains polyphenols and linoleic fatty acids that work in tandem with the vitamins and antioxidants to make the skin feel soft, refreshed, and rejuvenated.
Pros
Non-greasy
Lightweight
Natural ingredients
Suitable for all skin types
Cruelty-free
Vegan
Cons
Small quantity for the price.
Price at the time of publication: $9.95
This antioxidant-rich moisturizer from humane is oil-free, and it hydrates the skin without clogging the pores or causing breakouts. It is specially formulated for acne-prone skin and contains antioxidants that soothe the skin and help repair damage. The botanical ingredients like aloe vera, cucumber extract, and grapeseed oil combat inflammation and balance the skin's natural oil production.
The moisturizer also strengthens the skin's natural barrier and fights free radicals to promote healing and collagen formation. The active ingredients like hyaluronic acid and vitamin E trap the water molecules in the skin, keeping it hydrated. The non-toxic formula gets easily absorbed into the skin to give it a hydrated, fresh, and bright appearance.
Pros
Non-greasy
Lightweight
Quick-absorbing
Paraben-free
Sulfate-free
Phthalate-free
Mineral oil-free
Petrolatum-free
Formaldehyde-free
Fragrance-free
Dye-free
Cruelty-free
Cons
Expensive
May cause breakouts.
Price at the time of publication: $21.95
This face moisturizer from THENA is an organic formula that helps in curbing the signs of aging. The active ingredients like hyaluronic acid and niacinamide in this formula promote collagen production, nourish the skin, and repair skin damage. They also restore the natural protective barrier of the skin, which repels sun damage, age scars, blemishes, and dark circles under the eyes. The antioxidant booster is enriched with shea butter, coconut oil, and vitamins that hydrate and give the skin a naturally smooth texture. This day cream soothes and softens the skin, providing a rejuvenated, smooth, dewy finish.
Pros
Lightweight
Natural ingredients
Doubles up as a makeup primer
Quick-absorbing
Light fragrance
Cruelty-free
Cons
Greasy
Can cause breakouts.
Price at the time of publication: $67.8
This moisturizer from glo Skin Beauty is recommended for oily skin. It is rich in antioxidants, essential hydrators, and botanicals that strengthen the skin. It contains hyaluronic acid, jojoba oil, and malachite extract that nourish the skin and impart a healthy glow.
These ingredients keep the skin hydrated, balance its moisture and oil content, and promote collagen synthesis. The algae extract in this formula helps in skin repair and protects the skin from environmental aggressors. The botanical ingredients prevent transepidermal moisture loss and shield the skin from free radical damage.
Pros
Oil-free
Lightweight
Can be worn under makeup
Suitable for oily and combination skin
Cons
Expensive
Overpowering fragrance
Price at the time of publication: $54.0
Hydrate your skin with the WilmaSchumann Moisture Activ Gel Crème. This moisturizer is loaded with a pack of powerful antioxidants like vitamin E, Alpha-Lipoic acid, and DMAE that reduces the fine lines. In addition, the cream is infused with jojoba oil, aloe vera, hydrolyzed silk protein, hydrolyzed collagen, and almond oil that keeps your skin hydrated and active. As a result, the cream effectively minimizes premature aging.
Pros
Dermatologist-tested
Allergy-tested
Paraben-free
Non-greasy
Pleasant fragrance
Cons
May not be suitable for tough dry skin
Price at the time of publication: $49
This broad-spectrum sunscreen-cum-moisturizer from LANCOME has SPF 50 to protect your skin from the sun. The oil-free formula provides long-lasting hydration to the skin and protects it from external stressors. The cooling gel-like texture blends easily and absorbs into the skin quickly. The antioxidant-rich formula with moringa, edelweiss extracts, and vitamin E additives neutralizes free radicals and tones down inflammation. This sunscreen is not greasy or heavy on the skin and does not leave any white residue. It suits all skin tones and skin types. Watch this video for a thorough understanding of the product.
Pros
Oil-free
Non-comedogenic
Dermatologist-tested
No white residue
Lightweight
Cons
Price at the time of publication: $30.68
This moisturizing cream from Kimberly Sayer is a perfect blend of antioxidants, organic, extracts and organic sunscreen. It is made of cold-pressed borage oil that provides anti-aging benefits to the skin and promotes new cell growth. It also contains titanium dioxide and zinc oxide, which protect the skin from sun damage without irritating it.
Oat beta-glucan protects the skin from oxidative stress caused by UVA and free radicals. It reduces water loss from the epidermis. The formula also contains nettle extract that promotes cell growth and beech bud extract that heals and repairs damaged cells. This cream reduces wrinkles, fine lines, and other signs of aging. It is suitable for dry, normal, and sensitive skin types.
Pros
Certified organic ingredients
Natural
Cruelty-free
Vegan
Fragrance-free
GMO-free
Toxin-free
Cons
Price at the time of publication: $34.0
The emerginC cream is a rich, nourishing cream that provides deep hydration to the skin. It is formulated with alpha-lipoic acid that works as an anti-inflammatory. Coenzyme Q10 provides energy to the cells, while lutein protects the skin from harmful UVB rays.
This product targets skin concerns like dehydration, redness, dryness, irritation, and sun damage. The gentle formula reduces the appearance of wrinkles, fine lines, and under-eye circles with regular use. It fights free radical damages, hydrates the skin, and improves its texture and tone.
Pros
Easily absorbed
Can be used under makeup
Paraben-free
No synthetic fragrances
No animal testing
Cons
None
Price at the time of publication: $89.0
The Sanitas Antioxidant Moisturizer is a highly concentrated formula rich in antioxidants. It is formulated with a multivitamin complex that is a reparative blend of vitamins C, D, and E. These vitamins hydrate the skin and provide deep nourishment. They promote skin renewal in skin depleted of collagens.
The antioxidants in the formula replenish moisture to the skin and fight environmental stressors that cause skin aging. A blend of nutrient-rich seeds butters of shea and avocado protects the skin by locking in moisture and increasing elasticity and firmness. The hyaluronic acid in this formula hydrates and plumps the skin to make it feel soft and smooth.
Pros
Paraben-free
Phthalate-free
Dye-free
Gluten-free
No harsh preservatives
Cruelty-free
Cons
Expensive for the quantity
Price at the time of publication: $78.0
The epicuren Discovery Antioxidant Moisturizer is a daily-use skin care product that satisfies the skin's moisture needs. The formula is made of organic ingredients that deliver natural and vital moisture deep into the skin. The antioxidants in this cream keep the skin healthy and vibrant. This lightweight moisturizer nourishes the skin and is recommended for normal, combination, and sensitive skin types.
Pros
Lightweight
Vegan
Cruelty-free
Cons
Price at the time of publication: $44.0
Now that you know how important an antioxidant moisturizer is for the health and upkeep of your skin, go through the pointers below to understand how to pick the best one for your skin.
Five Things To Consider When Purchasing An Antioxidant Moisturizer
Skin Damage: Skin damage can be divided into two broad categories – photoaging and aging. Photoaging is caused by environmental stressors like sun damage and pollution or skin conditions like dermatosis or eczema. Aging causes the skin to become dull and lose elasticity and firmness. It causes wrinkles, fine lines, and dark patches. Identify the cause of your skin damage and pick your antioxidant moisturizer accordingly.
Skin Type: It is important to understand your skin type and choose a suitable antioxidant cream. Check the ingredients to see which ones will suit your skin type. For example, honey can be super-moisturizing for dry skin, while high AHA concentration can cause reactions in sensitive skin.
Skin Issues: If you have eczema, dermatitis, or rosacea, check the ingredients of the antioxidant moisturizer and pick one that can help soothe and manage the condition. Also, stay away from ingredients that may aggravate the condition.
Allergens: Many moisturizers have high concentrations of antioxidants. These may cause your skin to sting or burn on application. Identify what you are allergic to, like fruit peels, algae, honey, etc., and make sure what you pick does not contain these ingredients.
Sun Protection: If your skin is often exposed to the sun, make sure you pick an antioxidant moisturizer with SPF. It will protect the skin from UV radiation and sun damage. Also, look for ingredients that reverse the effects of sun damage.
Why Trust StyleCraze?
The author of this article, Shiboli Chakraborti, is a certified skincare coach and found experimenting with many skincare products. She conducted research and compiled a list of the best antioxidant moisturizers for her readers. These listed products can help regenerate skin cells and keep your skin healthy by fighting multiple skin issues. These are a must-have for sure.
Frequently Asked Questions
How long will it take to see the reversal of skin damage with an antioxidant moisturizer?
Skin repair takes time. Do not expect results overnight. It takes about four to six weeks to see visible results on the skin. The epidermal cells take six weeks to regenerate. Depending on the concentration of antioxidants in the moisturizer, some products might take time to show results.
How often can I use antioxidant moisturizer?
Ideally, you should use an antioxidant moisturizer once daily since it contains highly potent ingredients.
What are the signs of skin damage?
The signs of skin damage can be due to aging or photoaging. Also, infections and skin conditions can cause skin damage. Wrinkles, fine lines, crow's feet, blemishes, dark spots, loss of elasticity, and dullness are aging signs, whereas acne, pimples, rosacea, redness, rashes, dry skin, and tanning are signs of photoaging and infections.
Will an antioxidant moisturizer cause me to have acne?
Antioxidants are potent ingredients, and some may cause reactions, especially if you have sensitive skin. Hence, do a patch test before using the product.
What do I do if I develop a reaction?
Consult a doctor in case of a reaction. Also, wash the area and apply calendula or aloe vera gel for comfort. You can also take an anti-allergic tablet after consulting the doctor.