12 Best Antioxidant-Rich Moisturizers For Glowing Skin
Preserve your skin's youth and get long-lasting hydration with these moisturizers.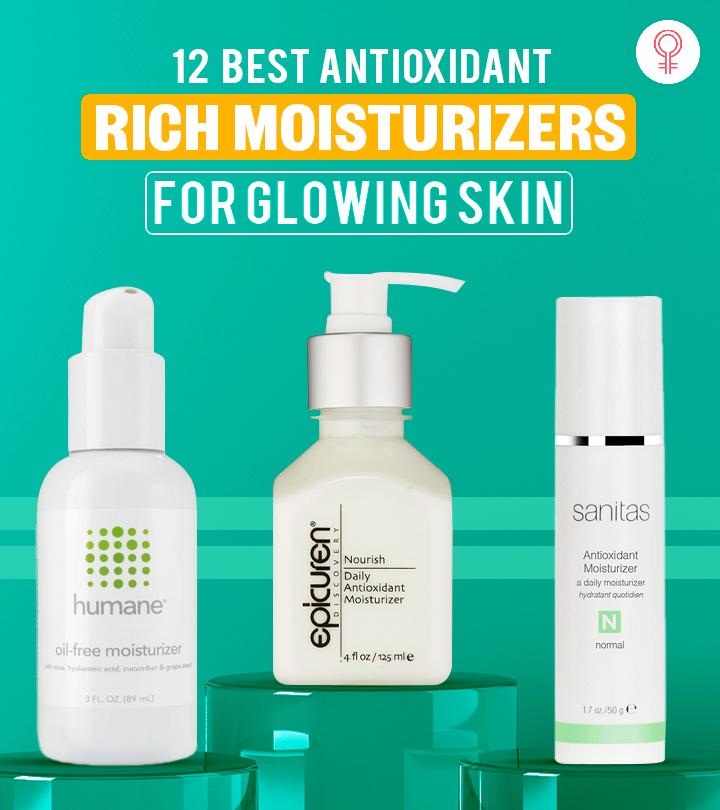 Our skin needs special care as it protects us from sun damage, skin care products laden with chemicals, aging, and climatic changes. The solution lies with the best antioxidant moisturizers for glowing skin and a wrinkle-free look. As antioxidants offer an array of benefits, a moisturizer loaded with them mimics these actions and promotes the regeneration of skin cells. Such a moisturizer also protects the skin and strengthens it to effectively combat the negative effects of external factors.
Check out these 12 best moisturizers loaded with antioxidants and choose the one that best suits your skin.
What Are Antioxidants?
Antioxidants protect the skin cells from damage and the epidermis from oxidative damage caused by pollution, UV rays, and free radicals. Cell damage can occur due to diseases, age, unhealthy lifestyle and eating habits, or environmental stressors.
Often referred to as free radical scavengers, these substances can improve your immunity and help fight diseases in the long run. Antioxidants are found in daily food items or dietary supplements. Some cosmetic industries have introduced them into skin care products to counter the damage to the skin and offer anti-aging benefits. Some common antioxidants are vitamins C and E, polyphenols, selenium, lutein, retinoids, niacinamide, carotenoids, and coenzyme Q10.
Let's now take a look at the top 12 moisturizers enriched with antioxidants.
12 Best Antioxidant-Rich Moisturizers
Pros
Lightweight
Streak-free
Blendable formula
Smells good
Value for money
Cons
Contains mineral oil
May make the skin look patchy.
Price at the time of publication: $9.47
Pros
Non-greasy
Quick-absorbing
Lightweight
No irritants or dyes
Fragrance-free
No animal testing
Cons
Expensive
May cause breakouts.
Price at the time of publication: $53.0
Pros
Non-greasy
Lightweight
Natural ingredients
Suitable for all skin types
Cruelty-free
Vegan
Cons
Small quantity for the price.
Price at the time of publication: $9.95
Pros
Non-greasy
Lightweight
Quick-absorbing
Paraben-free
Sulfate-free
Phthalate-free
Mineral oil-free
Petrolatum-free
Formaldehyde-free
Fragrance-free
Dye-free
Cruelty-free
Cons
Expensive
May cause breakouts.
Price at the time of publication: $21.95
Pros
Lightweight
Natural ingredients
Doubles up as a makeup primer
Quick-absorbing
Light fragrance
Cruelty-free
Cons
Greasy
Can cause breakouts.
Price at the time of publication: $67.8
Pros
Oil-free
Lightweight
Can be worn under makeup
Suitable for oily and combination skin
Cons
Expensive
Overpowering fragrance
Price at the time of publication: $54.0
Pros
Dermatologist-tested
Allergy-tested
Paraben-free
Non-greasy
Pleasant fragrance
Cons
May not be suitable for tough dry skin
Price at the time of publication: $49
Pros
Oil-free
Non-comedogenic
Dermatologist-tested
No white residue
Lightweight
Cons
Price at the time of publication: $30.68
Pros
Certified organic ingredients
Natural
Cruelty-free
Vegan
Fragrance-free
GMO-free
Toxin-free
Cons
Price at the time of publication: $34.0
Pros
Easily absorbed
Can be used under makeup
Paraben-free
No synthetic fragrances
No animal testing
Cons
None
Price at the time of publication: $89.0
Pros
Paraben-free
Phthalate-free
Dye-free
Gluten-free
No harsh preservatives
Cruelty-free
Cons
Expensive for the quantity
Price at the time of publication: $78.0
Pros
Lightweight
Vegan
Cruelty-free
Cons
Price at the time of publication: $44.0
Now that you know how important an antioxidant moisturizer is for the health and upkeep of your skin, go through the pointers below to understand how to pick the best one for your skin.
Five Things To Consider When Purchasing An Antioxidant Moisturizer
Skin Damage: Skin damage can be divided into two broad categories – photoaging and aging. Photoaging is caused by environmental stressors like sun damage and pollution or skin conditions like dermatosis or eczema. Aging causes the skin to become dull and lose elasticity and firmness. It causes wrinkles, fine lines, and dark patches. Identify the cause of your skin damage and pick your antioxidant moisturizer accordingly.
Skin Type: It is important to understand your skin type and choose a suitable antioxidant cream. Check the ingredients to see which ones will suit your skin type. For example, honey can be super-moisturizing for dry skin, while high AHA concentration can cause reactions in sensitive skin.
Skin Issues: If you have eczema, dermatitis, or rosacea, check the ingredients of the antioxidant moisturizer and pick one that can help soothe and manage the condition. Also, stay away from ingredients that may aggravate the condition.
Allergens: Many moisturizers have high concentrations of antioxidants. These may cause your skin to sting or burn on application. Identify what you are allergic to, like fruit peels, algae, honey, etc., and make sure what you pick does not contain these ingredients.
Sun Protection: If your skin is often exposed to the sun, make sure you pick an antioxidant moisturizer with SPF. It will protect the skin from UV radiation and sun damage. Also, look for ingredients that reverse the effects of sun damage.
The author of this article, Shiboli Chakraborti, is a certified skincare coach and found experimenting with many skincare products. She conducted research and compiled a list of the best antioxidant moisturizers for her readers. These listed products can help regenerate skin cells and keep your skin healthy by fighting multiple skin issues. These are a must-have for sure.
How long will it take to see the reversal of skin damage with an antioxidant moisturizer?
Skin repair takes time. Do not expect results overnight. It takes about four to six weeks to see visible results on the skin. The epidermal cells take six weeks to regenerate. Depending on the concentration of antioxidants in the moisturizer, some products might take time to show results.
How often can I use antioxidant moisturizer?
Ideally, you should use an antioxidant moisturizer once daily since it contains highly potent ingredients.
What are the signs of skin damage?
The signs of skin damage can be due to aging or photoaging. Also, infections and skin conditions can cause skin damage. Wrinkles, fine lines, crow's feet, blemishes, dark spots, loss of elasticity, and dullness are aging signs, whereas acne, pimples, rosacea, redness, rashes, dry skin, and tanning are signs of photoaging and infections.
Will an antioxidant moisturizer cause me to have acne?
Antioxidants are potent ingredients, and some may cause reactions, especially if you have sensitive skin. Hence, do a patch test before using the product.
What do I do if I develop a reaction?
Consult a doctor in case of a reaction. Also, wash the area and apply calendula or aloe vera gel for comfort. You can also take an anti-allergic tablet after consulting the doctor.