11 Best Exfoliating Pads Of 2023
Eliminate dead skin cells with gentle and user-friendly exfoliating products.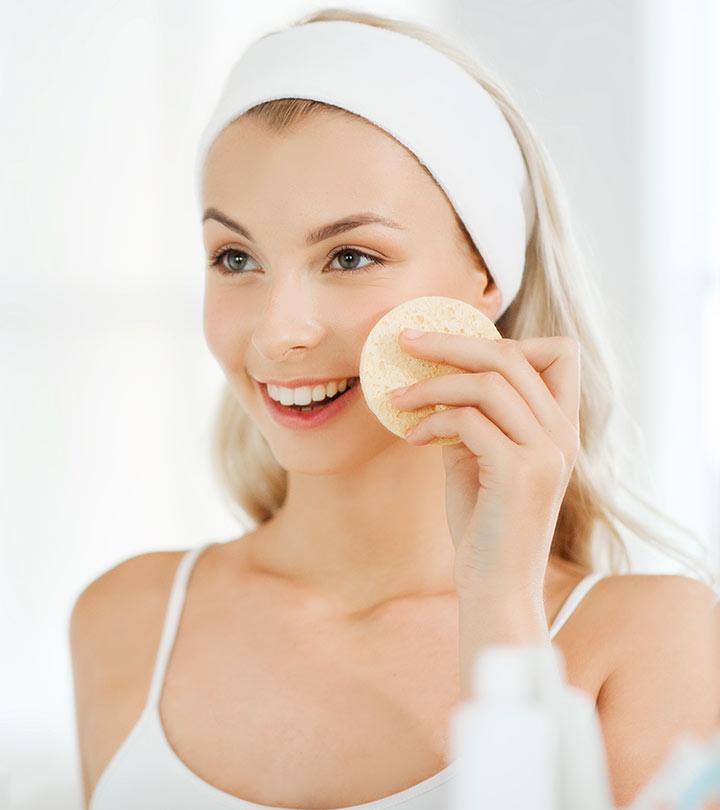 Esthetician Mathew Rundle says " Exfoliating pads really are a time saver and are a fantastic addition to your skin care regime. These are great for being in better control of your skin. Rather than using a gritty scrub, which can be very easy to get carried away with and over exfoliate your skin, an exfoliating pad will deliver carefully targeted ingredients to gently reveal smoother, fresher skin. Many companies offer samples of pads to try out before purchasing to make it easier to find the best one for your complexion."
Exfoliation is a vital step in a skin care routine that should be followed regularly. It gives skin a radiant look by removing the dead skin cells. Using the best exfoliating pads makes the process of exfoliation easy. You also get a post-facial glow that makes you look super refreshed. The process of exfoliating removes the old and dead skin slowly. If neglected, it may result in breakouts.
These exfoliating pads are a popular trend among skin care enthusiasts and are also known for their ease of use. They not only save time but also cut down the expenses spent on salon treatments.
But how can you choose the right one? And which ones are the best? We have compiled a list for you in which you can find the 11 best exfoliating pads. You can choose the one that suits your skin needs. Keep reading to know more about them!
Read on to know more!
11 Best Exfoliating Pads Of 2023
Bask in the nourishment of green tea and get rid of skin impurities with Neogen Dermalogy Bio Peel Gauze Peeling. Instantly refreshing and hydrating, this clinically-tested soft peeling process is nothing like you've experienced before. The 100% cotton exfoliation pad with chemical peeling has gauze on one side to exfoliate and an embossed side to remove the excess sebum and dead skin cells. Easy-to-use is one of the best ways to pamper your skin!
Pros
Eliminates dead skin cells
Purifies and evens out skin texture
Gentle and easy-to-use
100% cotton pad
Suitable for all skin types
Pleasant fragrance
Clinically-tested
Cons
Not recommended for very sensitive skin
Expensive
Contains alcohol
Price at the time of publication: $39.99
If you are looking for a product that can help minimize the appearance of aging signs, try the RoC Daily Resurfacing Facial Disks. It is a self-foaming cleanser with a blend of anti-aging and skin-conditioning formulas. It is nothing short of a divine experience for your skin according to many reviewers. Watch those fine lines and wrinkles diminish gradually as your complexion gets healthier, brighter, and clearer day by day. Suitable for removing makeup around eye areas, these clinically-proven exfoliating pads are so gentle that they can be used daily. The brand claims that users may notice reduced fine lines and improved skin tone and texture within a week of using the product as instructed.
Pros
Diminishes fine lines and wrinkles
Anti-aging benefits
Self-foaming skin conditioning formula
Not harsh on the skin
Guarantees result in 7 days
Clinically-proven results
Cons
Feels soapy on skin
Not suitable for sensitive skin
Price at the time of publication: $9.97
Did you know that glycolic acid is hailed as the Holy Grail exfoliator by the skincare industry? Here's a brand giving you 20% pure glycolic acid to treat skin burns and fine lines, reduce acne scars, and more! Besides this, the professional-grade resurfacing pad also contains the benefits of essential vitamins like B5, C, and E that hydrate and repair skin damaged by sun exposure. It is packed with antioxidant agents like green tea and calendula extracts that soothe and refresh your skin instantly. All this in one non-woven textured exfoliating pad!
Pros
Hydrates the skin with essentials vitamins
Radiance-boosting
Cleans, refreshes, and soothes the skin
Eco-friendly packaging with 50 pads
Cons
Avoid if you have very sensitive skin
Price at the time of publication: $19.95
Are acne and excess oil troubling that beautiful skin of yours? Get rid of them with these maximum-strength, anti-acne exfoliating pads that are specifically formulated to eliminate impurities disturbing your skin. The clinically-proven exfoliating pads minimize enlarged pores post-acne treatment, improve skin texture, and fight blemishes with 2% salicylic acid and 1% mandelic acid. It is also highly recommended and validated by leading dermatologists.
Pros
Fights acne and reduces post-acne marks within weeks
Suitable for all skin color and types
Non-comedogenic
Free from sulfates, paraben
Cruelty-free
Dermatologist-recommended
Clinically-proven results
Cons
It dries out the skin. Use a moisturizer post application
It contains alcohol
Price at the time of publication: $21.95
Fix up your skin as celebrities do with Nip + Fab Glycolic Fix Night Pads Extreme. Giving your skin a fab and flawless glow, the brand has revolutionized the exfoliation process like no other. Using cutting-edge ingredients like glycolic acid, salicylic acid, and dragon's blood, 2-3 wipes a week at night, will give your skin the much needed TLC it deserves. Celebrities love it, and makeup artists swear by it! If you are someone who loves to keep up with skincare trends, this one's definitely for you.
Pros
Contains glycolic acid that exfoliates the skin
Contains brightening agents
Refines pores and improves skin texture
Brightens complexion
Cons
Works best at night
Not recommended for very sensitive skin
Price at the time of publication: $13.14
StriVectin Advanced Resurfacing Exfoliating Pads are scientifically formulated to eliminate dead skin cells and brighten the skin tone. The clinically examined and confirmed pads are rich in AHAs, PHAs, BHAs, and TXAs, which exfoliate the skin and give soft and smooth textured skin. The tester's experience indicates that it also tightens the pores and gives an even toned skin. They are clinically-proven to boost skin's cell renewal rate and resurface dull and rough skin. It is recommended to use it once daily in the evening. They are ideal for all skin types; however, a patch test is recommended for all.
Pros
Brightens skin tone
Wrinkle reduction
Tightens pores
Hypoallergenic
Non-irritating
Vegan
Ideal for all skin types
Paraben-free
Phthalate-free
Mineral oil-free
Coal tar-free
SLS & SLES-free
Formal Dehydrate-free
Triclocarban-free
Clinically proven results
Cons
None
Price at the time of publication: $27
Unlike other exfoliating pads, Neutrogena Rapid Clear Treatment Pads reduce pimples, redness, and swelling within 8 hours! Clinically-tested and infused with powerful anti-acne ingredients, it dissolves oil and eliminates the root cause of breakouts even before they appear! With no impurities or dead skin cells left behind, these dermatologist-recommended exfoliating pads are by far the quickest way to get back your natural, glowing, and acne-free skin according to the reviewer's experience.
Pros
Non-comedogenic
Powerful anti-acne ingredients
Dissolves excess oil
Not expensive
Dermatologically-approved
Cons
The result may vary across skin types
Some may find it too greasy
Price at the time of publication: $8.47
If anti-aging had a mantra, it would start with L'Oreal. This wondrous product has customers going gaga over how effective it is when it comes to evening out skin tone and reducing the appearance of fine lines. Offering a refreshing and delightful experience, you feel your mood and skin lifted instantly. So, the next time you feel your skin needs a youthful glow, L'Oreal Paris Revitalift Triple Power LZR Peel Pads with so many rave reviews are the ones you need for a smoother skin texture.
Pros
Repairs texture
Helps reduce blackheads and minimize breakouts
Spot treatment
Accelerates skin renewal
Hydrates skin
Cons
Avoid using regularly if you have sensitive skin
Price at the time of publication: $20.79
The Remedial Glycolic Acid Resurfacing Pads are the solution for exfoliating and removing dark spots and blackheads. They have 30% glycolic acid, which helps loosen dead skin cells and unclog pores. They are infused with vitamins B5, C, and E, witch hazel, menthol, calendula, allantoin, green tea, and eucalyptus, which have anti-aging and skin conditioning properties that revitalize the skin. With the goodness of so many active ingredients, these professional-grade facial pads proven to deliver visible results remove dark spots and brighten the complexion giving you healthy, glowing, and youthful-looking skin.
Pros
Anti-aging effect
Reduces dark spots and blackheads
Moisturizes the skin
Brightens complexion
Cons
Not suitable for dry, sensitive, or acne-prone skin
Price at the time of publication: $16.89
Are you exposed to dust and pollution all day? All that dirt and impurities on the skin are bound to give rise to breakouts. These dermatologically-approved dual-textured exfoliating pads contain 10% glycolic acid that deeply cleanse the skin without drying it, while 2% salicylic acid evens out the skin tone and texture. Rich in natural botanical extracts and witch hazel, these clinically verified gentle cleansers are carefully formulated to hydrate and soothe irritated skin. If acne is your problem, let these results-driven, expert-recommended exfoliating pads be the solution.
Pros
Natural botanical extracts
An anti-acne formula that soothes skin
Evens out skin texture and tone
Guarantees smoother-looking skin
Pore refinement
Professional-grade
Visible results
Cons
Price at the time of publication: $29.75
Clean and clear skin is the perfect canvas for makeup. And if you love applying makeup then you'll love these exfoliating pads too. They are scientifically formulated with tested ingredients like lactic acid and glycolic acid that gently exfoliate dull skin, cucumber and Indian gooseberry tone the skin, while lemon peel and licorice roots brighten the complexion. Don't worry about breakouts or dryness, these dermatologist-tested cleansers are so gentle that they can be used on sensitive skin. Promising radiance in a swipe, these exfoliating pads are an absolute must-have, according to the reviewers!
Pros
Natural ingredients
Deep and gentle exfoliation
Hydrates and tones skin
Brightens the skin
Suitable for sensitive skin
Allergy-tested and non-comedogenic
No sulfates, parabens, or alcohol
Dermatologically tested
Cons
Price at the time of publication: $36.0
Are you wondering why you need exfoliating pads? Read on to know more.
Why Do You Need Exfoliating Pads
Exfoliation pads do that magic to your skin that face wash and makeup removers fail to. Eliminating dead skin cells and making way for newer, fresher, and healthier skin than before, you'll love how your skin will look in the mirror the next day. Your complexion glows, acne reduces, redness is gone, hydration level increases, and the fine lines are far from visible! We don't know about you but it wouldn't be wrong to call them instant skin refreshing boosters.
Still thinking why do you need exfoliating pads? You'll find your answer after using a few wipes, we promise.
What Ingredients Should I Look For In Exfoliating Pads
While buying exfoliating pads, you must look for:
Glycolic acid (AHA): Glycolic acid deeply cleanses and removes dead skin cells and impurities without drying out the skin.
Salicylic acid (BHA): Salicylic acid, on the other hand, unclogs pores, reduces sebum secretion, and fights acne and other oily skin issues.
Together, these two acids help maintain the pH level of the skin for a healthier and brighter glow.
Why Trust StyleCraze?
The author, Krati Darak, is a beauty and skin care enthusiast. She loves spending her time experimenting with new skin and beauty products. That's how she has come up with this specially curated list of the best exfoliating pads. After going through in-depth reviews and customers' feedback on popular beauty forums, she recommends nothing but the best for you here. These exfoliating pads are a popular trend among skin care enthusiasts and are also known for their ease of use. They save time and cut down the expenses spent on salon treatments.
Frequently Asked Questions
Are exfoliating pads good?
Yes, they are incredibly beneficial for the skin. Since our skin sheds from time to time, it does not shed completely, and exfoliation helps in getting rid of dead skin cells that may clog pores and lead to breakouts. It also removes impurities, dirt, and excess oil.
What are the best peel pads?
There are several good exfoliating peel pads in the market. However, Glycolic Acid 20% Resurfacing Pads and Aveeno Clear Complexion Daily Facial Cleansing Pads are two of the best ones in the market today. You can try any one of the 11 pads mentioned above!
Do glycolic pads work?
Yes, they do. Glycolic acid is a strong exfoliating agent that gently removes all the dead skin cells without disturbing the natural oils. It also unclogs pores and removes impurities.
How to use exfoliating pads?
Take an exfoliating pad and very gently wipe it over your face. Do this in the areas under your eyes, near your hairline and neck too. If the pad is dual-textured, you must exfoliate your skin first and then use the embossed side to clean the dirt and impurities. Usually, people don't rinse after exfoliating. But if you feel the need, you may do so and pat dry with a soft towel later.
Can you use exfoliator pads every day?
Yes, most exfoliating pads are gentle enough for everyday use because of the combination of exfoliating and moisturizing substances.
What are exfoliating pads for?
Exfoliating pads remove the germs, sweat, and dead skin cells on your skin that clog your pores causing blackheads and acne.
Is it better to exfoliate in the morning or at night?
It is better to exfoliate at night as it will improve the absorption of products you use before bed. It also helps to get rid of the day's makeup, impurities, sebum, and oil.
Recommended Articles