13 Best Chest Wrinkles Pads To Use In 2022
Bid goodbye to chest wrinkles with the help of these high-quality wrinkle pads.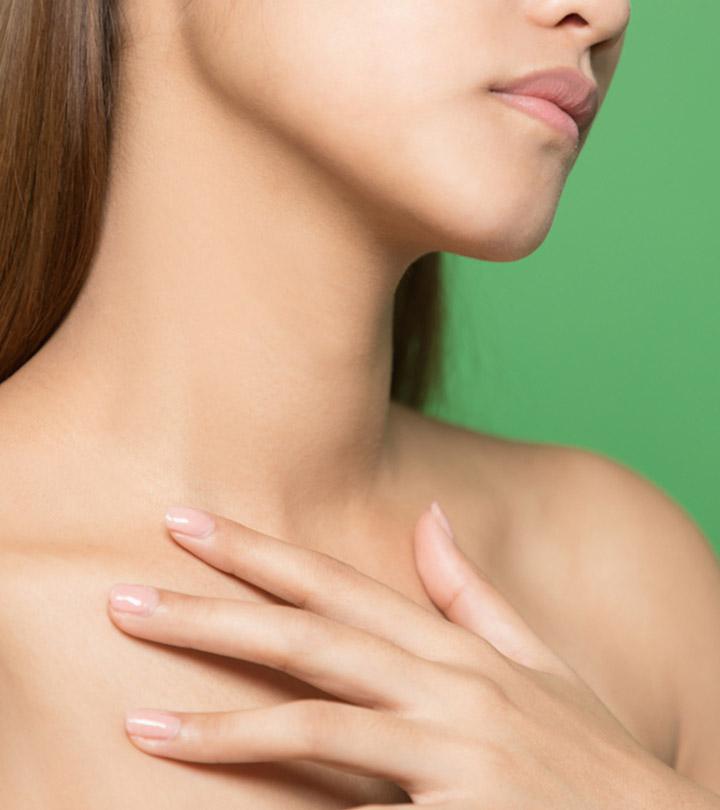 Advancing age coupled with pollution and the sun's harmful rays causes premature aging. Apart from the face, the first signs of aging start to show up on your neck and chest. The best chest wrinkle pads are a good way to deal with those chest wrinkles and confidently rock that dress with a plunging neckline.
Wrinkles are caused when the skin loses its elasticity and collagen production is reduced. Your chest area has soft skin that is prone to wrinkling and aging. You can reduce fine lines and wrinkles on your chest by proper exfoliation and moisturization. The right anti-aging creams, chest wrinkle pads, and proper care can reverse the wrinkles too. The medical-grade silicone of these chest pads is usually skin-friendly and safe for the most sensitive skin types too. These pads work to hydrate the skin and plump it to reduce the appearance of aging signs. A good-quality chest wrinkle pad lasts for quite a while because they are reusable and can be cleaned with soap and warm water. The cosmetics market has a lot of these chest wrinkle pads offered by various brands. In this article, we have compiled a list of the select few that have been tried and tested by women folk and are known to show effective results. So, keep scrolling to find out more!
How To Get Rid Of Chest Wrinkles?
Here are some of the best ways you can get reduce the appearance of chest wrinkles and prevent any premature fine lines:
Using sunscreen – excessive exposure to the sun is one of the main culprits that lead to premature aging. Having the right sunscreen in your skincare arsenal can not only reduce wrinkles but prevent dark spots and skin cancer.
Exfoliation – eliminating dead skin cells with the help of a chemical or physical exfoliant can do wonders for your neck and chest, just like it would for your face. Consistent exfoliation will help even out your skin texture and tone, while encouraging the growth of new skin cells.
Moisturizer – optimal hydration is key to healthy skin, so the more moisturizer you apply, the better your skin will appear. Look for moisturizers that suit your skin type and provide you with a smooth, glowing appearance. It will be amazing if you get one that has SPF as it will offer you protection from the sun.
13 Chest Wrinkles Pads That Leave You With Smooth, Glowing Skin
This anti-wrinkle chest pad helps prevent and reduce the appearance of fine lines and premature wrinkles, caused due to poor lifestyle choices, excessive sun damage, and aging. These gentle chest wrinkle pads are perfect for overnight use because they repair the delicate skin on your décolletage without any major side effects. The pads are suitable for all skin types, and they are fragrance-free, so you don't have to worry about any irritation. The non-invasive chest pads are made from silicone to improve irregular collagen structure while increasing blood flow for smooth skin. They also have no harsh additives, making them comfortable, hydrating, and ideal for sensitive to normal skin types. The pads work overnight by plumping and tightening loose skin. They are also reusable, so you can clean them with soap and water, and wear them again for up to 30 days.
Pros
Fragrance-free
Easy to clean and reusable
Hydrating
Plumping
It can be worn up to 30 days
No chemical adhesive
Cons
May leave a sticky residue after every use
These are some of the best chest wrinkle pads, and they can be used for the neck too. Consistent use of these pads will result in smoother, younger, and glowing décolletage skin. These adhesive chest pads are made from 100% medical-grade silicone, making them comfortable, soft, and suitable for sensitive skin types. You can use these chest pads for wrinkles, stimulating collagen production, and increasing blood circulation. It is recommended that you use these pads when lying on your back, as they will provide the best results. These chest stickers are suitable for overnight use and will repair any damage caused by sun exposure by hydrating and smoothing your skin.
Pros
Suitable for sensitive skin
Medical grade silicone
Comfortable
Suitable for overnight use
Stimulates collagen production and blood circulation
Cons
The adhesive may wear off after a few washes
These decollete chest wrinkle pads are perfect for people experiencing fine lines and wrinkles caused by excessive sun exposure. The chest pads are comfortable and gently exfoliate your skin, improving your skin tone and reducing the appearance of wrinkles. The pads measure up to 5.5-4.5 inches and should fit mostly everyone; if they are too big, then the pads can be trimmed to fit your individual chest area. These chest pads are great even if you develop wrinkles from sleeping on your side because they have no side effects and result in glowing, youthful skin. The pad is reusable, so you will have to clean them with soap and warm water after each use. Cleaning the pads helps elongate its shelf life without ruining the adhesive.
Pros
Gently exfoliates
Reusable
It can be trimmed to fit various chest sizes
Suitable for overnight use
Cons
It may not be sweat-resistant
If you are looking at how to get rid of wrinkles on the chest without any invasive procedures, these gel pads are a great choice. The reusable pads are perfect for mature and dry skin types, and they are BPA-free. They are perfect for wrinkles that develop when you sleep on your side or due to sun exposure. The pads ensure that your skin stays hydrated whenever you keep them on, and your skin won't feel dry or rough. Made from premium silicone, they are also safe to use on sensitive skin. The chest pads stay in place the whole night, and they won't bunch or make you feel comfortable while you sleep. These anti-wrinkle chest pads also ensure that the fine lines are reduced, and your skin tone and texture get evened out as well.
Pros
Suitable for dry and mature skin types
Cruelty-free
BPA-free
Reusable
It can be used up to 20 times
Cons
Some may find these chest pads thick
You can wear all the low-cut and off-shoulder tops you want with confidence, once you start using these chest wrinkles pads. These skin pads combine compression and deep skin hydration techniques that keep fine lines and wrinkles at bay, smoothing out the texture. They help moisturize, tighten, and plump crepey skin. The pads have a tapered shape that effectively covers the cleavage area while reducing the early signs of aging, resulting in fresh and youthful-looking skin. Not only will these pads reduce fine lines, but they will also help fade away dark spots that are a result of sun exposure or poor lifestyle choices.
Pros
Moisturizing
Evens out skin texture
Repairs damage caused by sun damage
Suitable for sensitive skin
Cons
Skincare experts and women from all over the world have agreed that deep chest wrinkles can be reduced/prevented by using chest wrinkle pads. These overnight pads will stay in place the whole night and won't irritate or slip while you're sleeping. The pads are not heart-shaped; rather, they are a "T-shape" that holds tight thanks to the strong adhesive that won't wear out even when you wash them. The silicone pads are a great choice for overnight smoothing, reducing fine lines and deep-set wrinkles because they retain moisture within the skin and encourage hydration renewal. Think of these pads as thick stickers that you use to keep your chest skin flat while you sleep, which prevents facial wrinkles from forming. You will get 10-15 uses from each pad before the adhesive starts wearing out.
Pros
T-shape ensures that the pad stays in place
Strong and high-quality adhesive
Retains moisture
Slip-proof
Cons
The results may take time to show up
These premium gel pads get rid of chest wrinkles and fine lines that plague your neck as well. They are clinically tested and safe to use on all skin types, and with consistent use, you will see the desired results. They aim to reduce fine lines and wrinkles that affect the decolletage. Each pad is made from 100% medical-grade silicone that increases moisture retention and tones your skin texture. Each pad is tested and designed to ensure that it fits most bodies and all skin types; they will prevent stretch marks and even out your skin complexion. They are also sweat-resistant, so you don't have to worry about the pads bubbling up or slipping off when you wake up.
Pros
High-quality silicone
Suitable for all skin types
Easy to clean
Sweat-resistant
Ideal for combination skin types
Cons
It may not be ideal for young adults or teenagers
Add this chest wrinkle treatment to your skincare essentials list because it does a great job at fixing/reducing early signs of aging caused by sleeping on your side, dehydration, sun damage, and so on. These invisible chest pads are reusable and do a great job increasing blood circulation and stimulating collagen production. They are quite easy to apply and won't cause any discomfort when you have to take them off as well. The non-toxic chest pads are meant to moisturize and hydrate your skin so that you wake up with bright, glowing, and smooth skin. The pads are thin and super comfortable on the skin, as well as they can be used up to 30 times. You don't need to use any chest pillows or bras when you use these silicone decollette pads as they stays in place the whole night.
Pros
Hydrating
Stays in place
Comfortable
Non-toxic and safe to use on sensitive skin
Cons
It may not be suitable for people who prefer thick chest wrinkle pads
Erase those chest wrinkles overnight with the help of these effective chest wrinkle pads. They are made from silicone which helps hydrate your skin and keep premature fine lines or wrinkles. Thanks to the built-in silicone technology, the overnight pads stimulate collagen production and even out your skin texture. The pads come in a heart-shaped hold, which doesn't bunch even when you sleep on your side and can be washed after every use. The pads are long-lasting, and the adhesive won't break down, even after weeks of use. These anti-wrinkle chest pads are highly recommended by women all over the world because the results are seen within a few days.
Pros
Long-lasting
Hydrating
Stimulates collagen production
Heart-shaped hold
Cons
The chest pads may have a strong scent
These 100% medical-grade silicone pads are perfect for reducing the appearance of wrinkles on décolletage because they can be used all through the night without slipping or falling off. The pads are quite efficient at preventing premature aging signs on your chest because they provide hydration and boost collagen production, which helps tone and increase elasticity within your skin. Wear your favorite strapless top with confidence after using these chest wrinkle pads because they ensure that you get smooth skin with consistent use. The pads are pretty soothing and can be worn for up to 10hrs without feeling sticky or uncomfortable. Lastly, they are super easy to use and reusable! Ensure that you clean the pads after every use to get the best results.
Pros
Reusable
Cooling
It can be worn up to 10 hours
Smoothens and tones skin texture
Boosts collagen production
Cons
It may not be suitable for sensitive skin
You may want to consider adding this product to your nighttime skincare routine because it is regarded as one of the best chest wrinkle pads in the market right now. The gel anti-wrinkle pads come in a set of 4 and provide a smooth decolletage with frequent use. All you have to do is place the adhesive pads on the area you want. It will work overnight to increase blood circulation and skin elasticity. These pads are perfect for damaged chest skin due to sun exposure and poor lifestyle choices, as it helps hydrate and repairs the fine lines. It is recommended that you lie flat when applying these pads, as they will provide better results. The cooling pads sit comfortably on the chest, and they are gentle on the skin, too, so you don't have to worry about any irritation when you wake up. Ensure that you rinse the pads after each use to make them more durable.
Pros
Comfortable
Increases blood circulation
Repairs damage caused by sun exposure
Hypoallergenic
Cons
The pads may bubble up when you lie on your side
When looking for a fragrance-free chest pad for wrinkles, you may want to give the Klara Faire Chest Wrinkle Pads a try. These overnight silicone pads can be worn overnight and work to prevent/eliminate fine lines, scarring, wrinkles, and dark spots. They are a perfect alternative for people who don't want to use any creams or go for invasive treatments. Regular use of these décolleté pads will improve your skin texture by hydrating it and boosting natural collagen production. In addition, the pads have high-quality adhesive, which makes them super sticky. So, ensure that you are in your natural posture when you place them on the chest to ensure they sit right.
Pros
Hydrating
High-quality adhesive
Helps repair fine lines, scars, and wrinkles
Lightweight
Fragrance-free
Cons
The pad may cause some discomfort when you take it off
These Hoosh Chest Wrinkle Pads are perfect for people who want to eliminate chest wrinkles and get hydrated/plump skin. These silicone pads are a great choice for women who don't want to undergo invasive procedures because they will get smooth skin with consistent use. These reusable pads can be worn for however long you want. They can even be worn for an hour. You will start seeing results in the form of smooth skin texture and reduce fine line appearance. Additionally, these little stickers are thin and perfectly shaped to fit any chest size; they will stay in place while you sleep and won't fold or fall off. If you are looking for overnight wrinkle control and moisture for your chest skin and neck, go for these anti-wrinkle chest pads.
Pros
Lightweight
Suitable for all chest sizes
Reusable
Hydrating
Reduces/prevents wrinkles
Cons
Now that you are aware of the 13 best chest wrinkle pads available in the market, you need to understand the important factors that will help you choose the product that meets all your needs. Hence, we have created a buying guide that will help you choose the perfect chest wrinkle pads.
How To Choose The Best Chest Wrinkles Pads
Ensure that the chest pads are made from 100% medical-grade silicone and are reusable for 10 days or more. Silicone has this uncanny ability to retain the skin's moisture and keep your skin plump. Also, you need to ensure that the pads are hypoallergenic and the adhesive is safe to use on all skin types. This will prevent any nasty allergic reactions.
Anti-wrinkle chest pads come in various shapes like hearts, T-shape, triangles, hourglass, and funnels. These shapes are created to suit all chest sizes and adhere to the center of your chest. You have to choose a shape that will spread across your chest and delve into your cleavage; therefore, offering maximum coverage and providing you with the best results.
As mentioned before, silicone chest pads have a way of retaining moisture, and they also hydrate your skin. When you place them on your chest overnight, they work their magic by toning your skin texture, enhancing blood circulation, and stimulating the body's natural collagen production. So, you must look for pads made from breathable silicone because they will hydrate your skin and smooth out any fine lines or wrinkles.
How To Use Chest Wrinkle Pads
Step 1 – Cleanse and prep
This is the cleansing and prepping stage. So, you have to ensure that your chest is thoroughly cleansed and dried before you place the silicone pads. Avoid any serums or creams, as they will compromise the hold of the patches.
Step 2 – Stick pad onto the skin
Remove the plastic film on the pads and gently place them on your chest. Ensure that the broader part of the pad is facing your neck while the tapered part is facing your cleavage. Hold the pad in place against your skin until you are convinced that it is solidly attached.
Step 3 – Sleep
Once the pad is on properly, you can rest easily and go to bed. These patches are designed to stay on you while you sleep, no matter how much you toss and turn.
Step 4 – Wash, if they are reusable
Once you are done with the pads, ensure that you wash them with mild soap and warm water. This will make them last longer and help deliver the best results.
Benefits Of Anti-Wrinkle Silicone Chest Pads
Prevent/reduce wrinkles and fine lines – Your chest and neck have delicate skin, and they are quite prone to dehydration. Silicone gel pads help retain moisture and keep your chest skin hydrated while blurring any fine lines.
Moisturizing – Moisturized skin looks younger and fresher. Silicone chest pads are the secret to having smooth and glowing décolletage. It helps moisturize the skin by creating a hydrating barrier and improving skin texture.
Comfortable – Premium quality silicone chest pads will not make you feel itchy or uncomfortable. Instead, they will sit on your chest and feel like a second skin. Some may even feel cool and mild, especially if they are designed to be worn overnight.
Why Trust StyleCraze?
Kirtana Divakar, the author, is an ardent fan of skincare. She keeps up with the trends in vogue and feels satisfaction in bringing the foremost products for her users. She conducted a detailed study and composed this list of the leading chest wrinkle pads for her readers. These products are safe, skin-friendly, hydrate your skin and reduce the appearance of wrinkles and aging.
Frequently Asked Questions
How soon can I see results after using a chest wrinkle pad?
It depends on how frequently and consistently you use the chest pads, so it may take anywhere from 48 to 72 hours to show results. However, when you follow up the chest pads with a proper skincare routine, you will quickly see major changes.
Are silicone wrinkle pads safe?
Yes, provided that you choose medical-grade silicone that is hypoallergenic and recommended by dermatologists.
How do I get rid of deep wrinkles on my chest?
Many invasive and non-invasive methods help get rid of deep-set wrinkles. If you want to avoid the invasive route, we suggest going for chest wrinkle pads as they reduce the appearance of wrinkles and fine lines safely.
How long do anti-wrinkle chest pads last?
They can last up to 30 days, especially the reusable ones. So they will last and be useful for a long time, provided that you clean them after every use.
Are silicone pads safe for use during pregnancy?
It's recommended that pregnant women not use silicone patches without consulting with the doctor.
Do chest anti-wrinkle pads stay in place during sleep?
Yes, the good-quality ones will stay in place while you fall asleep, no matter how much you toss and turn. Look for those with premium adhesive and a god hold so that they don't fold or bubble when you lie down.
Are silicone pads comfortable for sleeping in?
Yes, they are pretty comfortable to sleep in. However, ensure that you choose medical-grade silicone pads as they are lightweight and breathable.
Should I wash my chest pad?
Yes, if they are reusable, then you must wash them after every use. This improves their longevity, and it's hygienic too.
How can I improve my wrinkled décolletage?
Aside from getting good quality silicon anti-wrinkle chest pads, you will need to moisturize your chest and neck skin. It also helps if you apply generous amounts of sunscreen and drink plenty of water.
Recommended Articles