5 Best Magnetic Rollers For Curly Hair – 2023 Update
Curl your hair in well-defined and gorgeous waves and style new hairdos every day!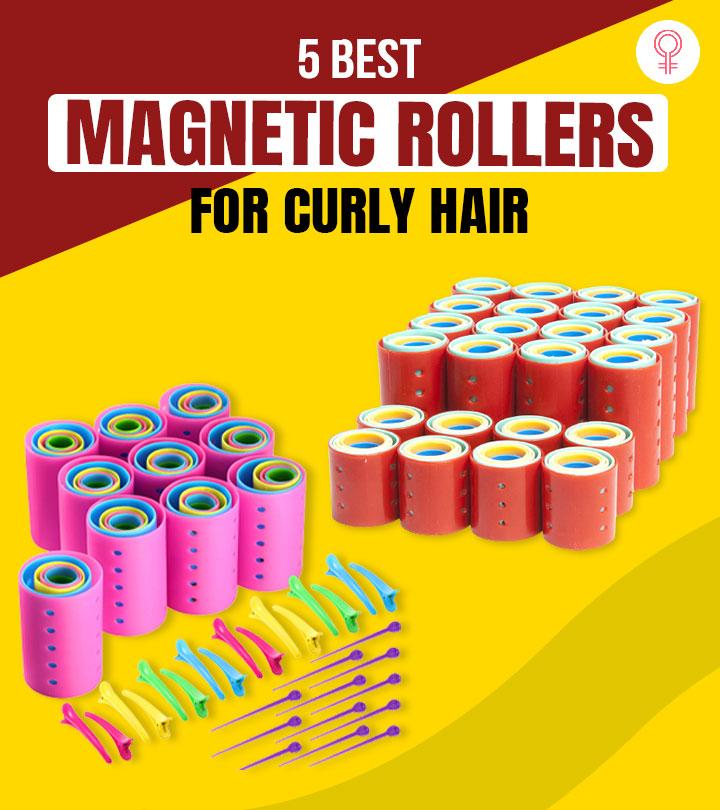 Heat styling our hair leads to a lot of damage. But, if you are someone who loves to flaunt curls, we suggest using the best magnetic rollers for curly hair. This retro alternative may take more time than your regular curling irons but will do way less damage to your hair. Unlike what the name suggests, the magnetic rollers have no magnets. It's just that damp hair clings onto it like metal is attracted to magnets. A good quality magnetic roller adds volume and bounce to your curls that last for a longer time.
In case you were looking for a curler to get natural-looking curls, check out the best that the market has to offer right here! Keep scrolling to find out more about them.
5 Best Magnetic Rollers For Curly Hair – 2023 Update
Annie's Snap-On Magnetic Rollers pack is perfect for individuals who want to achieve natural-looking wavy hair. The hair rollers are specifically made for people with medium to shoulder-length hair but can be used on shorter and longer hairstyles to boost volume. The snap-on rollers hold your hair securely into place with the cap, which makes it a very beginner-friendly set. The rollers come in one size, so if you want a uniform look, this is your pick!
Specifications
Pros
Easy to use
Easy to wash
Sturdy plastic
Durable
Works on dry hair
Good grip
Cons
The rollers are small
Might be too heavy for thin hair
Quick tip
Remove all your tangling hair strands in the magnetic rollers with tweezers or your nails after every use to avoid damaging more hair.
Price at the time of publication: $3.99
Check out this Magnetic Roller Set by BluBlu for perfect salon-quality curls! The package includes 54 magnetic rollers in six different sizes – 4MM/1.73 inches, 30 1MM/1.2 inches, 20 8MM/1.1 inches, 20 5MM/0.98 inches, 20 MM/0.78 inches, and 15 MM/0.59 inches. They help you create airbags, retro rolls, classy waves, and any other type of curls you like.
The plastic rollers do not snag or pull on your hair but instead make your curls last longer and leave it soft and voluminous. They are made with high-quality plastic, lightweight, smooth, and easy to clean. These versatile plastic holding rollers can also be used as a hair hoop to roll up your bangs during a facial treatment or makeup. The set comes along with 18 colorful plastic duckbill clips for added convenience.
Specifications
Pros
Lightweight
Easy to clean
Doesn't snag
Long-lasting curls
Easy to use
Good grip
Cons
Create a fuller and long-lasting curled look with this Magnet Curler set by Conair! This kit has a total of 75 hair rollers that come in six sizes and are color-coded for added convenience. The large (2.5 inches x 1 ¾ inches) roller gives you a slight wave and adds volume to your hair. The purple roller offers a beachy wave, and the green and yellow, medium rollers in sizes 1.34 and 1.25 inches create defined curls.
The kit also features tiny orange and blue rollers (1 inch and 1.08 inches, respectively) that give you tight, springy curves. These variations of sizes allow you to experiment with different hairstyles. This kit also comes with a pointy-ended comb to separate your hair into sections, a set of pins to keep your roller in place, and a handy plastic bag to store them conveniently. Have a look at this video to learn more about the product.
Specifications
Pros
Long-lasting curls
Easy to use
Durable
Lightweight
Instant results
Good grip
Cons
May not work on thick hair
Quick tip
Use a blow dryer on your magnetic rollers on a warm setting for around 15 to 30 minutes for the best curls.
Price at the time of publication: $14.49
Want to create picture-perfect curls? Try the Magnetic roller set by Diane! This kit features 16 pieces of medium rollers in six different sizes and eight pieces of small rollers in six sizes for creating professional-quality curls. They are also color-coded by size and are stackable for easy storage and transportability.
Specifications
Pros
Easy to store
Easy to use
Long-lasting curls
Cons
The 141-piece Magnetic Hair Rollers Set from Willbond includes 60 hair rollers in six different sizes – a 1.6 cm/0.63 inch roller, 1.8 cm/0.71 inch roller, 2.2 cm/0.87 inch roller, 2.8 cm/1.1 inch roller, 3.6 cm/1.4 inch roller and 4.4 cm/1.73 inch rollers. The plastic curling equipment does not get stuck on your hair and is super durable. The set comes along with duck teeth hair clips, which can be used to part the hair or fix it on the curling roller. The kit also includes 60 pins to secure the curls in place and a hair net to fix your hairdo.
Specifications
Pros
Doesn't hurt the hair
Easy to use
Lightweight
Long-lasting curls
Durable
Cons
Not effective on thick long hair
Pro Tip
Rub the roller set with a bit of rubbing alcohol to remove all the product buildup from the surface before washing it with mild shampoo.
Stylish curls and beach waves make you look desirable and add glamor to your personality. Before buying the best magnetic rollers for curly hair, here are some important things to consider.
Things to Consider Before Buying Best Magnetic Rollers for Curly Hair
The best magnetic rollers for curly hair must be user-friendly, adequate in size, and lightweight. They should have a smooth feel, good grip, and ergonomic design to ensure that even beginners can use them. The magnetic roller should not snag or pull on the hair but glide smoothly to give professional results even when used by first-timers.
Go for the magnetic hair rollers that give long-lasting results. They should generate beautiful waves and well-defined curls that last long. The rollers should make hair strands healthy. It must achieve different curling patterns to suit occasions like formal gatherings, outdoor trips, or parties.
Choose a hair roller that is made from good quality plastic material. It must be durable. Many hair rolling sets contain multiple rollers of different sizes and diameters to curl hair lengths. They also create variable curling patterns such as beachy waves, ringlet curls, or springy curves. The magnetic hair roller should work well on dry and coarse hair without damaging its roots or strands.
Apart from creating good curls, ensure that your magnetic hair roller adds instant bounce to the hair. It must help to detangle the hair and get rid of split ends. The roller should be portable, easy to clean, and budget-friendly. Many hair roller sets come with useful accessories such as duckbill clips and pointy-ended combs. They help to hold the hair for a long time and achieve perfect curls.
These 5 sets feature magnetic rollers of different sizes that allow you the freedom to experiment with different hairstyles. The following section lists 6 other benefits of these products –
Benefits Of Using Magnetic Rollers For Hair
They are perfect for curling long hair.
Magnetic rollers can also help in hair growth by improving blood circulation with regular use.
They do not damage your hair or put too much strain on it.
It prevents heat damage and dryness, which are caused by thermal curlers.
They are perfect for stretching out tight curls.
They add natural volume and bounce to your hair.
If you are a beginner or want to know how to ensure the best results out of your magnetic rollers, read the following user guide –
How To Use Magnetic Rollers?
First, wash your hair with cold water using a spray bottle until it's slightly fit.
Next, part your hair into small sections (sections make it easy to determine the number of curls you need). Make smaller sections, as they dry quickly.
You can use a styling product like curling lotions, gel, serum, or mousse on each section, starting from the top of your head then moving to the right and left sections. Finally, apply the product to the section closest to your neck.
Start rolling your hair slowly from the end to the scalp. Remember which direction your hair needs to fall once the rollers are off. Once you're done, hold the roller in place with the double prong clip. You can avoid the clip if you are using a snap on the magnetic roller!
Continue this way until you're done rolling all the sections and leave the rollers overnight, or wait till your hair is dry.
Gently unclip the rollers and finish off with a setting spray.
Ensure you do not brush your hair after the procedure, as it can ruin your curls.
If you are someone who wants to achieve well-defined and bouncy curls without heat styling, you need to invest in the best magnetic rollers. A good quality magnetic roller adds volume and bounce to your curls that stay on for long. They are durable, made of sturdy plastic, easy to use, and can be used on dry hair. Regular use of magnetic rollers can also help hair growth by improving blood circulation. We recommend you not to brush your hair after the procedure.
Why Trust StyleCraze?
The author of this article, Shiboli Chakraborti, is a haircare enthusiast and a certified skincare coach. She aims to assist her readers in buying the best magnetic rollers for hair, so she compiled a list of them by reading several product details and customer reviews. These items in the list are a must-have as they give you long-lasting volume and bounce to your curls.
Frequently Asked Questions
Are magnetic rollers suitable for any specific hair type?
Magnetic rollers come in various sizes and, therefore, suit pretty much all hair types. But, if you have short afro hair, you can have a tough time trying to get the roller in. In that case, you can try using curling sponges.
Are magnetic rollers good?
Of course, they are. Magnetic rollers are better than other curling methods, as they are easy and effective. These rollers allow you to create different curly hairstyles without pulling or breaking your strands.
How do magnetic curlers work?
Despite the name, magnetic curlers have nothing to do with magnets. The magnetic part comes from the idea that when used on damp hair, the hair sticks to the rollers like a metal stick to a magnet.
Are magnetic rollers better than Velcro?
Yes, magnetic rollers are better than Velcro. This is because magnetic rollers have a smooth surface that creates smooth and long-lasting curls. Your hair also tends to stick easily to the roller surface, ensuring a hassle-free process.
What sizes do magnetic rollers come in?
Magnetic rollers come in all kinds of sizes. The large magnetic rollers are 2 inches and 3 inches in diameter and are great for long hair. They add bouncy waves and volume to your strands. The smaller ones are 1 inch and ¾ inches, perfect for bouncy curls, whereas the tiny half-inch rollers are perfect for tight curls.
Recommended Articles
The following two tabs change content below.