10 Best Paris Hilton Perfumes For Women
A selection of Paris Hilton signature perfumes to suit your every mood and fancy.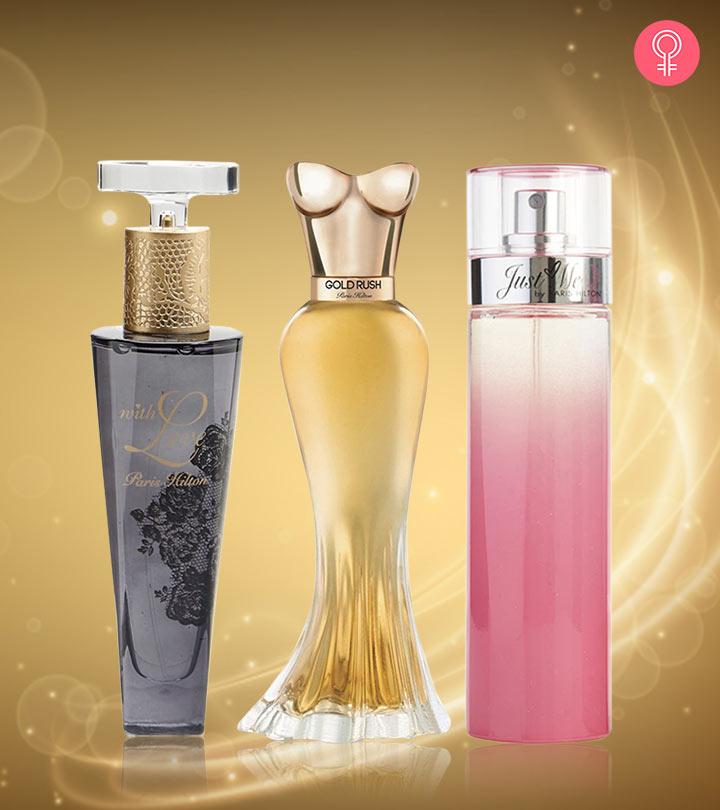 Paris Hilton is an heiress of hotel chain Hilton Hotels. She launched her perfume in 2004 and instantly gained success for the fragrance. The best Paris Hilton perfumes for women are crafted with signature scents of timeless beauty that make you feel refreshed. The brand offers perfumes for men and women. The brand focuses on spicy, floral, sweet, fruity, and woody notes. Each fragrance is uniquely and attractively designed. You can pair them up with any outfit for any occasion or season. In this article, we have rounded up a list of the 10 best Paris Hilton perfumes for women. Check them out below!
Let's take a look at some of the most popular and alluring fragrances from this beauty mogul!
Top 10 Paris Hilton Perfumes For Women
The luxuriant Paris Hilton Eau De Parfum Spray was released in 2005 and engulfs you in a dazzling aroma. It has a classic feminine appeal and timeless elegance highlighted by top notes of orange, apple, and melon that make it seductive and voluptuous. The heart notes are made of jasmine, lily, freesia, mimosa, tuberose, and lily of the valley that give it an opulent, pure, sweet, and floral charm. The base notes are ylang-ylang, oakmoss, musk, and intensive sandalwood that add a sophisticated finale that is a real head-turner. This delectable summery perfume is ideal for the confident woman who makes a stunning statement, no matter where she goes. For a more detailed review of this product and the reviewer's experience with it, here's a video.
Pros
Clean ingredients
Sleek bottle design
Great sillage
Ideal for summer wear
Cons
Some find the smell to be too sweet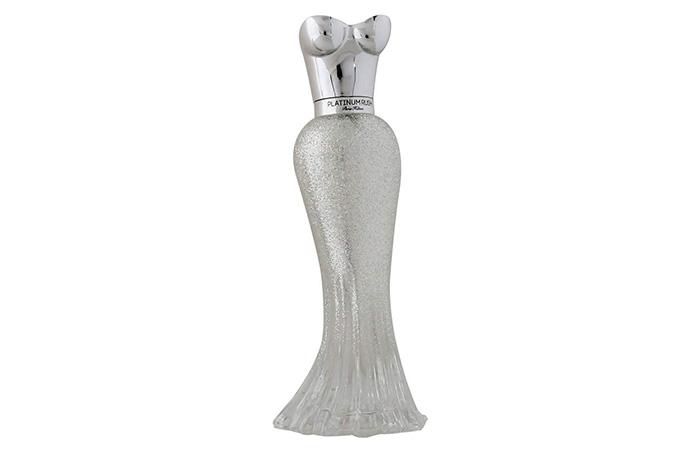 The Platinum Rush by Paris Hilton opens with lush, juicy notes of ripe red apple and crispy Asian pear.You will also find the soothing notes of lily of the valley and sweet magnolia before giving way to the earthy base notes of musk, wood, and amber. This elegant fragrance is presented in a silhouette-shaped bottle that looks stunning on your vanity table. Know more about this product and the tester's experience of using it in this video.
Pros
Long-lasting fragrance
Unique packaging
Paraben-free formula
Dermatologist-tested
Cons
Heiress By Paris Hilton Eau De Parfum Spray is a delightfully fresh and energetic fragrance with an amusingly autobiographical name. Tabatha Farnel, a fragrance expert, says, "Heiress is a fan-favorite, with its sweet, clean scent that is reminiscent of a fresh, fruity-floral shampoo." This captivating perfume is a harmonious balance of light and energetic tones with fruity and floral notes. The combination makes it a perfect choice for casual wear. The intense top notes include champagne, peach, mimosas, oranges, and passion fruit. Tiare lily, grenadine, star jasmine, ylang-ylang, and honeysuckle make up the heart notes. Giving an excellent finish to the iconic scent are the base notes of violet leaf, Tahitian tonka, and light wood. Multiple reviewers online have praised the rich and fresh scent of the perfume and love wearing it for special occasions or to work. This celebrity-inspired chic perfume will lend you Hilton's own "heiress" vibe anywhere you go.
Pros
Lightweight formula
Long-lasting
Suitable for sensitive skin
Reasonably-priced
Suitable for casual wear
Cons
None

Inspired by Paris Hilton's borderline obsessive fascination with Marilyn Monroe, Tease By Paris Hilton Eau De Parfum Spray is constructed as a chypre-floral-oriental scent. Light-hearted, charming, and saucy, the exotic fragrance casually flirts with the idea of Hollywood glamor, looking back at retro elegance and timeless beauty with a contemporary view. The top notes include juicy apple, soft peach, and intense bergamot. The heart notes open up the scent with floral stylings of tuberose, frangipani, and jasmine. The base notes of amber, sand, and light woods add a breezy finish to the captivating fragrance. The sweet, soft, and creamy notes blend beautifully into a sultry, sexy scent reminiscent of the blonde bombshell herself.
Pros
Premium-quality ingredients
Natural formula
Value for money
Subtle, exotic aroma
Cons
Siren By Paris Hilton Eau De Parfum Spray is an alluring oriental floral fragrance. Its sweet and fruity notes blend well with a sultry, white floral bouquet. The top notes of this perfume include a unique blend of frangipani, scrumptious apricot, mandarin oranges, and peach. Honeysuckle, lotus, and orchids make up the soft heart notes. The solid base notes of seductive musk, sweet vanilla, and rich sandalwood finish off this enticing fragrance. The theme of this perfume is all about being playfully glamorous and seductive. Sensual yet delicate, this scent is perfect when you want to add a hint of mystery to any casual occasion. Reviews online stated that this perfume is an excellent choice as it can be worn every day and draws compliments all the time.
Pros
Great staying power
Spacious packaging
Reasonably-priced
Ideal for everyday wear
Cons
Not suitable for sensitive skin
Just Me By Paris Hilton Eau De Parfum Spray is sophisticated, sexy, and sensual – qualities that make for an engaging woman – just like Paris Hilton herself. A heady fusion of flowers and fruits makes this perfume turn heads everywhere you go. Its lovely and enchanting scent starts with woodsy top notes of fragrant raspberry, juicy bergamot, spicy pink peppercorn, and powdery violet. The heart notes of lily of the valley, freesia, white rose, and ylang-ylang lend it a lovely feminine flair. The drydown consists of warm Tahitian vanilla, Egyptian sandalwood, musk, and blond wood as the base notes.
Pros
Long-lasting
Budget-friendly
Trendy packaging
Cons
Can Can Burlesque By Paris Hilton Eau De Parfum Spray is a flanker of the original Can Can By Paris Hilton Eau De Parfum Spray. Like the original, this perfume too is inspired by the film Moulin Rouge and the song 'Lady Marmalade.' The daytime fragrance is a slight variation of the original. The scent opens with alluring clementine and nectarine fruits that form a very enticing top note. The heart notes bloom with warm orange blossom and decadent wild orchid to create a memorable impression. The luxurious velvety softness of white musk, glowing amber, and sexy woods add a lingering sensuality to the base notes.
Pros
Great staying power
Value for money
Unique packaging
Ideal for daytime wear
Cons
Not suitable for dry skin
Gold Rush By Paris Hilton Eau de Parfum Spray is an intoxicating, sophisticated, and lush evening fragrance. It is inspired by the aura and timeless beauty of classic Hollywood glamor. The theme evokes the inherent duality of gold: "sparkling, bright and glowing yet warm, rich and sensuous." The sweet and powdery top notes of lemon, nectarine, and bergamot start this daily scent off. The heart notes are made of velvet orchid, violet, and rose petals while the base notes of vanilla bean, golden praline, and cashmere woods round it off with a creamy accord. Wear this luxurious perfume on a special evening out with your beloved.
Pros
Natural ingredients
Great staying power
Suitable for evening and nighttime wear
Cons
None
With Love By Paris Hilton Eau De Parfum Spray is Hilton's way of expressing her gratitude to her adoring fans. Released in 2014, this dreamy fragrance is sophisticated, timeless, and elegant. Its youthful and lively scent is perfect for casual wear. The top notes of the fruity scent include bergamot, kiwi, and tart green apple. The heart notes offer orchid, lily of the valley, and wild jasmine. The base notes of creamy musk and woody scents lend a soft and sensual finish to this airy perfume. This breathtaking perfume is best suited for a trip to the mall or an informal lunchtime gathering with your friends.
Pros
Refreshing fragrance
Suitable for casual wear
Classy packaging
Cons
Not suitable for dry skin
Not long-lasting
Rose Rush By Paris Hilton Eau de Parfum Spray was introduced in 2017 as a whimsical and flirty addition to Gold Rush By Paris Hilton Eau de Parfum Spray. It is a delectable fusion of fruity and floral scents. The top notes open the captivating scent with neroli, rose petals, and lychee. Papaya and peony highlight the feminine and flowery heart. The base notes are warm cedarwood, amber, and musk. The glamorous dress-shaped pink bottle adds to the charm of this perfume. Wear it anytime you want to channel a sexy, fun, and beautiful vibe.
Pros
Lightweight formula
Decent sillage
Value for money
Unique bottle design
Cons
*The prices provided in this article are based on the latest available information. However, they may vary due to changes in pricing by the seller and/or promotional offers.
Price Range
Paris Hilton's range of perfumes for women gives you a high-end fragrance experience within a mid-range budget. All of the perfumes mentioned above cost between $13 to $30, making them quite affordable for girls and women of all ages.
Which of these perfumes would you pick for a special event? Let us know in the comments section below.
Why Trust StyleCraze?
Sakshi Bahal, the author of this article, has a deep interest in products of varying ranges. She analyzed product reviews on numerous websites to bring you this list of the best Paris Hilton perfumes. Each product includes a detailed description of its fragrances, design, formulation, and other essential features, keeping your convenience and quality parameters in priority.
Frequently Asked Questions
What is Paris Hilton's newest perfume?
The Paris Hilton newly launched a floral fruity fragrance for women named the Ruby Rush by Paris Hilton in the year 2023.
Does Paris Hilton wear her own perfume?
Yeah, Paris Hilton wears all her perfumes.
How many Paris Hilton fragrances are there?
Paris Hilton is a top-selling celebrity fragrance brand. The fragrance line has 25 perfumes in the Parlux LTD fragrance base for men and women. In addition, they have new fragrance launches each year.
Recommended Articles