11 Best Hydra Peel Facial Machines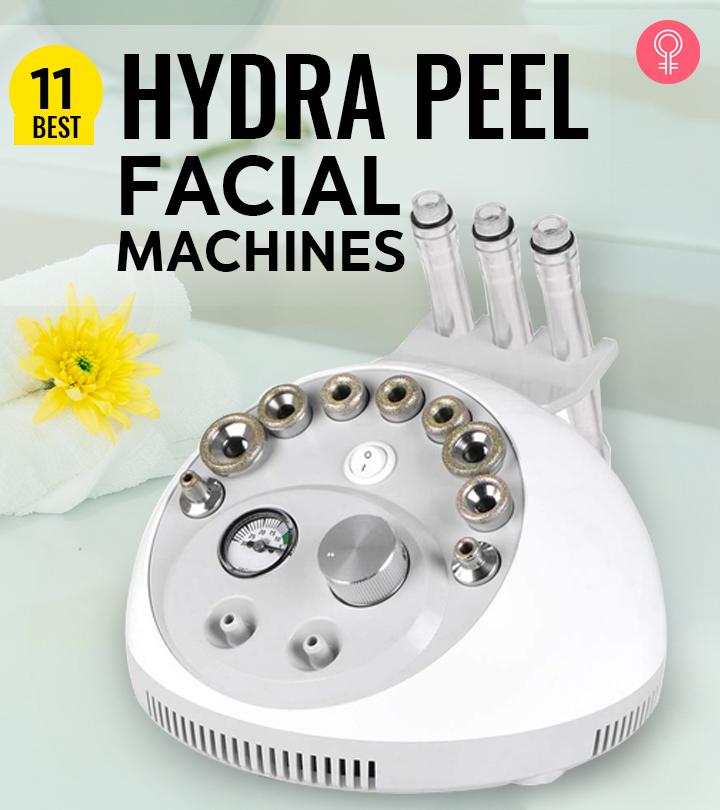 Are you looking to give your skin a hard reset? It's time to try the HydraFacial. This new facial treatment is being raved about across the world and even endorsedby celebrities. Here, we have listed the 11 best hydrafacial machines that you can get home to transform your skin without splurging on expensive salon appointments. Keep reading!
What Is HydraFacial?
HydraFacial is a name given to hydradermabrasion – adermatological procedure. It involves a 3-step regimen that includes cleansing, exfoliating, and infusing the skin with nourishing serums. This facial is a one-size-fits-all approach and is suitable and safe for all skin types.
Let's compare HydraFacial with other facial treatments for better insight.
HydraFacial Vs.Dermal Infusion
Both dermal infusion and HydraFacial are similar in a way as they include serum infusions for hydrating the skin. But the difference lies in how far each treatment can be customized. HydraFacial is a gentle and moisturizing facial suitable for all skin types, while the dermal infusion is customizable and best suited for treating specific skin conditions.
HydraFacial Vs. Microdermabrasion Or Traditional Chemical Facial Peels
All of these treatments aim to resurface the skin by removing impurities and dead skin cells. But where microdermabrasion uses an abrasive tip, the HydraFacial uses water and feels more gentle. If you compare the HydraFacial with a chemical peel, the former is extensive and provides cleansing, exfoliation, and nourishment for all skin types, but the latter is not suitable for all skin types.
Let's take a look at the benefits that a HydraFacial delivers to your skin.
Benefits Of  HydraFacials
Zero Downtime– Unlike other facials that may irritate your skin, you need not worry about recovery time with the HydraFacial. You can see results in 30 minutes and resume regular activities almost immediately.
Safe On Sensitive Skin– Most facials that use steam to soften your pores before extraction can cause excessive redness in sensitive skin types. As no steam is involved in HydraFacial, it is safe and non-irritating for all skin types.
Virtually Painless– This procedure does not involve pulling or scraping the skin. It can be a pleasant and relaxing experience for some users.
Imparts Healthy, Glowing Complexion– The HydraFacial can treat fine lines, wrinkles, age spots, enlarged pores, uneven skin tone, and dullness. The overall result is improved skin texture and healthy and radiant skin.
This treatment at a salon will cost you a bomb. Why not invest in a hydrafacial machine for home and use it according to your convenience. Check out the 11 best hydrafacial machines below.
Top 11 Hydra Peel Facial Machines
ZENY New Pro Diamond Peeling Machine is a multipurpose winner to remove your blemishes, wrinkles, imperfections, pigmentation, and impurities at once. It offers three skincare modes – dermabrasion, peel, microdermabrasion without any side effects. Its non-surgical skin resurfacing procedure uses sterile diamond heads to peel off dead skin cells, vacuum impurities for a clear and healthy complexion. When used with skincare products, Diamond Microdermabrasion helps penetrate nutrients into the dermis level. This peeling machine restores and improves skin health.
Pros
Easy-to-use
Value for money
Multipurpose
Professional results at home
Cons
The JYY Multifunctional Hydro Oxygen Machine is what you need to say goodbye to wrinkles, blemishes, and pigmentation. It features a cool massage head that shrinks the pores and helps brighten your skin tone. This hydrafacial machine replenishes the skin's moisture content and deeply cleanses your pores of dirt and sebum. This device has seven treatment modes that speed up your skin's ability to absorb beneficial nutrients.
Pros
7 treatment modes
Includes LED light therapy mask
5 treatment handles
Improves blood circulation
Repairs skin sensitivity
Provides anti-aging benefits
Removes whiteheads and blackheads
Reduces dark circles
Cons
None
This hydro-dermabrasion machine from JJ.Yoma is a 7-in-1 skin rejuvenation device. It produces H2 ions on the skin surface that deeply penetrate the skin, smoothing wrinkles, fine lines, eye bags for hydrated, healthy skin. It cleans and shrinks pores and clears sebum. It treats blemishes and pigmentation, revealing an improved, brighter skin tone. The ion gun pen enriches the skin with nutrients in the form of fine molecular atomization. The high frequency lifts and tightens the skin for youthful and firm skin.
Pros
Suitable for all skin types
Suitable for home use
7-in-1 device
Equivalent to 8 hydrating masks
Cons
None
The DDT Hydro-Dermabrasion Machine is an easy to operate hydra facial machinethat provides various treatments to give you healthy skin. The six treatment handles offer deep cleansing and exfoliation to remove dirt and blackheads effectively. It also provides intense moisturization and repairs damaged skin, making it bright, smooth, and hydrated. It boosts blood circulation and stimulates collagen production, giving you firm and youthful skin.
Pros
6 treatment handles
LCD display screen
Easy to use
Minimizes wrinkles
Tightens the chin lines
Reduces eye bags
Cons
The Wealthy Esthe Mini HydroDerm Beauty Extractor is the compact version of a full-size hydrafacial machine. It provides the benefits of hydrafacial in a travel-friendly size and at a pocket-friendly price. It deeply cleanses your pores, helps fight the signs of aging, and rejuvenates your skin to impart glow and radiance.
Pros
3 intensity levels
Travel-friendly
3 pore cleansing tips
Rechargeable
Affordable
Cons
None
The Simlug Multifunctional Hydro-Dermabrasion Machine helps you minimize the signs of aging, such as fine lines, wrinkles, and under-eye puffiness. It makes your skin soft and smooth without any pain. The RF oxygen jet injects your skin with the goodness of oxygen and other nutrients that help restore a healthy complexion and soothe inflamed,irritated skin.
Pros
6 treatment handles
LED light therapy mask included
Large LED display screen
Easy to operate
Budget-friendly
Anti-wrap
Cons
None
The Simlug 6-In-1 Bubble Beauty Machine is a high-end hydra facial machine that cleanses and rejuvenates your skin deeply. The hydra dermabrasion pen gets rid of grease and dirt from your pores and clears blackheads and whiteheads. It enhances skin elasticity and helps improve its tone and texture. There are five other treatment handles that deliver various skincare benefits for healthy and glowing skin after every treatment.
Pros
Improves skin tone and texture
Soothes irritated skin
Removes blemishes and blackheads
Provides anti-aging benefits
Treats sunburn
Cons
The Sonew Hydra Dermabrasion Machine uses advanced technology to inject oxygen and water deep into your skin rapidly. It helps improve the appearance of wrinkles, fine lines, and pigmentation. This machine administers safe treatment for your skin troubles without any side effects. You can inject skin-loving products, such as hyaluronic acid, into deep-seated skin cells to stimulate skin repair and boost collagen production.
Pros
Easy to operate
Stimulates collagen production
Helps repair damaged skin cells
Oxidation-resistant
Smoothes fine lines
No irritation
No cross-contamination
Cons
Quality control issues
Unclear instructions
The GLMM Water Oxygen Jet Machine relies on vacuum negative pressure technology to solve specific skin problems. It provides a safe and painless hydrafacial and rejuvenates your skin. This device can help you achieve firm skin with fewer wrinkles as it stimulates collagen cells to enhance skin elasticity. The device also clears the skin of blemishes and pigmentation.
Pros
Provides gentle suction
Shrinks the pore size
Compact design
Brightens skin complexion
Decreases fine lines
Removes blemishes
1-month return policy
Cons
None
The Diamond Microdermabrasion Machine fights the signs of aging to keep your skin refreshed and youthful. It minimizes the appearance of fine lines and wrinkles, providing you a smooth and radiant complexion. This hydrafacial machine removes dirt and sebum from deep within your pores. It also helps the skin to better absorb serums and creams for maximum results.
Pros
Easy to use
Durable
Budget-friendly
Brightens the skin
Cons
None
The Unoisetion Microdermabrasion Machine is a dermabrasion spray device that aids in blackhead removal, deep cleansing and shrinking your pores. This device features three wands and nine diamond tips of different sizes that cater to various skin types and requirements. It helps you get rid of wrinkles, pigmentation, blemishes, and deep-seated skin debris without any pain.
Pros
Includes 3 wands and 9 diamond tips
Adjustable suction
1-year warranty
Affordable
Cons
Having discovered such glorious reviews of hydrafacial machines, you might wonder if they are too good to be true and the downsides.
Side Effects Of HydraFacial
The Hydrafacial machines are super achievers when it comes to skincare treatments. They deep clean your pores and extract impurities while providing superior exfoliation and hydration. There are no side effects, apart from a little redness that may last for an hour. Many users experience no redness and even find the treatment pleasant and relaxing. The procedure requires zero downtime, and you can resume normal activities immediately after it.
That was our round-up of the 11 best hydra peel facial machines available online. A skincare ritual is one of the best ways to practice self-care, and a hydrafacial machineis an ideal way to pamper yourself at home. Invest in one and gift yourself beautiful skin!
Frequently Asked Questions
How often do I need to get a hydrafacial?
Depending on your skin type, you can opt for a hydrafacial treatment once every 2-4 weeks.
How many hydrafacial treatments do I need to see results?
A treatment per month is recommended, and while you will see immediate results with every treatment, 6 sessions will give you the desired results.
How long do the results of a hydrafacial treatment last?
Each treatment leaves provides you with smoother and more hydrated skin that lasts for 5 to 7 days.
Recommended Articles
The following two tabs change content below.