9 Best Moisturizers To Wear Under Makeup – 2023
Layer these moisturizers under your makeup to keep your skin fresh and hydrated.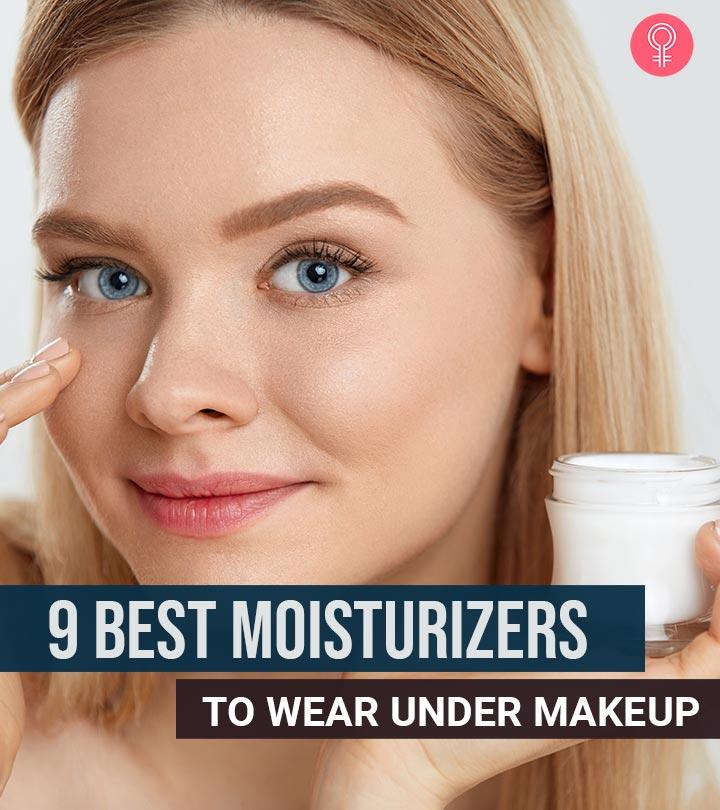 An essential part of makeup is moisturizing your skin. No matter how much foundation or concealer you put on, none of them will work if you don't use the best moisturizer under your makeup on your skin. The perfect moisturizer will enhance your look and make your makeup last longer. Plus, hydrated skin will give your skin a healthy and shiny appearance. Cosmetologist, Georgia Mae Smith says "Moisturizers are formulated with an oil and a water phase, the water phase replaces any water that evaporates from your skin, this will leave your skin super hydrated and plump. The oil phase replaces any lost lipids and will nourish your skin making it appear smooth and supple."
To help you achieve that, we have made a list of the best moisturizers to wear under makeup to glam up your makeup. Keep scrolling!
9 Best Moisturizers To Wear Under Makeup – 2023
Neutrogena Hydro Boost Water Gel is a drugstore moisturizer that is oil-free, dye-free, and non-comedogenic. It boasts of a water gel formula that gets absorbed quickly into the skin and keeps it hydrated for long. It is formulated with purified hyaluronic acid that works like a sponge for dry skin to attract moisture and lock it in. It creates a perfectly smooth finish, which makes it great to wear under makeup.
Pros
Makes the skin supple
Locks in moisture
Gets absorbed quickly
Non-comedogenic
Suitable for all skin types
Dye-free
Cons
Price at the time of publication: $15.9
LilyAna Naturals Rose & Pomegranate Face Cream is made with natural and vegan ingredients, so it works on all sorts of complexions and is safe to use on skin conditions such as eczema, rosacea, and dermatitis. It gets absorbed instantly into the skin to help reduce the appearance of wrinkles and to rejuvenate and brighten the skin. It is free from parabens, and it comes in a pump bottle that is easy and hygienic to use.
Pros
Natural ingredients
Vegan
Reduces fine lines and wrinkles
Brightens and rejuvenates the skin
Paraben-free
Suitable for all skin types
Cons
Price at the time of publication: $14.99
The dermatologist-tested La Roche-Posay Effaclar Mat Anti-Brilliance Moisturizer absorbs excess oil from the skin to mattify it and reduce the appearance of enlarged pores. It is formulated with micro-exfoliating LHA, which helps to visibly tighten pores. It also contains Zinc Pidolate to neutralize shine. It is a boon for people with oily skin as it creates a matte finish on the skin before applying makeup. Go through this video review for a detailed understanding of the product.
Pros
Matte finish
Long-lasting
Dermatologist-tested
Oil-free
Non-comedogenic
Refines pores
Cons
Price at the time of publication: $32.99
InstaNatural Vitamin C Moisturizer rich in antioxidants. It is ideal for anyone with aging skin. The rich blend of key ingredients like aloe vera, vitamin C, niacinamide, hyaluronic acid, and sunflower oil makes this moisturizer increase blood circulation and reduce the appearance of fine lines and wrinkles. It also helps in achieving smoother and brighter skin for flawless makeup application.
Pros
Lightweight
Brightens the skin
Boost collagen production
Softens the appearance of fine lines and wrinkles
Increases blood circulation
No synthetic dyes
Cons
Price at the time of publication: $19.97
Etude House Moistfull Collagen Cream is a long-lasting moisturizing cream that not only deeply hydrates your skin but also brightens it and gives it a gloss that lasts up to 12 hours after application. It is formulated with 63.4% super collagen water that keeps the skin moisturized for long hours. Its watery gel formula gets absorbed quickly into the skin. It is strongly scented but works well for people with extremely dry skin. You can see the improvement in your skin texture within 5 days.
Pros
Deeply hydrates the skin
Brightens the skin
Long-lasting effect
Gets absorbed quickly
Suitable for extremely dry skin
Free of mineral oils
Cons
Price at the time of publication: $24.74
Embryolisse Lait-Crème Concentré Cream has achieved a cult-like status by becoming a staple in the kits of makeup artists. This moisturizer is ultra-hydrating but never looks greasy. It is a multifunctional product that can be used as a makeup primer, a beauty mask, and a day and night face cream. It has a milky, creamy formula that gets absorbed easily into the skin and keeps it nourished.
Pros
Locks in moisture for 24 hours
Can be used as a makeup primer
Suitable for all skin types
Protects against free radicals
Paraben-free
Cons
Price at the time of publication: $29.0
First Aid Beauty Hello FAB Coconut Skin Smoothie Priming Moisturizer is primarily formulated to serve as a makeup primer. It is also packed with many good-for-skin ingredients like coconut water, quinoa protein, and a blend of minerals that not only give you healthy-looking skin but also amplify its natural radiance. It is dermatologist-tested and doesn't contain any artificial colorants, parabens, or mineral oils. It is safe to use for people with sensitive skin. Check out this video for a detailed review of the product.
Pros
Supports skin health
Boosts the natural radiance of your skin
Safe for sensitive skin
Paraben-free
Sulfate-free
Alcohol-free
No artificial fragrance
Nut-free
No mineral oil
Vegan
Cruelty-free
Dermatologist-tested
Cons
None
Price at the time of publication: $29.99
Garnier SkinActive Clearly Brighter Even Tone Daily Moisturizer Offers has broad spectrum SPF 30 along. It keeps your skin hydrated and nourished. This non-greasy face lotion evens out your skin tone and reduces the appearance of fine lines and wrinkles. It is packed with antioxidants like lipo-hydroxy acid to exfoliate the skin, vitamin C to brighten it, and vitamin E to provide deep hydration. It leaves your skin looking smooth, radiant, and refreshed.
Pros
Reduces fine lines and wrinkles
Broad spectrum SPF 30
Improves the skin texture
Exfoliates the skin
Mild fragrance
Non-greasy
Non-comedogenic
Cons
Price at the time of publication: $13.97
Supergoop! Everyday Play SPF 50 Face & Body Lotion is one of the best sunscreen-cum-moisturizers on the market. It has broad spectrum SPF 50 that keeps your skin safe from both UVA and UVB rays. It gets absorbed quickly and keeps your skin nourished and hydrated. It has a refreshing fragrance and is made with high-quality ingredients. It is water- and sweat-resistant and is perfect for everyday use. Take a look at this video to learn more about the product.
Pros
Broad spectrum SPF 50
Lightweight
Gets absorbed quickly
Water-resistant
Sweat-resistant
Nourishes the skin
Cons
None
Price at the time of publication: $22
Moisturizers are the best way to prep your skin for makeup and help your skin look dewy and plump. It also ensures that the makeup stays non-cakey and flawless for longer. However, with a plethora of options out there, you can be spoilt for choice. So, how do you choose the best moisturizer for under your makeup? Well, here are a few things you can consider before making your purchase.
How To Find  A Moisturizer To Wear Under Makeup
If your skin is on the normal to dry side, go for a rich and creamy moisturizer with occlusive ingredients that can lock in hydration and make your makeup look dewy. However, people with combination to oily skin may opt for a lotion or gel-based moisturizer that provides hydration without clogging the pores or making your skin look greasy under your makeup base.
If you are looking for a day moisturizer to wear under your makeup, then ideally, go with one that provides sun protection and hydration in a single formula. Find one that comes with an SPF of 50.
Ensure that you look over the ingredient label for any potential allergens, irritants, and fragrances, as they may trigger your skin and compromise the skin barrier. In addition, avoid overly heavy ingredients like shea butter and beeswax if you have oily to combination skin, as such ingredients may make your skin greasy and clog your pores.
When you apply an oil-based moisturizer under a water-based foundation, it may lead the foundation to ball up and pill, so ensure you choose complementing formulas. Pair a water-based moisturizer with a water-based foundation and an oil-based one with an oil-based foundation.
Those were our best picks of the best moisturizers to wear under makeup. If you are wondering why you need to moisturize your skin before applying makeup, check out the next section!
Why Do You Need To Apply Moisturizer Under Your Makeup?
Apart from hydrating the skin, moisturizer makes it easier to apply makeup to it. It provides the perfect starting base for flawless makeup application.
Improves Skin Texture: Moisturizer hydrates the skin so it becomes soft and even. It helps give an even, smooth texture to the skin, which helps makeup products glide smoothly over it. It also helps in increasing the permeability of makeup products such as concealer and foundation.
Durability: The natural oils in the skin may melt the makeup over the course of time. A good moisturizer balances the oil production and helps in keeping the makeup intact for a longer duration. It also helps in controlling shine and greasiness, thus giving a matte or airbrushed effect. This prevents your makeup from looking cakey or flaky.
Improves Skin Tone: Most moisturizers help in concealing blemishes, controlling shine, and reducing the appearance of pores, blackheads, scars, and blemishes. They help in achieving an even-toned complexion. Tinted moisturizers add a subtle glow to your skin.
Sun Protection: SPF prevents your skin from premature aging and reduces the risk of skin cancer. It is a common component of most moisturizers. Thus, using such moisturizers ensures that your skin is safe and not exposed to harmful UV rays.
Why Trust Stylecraze?
The author of this post, Shiboli Chakraborti, is a certified skin care coach. She also has a keen interest in makeup and products related to that. After thorough research and an extensive read of multiple reviews, she recommends these listed best moisturizers under makeup. She also adds that these moisturizers are a must-have in your makeup regime to enhance the look. They also make the makeup last long without making it greasy and are non-comedogenic.
Frequently Asked Questions
Does SPF moisturizer work under makeup?
Yes. For added protection, you should apply an SPF moisturizer before starting your makeup regime. SPF will help avoid premature aging signs and protect your skin from harmful UVA and UVB rays.
Can I use moisturizer instead of primer under makeup?
No. Primer and moisturizer exhibit different benefits and cannot be used interchangeably. Primers form a protective barrier between your skin and the makeup products, creating a smooth surface on your face and preventing cakiness around blemishes or wrinkles. On the other hand, moisturizers hydrate your skin and replenish moisture. So, while a primer is a makeup product, a moisturizer is a skin care product – both have completely different tasks to play in your beauty regime.
Recommended Articles