13 Best Non-Comedogenic Moisturizers To Get Rid Of Clogged Pores
Now, unclog pores with your moisturizers and shorten your skincare routine.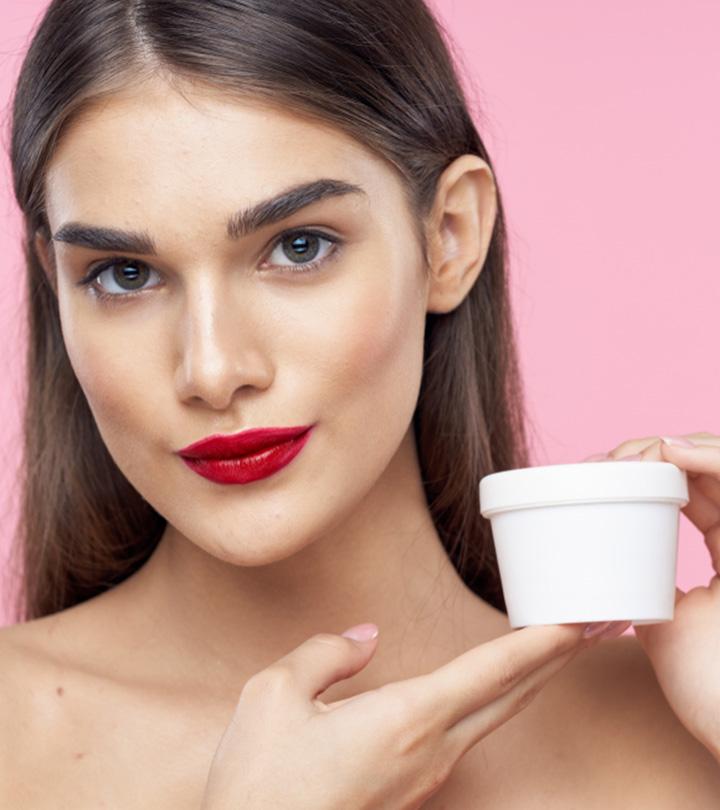 Clogged pores are among the most common causes of acne, whiteheads, and blackheads. To get rid of these, you need to use non-comedogenic moisturizers. Using the best non-comedogenic moisturizer will help prevent clogged pores. Non-comedogenic moisturizers do not contain ingredients that can congest the pores and trap dirt, impurities, and sebum. Clogged pores can aggravate existing acne and lead to future breakouts. Using non-comedogenic moisturizers is especially beneficial for oily and acne-prone skin. They are oil-free moisturizers and contain ingredients that can help clear the skin of impurities and dirt and keep it healthy, radiant, and smooth. Are you wondering which moisturizer will be perfect for your skin? Don't worry. We have listed the 13 best non-comedogenic moisturizers below. Scroll down to check them out.
Top 13 Best Non-Comedogenic Moisturizers For All Skin Types
Have you wondered what it's like to have a skin as smooth as a cream? A cream is supple and soft to the touch and satisfying to look at. We wish for the same when it comes to our skin, don't we? The CeraVe Moisturizing Cream is formulated with hyaluronic acid, ceramides, and MVE to provide you with 24-hour hydration and freshness. This dermatologist-recommended cream has a non-greasy and non-sticky texture, which helps in making your skin smooth. The 3 essential ceramides found in this product help maintain and enhance the skin's moisture barrier. It prevents your skin from drying and does not make it look flaky or lead to any itchiness. Hyaluronic acid also helps in reducing wrinkles and lines on the skin. Here is the opportunity to get the best flawless skin ever! Try this allergy-tested moisturizing cream to feel happiness again. Need more information? Watch this video for a detailed review to make an informed decision about the product.
Pros
Fragrance-free
Paraben-free
Allergy-tested
Suitable for all skin types
Gentle formula
Helps to retain moisture
Cons
Price at the time of publication: $14.99
It's great to look at skin that glows and looks fresh all day, doesn't it?. Don't you  wish to have that kind of skin some day? Let's fulfill your dreams as the St. Ives Renewing Collagen & Elastin Renewing Moisturizer is a genie disguised in a bottle. It is made of safflower seed oil, which helps to smoothen your skin and prevents it from drying. The collagen and elastin consist of active ingredients that help in improving the appearance of your skin by increasing the protein content to prevent aging. It makes your skin tight and improves blood circulation. Buy one of the best non-comedogenic moisturizers and feel satisfied and happy with your baby-soft skin.
Pros
Cruelty-free
Paraben-free
Prevents clogging of pores
Lightweight
Dries quickly
No oily residue
Makes skin plump
Cons
The scent may be overpowering for some.
Price at the time of publication: $7.03
Do you have oily skin? Are you scared of using a product because it clogs your pores? You no longer have to worry about anything with this gentle formula. This moisturizer hydrates the skin and keeps it moisturized for long hours. It also makes your skin smooth and soft as it is made of active ingredients essential for overall skin health. This allergy-tested and clinically-proven formula does not make your skin shiny or greasy, it instead allows your skin to absorb the moisture quickly, hence preventing your pores from getting clogged. It also works well on dry and sensitive skin as the water-based moisturizer is gentle yet highly effective and may offer visible results. If you need further convincing, check out this YouTuber's review.
Pros
Oil-free
Non-comedogenic
Fragrance-free
Hypoallergenic
Allergy-tested
Alcohol-free
Lightweight
Cons
Price at the time of publication: $10.49
Achieve naturally glowing and radiant skin within a week with the Aveeno Positively Radiant Daily Moisturizer And Sunscreen. This moisturizer helps to even out your skin tone and acts as an anti-aging formula as it reduces fine lines and wrinkles too. No more dullness, dark spots, or greasiness on your face once you begin using this product. This product can also be worn under make-up to enhance your look. The total soy complex of this product provides your skin with complete moisturization. Improve the texture of your skin with one of the best facial moisturizers available for you!
Pros
Hypoallergenic
Oxybenzone-free
Protects from sun
Ideal for oily skin
Lightweight
Cons
Price at the time of publication: $15.77
Have you ever wondered why it is essential to look for ceramide in skin care products? Ceramide allows your skin to maintain its natural barrier, prevent permeability, and improve its tolerance threshold. This helps lock in moisture and keeps your skin protected. The La Roche-Posay Toleriane Double Repair Face Moisturizer hydrates your skin for 48 hours and allows it to restore its healthy look. It is also infused with prebiotic thermal water, niacinamide, and glycerin which has proven efficacy in making your skin appear youthful. So, here is one of the best face moisturizers that you must try if you are looking for soft and radiant skin.
Pros
Prevents dryness
Reduces irritation
Anti-aging effect
Suitable for sensitive skin
Oil-free
Lightweight
Cons
Price at the time of publication: $19.99
We all know how shea butter helps in softening the skin, we love how it smells too but do you know that there are several other benefits that we get from shea butter? It not just softens your skin but also has healing properties and an anti-inflammatory effect. The thick and creamy texture of the moisturizer soothes and conditions your skin and evens out the skin tone. Packaged in a BPA-free jar, this professional-grade moisturizer also has the richness of uji green tea, okinawa red algae and akita rice that product contains vitamin A, D, Em and F that provide an antioxidizing effect to your skin. This product is the perfect blend of all the essential ingredients you look for to achieve the most gorgeous skin.
Pros
No harsh chemicals
Creamy consistency
Pleasant smell
Easy to apply
Does not clog pores
Cons
Some may find it slightly greasy
Price at the time of publication: $29.99
Tatcha The Water Cream helps improve your skin as it consists of Japanese wild rose that tightens the pores nourishes and moisturizes the skin, and makes it smooth. It also contains Japanese leopard lily that helps in controlling the release of excess oils and clears the skin. It provides your skin with hydration and makes it look radiant. Its anti-aging quality is what makes this product even more desirable.. It is safe to use as there is no synthetic fragrance, sulfate, urea, mineral oil, DEA, phthalate, or TEA added to the product. This paraben-free non-comedogenic, dermatologist-tested moisturizer also has the richness of uji green tea, okinawa red algae and akita rice that further contribute in making your skin look healthy, soft and nourished.
Pros
Controls excess oil
Encourages natural skin turnover
Non-irritating
Non-sensitizing
Dermatologist tested
Cruelty-free
Cons
Price at the time of publication: $123.0
Here is a product that is unscented, harmless, and free of toxins and chemicals to give you just the nutrients that your skin truly needs. It helps in reducing fine lines and wrinkles too. This concentrated cream offers moisturizing effects for long periods and a little product goes a long way in keeping your smooth fresh and smooth. It is formulated with almond oil, grape seed oil, aloe vera juice, and coconut oil that keeps your skin nourished and hydrated.
Pros
Unclogs pores
Cruelty-free
Helps make up last for long periods
No buildup
Lightweight
Ideal for all skin types
Cons
Some may find the formula slightly heavy.
Price at the time of publication: $29.97
This cream will never disappoint you as it helps in getting rid of dirt, oil, or makeup and does not leave your skin tight or dry. This product has a fast absorbing formula that enters the skin instantly, thus showing an effective result. It is a hypoallergenic non-comedogenic moisturizer and is ideal for those with dry skin. It is also effective for those looking to combat eczema. It soothes dry skin and prevents it from losing moisture. This fragrance-free non-comedogenic moisturizer has no parabens and lanolin added to it and is suitable for those with sensitive skin.
Pros
Quick-absorbing
Non-greasy
Fragrance-free
Lightweight
Instant relief
Cons
It is specially formulated for the body, so it may not be best-suited for the face.
Price at the time of publication: $845.0
Hydrate your skin with the long-lasting formula of the Avene Hydrating Emulsion that consists of cohederm that restores the skin's moisture and improves its elasticity. It also prevents water loss, keeping your skin hydrated and soft. This product contains Avene thermal spring water that tightens your skin. It also soothes tingling sensations and provides a shine-free look to your skin. Ideal for combination, sensitive, and normal skin types, this miracle product doesn't clog your pores.
Pros
Lightweight
Absorbs excess oil
Penetrates easily
Non-greasy
Hypoallergenic
Gluten-free
Cons
It may not be suitable for dry skin.
Price at the time of publication: $35
Say by-bye to dry and flaky skin with the Bio-Oil Dry Skin Gel. The moisturizing gel is quickly absorbed and ensures deep hydration. The lotion contains a rich mix of vitamins that help lock the skin's moisture and keep it smooth. It is loaded with essential oils such as chamomile, lavender, and sunflower to repair damaged skin and treat inflammation. It also contains hyaluronic acid which makes the skin smooth and plump by getting rid of lines or wrinkles. The rosemary helps to fight acne, allergies, and cellulite. The shea butter improves skin tone and increases its natural glow. The clinically-tested formula is easy to apply and does not leave any greasy residue.
Pros
Deep moisturization
Reduce skin inflammation
Rich in natural ingredients
Suits all skin types
Absorbs quickly
Clinically tested
Cons
Price at the time of publication: $10.06
Here is a non-comedogenic hydrating lotion that eliminates dryness from the skin and removes flakiness completely. It has a soothing effect on acne-prone skin. This scientifically-formulated, lightweight, oil-free non-comedogenic moisturizer is the best moisturizer for acne as it gets easily absorbed by the skin and makes skin feel balanced and supple, without leaving any build up behind. This product is formulated with licochalcone, which is a highly potent and distilled licorice root extract that helps your acne-prone skin by soothing and calming it.
Pros
Dye-free
Fragrance-free
Works on oily skin too
Gluten-free
Vegan
Cons
Some may find it slightly sticky.
Price at the time of publication: $34.59
The Physiogel Daily Moisture Therapy Facial Lotion is all you need to repair your damaged skin and restore its youthful glow. It is designed with the skin's natural structure in mind and has triple-action benefits. It contains nourishing and skin-soothing ingredients like ceramides and squalene that improve your skin texture and make it appear plump. This hypoallergenic and dermatologist-tested formula offers 72-hour hydration and can be used in your am and pm routines to achieve visible results.
Pros
Lightweight
Dermatologist-reccomended
Suitable for sensitive skin
Non-irritating formula
Paraben-free
Sulfate-free
Mineral oil-free
Alcohol-free
Fragrance-free
Cons
Price at the time of publication: $26.99
Here is a buying guide that will help you understand how to select the right moisturizer for your skin and the benefits that you can get from them.
How To Choose A Non-Comedogenic Moisturizer
To pick the right moisturizer for your skin, check some reviews and look through different reviewers' experiences to know more about the nuances of each product. Apart from that, here are the tips you need to keep in mind.
The label helps you understand the list of ingredients that are present in the product you wish to buy. Make sure the label reads oil-free and non-comedogenic if you have acne-prone skin and oily skin. Opt for a lotion if you want a lighter product. Buy a moisturizer if you want your product to have a thick consistency.
It is better to focus on the results and the quality of the product instead of looking at the price of the product. We must not compromise on the price as you may end up spending the same amount while you carry out trial and error with  other products.
You must know your considerations and pick a product validated by leading dermatologists. If you want to repair your wrinkles and fine lines,  buy a non-comedogenic product that has anti-aging properties. Similarly,  look for SPF if you want sun protection as well. This will help you save money and you will not have to apply a different product for each need. Choose products have been been tested for efficacy.
Most people usually prefer different moisturizers for day and night. The moisturizer they use during the daytime is of lighter consistency as they dont want their skin to look oily, these products also have SPF to provide protection from sun. Whereas, the night cream has thicker and creamier consistency and does not have SPF in it.
Infographic: Tips To Pick A Non-Comedogenic Moisturizer For Your Skin Type
Why Trust StyleCraze?
The author of this post, Krati Darak, is a skin care aficionado zealous to unearth products that aid skin care and improve skin health. Sometimes the products you use can leave your pores clogged. She recommends using the above-mentioned moisturizers due to their non-comedogenic properties. Each of these products has been thoroughly reviewed and researched for your benefit. They have been selected based on ingredients, formula, consistency, additional skin care merits like SPF protection, and more.
Frequently Asked Questions
Is Cetaphil a non-comedogenic moisturizer?
Yes, Cetaphil is a non-comedogenic moisturizer as it does not contain harsh ingredients that clog pores.
Is Vaseline comedogenic?
No, Vaseline is non-comedogenic and does not clog pores.
Can non-comedogenic moisturizer cause acne?
Yes, even non-comedogenic products can clog pores and cause acne if you have highly sensitive skin.
Is CeraVe a non-comedogenic moisturizer?
Yes, CeraVe is a non-comedogenic moisturizer.
Do all moisturizers clog pores?
No, non-comedogenic moisturizer does not clog pores.
Recommended Articles
Best Moisturizers For Oily Skin
Best Moisturizers For Dry Skin
Best Moisturizers For Oily And Acne-Prone Skin
Best dermatologist-recommended Non-Comedogenic Sunscreens