12 Best Drugstore Pore Minimizing Primers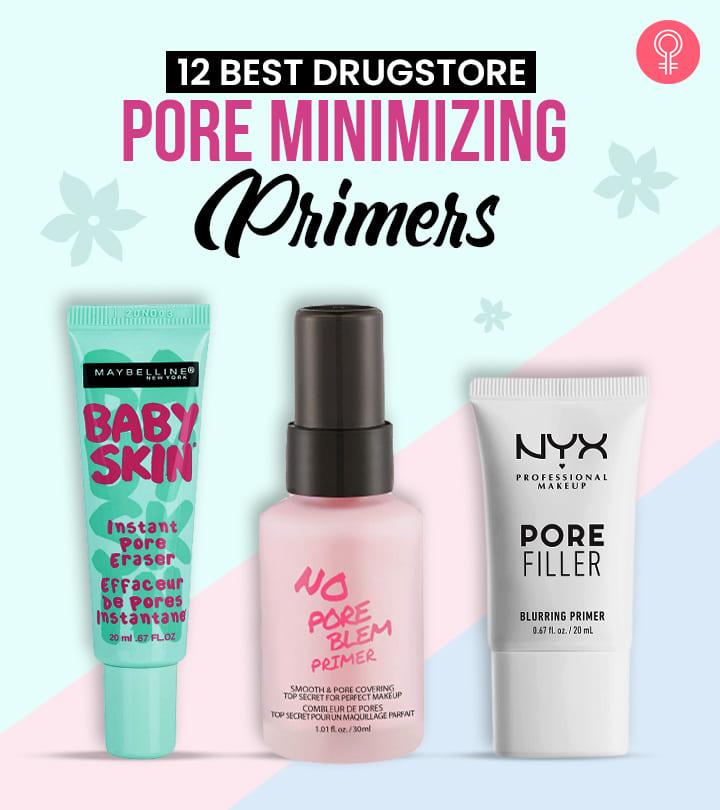 The alternative to premium primers comes in the form of the best drugstore pore minimizing primers. The best one for you of course may not be the best for another as you'll need to make a choice based on your skin type and requirements. But of all the primers that can minimize pores so that your makeup doesn't disappear before you are ready to wash it off, we have got the top 12 drugstore pore minimizing primers for you in a list right here. Read on to know more.
12 Best Drugstore Pore Minimizing Primers
Maybelline Baby Skin Instant Pore Eraser Primer works as a moisturizer and creates a smooth base for applying foundation while making the skin poreless and matte. This low-maintenance primer keeps your skin moisturized all day staying matte all the while. It is suitable to get sheer, medium, or full coverage with any kind of foundation formula.
Pros
Non-greasy
Matte effects
Non-comedogenic
Sheer to full coverage
Lightweight
Blendable
Cons
The NYX Professional Makeup Pore Filler Blurring Primer fades the appearance of pores while smoothening the skin and reducing shine. It suits all skin types and is enriched with vitamin E. The formula has a mattifying effect that conceals pores and makes it effortless to apply foundation, concealer, and bronzer on the face. You may check this video for a better understanding of this product.
Pros
Prevents shine
For all skin types
Matte finish
Smooth application
Light coverage
Cons
The No Pore Blem Primer from Touch In Sol resolves the problem of uneven texture and enlarged pores. This lightweight primer offers a seamless finish as it minimizes pores, fine lines, and wrinkles. The formula is enriched with soluble collagen that repairs the skin barrier and improves elasticity. The primer contains green tea extracts to energize the skin and make it long-lasting. It also keeps a check on the sebum production and makes your skin smooth. This video review will help you learn more about the product.
Pros
Lightweight
Silky texture
Seamless application
Enhances the staying power of makeup
Repairing formula
Cons
Strong scent
May not suit oily skin
The Benefit Cosmetics POREfessional Pore Primer makes your skin satiny smooth by reducing the appearance of fine lines and pores. It has a soft and translucent balm-like formula that works with or without makeup. This primer contains the goodness of vitamin E to protect the skin. It suits all skin types.
Pros
For all skin types
Smooth texture
Lightweight
Easy application
Non-oily
Cons
The W-Airfit Pore Primer is prevents flaking and peeling of makeup. Its buildable formula provides light to medium coverage and smoothes pores, fine lines, acne marks, and wrinkles to reveal smooth skin. The primer has an oil-controlling, yet moisturizing formula that prevents excess sebum and makes your skin radiant. This primer has a deep penetrating formula and lightweight texture that nourishes and hydrates the skin to prevent drying. It also adds to the longevity of your makeup.
Pros
Long-lasting effects
Buildable
Oil-controlling
Lightweight
Cons
The Ruby Kisses Pore-Minimizing Face Primer makes your makeup look smooth and flawless. It makes your makeup last long while moisturizing the skin. This primer contains vitamin E to hydrate the skin and reduce pores and fine lines.
Pros
Long-lasting
Easy application
Lightweight
Cons
The e.l.f' Poreless Face Primer is a skin-transforming primer that provides a smooth and flawless canvas for a long-lasting makeup finish. Its restorative formula is enriched with vitamin A and E, and the tea tree oil smoothens the skin by blurring pores and fine lines. This video will help you make an informed decision about your purchase.
Pros
Long-staying effects
Easy application
Cruelty-free
Vegan
Cons
The Mroobest Makeup Primer is an all-in-one color corrector primer for acne-prone skin that helps in smoothing and brightening. This primer blurs pores and controls oil all day while also imparting moisturizing benefits. It is made with a swirled helix formula with three color-correcting pigments to fade discoloration. It offers a protective barrier to the skin while combating issues related to pollution, UV rays, makeup, and haze. The green pigments diminish spots and redness, peach pigments brighten the skin by fading sunspots, and lavender pigments offer vibrancy and even skin tone. It is enriched with sodium hyaluronate, squalene, and portulaca extract rich in various vitamins, minerals, and antioxidants to improve skin health.
Pros
For all skin types
Multipurpose
Long-lasting effects
Oil control
No harsh chemicals
Cons
The Prime Perfection Face Primer by Milani has a lightweight and blendable formula that prepares your skin for makeup and makes it long-lasting. This versatile primer is suitable to be worn under foundations, concealers, powders, and creams. It hydrates the skin and blurs fine lines and pores to reveal soft and smooth skin for an all-day flawless finish.
Pros
Long-lasting
Lightweight
Blendable
Multipurpose
Oil-free
Cruelty-free
Cons
The Radiant Complex Face Primer is a professional quality primer that immediately mattifies the skin while creating a smooth canvas for makeup. It erases wrinkles, pores, fine lines, and blemishes. Its oil-free formula balances and brightens the skin while improving hydration levels to prevent the makeup from peeling or chipping. This waterproof and non-greasy primer is suitable for acne-prone skin and adds a flawless finish to your makeup.
Pros
Mattifying
Waterproof
Long-lasting
No cracking or peeling
For all skin types
Paraben-free
Cons
Revlon's PhotoReady Pore Reducing Primer instantly minimizes the appearance of pores to give a smooth base for your makeup. It contains rosy pearlescence deposits, moisturizing beads, and botanical extracts to keep skin soft and moisturized throughout the day. It works for all skin types and contains silica mattifiers to decrease sebum production and control oil production.
Pros
For all skin types
Oil-control formula
Matte finish
Easy application
Smooth texture
Cons
May not suit sensitive skin
This primer has an oil-free formula that gives you a smooth base for your makeup and increases its staying power. It also creates a protective barrier to shield your skin from environmental harm. It increases the staying power of makeup so that it can last up to 12 long hours.
Pros
Hypoallergenic
Long-lasting
Oil-free
Shine-control formula
Cons
Recommended Articles