13 Best Shampoos For Kids That Are Gentle And Safe – 2022
Soothing and moisturizing hair care products enriched with non-toxic formulations.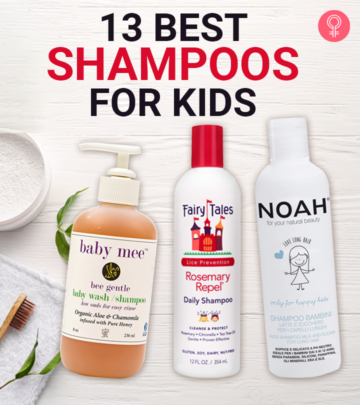 If you are looking for the best shampoo for kids, here are a few things to consider. Firstly you have to make sure the ingredients are mild yet effective. Secondly, you have to keep in mind that there should be no ingredient that can trigger allergy on their skin, and finally, you need to find one that nourishes their skin after cleansing it. Many brands offer kids' products, but if you are not ready to settle for anything but the best, we are here to help. This list contains 13 shampoos specially crafted for the needs of your little one.
13 Best Shampoos For Kids
This shampoo from Wild Naturals is specially formulated for kids with eczema, seborrheic dermatitis, and psoriasis and is enriched with aloe vera, manuka honey, and orange oil. The anti-inflammatory properties of aloe vera soothe the scalp, unblock the hair follicles, and stimulate hair growth.
Manuka honey has deep moisturizing and nourishing properties, which promote collagen production and reduce blemishes, scars, and redness. The cehami extract in the formula provides natural relief from itchiness, giving your kid a healthy scalp. The formula is hypoallergenic, highly moisturizing, hydrating, and nourishing. The coconut oil extracts used in the shampoo form a light foam while cleansing. If you need more convincing, feel free to take a look at this YouTuber's video on the merits and demerits of the product.
Key Ingredients: Aloe Vera, Manuka honey, Cehami extract, and Orange oil
Pros
Natural ingredients
pH-balancing
Gentle
Smells good
Steroid-free
Sulfate-free
Fragrance-free
SLS-free
Paraben-free
Dye-free
Preservative-free
Cons
This shampoo by baby mee has a 2-in-1 formula that can be used as a baby wash and a shampoo. It is enriched with calendula flower extract that has antifungal and antimicrobial properties to prevent infection, rose water and chamomile flower extract to reduce inflammation on the scalp, and pure honey to cleanse, protect, and soothe your kid's hair.
The aloe leaf extracts in the formula are rich in vitamins, minerals, nutrients, and active enzymes that heal scalp rashes in no time. This shampoo is perfect for kids with eczema, scabies, and dry and itchy skin. The formula is tear-free and ideal for sensitive skin. With regular washes, your baby's skin and hair will feel soft and smooth.
Key Ingredients: Calendula flower extract, Rose water, Chamomile extract, Honey, and Aloe vera
Pros
Fragrance-free
Non-irritating
Tear-free
Natural ingredients
Ideal for sensitive skin
Cruelty-free
Phthalate-free
Paraben-free
Sulfate-free
Petrochemical-free
Cons
This shampoo from NOAH is specially formulated to cleanse, nourish, and detangle your kid's hair. It is rich in hydrolyzed milk proteins and natural sugar that rebalance sebum production and make your kid's hair manageable. Vitamin E nourishes the hair and scalp and keeps them healthy and clean.
The ingredients in the shampoo are all certified, non-toxic, and natural. Na-PCA (sodium pyrrolidone carboxylic acid), the main ingredient, contains nutrients and natural moisturizing properties that reduce static and frizz, making the hair soft and hydrated. It is gentle and perfect for everyday use. This is the best sulfate-free shampoo for kids aged between 3 to 12 years.
Key Ingredients: Hydrolyzed milk, Natural sugar, and Vitamin E
Pros
Hypoallergenic
Lightweight
Natural ingredients
Vegan
Cruelty-free
Sulfate-free
Paraben-free
Silicone-free
Paraffin-free
Mineral oil-free
Phthalate-free
Cons
None
The shampoo and conditioner from Fairy Tales have a clinically proven formula for head lice treatment that also protects the delicate strands of your kids. They contain a blend of natural ingredients like cinnamon, citronella, bark oil, and the essential oil of organic rosemary that moisturizes and cleanses your kid's hair and gets rid of infestations. The moisturizing ingredients like chamomile hydrate the scalp and jojoba oil soothe it. These products are pediatrician-recommended since they are free of soy, dairy, gluten, and nut, which reduce the risk of allergies in kids. If you want a detailed review of the product, make sure to take a look at this video.
Key Ingredients: Tea tree oil, Rosemary leaf oil, Citronella oil, Jojoba, and Chamomile extract
Pros
Natural formula
Good fragrance
Toxin-free
Paraben-free
Pesticide-free
Sulfate-free
Phthalate-free
Gluten-free
Non-GMO
Cruelty-free
Soy-free
Dairy-free
Nut-free
Cons
This Curly Kids product is meant for kids with curly, wavy, and frizzy hair. It is extra gentle, deeply nourishing, and works wonders without drying the curls. This shampoo is perfect for multi-textured hair, and it prevents hair breakage, hair fall, and split ends. It is created and formulated by experts to aid the growth of healthy, thick hair in children. With regular application and shampooing, the hair feels soft, clean, and infused with natural shine.
Pros
Hydrating formula
Stimulates growth
Tear-free
Sulfate-free
Paraben-free
Mineral oil-free
Petrolatum-free
Cons
None
This product from J 'Organic is one of the best natural shampoos for kids. It is intensely hydrating, locks in moisture, and helps strengthen your kid's dry and damaged hair. This shampoo is enriched with botanical ingredients like hydrolyzed wheat protein and wheat starch to reduce hair porosity and retain moisture.
The coconut milk in the formula stimulates hair growth, while soy proteins, provitamin B5, and vitamin E reconstruct and strengthen the hair strands while providing volume and shine. The hair strands feel smoother and well maintained, free of frizz, knots, and tangles. The shampoo targets dirt, grime, oiliness, and stickiness in the hair and cleanses it without stripping away its natural oils and nutrients.
Key Ingredients: Hydrolyzed wheat protein, Wheat starch, Coconut milk, Soy protein, Provitamin B5, and Vitamin E
Pros
Natural ingredients
Sulfate-free
Paraben-free
Alcohol-free
Phthalate-free
Fragrance-free
Cons
RID Lice Killing Shampoo is a proven head lice treatment formulated with a powerful combination of piperonyl butoxide and pyrethrum extract to get rid of lice and their eggs. While piperonyl butoxide increases the duration of the product effectiveness, the pyrethrum extract paralyzes and kills the lice. The hydrogenated castor oil in the formula deeply nourishes your kid's hair. This shampoo comes along with a nit comb and is suitable for kids above 2 years.
Key Ingredients: Pyrethrum extract and Piperonyl butoxide
Pros
Suitable for lice
Affordable
Nit comb included
Cons
The product from babo Botanicals is a 2-in-1 shampoo created to meet the needs of baby's sensitive skin. It is made of natural ingredients like calendula flower extract and colloidal oatmeal that heal dryness and infections and soothe the delicate skin and scalp of babies.
The shea butter and coconut oil in the formula have emollient properties that provide long-lasting hydration and smoothen your kid's hair while leaving it nourished with natural vitamins, minerals, and nutrients. It is suitable for dry, sensitive, and eczema-prone skin and is ideal for use on newborns, babies, kids, and teenagers. You can also check this YouTuber's detailed review to know more about the results after using this product.
Key Ingredients: Calendula flower extract, Colloidal Oatmeal, Shea butter, and Coconut oil
Pros
Extra mild
Organic ingredients
Dermatologist-tested
Hypoallergenic
Smells good
Tear-free
Steroid-free
Fragrance-free
Sulfate-free
Phthalate-free
Silicone-free
Paraben-free
Cons
This mild and gentle shampoo by Johnson's is formulated with proteins and provitamin B5 that deeply penetrate the hair strands and lock in moisture, making the baby's hair softer. The formula effectively cleanses the hair of dirt, dust, and pollutants and replenishes any lost nutrients. The tear-free formula is gentle on your toddler's hair, scalp, and skin.
Key Ingredients: Protein and Provitamin B5
Pros
Hypoallergenic
Cruelty-free
Tear-free
Toxin-free
Pediatrician-recommended
Suitable for all hair types
Paraben-free
Sulfate-free
Dye-free
Phthalate-free
Cons
This product from So Cozy Kids is a 3-in-1 formulation that serves as a shampoo, conditioner, and body wash. It contains keratin, kiwi extract, and vitamin B5 to nourish the hair. Keratin protects and strengthens the hair while vitamin B5 softens and nourishes it and aids thicker hair growth. Kiwi extract nurtures, conditions, and moisturizes the hair and skin. The natural ingredients replenish the lost moisture and nutrients back into the scalp and skin. The plant extracts and proteins in the shampoo work up a good lather from head to toe, giving you soft, supple skin and smooth, silky hair.
Key Ingredient: Keratin, Vitamin B5, and Kiwi extract
Pros
Natural ingredients
Toxin-free
Gluten-free
Synthetic color-free
Dye-free
Paraben-free
Sulfate-free
Phthalate-free
Formaldehyde-free
Propylene glycol-free
Gluten-free
Cons
This kids shampoo from L' Oréal protects their hair against harsh chemicals in the pool. It washes away the salt, chlorine, hair damaging minerals, and other impurities, leaving behind squeaky clean hair. This best swim shampoo for kids ensures no tears, knots, or adverse effect of chemicals on the hair. The formula has an orange citric fragrance and lathers well on the scalp and hair strands. This shampoo is suitable for all hair textures, lengths, and types. It effectively detangles and moisturizes dry hair and makes it soft to touch.
Pros
Dermatologist-tested
Ophthalmologist-tested
Tear-free
Pleasant fragrance
Cruelty-free
Cons
The MIXED CHICKS shampoo has a gentle, natural, and safe formula that does not irritate the tender scalp and hair of your kid and cleanses it without any fuss. It is one of the best sulfate-free shampoos for kids with curly and kinky hair. The soothing and lightly fragrant shampoo ensures a relaxing and enjoyable bath time for kids. The formulation is perfect for use on toddlers, babies, kids, and swimmers. It can also be used as a body wash.
Pros
Gentle
Tear-free
Sulfate-free
Hypoallergenic
Lightweight
Controls and tames frizz
Cons
Dries out hair if used daily.
This hypoallergenic and lightweight shampoo from Dr. Eddie's soothes itchy, dry, sensitive, and eczema-prone skin. It can be used as a daily shampoo and a body wash that cleanses and moisturizes the hair, scalp, and skin. The product is enriched with oatmeal, aloe vera, provitamin B5, hyaluronic acid, and licorice root extract that soothe and nourish the skin and scalp. The shampoo lathers well into the hair without drying it out and is ideal for use on normal, oily, sensitive, and dry hair types. It is ideal for children of all ages.
Key Ingredients: Oatmeal extract, Licorice root extract, Aloe vera, Provitamin B5, and Hyaluronic Acid
Pros
Pediatrician-approved
Dermatologically tested
Fragrance-free
Dye-free
Sulfate-free
Alcohol-free
Paraben-free
Perfect for eczema-prone scalp
Cruelty-free
Vegan
Cons
Not tear-free
May make the scalp itchy and dry.
Why Trust StyleCraze?
Shiboli Chakraborti is a well-versed skin care expert with experience in hair care. She understands the importance of using mild, effective products for a child's sensitive scalp so they won't cause allergies. She has meticulously researched the best shampoos for kids to help her readers choose the perfect one for their children. Children's shampoos gently cleanse and remove dirt, grease, and stickiness without damaging the hair.
Frequently Asked Questions
When should I start using kid's shampoo?
Start using a kid's shampoo when your baby is four to six months old. Do not use it earlier to prevent irritating their delicate scalp and eyes.
Does a kid's shampoo make their eyes sting?
No. A tear-resistant kid's shampoo is free of harsh surfactants like SLS. So, the mild formula does not irritate and sting eyes.
Can my child use a regular shampoo rather than a kid's shampoo?
No. Do not use regular shampoo for washing your kid's hair, as they contain harsh surfactants that deep clean the scalp and cause burning sensations. On the other hand, kid's shampoo contains mild cleansing agents that gently cleanse the scalp and moisturize it.
Can a kid's shampoo be used as a body wash?
No. A kid's shampoo contains mild cleansers that are not very effective in deep cleansing your body and eliminating dirt and grime. Therefore, do not use a kid's shampoo as a body wash.
What is the best kids' shampoo for getting chlorine out of hair?
The L'Oréal Kids Extra Gentle 2-In-1 Swim & Sport Shampoo is the best kid's shampoo for eliminating chlorine from the hair. This ophthalmologist-tested product lathers well on the delicate scalp of the kids and cleanses away the salt, harmful minerals, and chlorine from the hair.
When should I stop using children's shampoo?
Although there is no right or wrong age to stop using children's shampoo, most parents do it around eight or nine years of age. Make the switch when your child can wash their hair correctly and without letting any product get into their eyes.
Does my child need a conditioner?
Yes. Invest in an organic conditioner to moisturize and retain the natural shine of your child's hair. The conditioner also keeps their hair tangle-free.
Recommended Articles